Everest Base Camp is the site where mountaineers who intend to summit Mount Everest (called Sagarmatha by Nepalis and Chhomolungma by Tibetans), set up camp and live for a few months during the summer. This is where they acclimatize and prepare for ascents to the summit of the world's highest peak. Non-climbers like me, can comfortably walk up to this point without supplemental oxygen or specialised climbing equipment. The excellent infrastructure along this trekking route makes it easy for a visitor to trek from one lodge (often called a teahouse in Nepal) to the next. Here's a breakdown of how to plan, begin, and complete the trek.
Before You Go
What Kind of Trip?
Decide what kind of trip you want. There are three ways to do this trek.
Solo In the Nepal Himalayas it is safe and fine to be walking on trails alone, so long as you don't veer off the trodden paths.
With a porter or guide, or both Note that often porters will walk way ahead of you and reach the day's destination hours before you have. They will carry your backpack and get it to the next destination, but beyond the basics, they usually don't take the place of a guide. A guide will and should stay with you the entire duration of the trek.
With a trekking company Join a group trek if you are not confident about planning and walking alone. Treks are usually inclusive of food, accommodation (tented or teahouse), guides, and porters. There are hundreds to choose from, many based in Thamel.
Whether travelling solo or with a porter, consider joining up with other solo travellers to walk together for a day or two, then with others for another few days, so you have company walking.
Time of Year
Plan the trip at least three months ahead, so that there is enough time to prepare and train. March to May is very comfortable weather-wise, though there may be days of rain. October to early December is colder, but the skies are clearer, making it the best time for views and photography.
Fitness Training
Almost anyone can do this trek with the right training and planning. At various times, trekkers have spotted a person with a prosthetic leg, a 75-year-old, and even a group of blind trekkers. While the trek to EBC does not require technical mountaineering or rock climbing skills, one does need to be reasonably fit. The daily routine involves walking for at least 4-7 hours a day; there are days when it's almost all uphill. Whether you choose to carry your own backpack or hire a porter, training is mandatory. If you plan on carrying your own pack, make sure you acquire it early and train with it loaded up, as if it was the real trek. Start training by walking a lot. To gauge whether you are ready for the trek, by the time you leave for Nepal you should be comfortable walking with a 10-15 kg backpack for at least a few hours. Start your training at least two months before your trip. If you can, take weekend hikes and climb nearby hills with your pack, to get yourself mountain ready. Even if you intend to take a porter, walk with a 5-7 kg backpack during training. It will make you fitter and happier when you are in the mountains.
Visit a Doctor
Everyone can benefit from a visit to their doctor before a trip like this. People with lung or heart problems, diabetes, epilepsy or other ailments must make sure they consult their doctor before undertaking this journey. A dental check-up is also a must as even seemingly minor dental problems, like a cavity, can get aggravated at high altitude. People have had to turn back three days previously from base camp because a mild toothache became unbearable in the mountains.
Gear for Everest
The village of Namche Bazaar caters to EBC trekkers and mountaineers, and has several stores selling mountaineering gear and other staples. It's useful to have a guidebook and map of the region.
Getting There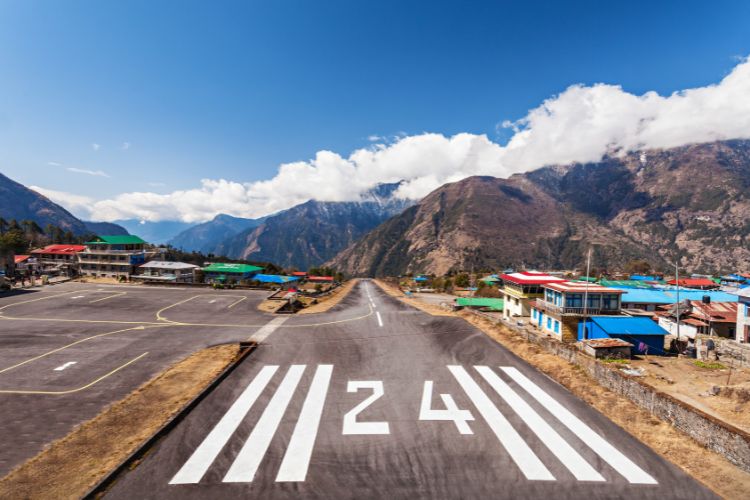 To Kathmandu By Air: Direct flights are available from Mumbai and New Delhi to Kathmandu.
To Lukla: Lukla, a small village with an airstrip, is the starting point of the trek. It is possible to do a 7-day trek to get there on foot from Jiri (an 8-hour bus ride from Kathmandu), but most people tend to fly in to Lukla. Twin-engine planes make the journey to and from Kathmandu every morning. Yeti Airlines and Tara Air fly this route and tickets can be bought online or through a travel agent. Some airlines sell a separate fare for Indians. Indians are also allowed to pay the significantly lower local fare for most airlines. All other nationalities have to buy the dollar value fare. However, there are only a few Nepali-fare seats on each flight and usually the first two flights of the day (the ones most likely to take off) will have only dollar-fare seats. If you absolutely must get on a flight on a particular day, the highest chance you have of making it is if you book the dollar fare on the first flight of the day. Flights are routinely cancelled and delayed because of bad weather or visibility, so always book the earliest flight you can get. Keep at least a two-day buffer before your flight back home out of Nepal, in case the flight from Lukla is cancelled.
Visas
Indians don't need a visa to enter Nepal, but do need either a passport valid for at least six months, or a government-issued identity card such as a voter's ID, PAN card, or driver's licence. Rules change so check with airline before booking.
In Kathmandu
Plan to spend a minimum of two days in Kathmandu to get paperwork sorted, as well as finish some last-minute shopping.
Sleep
Thamel is Kathmandu's tourist heart and the most convenient place to stay. The area is full of adventure goods stores selling/renting everything needed for an EBC trek. There are also plenty of currency changers, and stores selling maps and guides. The streets are lined with hotels, most of which are clean, well-priced and aimed at the trekking tourist. Tibet Guest House is a mid-priced hotel with a spacious rooftop and view of Kathmandu. Thamel Eco Resort has comfortable rooms and friendly staff. Budget travellers can share a clean dorm room or get a private suite at Alobar 1000, a hostel and bar with friendly hosts, who organise events, and serve a delicious home-made dinner. Dwarika is a four-star heritage hotel designed like an old Newari palace. It is four kilometres from Thamel and is the best choice for a more luxurious stay. Its restaurant serves a six-course traditional meal.
Eat
Kathmandu's Thamel area is packed with eateries that cater to all kinds of tourists, particularly the western trekker. From pizzas and steaks, to baked goods, and sandwiches, there is no dearth of reliable food for travellers.
Drink
One of the most important health issues any visitor faces in Nepal has to do with safe drinking water. Safe, potable water is not available on tap in Nepal and you need to make sure you are well prepared. Avoid drinking bottled water which could be well past its best-before date and adding to the plastic garbage that piles up in the mountains. Many lodges sell treated water. Iodine tablets or Lugol's liquid iodine are popular ways of purifying water. A water purifying pump is also convenient. In lodges and teahouses you can also ask for tato pani or hot water, but unless it has been boiled for 20 minutes it's not completely safe.
Preliminaries in Kathmandu
On the first day in Kathmandu, check in to your hotel and, as soon as you can, head to the Nepal Tourism Board Office to get your Trekking Information Management System (TIMS) card/permit (timsnepal.com; 10 a.m.-5 p.m. daily except Sat and public holidays. There is also a TIMS counter at Saatghumti in Thamel (7 a.m.-6 p.m. daily; Sat and public holidays 10 a.m.-1 p.m.). Carry your passport, two passport-sized photos, and the trek itinerary in order to receive the permit. Only US dollars or Nepali currency are accepted for the permit. The TIMS permit will be checked several times during the trek.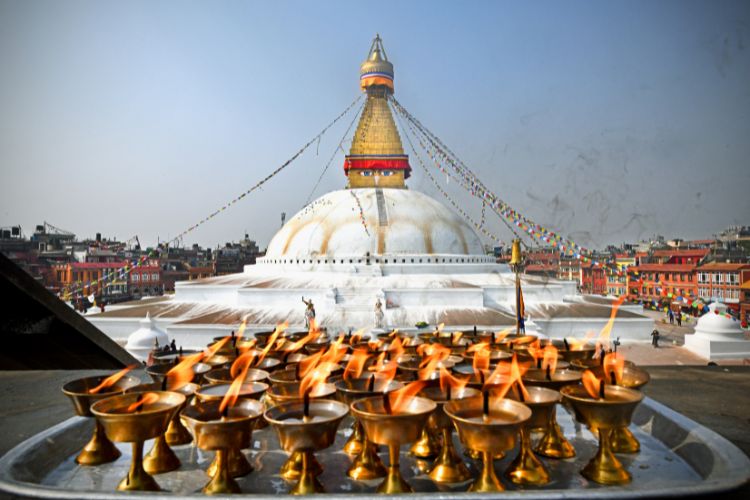 Currency
Indian currency is accepted at almost all commercial establishments in Nepal (?1=NPR1.6). Changing higher currency notes is often not possible. Moneychangers and ATMs are available in Kathmandu but not higher up in the mountains.
Hiring a Porter/Guide
If you plan on hiring a porter or guide for your trek, book one early, especially in peak season. There are several licensed shops all along Thamel for a porter from reputable agency or lodge; price includes the porter's accommodation and food; similar prices for a guide). Save money by getting a local guide/porter who meets you at the airport at Lukla, otherwise you have to pay airfare for them from Kathmandu. Spend your time in Kathmandu picking up gear and supplies you may need. There is no need to carry food on the trek, but it's recommended that you stock up on some dried fruit and nuts for energy on the go.
Day of Trek
Kathmandu Airport
Order a taxi the night before your flight to Lukla and plan to reach the airport at least two hours before your flight. Reach the airport and look for the departure tax counter. Pay the airport tax and then wait. Just because your flight is scheduled for 9 a.m. doesn't mean it will leave at 9 a.m. A lot depends on the weather in Lukla that morning.
Start the Trek
Lukla is at an altitude of 9,300 feet. Many trekkers choose to stay the first night here. Alternatively, some get off the flight, gather their gear and head to the trail to begin walking towards Phakding. Walk at a steady pace, stop frequently for snacks and water. Stay hydrated and enjoy the trail. Don't worry about booking accommodation or planning each meal as there are plenty of restaurants and lodges along the way.
Sleep and Eat
The average price of a dorm bed is NPR200/?125 per night as long as meals are eaten from the lodge's restaurant (NPR1,000/?620 per meal). Rooms may cost at least NPR900/?500 per night with shared facilities and rooms with an attached toilet and bathroom can go for NPR2,000/?1,250 and above. The cost of lodging and food goes up as you get higher up the mountain, because that's how far goods have to be carried on the backs of humans or yaks. Budget NPR4,000/?2,500 per day for a comfortable stay, lots of food, warm drinks, and a bath (often paid for separately, ?100-200). Some lodges charge a fee for charging your phone or other gadgets.
About Everest Base Camp
For most of the year, Everest Base Camp is nothing but an empty patch of land, with a few prayer flags. For a short period of about two months each year mountaineers seeking to summit Mt. Everest set up base camp here (between March and early May). During that time expeditions are busy with the business of mountain climbing and while you may observe camp activity from a distance, this is not a place to hang out. While an individual mountaineer or climber may speak to one or two visitors, they are usually not inclined to speak to the average traveller. While visiting base camp, temper your expectations because frankly, though it is the gateway to the roof of the world, there is nothing there. You cannot camp or stay there overnight. At best expect to spend an hour or two there and head back down to Gorakshep, the last point on the trek where a lodge is available.
Need to Know
Nearest medical post Kunde hospital, Khumjung.
Nearest dentist Nawang Lama at the Khumbhu Lodge in Namche Bazaar runs a dental clinic for emergencies.
If you need to be evacuated Helicopters are available out of Khumjung. Contact the nearest lodge owner to help get you out.
Trek Itinerary
This is an approximate itinerary. Each person walks at their own pace. At this altitude kilometres make little sense and distance covered is given in the time taken. Trekkers adjust the days and stops to suit their speed, taking longer or stopping at different villages than the ones mentioned here.
Day 1
Lukla to Monjo 9,199 feet (4-6 hours)
Walk past the little village of Lukla and get accustomed to passing large groups of dzos (a yak-cow mix). Navigate the long suspension bridges over the Dudh Kosi River. Visit the village gompa in Monjo, if you have the energy for a small additional hike.
Day 2
Monjo to Namche Bazaar 11,318 feet (4-7 hours)
Begin at sunrise as the day is long and full of steep climbs. Enter Sagarmatha National Park. Indians pay local prices (NPR100/?62). The last 2-3 hours of the walk include an extremely steep climb. Take a break when Mount Everest first comes into view.
Day 3
Acclimatization Day
Enjoy this rest day by exploring the mountain town. If it's a Saturday, go to the busy market. Take a day hike to the posh Everest View Hotel and enjoy a view of Mount Everest with a pot of warm tea. Walk past the long wall of mani stones on the way to the Khumjung school, built by Edmund Hillary. The Khumjung Gompa has a skull on display, allegedly of the yeti.
Day 4
Namche Bazaar to Tengboche 12,696 feet (4-6 hours)
This is another day of steep ascents, descents, and more ascents, and the air will begin to get noticeably thinner. Join the monks for the evening prayer at Tengboche monastery, the largest in the region.
Day 5
Tengboche to Dingboche 14,475 feet (6-8 hours)
A tiring but pleasant walk through grey, rocky, wide trails to the sparsely populated town of Dingboche.
Day 6
Acclimatization Day
Take an acclimatization walk to Chhukhung (15,583 feet). Visit the Himalayan Rescue Association (HRA) information centre in the afternoon to learn more about Acute Mountain Sickness. Visitors can also visit an HRA clinic in the neighbouring town of Pheriche.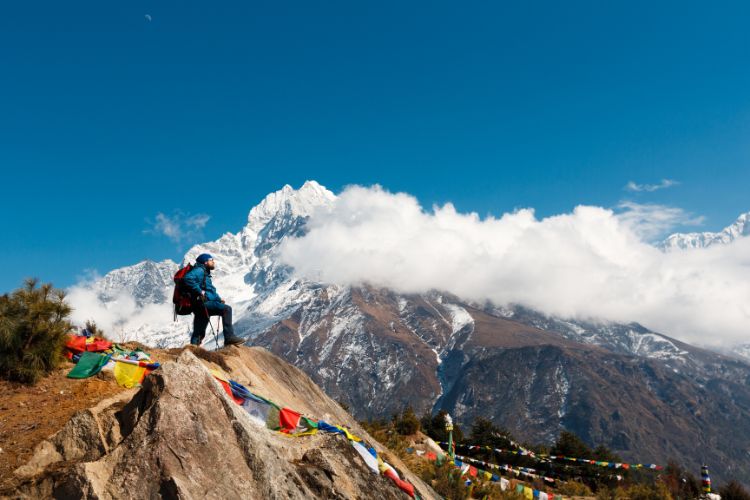 Day 7
Dingboche to Lobuche 16,177 feet (5-7 hours)
This is an extremely steep and strenuous stretch up to the memorial for climbers who have lost their lives while attempting to climb Mount Everest. Take a well-deserved rest here and enjoy impressive views before heading to Lobuche.
Day 8
Lobuche to Gorakshep 16,942 feet (4-5 hours)
The walk is not steep, but the oxygen level in the air makes it extremely slow. Pace yourself, stay hydrated, and get plenty of rest stops. Visit Kala Pathar in the afternoon (3 hours return) or early next morning. Mount Everest is visible only from Kala Pathar (and not from the Everest Base camp).
Day 9
Gorakshep to Everest Base Camp (17,585 feet) to Gorkashep (7-8 hours round trip)
After breakfast, begin the slow walk along the glacial ridge leading straight to the Khumbu icefall and Everest Base Camp. You'll know you've reached when you see hundreds of colourful prayer flags.
Day 10
Gorakshep to Pheriche 14,064 feet (7-8 hours)
The walking days are now long but less tiring. Cover as much ground as possible per day. You will find yourself gaining energy as you descend.
Day 11
Pheriche to Namche Bazaar 11,318 feet (8 hours)
Enjoy apple pie and the cafés of Namche Bazaar. Look out for cafés playing movies and documentaries about the Everest region and the Sherpas.
Day 12
Namche to Lukla 9,373 feet (8 hours)
Head to the Tara Air/Yeti Airlines booth and reconfirm your flight for the next day. Even if you have a reservation, you cannot get on the plane unless you reconfirm your ticket in Lukla a day before. In spite of the confirmation, eventually the weather will decide whether you reach Kathmandu or not.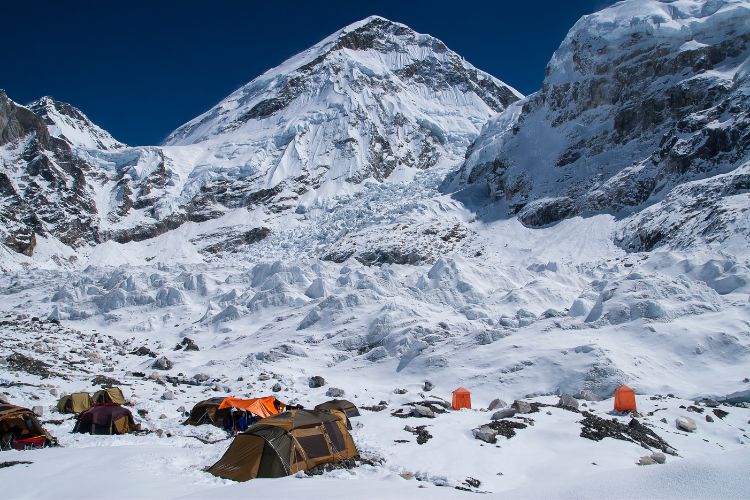 For latest travel news and updates, food and drink journeys, restaurant features, and more, like us on Facebook or follow us on Instagram. Read more on Travel and Food Network
Trending on TFN
The 23 Best Places To Go In 2023
Explore Utah's Mighty 5® and What Lies in Between