Caravanning couple Smriti (pictured) and Kartik, known on Instagram as @thebrownvanlife, have been on the road on a journey across North and South America, for two years. Photo courtesy: Smriti and Kartik
We took all our readers' questions and put them to an Indian couple who has been on the road in a caravan for the past two years.
What's the cost and availability of a campervan in India?
In India, a fully-furnished camper with a washroom and kitchen can cost around ₹25-30 lakh. But you have to build your own van, as no one is selling pre-built campervans yet. So, most likely, one needs to buy a Force Traveller as a base, and spend ₹10-12 lakh outfitting it. There are many companies doing custom van building, yet one must find a fabricator near home, to keep up with all the requirements. Van life can be done abroad to cut costs of living, but caravanning in India is a luxury.
What are the policies for caravan travel in India like? Does one need a special driving licence for caravans or will a regular passenger vehicle one work?
The legalities around caravan travel amount to the majority of the stress the overlanding community is facing collectively. From getting the car registered to navigating different laws in every state can make the entire experience very stressful. You are always worried that you might get pulled over and will have to pay a fine for driving a camper that's not registered or banned to be on the road because it's modified.
There are categories such as LMV, MMV, SPV, and HMV. A regular licence is good for LMV, which is what the majority of campers fall under. Getting registration done is very tricky: every state has its own law. RTO operates separately and there is no clarity. Maharashtra, Uttarakhand and Kerala tourism are working on promoting caravan travel as a new method of exploring these states. But there are too many grey areas that need to be streamlined and that can be very demotivating. But the overland community is booming, and with it the possibility of these issues being resolved.
Is it possible to make or outfit your own caravan?
It is possible if you have an entire workshop, with all the tools and skills needed for electrical, carpentry, or plumbing work. One needs to be willing to learn it all and be comfortable implementing that knowledge into action. We built our own van with our own hands but it took us two years. If you have access to affordable labour and professionals to save time, then it's definitely worth the money.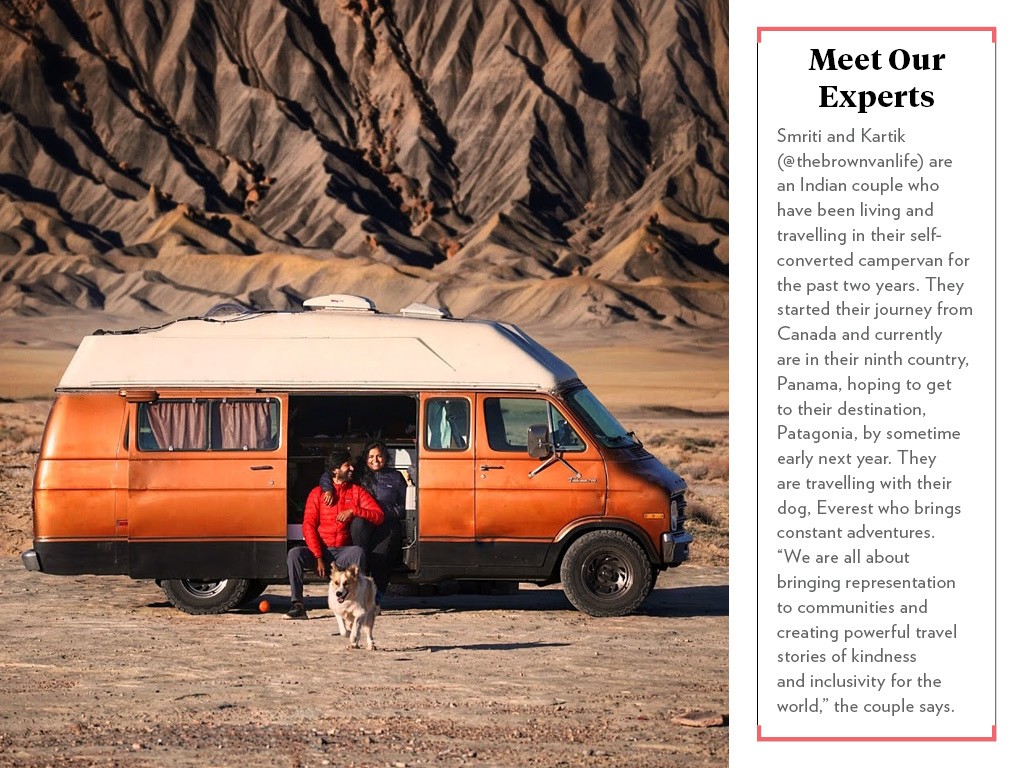 How to find places to stop or park at night? What would be legally permitted?
There are no legal laws around sleeping in cars in India, it's essentially a grey area. In the mountains, it is easy and people are more welcoming to let campers park outside their properties. For us, we heavily use apps like iOverlander to find places in every country we go to. These apps are community-run, where you leave a review for the next person on the experience and amenities you had camping in a particular place. A general rule of thumb is truck stops, gas stations, hospitals parking lots or even parking outside a police station is a safe option if you don't have anything pre-planned in a new location.
How to efficiently manage the high costs of caravanning—especially fuel costs?
We have a 1977 Dodge van and, like every vintage van, it is not the most fuel-efficient. So, very early on in our journey, we decided to not drive more than three days a week and limit our driving to a weekly budget to balance the fuel cost. This also helped us implement the slow travel approach and has prevented us from burning out after being on the road for over 20 months.
As international tourists, can you break down how easy or not it is to caravan outside the country? What are the top caravan-friendly countries you would suggest to new adventurers?
We have crossed nine countries starting from Canada to Panama so far. It's totally possible but you have to do a lot of homework to know the visa requirements beforehand. Every country needs you to have a valid car insurance, vehicle's import permit, valid driver's licence and valid registration to enter. Border crossing days are hectic, so be prepared with all the documents and follow the steps patiently.
The U. S. A. and New Zealand are great countries for anyone to experience van life for the first time. Every few miles you have a safe spot to park overnight, a fully equipped campsite to sleep with all the amenities possible to feel comfortable for the first few trips. These campsites are run by the state or the city and are very affordable.
What are some best practices for caravan travel, especially to ensure proper waste management?
Van life teaches you minimalism and mindful consumption. You know exactly how much water you need or the energy you need to fuel and consume. One thing that doesn't happen with us is food wastage, due to lack of a big full-size fridge. We only buy what we can eat for the next four meals and pretty much that's all our 12V solar fridge can fit. We don't have a traditional pantry where we could store bags and bags of supplies. Smriti knows how much rice and dal is left and we make sure to only stock up when the current boxes are running empty. There is minimal consumption of plastic. We carry a small compost bin with us to dispose of it in dedicated composting sites. We strictly have a leave no trace policy, it's our goal to leave a campsite or remote location better than how we found it.
What are the ideal caravans for those who like to cook on the road? Or those who want the option of a shower?
Vans can be converted to have a fully functioning kitchen but choosing to have a shower might be an added problem in India because of lack of proper grey water disposal sites. Mostly people who use campervans use the showers at the facilities they are parked at, like a campground or a hotel. In our case we had to design a kitchen with a lot of storage so we don't run out of Indian spices and achars etc. while crossing all these countries.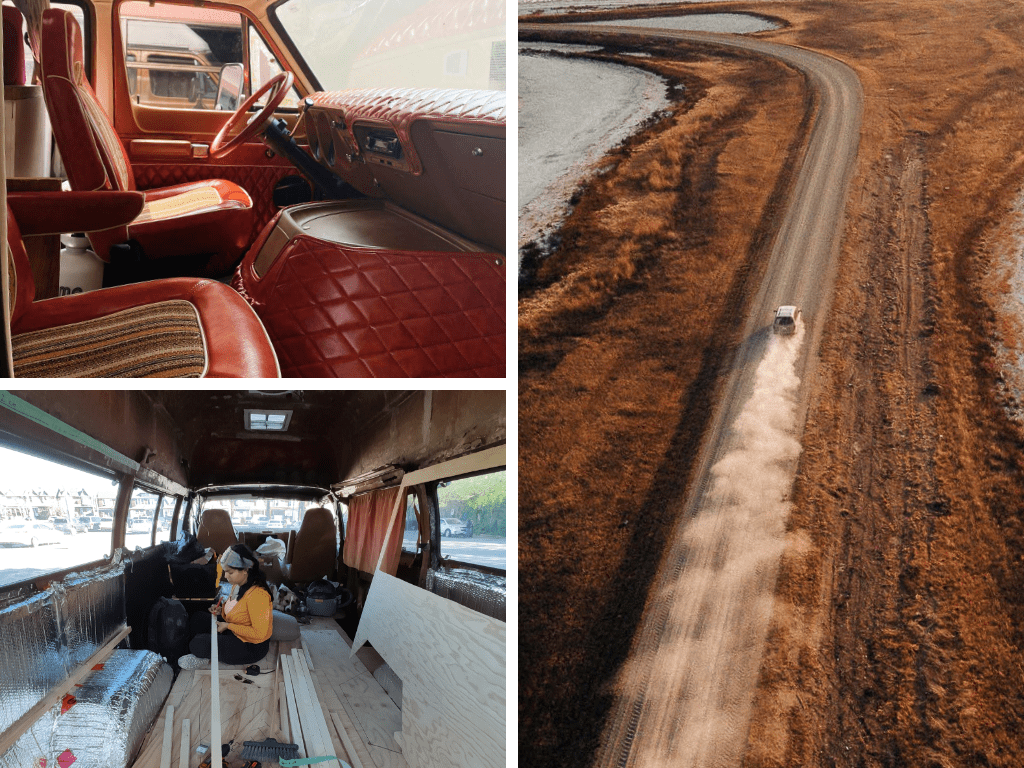 What are the common problems that are likely to come up on a long-distance drive?
The decision-making can get exhausting. During van life one may have many more decisions to make on a daily basis compared to a home. From where to park, where to cook, where to sleep, how far we drive, overnight campsites are constant decisions you are making. A lot of the decisions on the road are time-sensitive, so you start trusting your gut more than before.
For long-distance driving you must make sure of a few things. Carry extra fuel for emergencies, always have offline maps, road reflectors for emergency parking, roadside assistance numbers and be aware of the basic mechanics of your camper, because they are notorious to break down as they are always loaded with extra weight.
Where can we rent a caravan in India?
Carvaa India, My Rolling Homes, Vacay Wheels are some of the major players that offer caravan rentals. These vans come fully equipped and with a driver so you can just cruise and enjoy the scenery.
How does one handle electricity on the road while in the van, to charge cameras, phones and use appliances?
One has to calculate and minimise power consumption to what's absolutely necessary. We are fully solar-powered with a 170 aH house battery and a DC to DC charger that charges the very same house battery when we are on the road driving the van. With this battery we connect the inverter and use it to power/charge all our 12V devices. There are displays to constantly update us if we are running low on power on a cloudy day so we are mindful of running a heavy consumption appliance like an electric stove or blender for too long.
Where are the best caravan campgrounds in India?
Campgrounds information is slowly getting crowdfunded by the community on platforms like Overland India Facebook group. Mountains are amazing for caravan camping, but overall there are very limited campgrounds that offer camping for caravans, especially with new laws where you need to have a minimum half an acre of land, legal requirements and insurances (read here). It might even get trickier for individuals to operate a full-running campground.
How self-sufficient can one be while caravanning? What are some changes I should be ready for?
Being self-sufficient and sustainable is the core of caravanning. Depending on the duration of the journey, it's always recommended to have supplies worth a week so you don't have to do multiple trips in a city to stock up. We are fully solar-powered and have a 70-litre water tank, which is enough to sustain one week of cooking, drinking water, cleaning and water for our dog Everest.
Minimalism: Living in a 50-square-foot space forced us into being a minimalist, we own x number of clothes, x number of plates and cups, and truly everything we carry inside this van serves our daily life. Hoarding is not an option, one thing goes in the van only when one thing is out.
Hopelessly optimistic: Things go wrong in one go, so you learn to be optimistic and push negativity out. Coming out of these hard situations is truly what this journey is all about.
The fear disappears: Your hesitations and fears to try new things, driving through an unfamiliar place or park in an unknown environment disappear after a point. You stop believing in other's definition of what's dangerous because you know you have to define it for yourself.
You become open to kindness: From asking for help to receiving and offering help, you see the good in the world. Living in a city, you probably would never give a ride to a stranger, but when you are journeying on the road you see that so many strangers help you over and over again. Whether it's offering you space in their homes or making you part of their family, it changes you.
Follow Smriti and Kartik @thebrownvanlife
This feature also appeared in National Geographic Traveller India
For latest travel news and updates, food and drink journeys, restaurant features, and more, like us on Facebook or follow us on Instagram. Read more on Travel and Food Network
Trending on TFN
The 23 Best Places To Go In 2023
Explore Utah's Mighty 5® and What Lies in Between