According to the latest tiger census, India is estimated to have at least 3,167 tigers. While this appears to be an increase compared to the 2018 census figure of 2,967 tigers and 2,226 tigers in 2014, direct comparisons are not entirely valid due to a pending calculation required to determine the maximum and minimum range of the tiger population.
What is a Tiger Reserve?
Tiger reserves in India are managed by the National Tiger Conservation Authority (NTCA) under Project Tiger. These reserves consist of critical tiger habitats or core zones surrounded by buffer peripheries aimed at safeguarding the habitat, well-being, and breeding of these magnificent cats.
In 2022, four new tiger reserves were announced by the NTCA
Malai Mahadeshwara Wildlife Sanctuary in Karnataka, established in 2013, has gained recognition for its remarkable efforts in bolstering the population of big cats. Situated amidst seven forest ranges and adjacent to two other tiger reserves within the same district, this location facilitates favorable tiger movement, resulting in a steady growth of the estimated tiger population, currently standing at 25. As the sixth tiger reserve in Karnataka, the Malai Mahadeshwara Wildlife Sanctuary showcases its commitment to tiger conservation and stands as a beacon of hope for these magnificent creatures.
Chhattisgarh's Guru Ghasidas National Park and the Tamor Pingla Wildlife Sanctuary have been granted the esteemed status of a joint tiger reserve. The Ghasidas Park, which was initially a section of the Sanjay Dubri National Park, serves as the final remaining habitat of the Asiatic Cheetah in India. Moreover, it plays a crucial role as a corridor facilitating the movement of tigers between the Bandhavgarh and Palamau reserves. Besides being a sanctuary for tigers, the Tamor Pingla Wildlife Sanctuary is also a thriving habitat for various other wildlife species, including nilgai, chital, sambar, wild boars, and foxes. This combined reserve area stands as a vital stronghold for biodiversity conservation in the region.
The Ramgarh Vishdhari Tiger Reserve in Rajasthan has been designated with the purpose of providing a secure habitat for tigers migrating from Ranthambore. As Rajasthan's fourth tiger reserve and India's fifty-second, it encompasses the area between Ranthambore Tiger Reserve and Mukundra Hills Tiger Reserve. This new designation aims to bolster conservation efforts in the region, promote tourism to the area, and create livelihood opportunities for local communities. In addition to its significance for tigers, the reserve also boasts a thriving population of leopards, chitals, and wild boars, contributing to the region's rich biodiversity.
Dibang Wildlife Sanctuary tiger reserve status is a slightly more complicated process. The Idu Mishmis, a local aboriginal community, consider the tiger as ethnically significant. Although with increasing numbers of tigers in the region it becomes imperative for reserve status to be conferred, the Idu Mishmi community has requested the government to consider a tiger reserve that is built on a cultural model, a method it claims has resulted in successful tiger conservation in the region across generations.
In February 2021, the Srivilliputhur-Megamalai Tiger Reserve in Tamil Nadu, the state's fifth, was designated as such by the NTCA. The reserve was created by combining the Srivilliputhur Grizzled Giant Squirrel Sanctuary and Megamalai Wildlife Sanctuary.
The Most Popular Tiger Reserves in India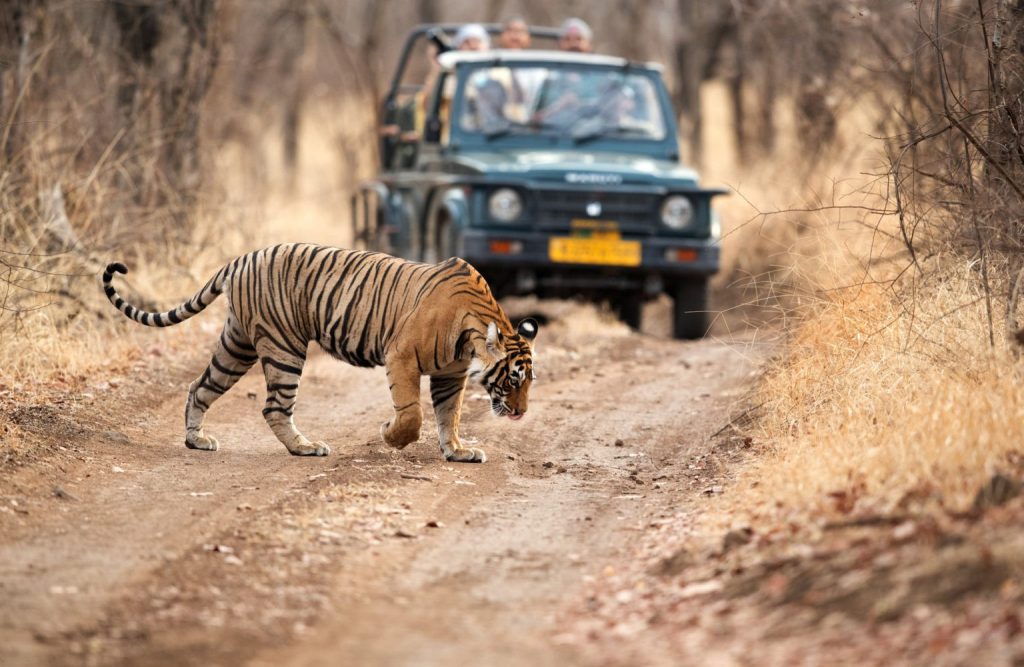 These tiger reserves not only contribute significantly to tiger conservation efforts but also offer visitors a chance to witness India's diverse wildlife and natural wonders up close, making them vital destinations for wildlife enthusiasts and nature lovers from around the world.
Ranthambore Tiger Reserve (Rajasthan): Located in the state of Rajasthan, Ranthambore is one of the most famous and accessible tiger reserves in India. It is renowned for its historical Ranthambore Fort, which adds to the charm of this park. The reserve's diverse terrain of dry deciduous forests, lakes, and ancient ruins makes it an ideal habitat for tigers, along with other wildlife like leopards, sloth bears, and various bird species.
Bandipur Tiger Reserve (Karnataka): Situated in Karnataka's southern part, Bandipur is an integral part of the Nilgiri Biosphere Reserve. It boasts a dense forest cover and a thriving population of tigers and elephants. With its picturesque landscape and rich biodiversity, Bandipur offers an unforgettable wildlife experience.
Kanha Tiger Reserve (Madhya Pradesh): The lush green forests of Kanha, in Madhya Pradesh, served as the inspiration for Rudyard Kipling's "The Jungle Book." This reserve is famous for its efforts in conserving the rare species of Swamp Deer (Barasingha). Besides tigers, visitors can encounter a wide array of fauna, including Indian Gaur (Bison), Indian wild dog (Dhole), and more.
Jim Corbett National Park (Uttarakhand): Established as India's first national park, Jim Corbett is situated in the foothills of the Himalayas. It offers a unique landscape with hilly areas, riverine belts, and grasslands. Apart from the Royal Bengal Tiger, the park is also home to wild elephants, deer species, and the elusive leopard.
Sundarbans Tiger Reserve (West Bengal): A UNESCO World Heritage Site, the Sundarbans is the largest mangrove forest in the world. Spanning across India and Bangladesh, this reserve is known for its critically endangered Bengal tigers, which have adapted to the unique environment of the mangroves.
Tadoba Andhari Tiger Reserve (Maharashtra): Located in Maharashtra, Tadoba is celebrated for its high density of tigers. The reserve comprises teak and bamboo forests, providing a favorable habitat for the big cats, as well as leopards, wild dogs, and various bird species.
Periyar Tiger Reserve (Kerala): Nestled in the Western Ghats of Kerala, Periyar is famous for its scenic beauty and artificial lake formed by the Mullaperiyar Dam. The reserve is home to tigers, elephants, gaur, and the rare Nilgiri langur.
Pench Tiger Reserve (Madhya Pradesh and Maharashtra): Straddling the border of Madhya Pradesh and Maharashtra, Pench is believed to be the inspiration for Rudyard Kipling's "The Jungle Book." The reserve is known for its healthy tiger population and picturesque landscapes.
For latest travel news and updates, food and drink journeys, restaurant features, and more, like us on Facebook or follow us on Instagram. Read more on Travel and Food Network
Trending on TFN
The 23 Best Places To Go In 2023
Explore Utah's Mighty 5® and What Lies in Between