Photo Courtesy: Tamil Nadu Tourism
Tamil Nadu bursts with a fiery flavour, offering up sunny coasts, temple towns, and a serious culture scene. Explore candy-coloured temples with elaborate carvings, take a boat ride through a beautiful mangrove forest, or retreat to the serene beaches. Whatever your perfect holiday, odds are it's in our quickie guide.
VELLORE
Broad tree-lined avenues, beautifully painted palatial homes decorated with exquisite terracotta art, tiny roadside temples sheltered by huge neem and tamarind trees and people smiling and greeting one another as they pass are sights to captivate you the moment you ease off the maddening highway into the city's residential hub. But Vellore is also a dynamic city that is rapidly growing and developing, famed for Christian Mission Hospital (CMC) – a hub for medical tourism and visited by people from around the world.
Sights to see
Built by local chieftain Chinna Bomma Nayak in the 16th century, under the patronage of the Vijaynagara kings, the ramparts of Vellore Fort, made of granite blocks fitted together like a jigsaw puzzle, glitter under the harsh sun. Within the fort, there is a mosque, church, and the looming Jalakanteshwara Temple: Its name translates to "Lord Shiva residing in the water." Sri Lakshmi Narayani Golden Temple also known as Sripuram Temple has become a huge attraction with visitors thronging to one of Tamil Nadu's biggest shrines, occupying a built-up area of over 50,000 sq. ft. in grounds that sprawl over a hundred acres. The path to the temple is flanked by golden archways, symmetric bushes, dancing jets of water, and bright lamps. About 20,000 varieties of bushes and trees have been planted in the surrounding gardens.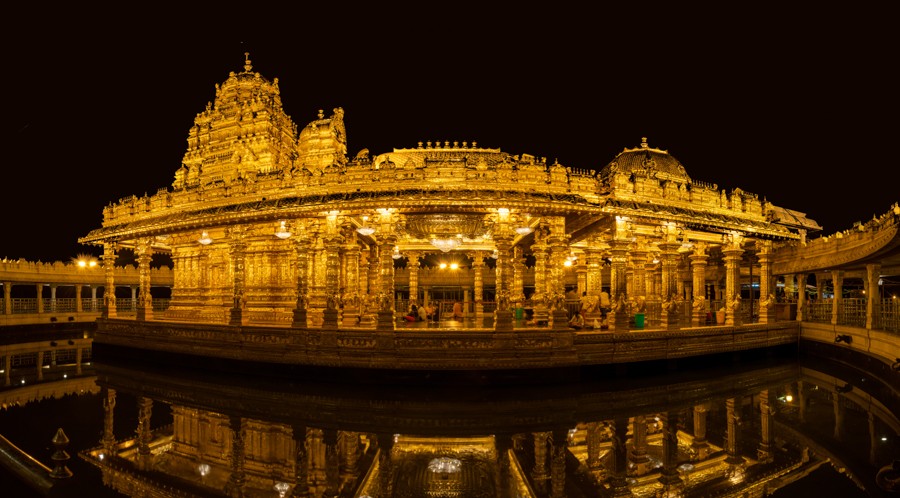 Things to do
Vellore is surrounded by pockets of scenic greenery with several wild residents. Begin your exploration at the serene Amirthi Forest and Wildlife Sanctuary. The Amirthi River waters this fertile area, which is full of swaying trees, mini waterfalls, and rolling grassland. As you stroll through the lush park spot bird calls and identify elusive deer and antelope. Be sure to survey the abundant herbal garden.
How to reach
Vellore is located in northern Tamil Nadu and is 125 km/3 hours east of the capital Chennai. Driving would be an ideal option. Buses ply regularly between the two cities. Taxis charge Rs 2,500 for the one-way journey. There are frequent trains from Chennai to Vellore Katpadi junction (duration 2-3 hours).
Best time to visit
The best time to plan a trip to Vellore is when the winter season sets in between November and February.
KANCHEEPURAM
Kancheepuram, the temple town of Tamil Nadu, is one of the most sacred places for the Hindus. Referred to as 'Golden City of A Thousand Temples', Kancheepuram is not just popular as a pilgrimage site but a perfect getaway for history buffs, architecture admirers, and nature lovers. Not to mention the world-famous Kancheepuram Sarees that have been adorning Indian brides for decades. Kancheepuram attracts visitors from all over the world who wish to marvel at the splendour of Dravidian architecture, art, history, and culture.
Sights to see
'Kanchi' means Brahma, one of the trinity in Hinduism, and 'Puram' means abode. The city is an abode of Brahma that houses 108 Shiva and 18 Vishnu temples. Delving into some of the remarkable temples in Kancheepuram that must be visited at least once in a lifetime are:
Ekambaranathar temple: Dedicated to Lord Shiva, spread over 23 acres of land, standing tall on 1000 pillars with idol carvings on each that exhibit jaw-dropping architecture, this is the largest temple in Kancheepuram.

Kailasanathar Temple: Credited to the artisans of the Pallava dynasty, the Shiva temple is the oldest temple in Kancheepuram, with a documented history that dates back to 700 CE. The pyramidal sandstone temple features carved sculptures of a dancing Parvati and holds 58 small Shiva shrines in the main sanctum.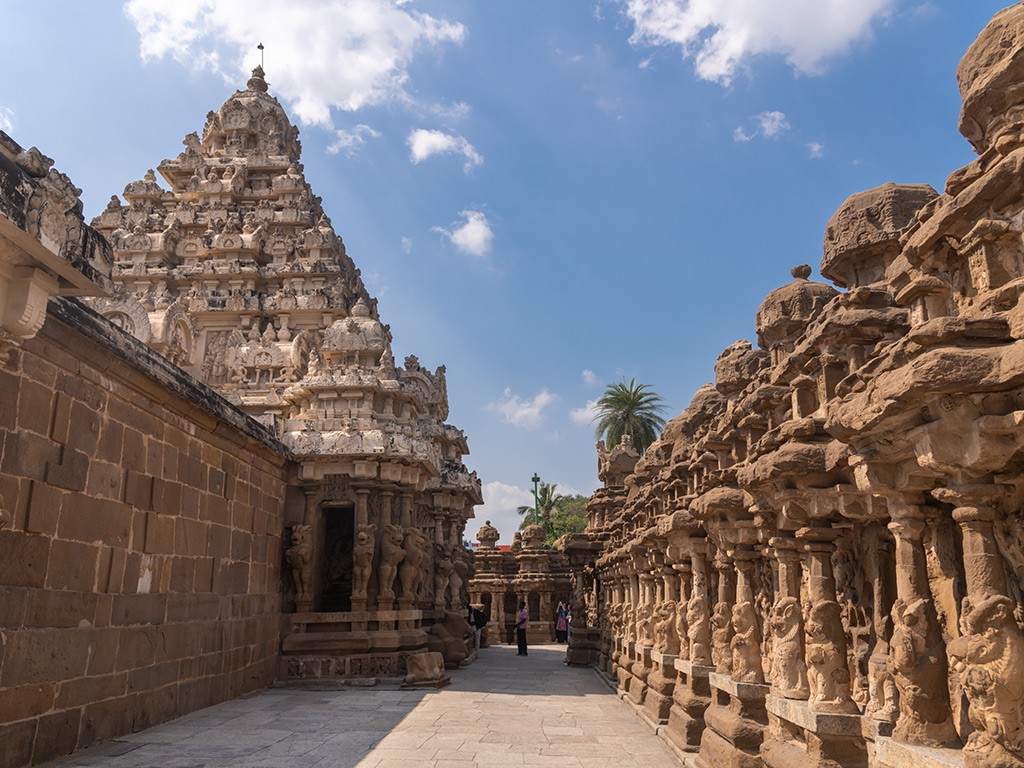 Kamakshi Amman Temple: It is another notable Hindu temple in the list of incredible Kancheepuram temples that is dedicated to Goddess Kamakshi, the temple holds immense power and attraction amongst devotees.

Sri Varadaraja Perumal Temple: Set up in a 23-acre complex, this temple is one of the 108 Divya Desams, the abode of Lord Vishu, one of the trinity in Hinduism. Gold glided lizards are considered sacred here are thoughtfully carved over the sanctum. Thus, it is also known as the Golden Lizard temple.

Ulagalandha Perumal Temple: Built by the Pallavas the temple honours Lord Vishnu and is a Divya Desams that holds another 4 Desams inside its premises, which is unique and revered.
Things to do
Beyond temples, Kancheepuram is well known for producing silk handlooms in the country. You can shop for these six-yard silken wonders woven out of pure mulberry silk thread by local artisans of Kancheepuram.
How to reach
If you are not driving then take the train. There are also state-run buses from Kancheepuram to most of Tamil Nadu's major cities on a regular basis.
Best time to visit
October to March is the best time to visit Kancheepuram as the temperatures do not touch extremes.
PICHAVARAM MANGROVE FOREST
Pichavaram, the world's second-largest mangrove forest, is off the beaten tourist path but well worth the trip. The complex river system and canal network that connect this lovely site and maintain the area's diverse biodiversity is enchanting.
Pichavaram, which is located near the temple town of Chidambaram, can be enjoyed by taking a boat ride through the 1100-hectare forest, which takes you through narrow canals and breath-taking scenery, and allows you to admire the beautiful Mangrove trees while witnessing the forest's birdlife. The sea is only 6 kilometres from the forest, and the sandbank that divides the forest from the Bay of Bengal can be seen throughout the day.
Sights to see
The Pichavaram mangrove forest in the coastal Cuddalore district, considered the second largest in the country after West Bengal's Sundarbans, is a storehouse of biodiversity and is home to number of spectacular species and migratory birds like snipes and cormorant. At present, Tamil Nadu Tourism Development Corporation (TTDC) operates a boat house. The boats are run by the Eco Development Committee comprising eight persons from Thalapathy Nagar, a village located in the forest area.
Things to do
Paddling and boating are two activities available at Pichavaram. The motorboats can accommodate 8-10 people while the smaller paddle boats can accommodate 4-5 people and both provide a pleasant local experience accompanied by a professional guide.
How to reach
The nearest airport is at Tiruchirappalli, which is 170 km from Chidambaram. The nearest railhead is also at Chidambaram and from here, one can take a taxi or catch a public bus to Pichavaram. The best option is by road. Pichavaram is well connected by road with Chidambaram, and one can easily get a taxi to the town or catch state buses which run every hour between Chidambaram and Pichavaram.
Best time to visit
The best time to visit Pichavaram is in the winter months of December and January.
THARANGAMBADI
Tharangambadi, also known as Tranquebar with the royal Danish insignia inscribed on it, transports visitors to a different era. Called Tharangambadi (the place of the singing waves) before it was renamed by the Danes four centuries ago, this town was a prosperous trading port. Tranquebar is 15 km south of the ancient Chola town of Poombuhar and a six-hour drive from Chennai.
Sights to see
For the spiritually inclined, there are several well-known places of worship within a radius of 50 k.m. Chidambaram (45 km/90 minutes) is home to temples of the dancing god Nataraja, while the 11th-century temple at Thirukkadaiyur (30 km/1 hour) is where Lord Shiva is said to have annihilated Yama, the god of death, to save Markandeya and bestow immortality on him. In Velankanni (38 km/1 hour), a Christian town known as the Lourdes of the East, is the renowned shrine Basilica of Our Lady of Good Health. Lining both sides of King Street, there are colonial era buildings, carriage porches and stucco walls, a fort and majestic churches. Rehling's House a colonnaded house at the western end of the street, used to be the Danish Governor's residence. Next to it is Van Theylingen house, which is home to a small maritime museum.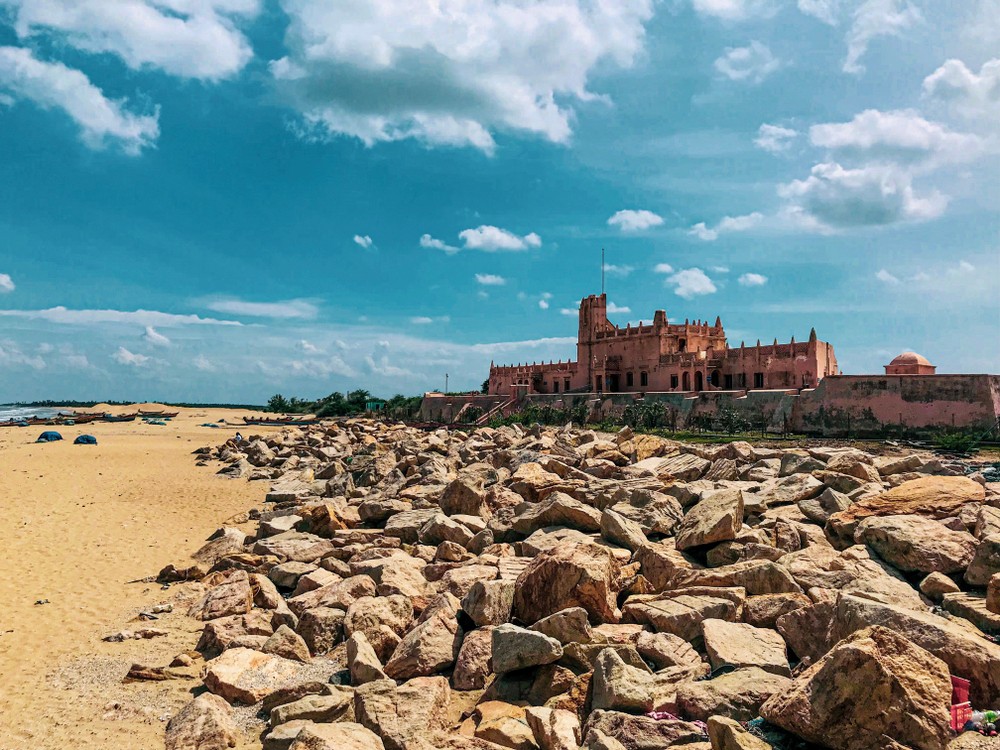 Things to do
Tranquebar is small enough to walk around and see it all in a couple of hours. Some of the popular tourist spots include Zion Church, the mustard-coloured Fort Dansborg, the Bungalow on the Beach, Masilamani Nathar Temple, and the Danish Cemetery.
How to reach
There is no airport in Tranquebar. The closest airports are at Trichy and Chennai. The road network is pretty good and one can reach Tranquebar from Trichy in about 4 hours. The driving time from Chennai to Tranquebar is approximately 6 hours.
Best time to visit
The best time to visit the place is between November and March.
To know more visit Tamil Nadu Tourism's official website.
In Partnership with Tamil Nadu Tourism
For the latest travel news and updates, food and drink journeys, restaurant features, and more, like us on Facebook or follow us on Instagram. Read more on Travel and Food Network
Related Stories:
Best Wildlife Sanctuaries In Tamil Nadu
10 Must-Visit Waterfalls in Tamil Nadu
Must Eat Local Dishes In Madurai And Where To Eat Them
10 Reasons To Visit Tamil Nadu
In Photos | 5 Incredible UNESCO Heritage Sights to Visit in Tamil Nadu