The misty Mount Grouse offered more than regular mountain thrills when two grizzly bears came a-strolling.
My eyes peeled the fog spooning the sides of Grouse Mountain, the ferny 'Peak of Vancouver', which at 4,100 feet, is a playground for high-altitude adventurers. But it wasn't adventure that I was chasing—at least not the kind you'd associate with skiing and snowboarding, two of the many mortal thrills the slope offers in winter. My trip to Lotus Land was in July, which was perfect, for I had travelled here with a specific aim, and wasn't leaving until it was achieved. "We should leave, it's getting chilly", a fellow-Grouser mumbled. As if on cue, Grinder emerged, out of the white haze and towards us. Kevin, my guide, whispered that his mate Coola was probably around the corner. Tracking Grinder's moves amid the oohs and aahs of onlookers, I almost missed Coola's entry. Out he sauntered, like a dignitary fashionably late for a social gathering. After all, Grinder and Coola were the stars of this 'social gathering'—one with two grizzly bears, and a huddle of gaping tourists. But let's start at the start.
Travelling through British Columbia, I found myself on this alpine peak, barely 15 minutes from downtown Vancouver, with its salmon candies and big city bustle. As it turned out, reaching the top of the mountain was an adventure in itself. I was standing in the corner of a red sky tram, a closed-gate aerial lift that takes tourists up to an elevation of 2,800 feet. I don't suffer from vertigo, but about eight minutes into the ride, I made the mistake of looking down, and my stomach churned. I could see the tops of concrete building disappearing into a faint water dust, the city had just received some mid-week rain. Soon, the skyline was populated with the spindly tops of Douglas firs. Twelve minutes into the 'skyride', I reached my destination.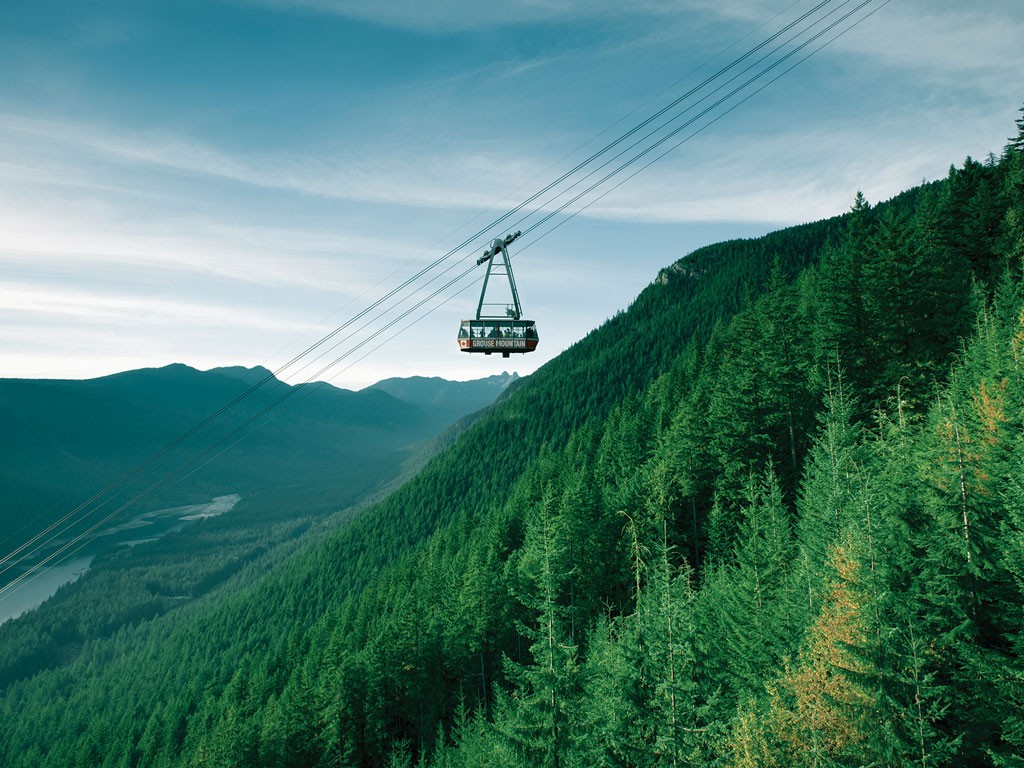 Stepping out of the cable car, I could have sworn I walked into a soaking cloud. Everything around me was misty and wet. At the station, I spotted signs directing visitors to their choice of activity. Cold-shouldering the prospect of zip lining or mountain biking, I proceeded towards the Grizzly Lookout Café. The animal lover in me rejoiced; this is what I'd come for. I reached the café—an elevated platform fenced on three ends—by following a trail of chalky paw prints through a forested road. I had been told that two orphaned rescue bears lived beyond the lookout. Heart in mouth, I positioned myself as close to the fence as safely possible, ready with my camera. I sat there for what felt like a long time, surrounded by a scattering of tourists, all prepping themselves for the grand sight. Even as the rainy chill froze my legs, my mind was whirring with television-flashes of all the bears I'd ever encountered in books and movies—Baloo, Yogi Bear, Master Po Ping, Winnie-the-Pooh. The uncertainty (Will they come out at all?) and the anticipation (Will they frolic around like my pop-culture bears?) made for a fervent build-up, leading up to the moment when Grinder finally strutted out. He didn't seem to mind the thrilled gasps that escaped us. For a while, the camera was forgotten—I could not look away from the sleepy, beady eyes, the huge, heaving body, the chocolate fur and those giant paws! But I had to, for true to Kevin's prediction, grizzly-number-2 Coola had snuck out of the trees and plonked himself in a spot ideal for our viewing. He sat there like a portrait model, staring intently at his paws. As the pair ambled around, Kevin told us about their lives. Coola was named after the highway he was found near, Bella Coola in British Columbia. As a cub, his mother and siblings were killed in a truck accident. Coola's future seemed bleak until he was brought to Grouse, where he met Grinder. Grinder, a frail, scrawny cub found near a logging road in Invermere, met Coola in 2001, when they were both eight-months-old. The rest is one happy story.
With both bears still within sight, I was suddenly aware of the goose bumps on my arms. To see the majestic creatures roam free in the midst of nature, undisturbed, felt surreal. But it was real enough—real and rare, Kevin insisted. "It is your lucky day, it's rare for the two to make an appearance together," he smiled. I believed him.
This feature also appeared in National Geographic Traveller India
For latest travel news and updates, food and drink journeys, restaurant features, and more, like us on Facebook or follow us on Instagram. Read more on Travel and Food Network
Trending on TFN
The 23 Best Places To Go In 2023
Explore Utah's Mighty 5® and What Lies in Between
Five Epic U.S. National Parks To Visit This Year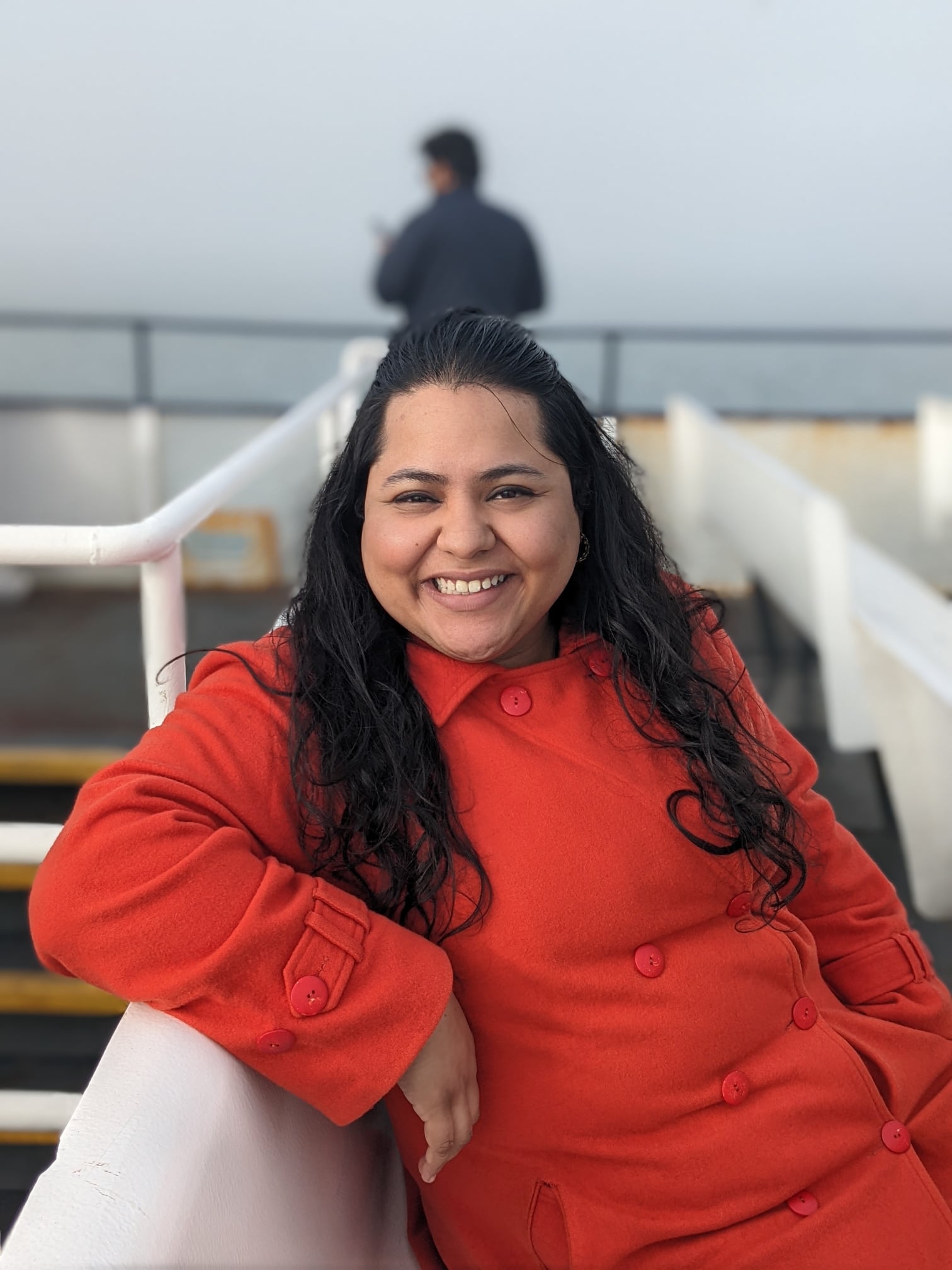 Although she is a copywriter by profession, Ishani loves writing longer sentences and harp on all kinds of details. She has worked with multiple brands for social media strategy, written longer editorial pieces as well and would ideally love to quit it all to travel the world. Until she can, she believes, " words are all I have.."