Restorative charm of this Goan-Portuguese property offers an immersive culinary indulgence and a luxury stay.
The magnificent coconut palms towering above me rustle with the wind as sunlight pierces through a hedge of bougainvillaea. Soon, the evening alerts me of a sunset as the sky transforms into a technicolour entropy. I am the only guest in the nine-bedroom property floating peacefully in the quartz pool for an entire afternoon. If I were to shut my eyes, the deepest slumber would envelop me in what appeared to be my private palace.
Mansion Haus, nestled in Anjuna's posh locale, brings out Goa's old-world charm with its stucco interiors. A weekend getaway sounds peaceful here, albeit a different experience from Goa's beachy and pub-hopping scene. At first glance, when I trudged its cobbled driveway with a rucksack, a grey-toned colonial mansion with a run-down roof matched my ensemble. But the red-carpeted welcome gave a taste of what lay five steps ahead. Soon, I stripped off my wanderer's identity and with a crystal flute in my hand, browsed through the 300-year-old ancestral boutique.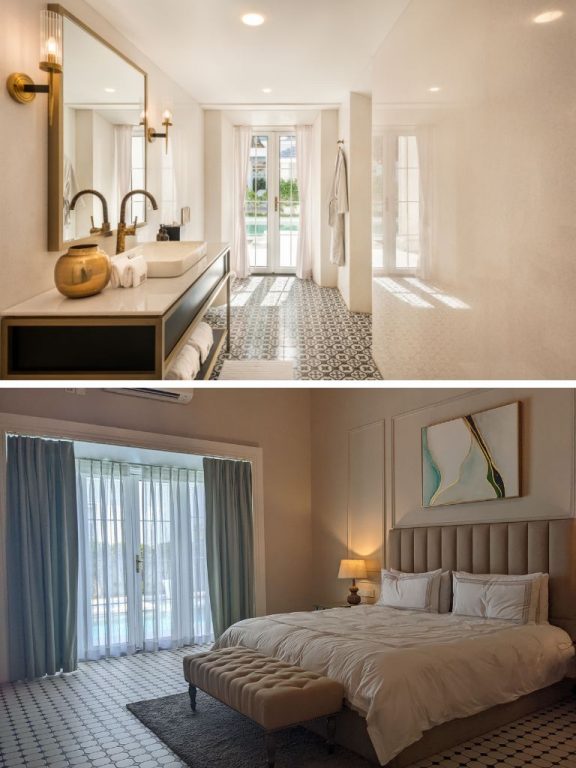 Flushed in Luxury

Walking into Mansion Haus is like walking into a designer's den, particularly Kezya De Braganca's who spent three years upturning the venue. My suite is draped in pastel shades of blue, sea green, white and gold while the imperfect ceiling rocks a character trademark. The neo-classical elegance of brass-shaded bathroom fixtures lend a tinge of antique luxury, the handpicked art pieces like a 4×3 feet impasto artwork compliment the jaded bedside lamp, and distressed finish cabinets fill the space with modesty and elegance. Every decor placement makes sense, yet declares awareness of modern minimalism with a smugness for its grandiosity.
It is a property that clearly differentiates a luxury boutique from a resort space, perhaps because the property feels like an avant-garde home. Artistry never leaves you, no matter where you're lounging. I learn the woodwork features recovered deck of distressed ships, floors are embedded with original Portuguese floor tiles, and lamp holders, porcelain decor and muted upholstery—all to have a strong cultural significance. "The idea is not to shield the local culture," Kezya tells me. I believe this without a doubt.
The Angler, the outdoor dining area turned into my salon privé where I spent afternoons lounging, is a chic bar, and the East Garden is a delightful al-fresco bistro. The Marie Antoinette room at the entrance, carefully offers coffee table reads for a dose of history, and the Atélier makes up a beautiful studio space for workshops and meetings. Each of the nine suites open to the common pool or a private jacuzzi following a traditional Goan courtyard layout.
What fancies the eyes of travellers looking to tone it down over brunch in style, also grabs the attention of hipsters on the look for a vintage-forward design.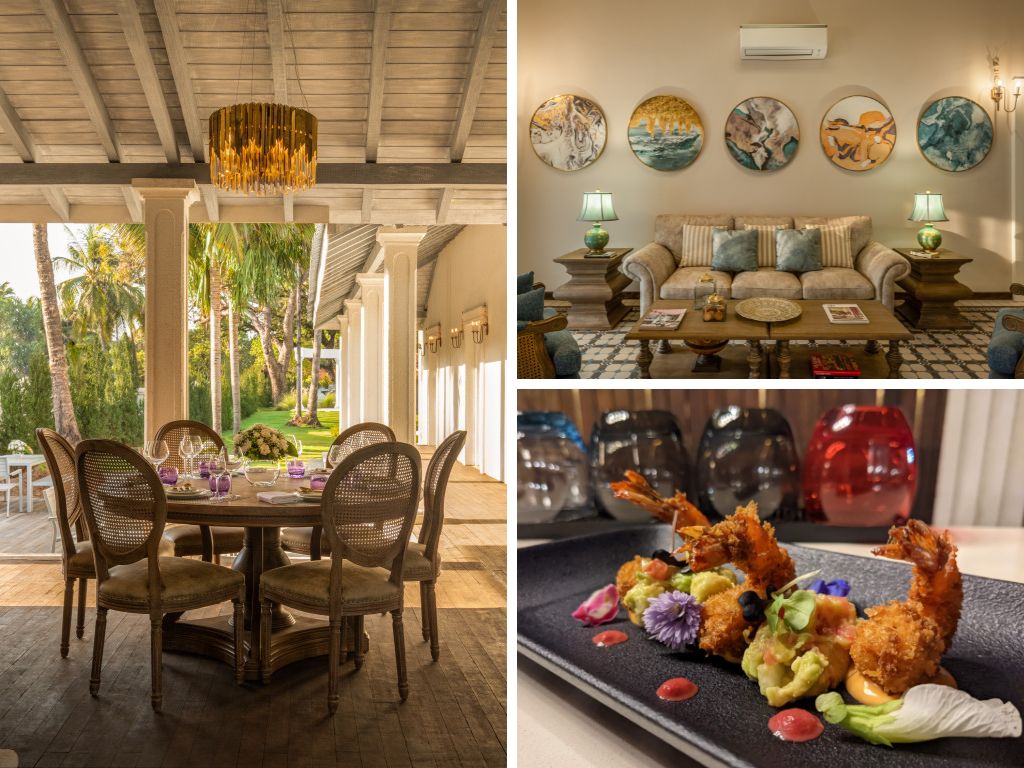 Rest, Revel, Relish
A hallmark feature of Goan hospitality is the willfulness to feed. On the first evening, Chef John Dsouza and I witnessed our banter oscillate from cherishing feni and urrack to French Chardonnays and Kerala toddy. "Urrack with a slit chilli and Limca shares the same prestige with toddy on an empty stomach in the morning", alerts the Chef. "But to many's surprise, in the off-season when urrack isn't available, Goa yields delicious toddy". I inform the chef I've never sipped the southern elixir, a sigh is exchanged and our conversation moves on. Bespokely, the very next morning, I am presented with the freshest decoction from the day's first decant—a deliciously sweet-scented cloudy drink. "I too have never had toddy this fresh", Chef John and I clink our glasses and I savour the liquid with gratitude.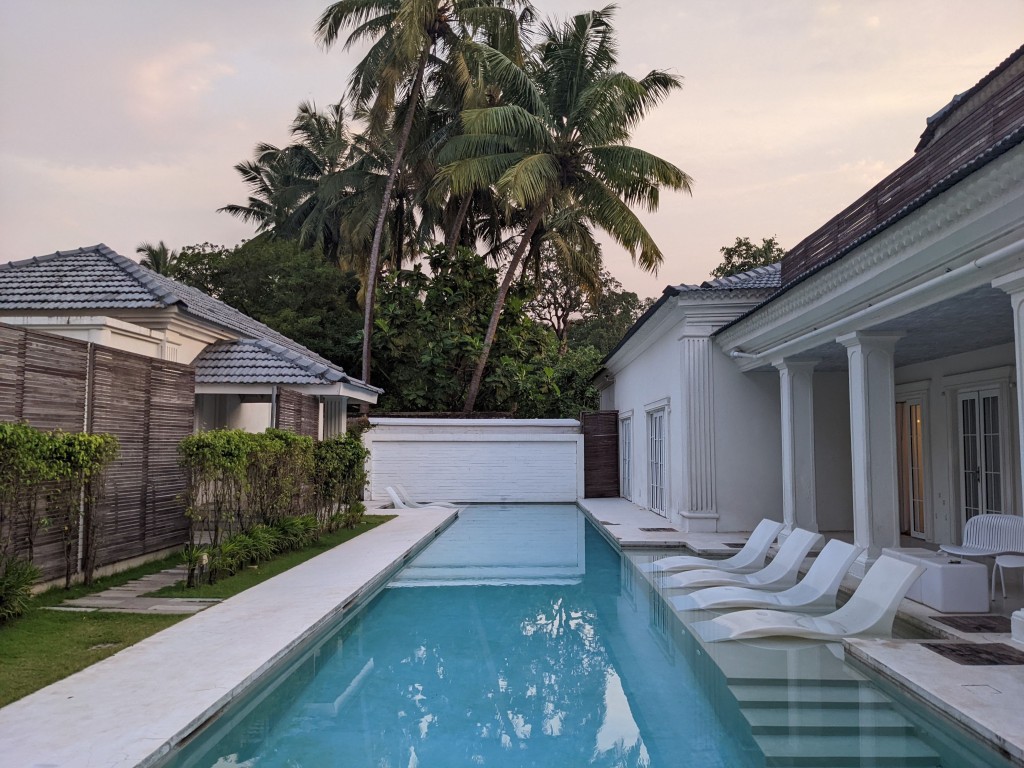 My second day is de-stressing and full of the Goan calm. Susegad, the motto of living carefree, has engulfed my senses quickly. Before the floating breakfast, a gentle wake-up call reminds me of a private sound meditation session in the morning. I already look forward to feeling as light as a feather, knowing I have an hour-long massage with a body therapist later. Throughout the day, I skip from the Lenora suite to the back courtyard, Kunsthalle to catch up on some reading, and the East Garden for extravagant meals.
I'm told the dining experience is as organic as the ingredients and it takes no convincing as each meal feels like a carefully crafted smorgasbord which is a fine result of experimentation and culinary expertise. My first meal was a humble spread of Goan preparations of prawns balachao, rawa snapper and beef fry, all incredibly aromatic with the right tartness. Not only does each bite lend an explosion of flavours, but a pairing with a bright citrus kale salad and a wine cocktail ups the game. The evening affair is a "no fuss" cocktails and canapés, except every plate arrives with a drizzle of truffle oil, emulsified basil reductions and carrot puree. Garnishes consist of perfectly seasoned fried jalapenos, burnt garlic, edible flowers and gritty fruit purees, and four appetisers feature deliciously smoked chicken, Goan chorizo, marinated paneer and avocado-smeared prawns. Of course, mixology doesn't shy away. The creamy bruschetta is only plated after an acidic pomegranate vodka sour. A cinnamon-rimmed Tamarind martini compliments the greasy chorizo pizza, while the kiwi gin cooler mellows the heat before the last two courses. Gluttony.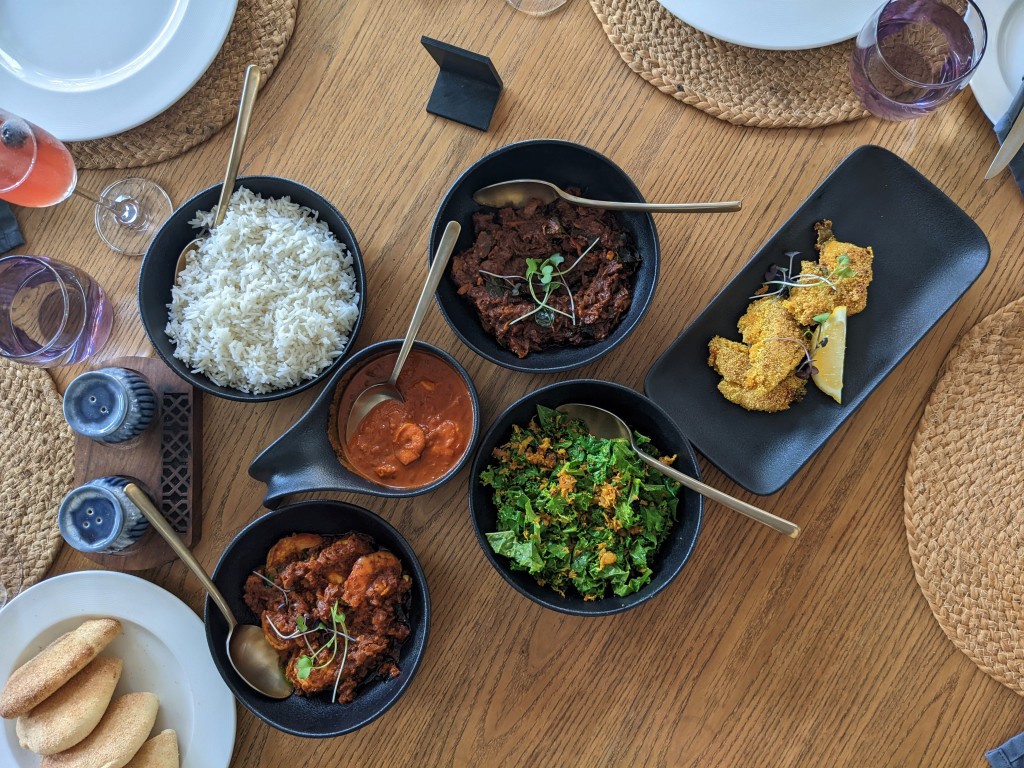 The aim for this getaway is pure relaxation and in two days, I achieve just that. All zen and mellow, here my itinerary is gravely different to my regular Goan visits. As someone who staunchly believes that a true feeling of freedom could only flood my senses if I was riding a two-wheeler through the topical canopies to Morjim for a pre-sunset plunge, I am pleasantly surprised that flipping magazines, enjoying an afternoon siesta with the doors ajar, swimming in a pool, and stuffing my face with marvellous food can do just that. I make my way to my final meal, loaded with endorphins as if I walked straight out of a spa. I'm being pampered with a five-course meal and a bottle of French Chardonnay that got many praises on day one. I indulge in the salmon blinis, succulent and umami. I eat the sumptuous soup, meticulously study the feta and pumpkin ravioli and inhale a portion of seared seabass which is incredibly rich and delicate. Finally, I crack open a whisky chocolate mousse bomb—the dessert is a symphony of balance, much like a getaway in this pastel paradise.
ESSENTIALS
A 44 km/1 hour drive from Goa International Airport at Dabolim, MansionHaus is an adults-only property. Doubles start from ₹26,000* per night.
Airport transfers are available, contact the property for curated experiences. (mansionhaus.com)
For latest travel news and updates, food and drink journeys, restaurant features, and more, like us on Facebook or follow us on Instagram. Read more on Travel and Food Network
Trending on TFN
The 23 Best Places To Go In 2023
Explore Utah's Mighty 5® and What Lies in Between