Photo: Hilton Maldives Amingiri
From fun filled cocktail curations with the bartender, sensorial spa sessions to a private dinner setup by the beach, there's something for everyone this Valentine's Day.
White sands, cosy villas floating over turquoise waters, intimate candlelit dinners, there is nothing like the Maldives for romance, particularly on Valentine's Day weekend. If you are looking to treat yourself and your significant other to a luxurious getaway, these scenic and sumptuous offerings from Hilton Maldives Amingiri will ensure you'll feel lavishly pampered, nourished, and recharged for this romantic holiday.
Here are five ways to surprise and woo your partner, ensuring you have the most memorable time together.
A Table for Two to Set the mood
The perfect date setup with romantic beach dinners, floating breakfasts, and sunset cocktails. Start with a breakfast date at Habitat, the high ceilings and open kitchen layout of this vibrant restaurant make for a delightful breakfast venue by the sea. Then move on to the Beach Shack, an unpretentious, feet in the sand dining venue that does not take itself too seriously. The shack is all about barefoot luxury, presenting wonderful flame-grilled dishes and craft beers in the midst of sea, sun, and sand. Enjoy your evenings at the SIP Tea Lounge, a modern-day tea house for refreshment and relaxation. From a delicious matcha latte, robust black teas of South Asia or modern take of iced and bubble tea, SIP provides a tea experience for the global traveler of all ages. End your day by enjoying fresh and flavorful seafood at Origin, a first of its kind in the Maldives. Origin takes a mindful approach to dining, presenting seafood at its best through sustainable sourcing, aging, and reduced waste.
Up Your Love Game with the R&R therapy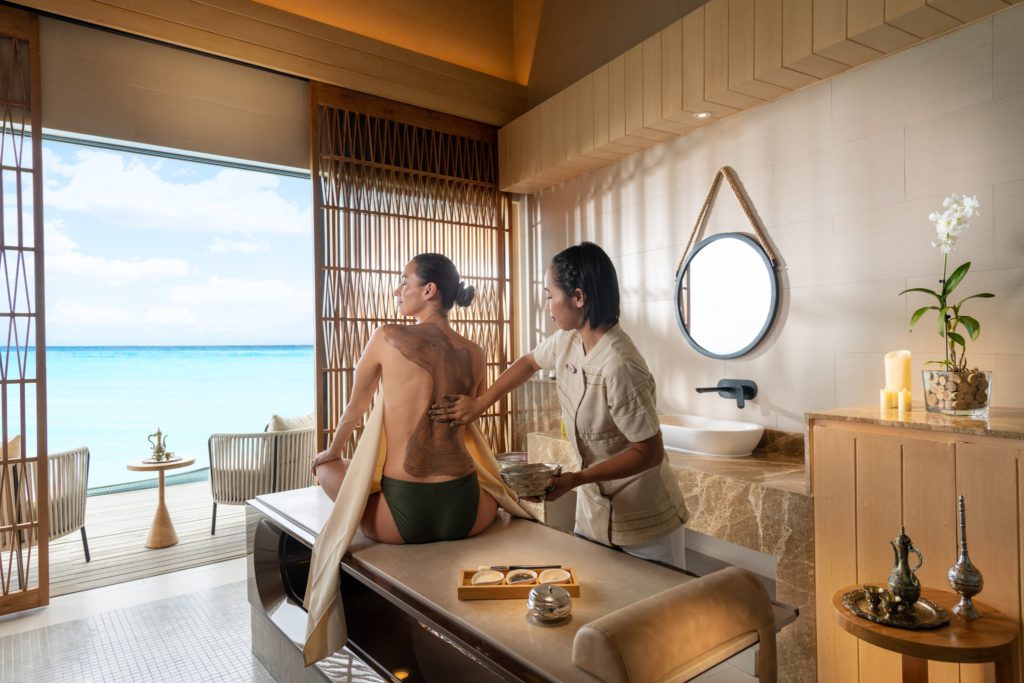 Reset the mind and body with a rejuvenating spa treatment. Book a couple spa at Skye Deck and take in infinite panoramas of the Indian Ocean. One can also stop by the bar for protein shakes, kombucha, and mocktails. Pair your massage with a couple's yoga session too, it's all about connection and letting go of your worries at Hilton Maldives.
Get the Adrenaline Flowing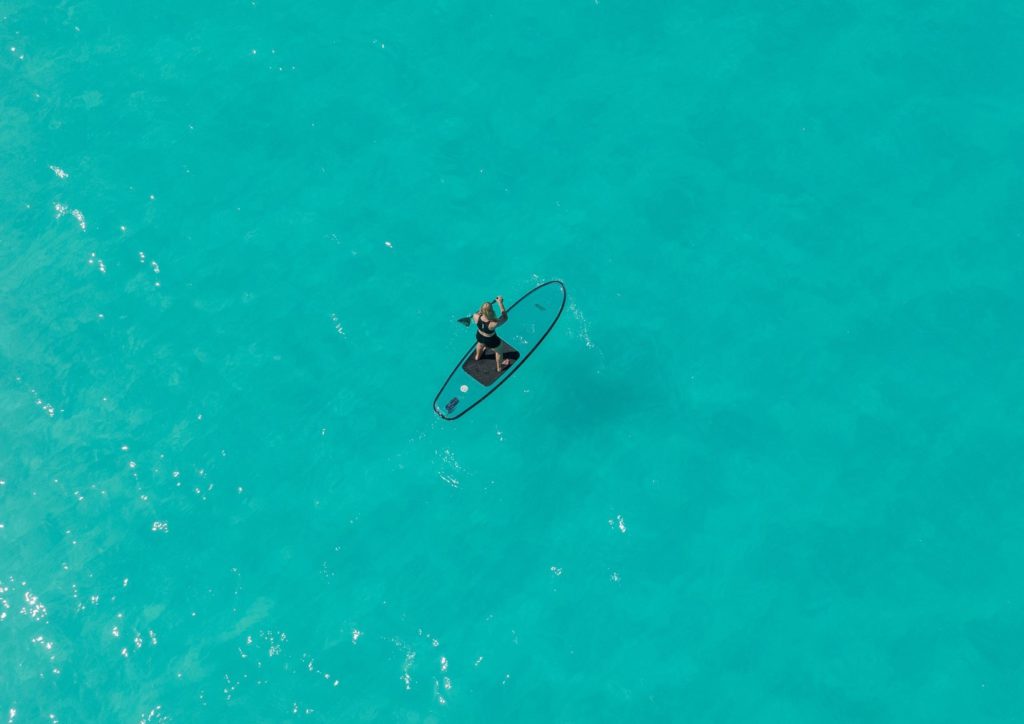 Your island adventure awaits. Discover the extensive activities at Hilton's dive center. From snorkeling, glass kayaking, paddle boarding to scuba diving- the private lagoon offers one of the best diving experiences in the world. So put on your snorkel gear and explore the breathtaking world beneath or grab a jet ski and trim the waves. You could also watch the sunset while glass kayaking and soak in the stunning views in the middle of the ocean, along with your loved one.
Cheers of Love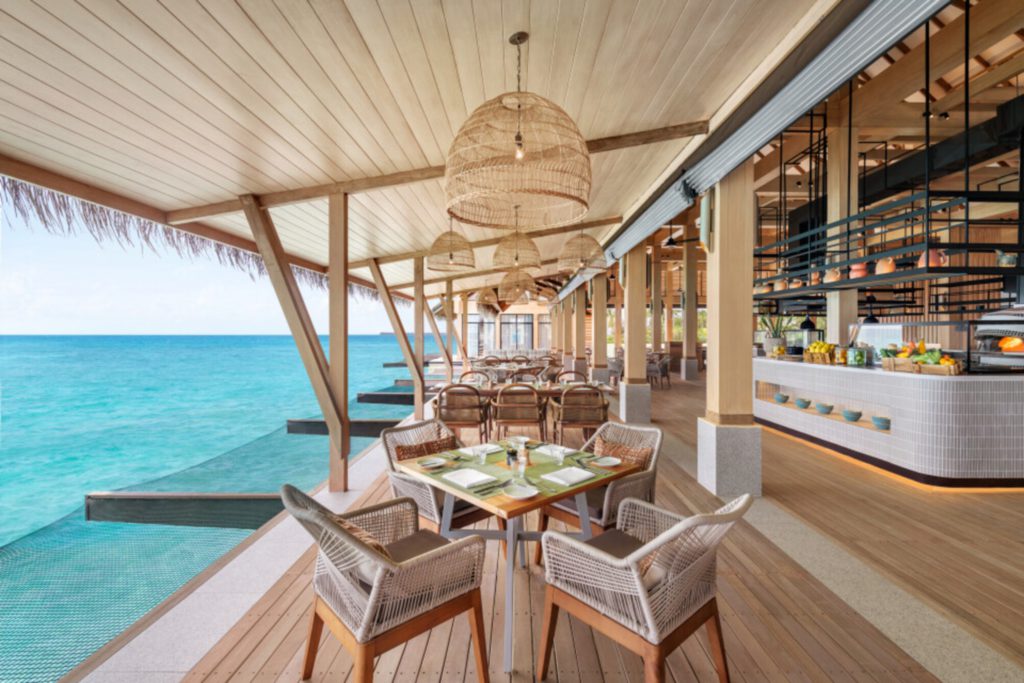 Learn to mix your favorite concoctions in a cocktail class at Aura Pool and Cocktail Lab. A first of its kind – this room is dedicated to the art of mixology. Apart from a cocktail experience, one can also opt for other creative classes including coffee art and sunset.
Stay Bundled Up In Love in Your Own Blissful Bubble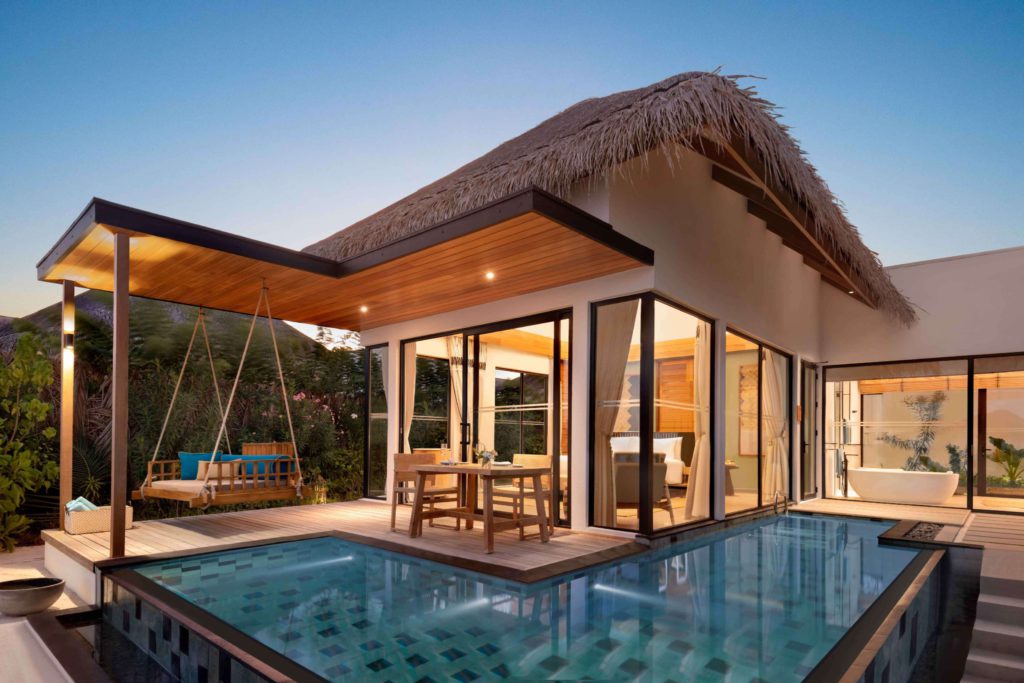 The resort occupies the entire Amingiri Island and features 109 expansive beaches and overwater villas, each offering private pools and gorgeous views of the surrounding teal-turquoise lagoon. The villas lean heavily into the natural beauty of its location, with each villa featuring a unity of both Maldivian and contemporary touches, inviting an abundance of natural light through its floor-to-ceiling windows. All of this is enhanced by accents of the bright and dark blue Hilton colour palette that fittingly mirrors the azure sea and sky. So if quality time, and staying-in is what you're keen on, the villas provide the perfect cocoon.
In a nutshell, imbued with the quintessential Hilton promise of decadent luxury and stunning opulence, this brand- new island getaway resort has it all. What makes the Hilton Amingiri Resort and Spa a great option for those who like the finer things in life is the scrupulous attention to detail that the staff put into making your stay a memorable one. From their personalized guest experience manager's recommendations on excursions and dining options, to the endless possibilities of grabbing some much-needed rest and relaxation, be it at the spa or simply lounging about your private villa's deck. Or perhaps, having a picnic on the resort's white sanded beach, the sky's the limit here!
ESSENTIALS
Hilton Maldives Amingiri Resort & Spa, located in the North Malé atoll, is a 20-minute water taxi ride from capital city Malé, which is served by the Velana International Airport. The resort holds a total of 109 villas. Doubles for overwater villas from $841/`66,740, while beach villas start from $1,055/₹83,720, inclusive of breakfast. For more details, visit the official website here.
For latest travel news and updates, food and drink journeys, restaurant features, and more, like us on Facebook or follow us on Instagram. Read more on Travel and Food Network
Trending on TFN
The 23 Best Places To Go In 2023
Explore Utah's Mighty 5® and What Lies in Between