Search giant Google is celebrating India's premier street food 'pani puri' with a special interactive game Doodle today. In the game, Google will allow users to help a street vendor fulfil pani puri orders by helping them choose from different pani puri flavours in order to match the flavour and quantity preferences of each customer.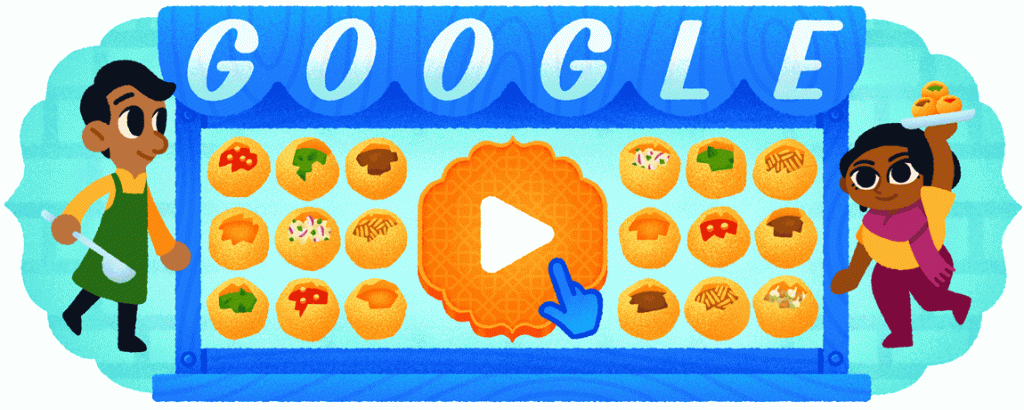 This snack is known by various names due to its regional variations across India. In Maharashtra and Andhra Pradesh, it is called pani puri and typically contains boiled chickpeas, a white pea mixture, and sprouts submerged in tangy and spicy pani. In the northern states of Punjab, Jammu and Kashmir, and New Delhi, the potato and chickpea-filled treat dipped in jaljeera-flavored water goes by the name gol gappe or gol gappa. West Bengal and parts of Bihar and Jharkhand refer to it as puchkas or fuchkas, with tamarind pulp being a key ingredient for this variation.
As Google celebrates the popular south Asian snack, here's our lowdown on the best places to savor this delightful snack in Mumbai, Kolkata and Delhi.
MUMBAI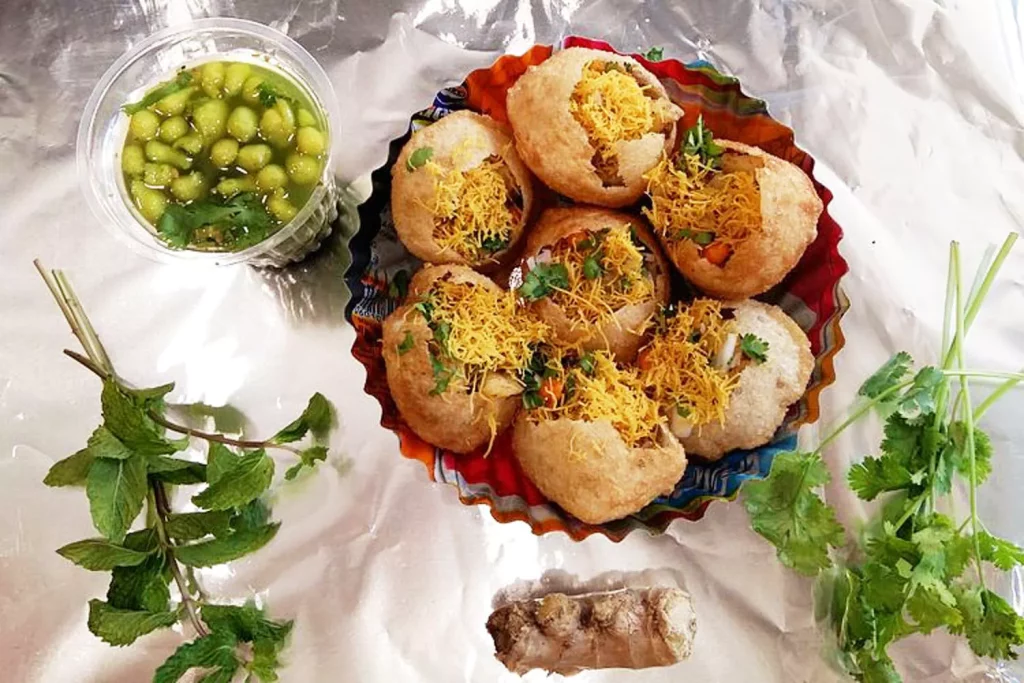 Bandra:
Elco Pani Puri Centre – Located on Hill Road, Elco is known for its well-balanced proportions of masala and fillings. Price: INR 70.
Punjab Sweet House – Situated in Pali Naka, this place is popular for its flavorful and proportionate panipuri. Price: INR 50.
Karachi Sweets – A long-standing favorite, Karachi Sweets offers tasty panipuri with chilled pani. Price: INR 50.
Andheri – Malad:
The Chaat Corner – Situated in Lokhandwala, Andheri West, Monsoon is famous for getting the spice quotient just right. Price: INR 40.
MM Mithaiwala – A prominent shop near Malad station, MM Mithaiwala is known for its delectable panipuri.
Kandivali – Borivali:
Shree Ram Sweets and Farsan – Located in Mahavir Nagar, Kandivali West, Shree Ram Sweets is considered one of the best in the area. Price: INR 30.
Shree Ji's and Jain Sweet & Bhelpuri House – Visit Borivali to enjoy delicious panipuri at these recommended spots. Price: INR 45.
Dadar – Lower Parel:
Trupti – Situated on the ground floor of Palladium Mall in Lower Parel, Trupti is a great place to satisfy your panipuri cravings.
Anna Purna Chaat Bhandar – Located on Ranade Road in Dadar, this place is highly recommended for its insanely good panipuri.
SoBo:
Kailash Parbat – Head to the Colaba branch of Kailash Parbat for the most delicious panipuri experience. Other outlets are not as recommended.
Must Read: 72 Hours in Kolkata – Travel and Food Guide
KOLKATA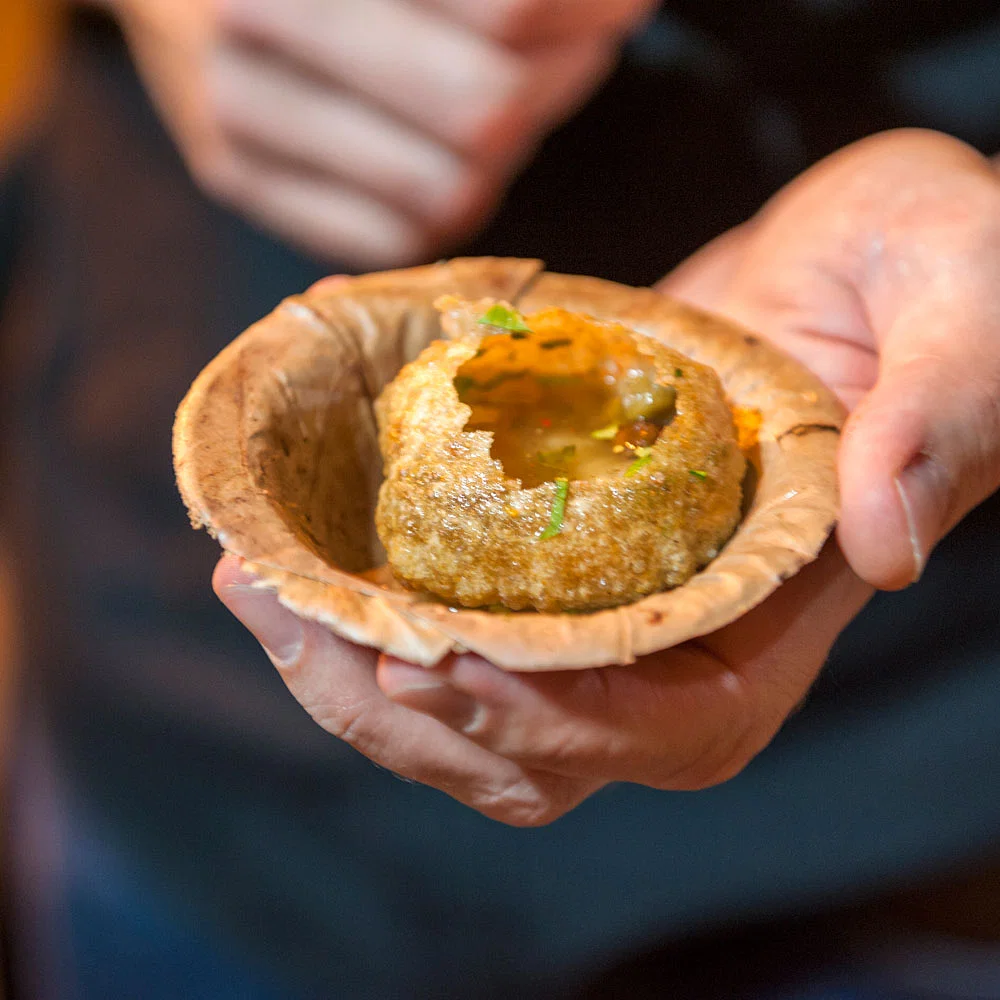 Vivekananda Park – Dilipda's Puchkas
For a classic phuchka experience, head to Dilipda's Puchkas in Ballygunge, located in Vivekananda Park. Dilipda's phuchkas are full of flavor and come with a spicy filling. Don't miss their dahi phuchka, topped with a sweet chutney made from dates, mango pulp, and pudina (mint).
Vardaan Market – Krishna Kant Sharma Fuchka Wala
While there are many tempting street food options outside Vardaan Market, make a beeline for Krishna Kant Sharma's phuchka stall. The aroma of homemade spices like methi (fenugreek), kasuri (dried fenugreek leaves), dhaniya (coriander), ajwain (carom seeds), saunf (fennel seeds), and jeera (cumin) will entice your senses before you even take your first bite.
Max Mueller Bhavan – Goethe Institut Max Mueller Bhavan
Another favorite spot for phuchka lovers is just outside Max Muller Bhavan in Park Street. This vendor opens his shop every day around 4 pm. The tangy pickled water, a combination of pudina (mint), lime, and tamarind, served alongside the phuchkas here is an unforgettable experience.
Victoria Memorial – Ram Gupta's Stall
Outside Victoria Memorial, you'll find Ram Gupta's stall, known for its distinctive khatta-meetha (sweet and sour) flavor. They achieve this by mixing homemade tamarind paste and powder in the phuchka stuffing. The lingering taste will keep you satisfied long after the phuchkas have been devoured.
Puchkalacious – Newtown
Puchkalacious in City Centre, Newtown offers a wide range of phuchkas, including Cheese Phuchka, Corn Mayo, Dahi Phuchka, and even Tutti Fruity and Nutella Phuchkas. You can even try a pan-flavored phuchka if you're in the mood for something different.
DELHI
Bangla Sweet House, Gole Market

This place is a must-visit! Situated in the heart of the city, Bangla Sweet House is renowned for its exquisite assortment of sweets, snacks, and chaats. Don't miss the gol gappa stall right outside, which is a must-try for all gol gappa enthusiasts. It's so popular that you can even have a friendly gol gappa competition with your friends here!
Prabhu Chaat Bhandaar, Shahjahan Road

This chaat destination is famous throughout Delhi-NCR. Located directly across from the Union Public Service Commission (UPSC) building, it has gained immense popularity among locals as "UPSC Ki Chaat!" With a history spanning over 82 years, it continues to impress everyone who visits.
Evergreen Sweets, Green Park

Although it now boasts multiple outlets, the iconic Evergreen of Green Park remains a favorite among Delhiites for its delectable gol gappas and chaats.
Atul Chaat Corner, Rajouri Garden

A paradise for chaat lovers in the vast Rajouri Garden market, Atul Chaat Bhandaar is the perfect place to take a break during your shopping spree. Indulge in scrumptious dahi paapdi and mind-blowing gol gappas, and prepare to be spoiled for choice.
Bobby Tikki Wala, Multiple Outlets

With numerous outlets across the city, Bobby Tikki Wala also offers home delivery. However, nothing beats the authentic Delhi vibe you experience while relishing endless servings of gol gappas at their outlets.
For latest travel news and updates, food and drink journeys, restaurant features, and more, like us on Facebook or follow us on Instagram. Read more on Travel and Food Network
Trending on TFN
The 23 Best Places To Go In 2023
Explore Utah's Mighty 5® and What Lies in Between