Kolkata is a like classic novel, widely read yet holds appeal no matter the passing of time. The pages may have yellowed and the corners may have worn out, but the stories never cease to fascinate. Begin with the history of the state, discover pockets that tell tales of a bygone era, like the exquisite temples and monuments. Understand the pivotal role that the city of Kolkata played in the days of the Raj as you look through the exhibits at the magnificent Victoria Memorial. Explore the stunning mansions of the Zamindars, patrons of art and craft. Journey through rural areas close by, that still retains the charm and simplicity as portrayed by Oscar winner Satyajit Ray in his films and novels. Turn a page and enjoy the tranquility that the ferry ride on Hooghly River has to offer, complete with glorious views of the city. If the pace seems a tad slow, wait for the festivities to begin, when the City of Joy wears its finest clothes and jewellery and rejoices during Durga pujo celebrations. Feel your nostrils saturate with the smell of incense, lose yourself in the trance-like beats of the dhak, and stuff your bellies with food fit for the gods, for what is a festival without good food.
Here is an insider's 72 hour travel and food guide. Journey through Kolkata, India's capital under the British Raj from 1773–1911 and now cultural capital of the country and let the unexpected surprise you.
See & Do
Victoria Memorial: Victoria Memorial a is one of the most popular tourist attractions in the city. This iconic building was constructed to commemorate Queen Victoria's Diamond Jubilee. Built in Indo-Saracenic architectural style by Sir William Emerson, and making extensive use of white marble, it is now a museum that exhibits an impressive collection of colonial-era paintings, manuscripts and other memorabilia, which provide interesting insights into Indian history right from the arrival of the British, up to independence.
St Paul's Cathedral: Kolkata's St Paul's Cathedral is among the nation's most impressive colonial structures. This Indo-gothic building built in 1847 by William Nairn Forbes is a favourite destination for history buffs. The monuments, statues, artefacts, paintings, and rare documents found there chronicle many unknown or little-known chapters of Indian history and heritage. Visit in December when the church premises are beautifully decorated for the festive season and a choir concert is held before the December 24 midnight mass.
Birla Planetarium: Situated at the famous Chowringhee Road and in the proximity of Victoria Memorial and St. Paul's Cathedral, Birla planetarium is the largest planetarium in Asia and the second largest in the world. Also known as Taramandal, Birla Planetarium regularly holds many shows and programs are in various languages including Hindi, English, Bengali, and other regional languages. In addition to being a planetarium, Birla Planetarium also has an electronics laboratory and an astronomy gallery that has a collection of paintings and astronomical models.
Fort William: On the eastern banks of the river Hooghly, sits Fort William, a structure with hundreds of arched windows that overlooks lush green gardens. Spread over 70.9 acres and embellished with meticulous stonework, the fort was named after William III and was the centre for the Battle of Plassey in 1757.
Belur Math: Belur Math is a spiritual centre and the headquarters of the Ramakrishna Mission and Math founded by Swami Vivekananda. The temple's unique design incorporates Hindu, Christian, and Islamic elements and stands as a symbol of religious unity.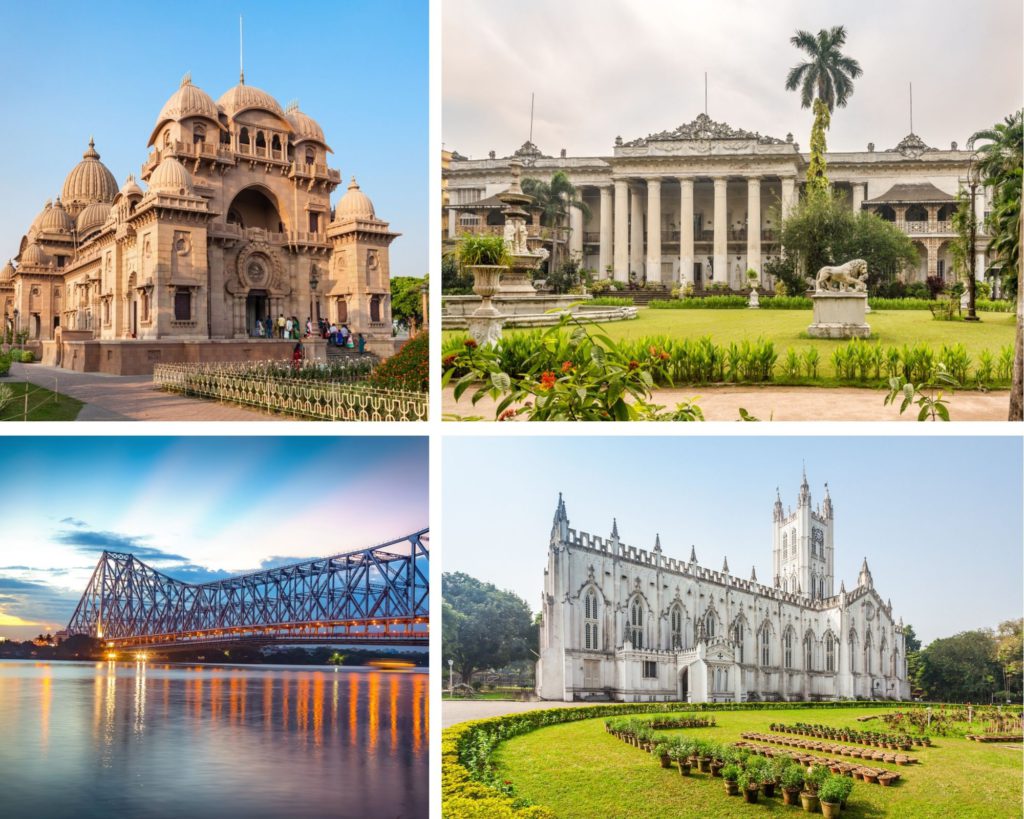 Dakshineshwar Temple: Located on the banks of the Hooghly River, the Dakshineshwar Kali Temple is one of the most popular places of worship not only in Kolkata but all across eastern India. Founded by Rani Rashmoni of Bengal in 1855, the Dakshineswar Kali Temple was opened to visitors just two years before the Sepoy Mutiny of 1857, also popularly known as India's first war of Independence. Even the architecture of the temple has a historical touch as it is built in the traditional 'nava-ratna' or nine spires style that comes from Bengal School of Architecture.
Mother House: It was while living in Kolkata, Albanian-born Anjezë Gonxhe Bojaxhiu, known to the world as Mother Teresa, was elevated to sainthood. She dedicated her life in the service of the poor, ailing and the destitute. Her modest tomb is situated in the headquarters of her organisation, the Missionaries of Charity, where you can also see her modest study and bedroom-cum-study, which has been preserved to continue promoting her legacy.
Marble Palace: The Marble Palace near the Chorbagan in North Kolkata, which was constructed in 1835 by Rajendra Mallick, is famous for its art collection of masterpieces by Reuben and paintings by various renowned international artists such as Reynolds, Van Gogh, and Rembrandt.
Indian Museum: The Indian Museum also known as Jadu Ghar (house of magic) is one of the oldest and largest museums in India features 35 galleries and houses art and artefacts including fossils and meteors, as well as impressive Mughal-era artwork and priceless Indian carvings.
Jorasanko Thakur Bari Built in 1784, Rabindranath Tagore's ancestral house Jorasanko Thakur Bari is now a museum dedicated to the life and works of the Nobel Laureate. Spread over 35000 square meters, the Jorasanko Thakur Bari has been converted into Rabindra Bharati University, a centre for Indian Classical Fine Arts and quality education.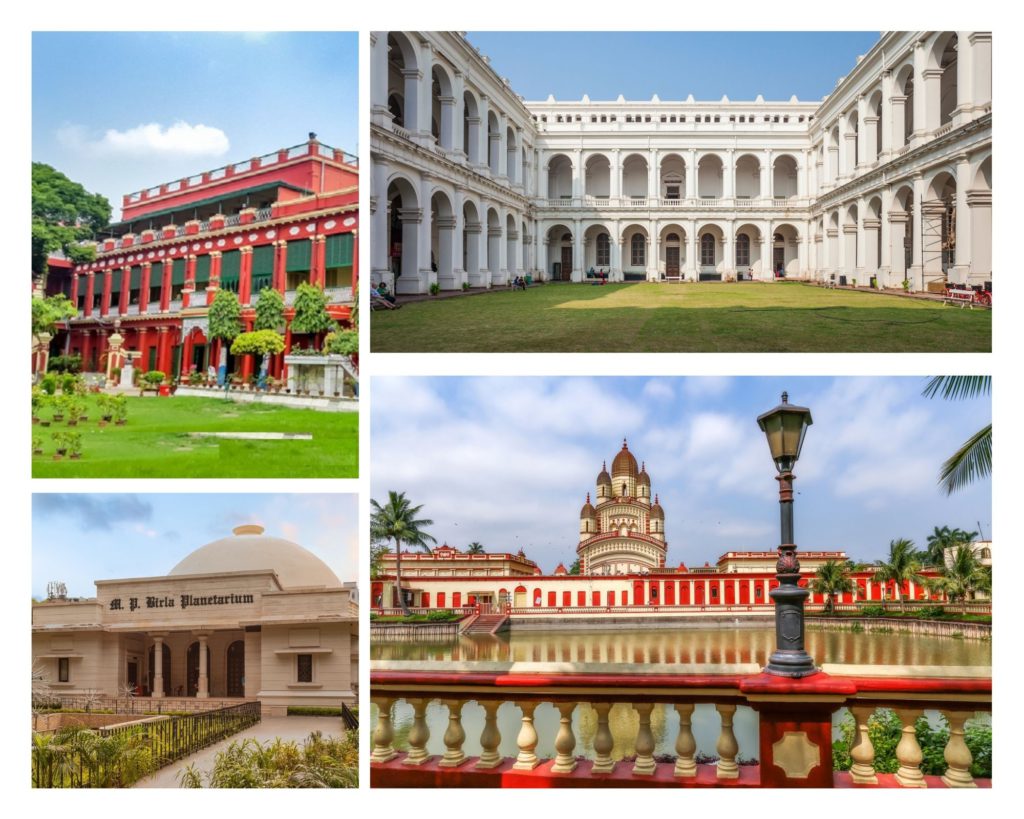 Botanical Garden: Head to the Hooghly's west bank to find Kolkata's 273-acre Botanical Garden, which has an orchid house, a herbarium, a fern house, and more. There are also plenty of bird-watching opportunities here. The world's largest banyan tree, at 80ft high and 787ft in circumference, is located here.
Eden Gardens: A cricket match in Kolkata's 'coliseum of cricket' is a thrilling and frantic sporting experience. The Eden Gardens stadium seats 68,000 people, making it the second largest in the world by capacity.
Howrah Bridge: Located over the Hooghly River in West Bengal, Howrah Bridge or the Rabindra Setu is the main connection between Howrah and Kolkata. It is a cantilever bridge and is regarded as one of the busiest ones among them. The opulence of the bridge, however, comes alive in the night time as it is all lit up. You can also take a ferry ride as it runs between Kolkata and Howrah, from the launch ghat. The view of the city from the ferry, especially in the night, is priceless, to say the least.
College Street: At the heart of the University of Calcutta, College Street is a treasure trove for bibliophiles and is home to the world's largest book market. New books, rare volumes, and ancient manuscripts are stacked up on the street.
Kumartuli: If Calcutta is synonymous to Durga Pujo, then Kumartuli is the lifeline that sees it through. The North Calcutta neighbourhood of Kumartuli is a clay craftsmanship centre that has been around for over 300 years. Every lane, every street, and every bylane is home to clay craftsmen who create masterpieces out of wood, bamboo, straw, and clay. Kumartuli has more than 500 workshops and tens of thousands of artisans, each of whom creates an idol for a Durga Puja pandal.
Durga Pujo: In 2021UNESCO inscribed 'Durga Puja in Kolkata' on the Representative List of the Intangible Cultural Heritage of Humanity. As a ten-day celebration, Durga Puja represents the collective worship of the Hindu Goddess Durga. During this time, masterfully designed clay models of the Goddess are worshipped in "pandals" or pavilions where communities get together and celebrate. Several folk music, culinary, craft, and performing arts traditions add to the dynamism of this celebration. Over the years, the Indian city of Kolkata has emerged as the geographical and cultural heart of the national and global celebrations of the festival. This year Durga Puja will be celebrated from Oct 1-5.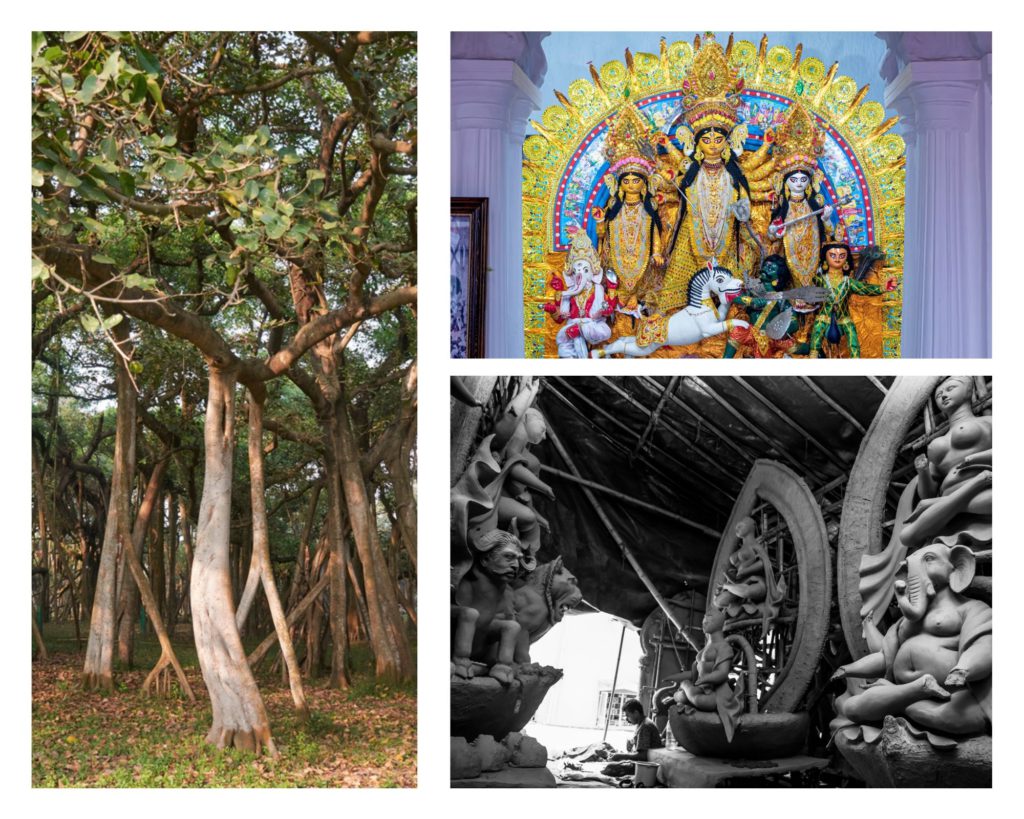 Food Guide | Maach, Mishti, and More
Experience the diversity and harmony of different subcultures, as you enjoy steaming hot momos in the Chinese dominated Tiretta Bazaar, following it up with a lavish meal of the finest Bengali delicacies like machher pathuri or delicate steamed fish and soft sandesh.
For Traditional Local Bengali Cuisine: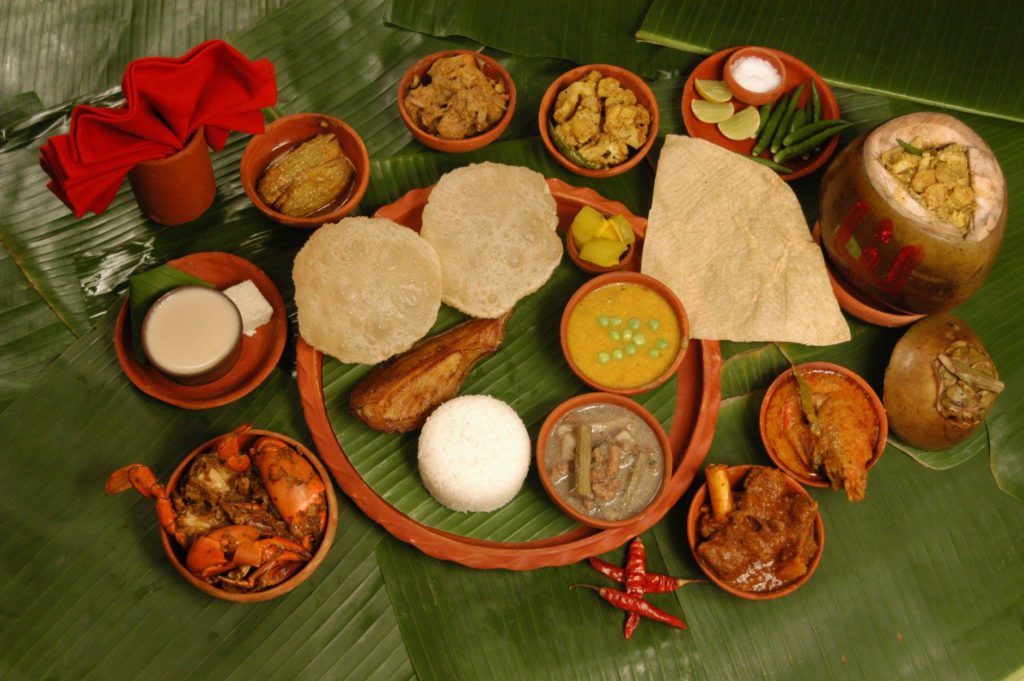 6 Ballygunge Place Thali: Go for the classics like steamed Bhetki Paturi, Chingri Malaikari (prawn cooked in coconut curry), Crab claws, Ilish cutlet, fried promfret, fish kabiraji, Chhana motorshutir chop (made with paneer and peas) and mochar chop (made with banana flower) to name a few. Try their thalis available at multiple outlets in the city.

Kewpie's: This is a bit like dining in someone's home. The cosy Bengali restaurant is buried in a residential area, so is hard to find and there's no sign outside. Its thalis provide a tour through the region's best-loved, home-cooked curries, and end with a roll of chewing paan. Location: 2 Elgin Lane.
Mitra Café: Mitra Cafe, a popular eatery in Calcutta that is known for its mouth-watering Kabiraji, was created by Shri Sushil Roy in 1920. From the assortment of scrumptious snacks and meals, it is a must-visit for every foodie. Specialties include Prawn Cutlet, Brain Chop, Fish Fry, Fish Roll, Pudding, Chicken Roast, and Mutton Egg Devil. There are multiple outlets in the city with the newest one in Salt Lake.
Indian Coffee House: This coffeehouse is a legendary adda, having served generations of literary scholars and artists such as Rabindranath Tagore and Satyajit Ray. Order their cutlets and kabiraji (chicken fried in egg and breadcrumbs) with coffee or tea. Location: 15, Bankim Chatterjee St, College Street.
Kathi Rolls and Street Food
Nizam's: Go to Nizam's for their kathi rolls. It is celebrated as the first Kolkata restaurant to serve kathi rolls, and Nizam's still makes a good one. Location: Hogg Street, New Market Area.

Kusum Rolls: This joint is known for their rolls. We recommend their double chicken and double mutton egg rolls. Location: 21, Park Street.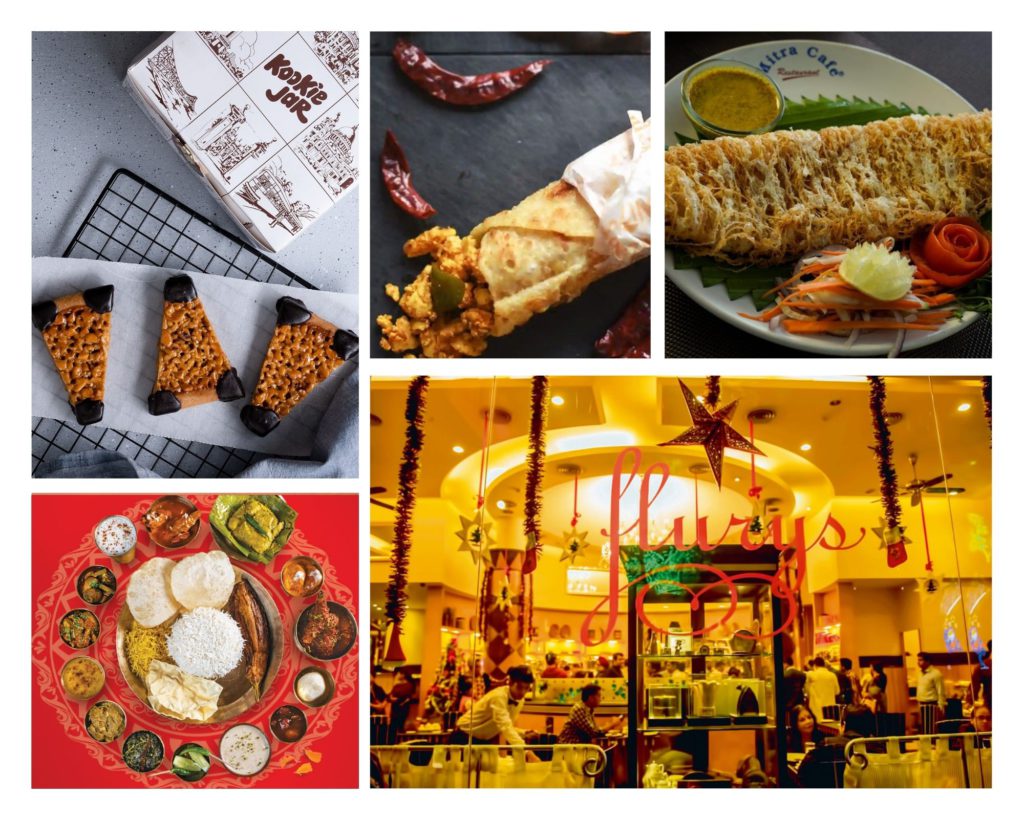 Bakeries:
Kookie Jar: This bakery has several outlets in the city. The nut corners and chocolate boats are so good that you'll be ordering more to take back home. Various locations.
Flury's: Head to Flury's for a slice of colonial Kolkata. Go for their English breakfast, the almond horse shoe, chocolates with mint centres, and a hearty scoop of old-world charm. Location: 18, Park Street.
Iconic Restaurants:
Peter Cat: Head to this fine-dining restaurant for their fantastic chelo kebabs. Ofcourse, the sizzlers are the other speciality here, who's hissing sound can be heard the moment the regally dressed waiter opens the kitchen entrance. Location: 18A, Park Street.
Mocambo: This is one of Park Street's finest offerings. Order the Chicken ala Kiev, the prawn cocktail and devilled crabs. They also do good whisky sours, gimlets and Bloody Marys. Location: 25B, Park Street.
Trincas: . One of the popular spots is Trincas, continues to draw old-timers and travellers alike with occasional pub quizzes, comedy evenings, and jazz afternoons. It offers good quality continental and tandoori fare and plenty of cheap chilled beer. Location: 17, Park Street
Park Hotel: Right next door to Trincas, is the The Park hotel. Its tiny English pub, Someplace Else, is a beacon to live music in the city. There is a fabulous band playing here on any given day of the week, filling the air with riffs of rock 'n' roll, jazz, and blues Location: 17, Park Street.
Kwality: The pindi chana and the chicken reshmi kebab which you get in Kwality are unlike any other place in Kolkata. The kebabs, which come packed with finely cut coloured onion which just melts in your mouth. Location: 17, Park Street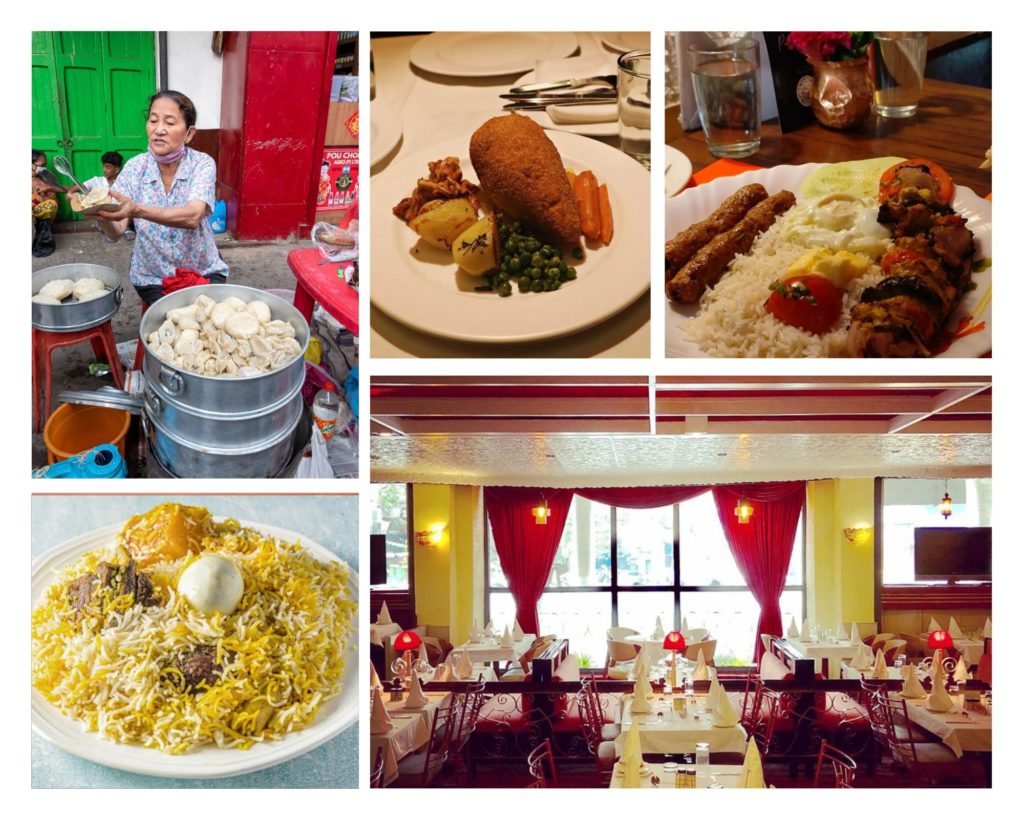 For Lovers of Chinese Food:
Bar-B-Q: If its old-school, Indian-Chinese food that you're looking for, any Calcuttan will tell you that Bar-B-Q is the undisputed leader in Chinese cuisine. The gravy noodles, fried rice, hot and sour soup, drums Of heaven (chicken lollypop for the rest of India) and spring rolls are just some of their must have items. Location: 43, 47, 55, Park Street Kolkata
Tangra: Kolkata has a sizeable Chinese population that has called the city home for generations now, and the Chinese quarter of Tangra teems with glorious aromas of food every night. Feast at the roadside stalls and iconic restaurants like Golden Joy, and Beijing. Location: Tangra.
For Biriyani Lovers:
Arsalan: Hit this spot for Kolkata biryani. There are outlets across the city, including one in New Town. Various locations.
Aminia: Head here for great biryani and firni. Various locations.
Royal Indian Hotel: It all started in 1905, when Ahmed Hussain, a descendent of Nawab Wazid Ali Shah, a migrant from Lucknow came to Kolkata and opened a small restaurant on the ground floor of a hotel. Today that's where you still get one of the best biriyani treat of Kolkata – Royal er Biriyani. Location: 147, Rabindra Sarani, Bortola, Barabazar Market.
For Traditional Bengali Sweets (Mishti)
Nalin Chandra Das and Sons has been serving the most delicious Kolkata sweet treats for over 175 years. Nalin Chandra Das is now a well-established brand and is widely regarded as the pioneer in making Sandesh. Don't miss out on the mouthwatering Karapak and Chocolate Sandesh.
Girish Chandra Dey & Nakur Chandra Nandy: With over 40 varieties of Sandesh on offer, to this shop has been in existence since 1844. Don't miss their Jolbhora (a shondesh with a shot of date palm jaggery inside it) and Abar Khabo (literally translated as – 'Once more' – this is a combination of cottage cheese, sugar, kesar and nuts). Location: 56, Ramdulal Sarkar St, Azad Hind Bag, Hedua Park.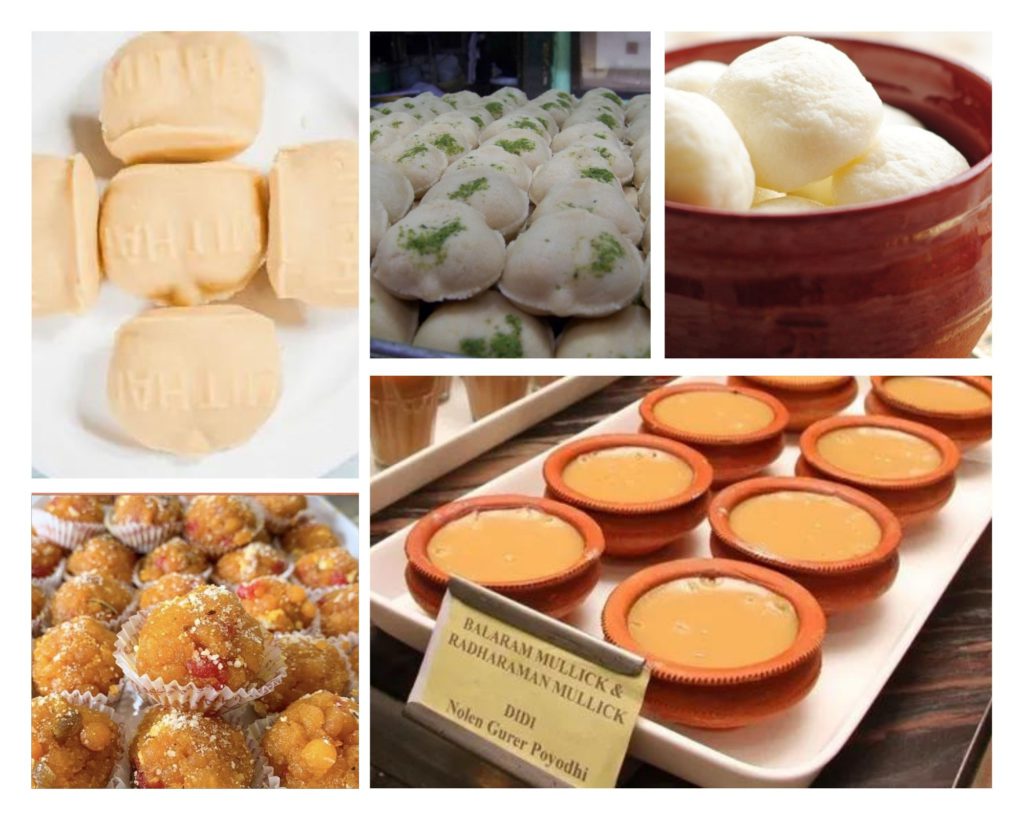 Balaram Mullick & Radharaman Mullick: Serving happiness since 1880, this sweet shop is famous for its baked rasgullas, mango flavoured mishti doi and kheer kodom – a sweetened khoya dumpling stuffed with a rasgulla. Multiple locations.
Sen Mahasay: Dating back to 1885, Sen Mahasay's bestsellers include the Rasmalai – white flattened balls of chhana soaked in malai (clotted cream) and flavoured with cardamom, Mihi Dana and Darbesh (sweets similar to boondi laddoo). Multiple locations.
Mithai: Serving customers for more than 60 years, Mithai is famous for its signature sweet Kumkum – a kheer kodom – a sweetened khoya dumpling stuffed with a rasgulla. One must try their thick Mishti Doi. Location: 48B, Syed Amir Ali Avenue.
Getting there & around
Netaji Subhash Bose International Airport (known locally as Dum Dum) is well connected with direct flights from cities in India and around the world.
To travel withing the city cabs choose from the famous local yellow and black metered cabs, or get an Uber or Ola. Kolkata also has a clean, efficient and inexpensive metro system operated by smart cards for multiday travel.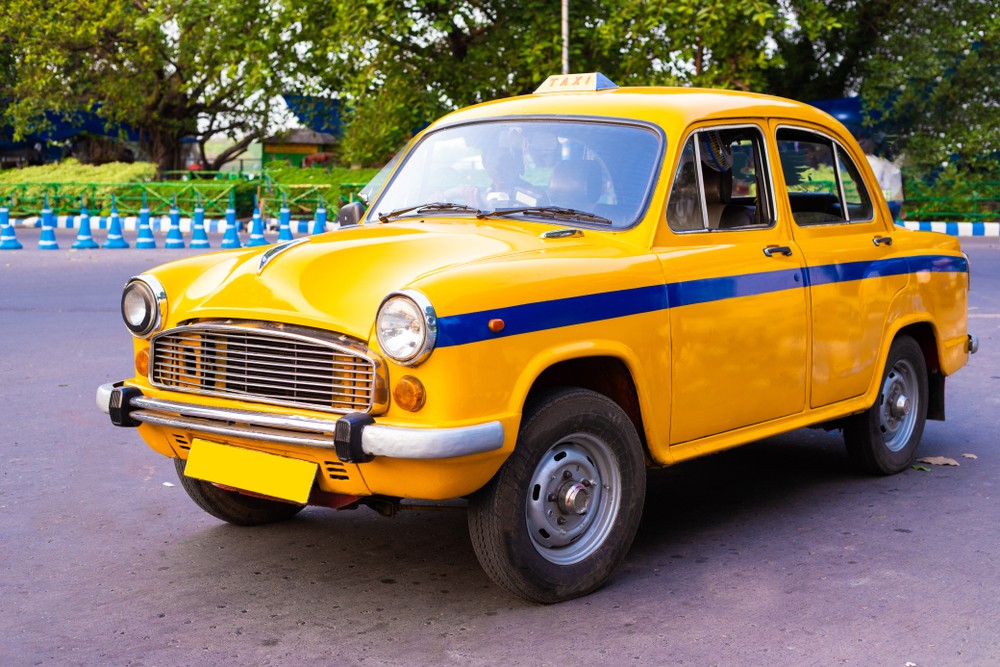 For the latest travel news and updates, food and drink journeys, restaurant features, and more, like us on Facebook or follow us on Instagram. Read more on Travel and Food Network
Trending on TFN
75 Trip Ideas | The India Edition
Quintessential Srinagar And the Kashmir Valley | Travel and Food Guide
72 Hours in Kanyakumari | Travel and Food Guide
Eat Local | 29 Foods To Sample Across 29 Indian States