We have always had a special connection with the Pink City. While one hangry woman was born in Jaipur but always moved about from city-to-city, she finally came back for the last few years of school and that's where she met the other hangry woman. Little did they both know that what started off as high school friendship would turn out to be one of the most exciting phases of their lives, and food was a great part of it.
Talking about food, there are a lot of things that we ate in and around Jaipur that takes us back to our school days. The Sunday breakfast was quite kingly for us as it always included the Pyaaz ki Kachoris, Mirchi Vadas and Jalebis from Rawat Mishthaan Bhandaar and we finally ended with the Malai-loaded Lassi from M.I. Road. If not this, we would fancy a lavish meal at Niros even though we spent 45 minutes outside to get a table but that Butter Chicken and Butter Naan was so worth it. Even to date, we dream about the Death By Chocolate pastry that we used to relish at Bake Hut but over the years, new places opened and obviously our taste palates evolved. But yes, there is one thing that we till date go back and eat no matter what happens – the flaky old-style chicken patty from this tiny-old bakery called Venus Bakery.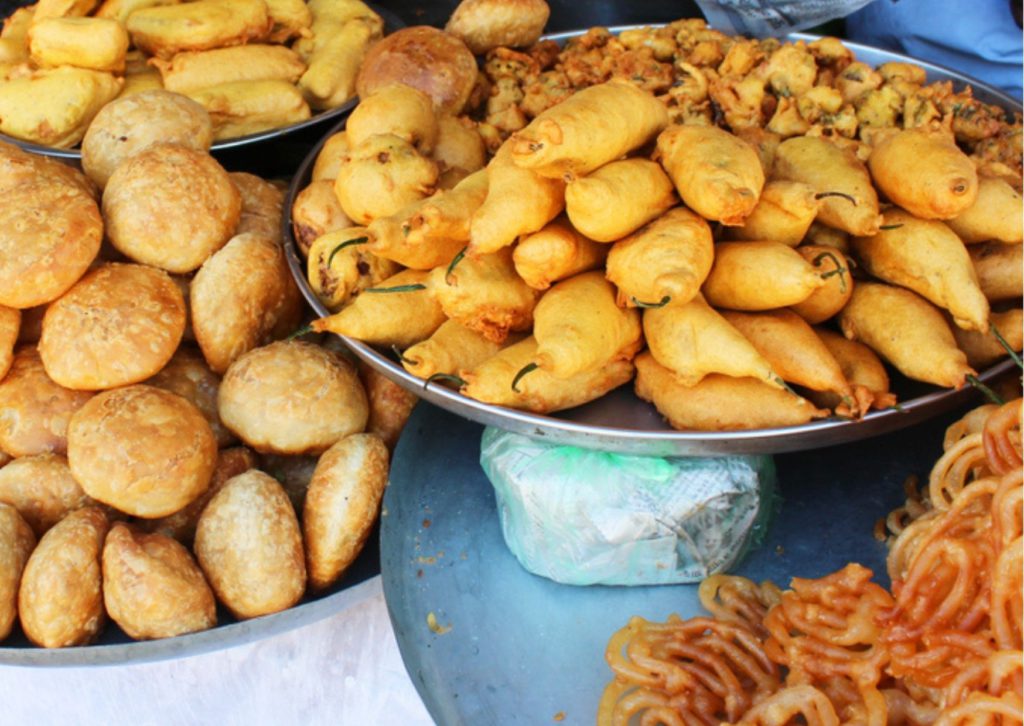 Even though Dal Baati was a staple in our houses since childhood, we never realized that out there was something extraordinary that was being served in a restaurant called Spice Court. Our Rajput friends from school introduced this place to us and there was no turning back. When we both had Keema Baati for the first time, we kid you not, we went to heaven and came back. Baati is essentially balls of flour, cooked or baked and dipped in hot ghee. And then Keema Baati is the same just stuffed with cooked Keema-Matar. Imagine, the feast for non-vegetarians. These enormous Baatis are heavily doused in ghee. You need to keep it on your plate, break it with your palm, make Churma out of it and then pour the Laal maas gravy that's served along with it. It did make our hands really dirty but we have zero regrets about it. This was the game-changer in our life. We knew that no matter what happens, we come for a school alumnus meet, someone's wedding, a reunion, come what may, we had to come back and have this. It just became a part of our Jaipur itinerary, the day both of us left for Delhi and Mumbai respectively for our colleges.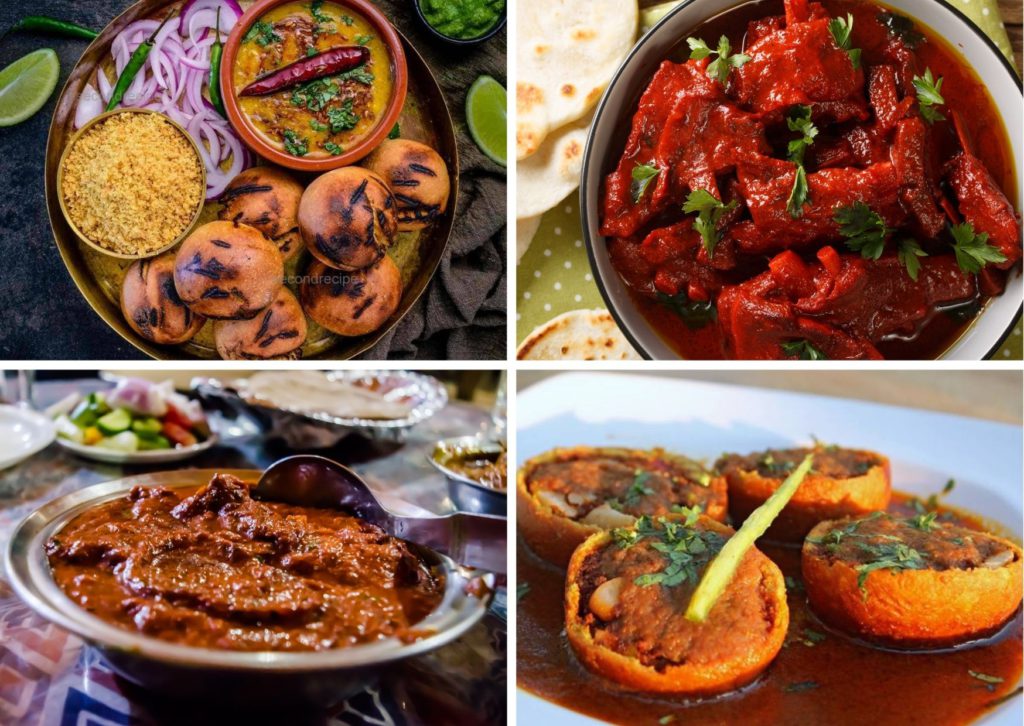 Now if the Rajputs introduced us to something so exquisite, how could the iconic laal maas be left behind? We personally think, back in the day, Spice Court made the best Laal Maas ever. And then we tried it at Surya Villa (a friend's place that's now a restaurant) and we enjoyed that even more. But over the years, we had some fantastic homemade Laal Maas here and there which made us realise that everywhere it's made differently. But the right way to have it is with a plain roti with no ghee or butter. And finally, after many years of having this, we learnt how to make it at home.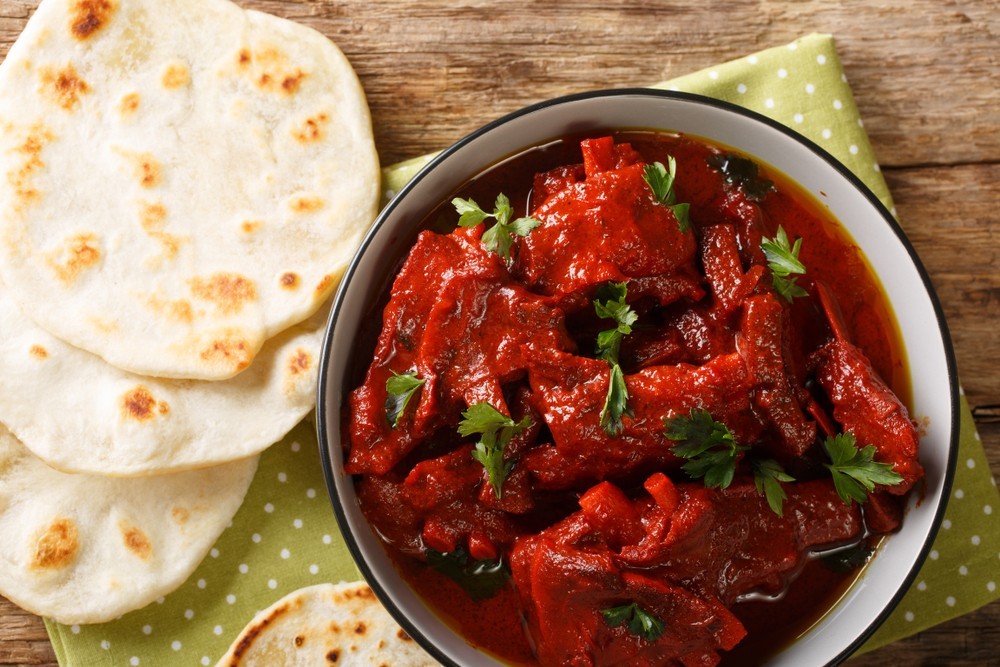 Jaipur once known only for its tourist spots has really modernised itself not only with respect to food but the nightlife as well. We vouch for Narain Niwas, where there are two bars – Bar Palladio and Shikaar Bagh, both right next to each other but offer a whole different vibe from one another when you step in. Shikaar Bagh is more upbeat, louder music, more like a party place whereas Bar Palladio is more laidback. You'd enjoy having a couple of cocktails there, maybe go there for a sundowner, to catch up with friends and enjoy the beautiful and aesthetically done blue interiors of the place. It's too picturesque and Instagram-worthy. There is no way you'll get out of the place without getting a picture or two. There are a few after-hour bars as well like Tablu on the rooftop in Clarks Amer or Chirmi Palace with a lovely outdoor seating area but you know, as long as you're meeting some good old friends from the school like us, no matter what the place is, it's always a riot.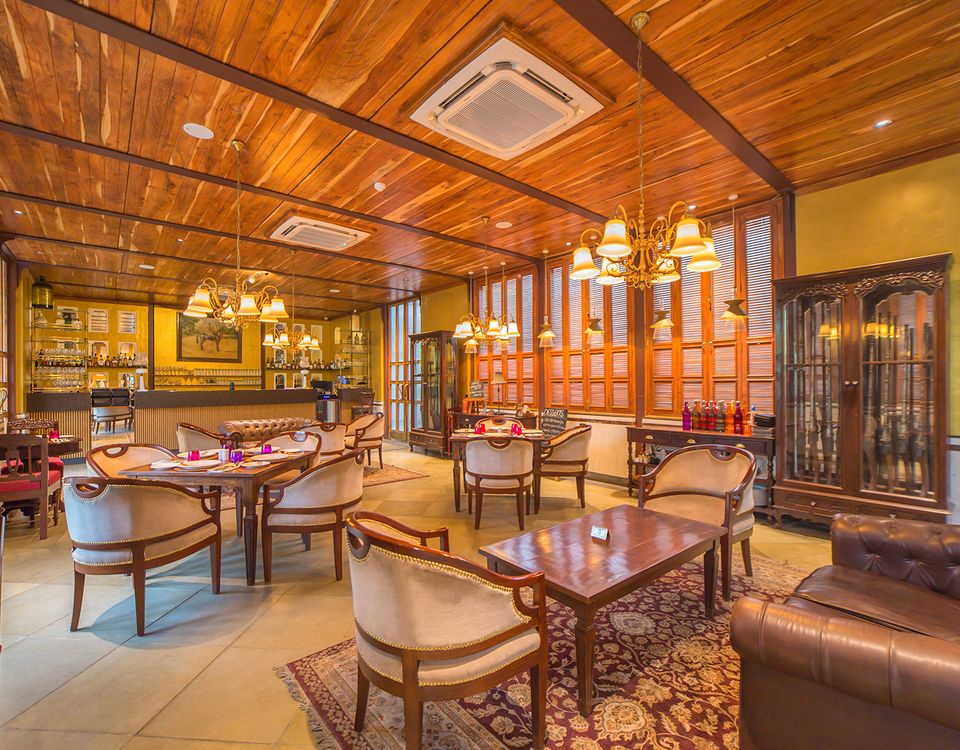 If you're looking to do something fancy, there are a ton of places for that too. We've had some of the best pizzas ever at Steam in Rambagh Palace. They have literally made a steam engine, where you can either sit inside or right next to it enjoy some of their amazing cocktails. But it's always packed and we personally feel that the entire vibe of the place is worth the hype. On some days, when we aren't in the mood to socialize at all, we usually end up going to Jai Mahal Palace. Their lush green lawns are so inviting and absolutely perfect to enjoy a couple of glasses of wine on a late evening. Peshawari from ITC Rajputana obviously doesn't need any introduction. What everyone will tell you to have is their legendary Dal Bukhara and Butter Chicken but we would insist that you try the Raan over there. It's out of the world. And you need to let them know in advance that you want to have the Raan because it takes time to cook it but you have to try it.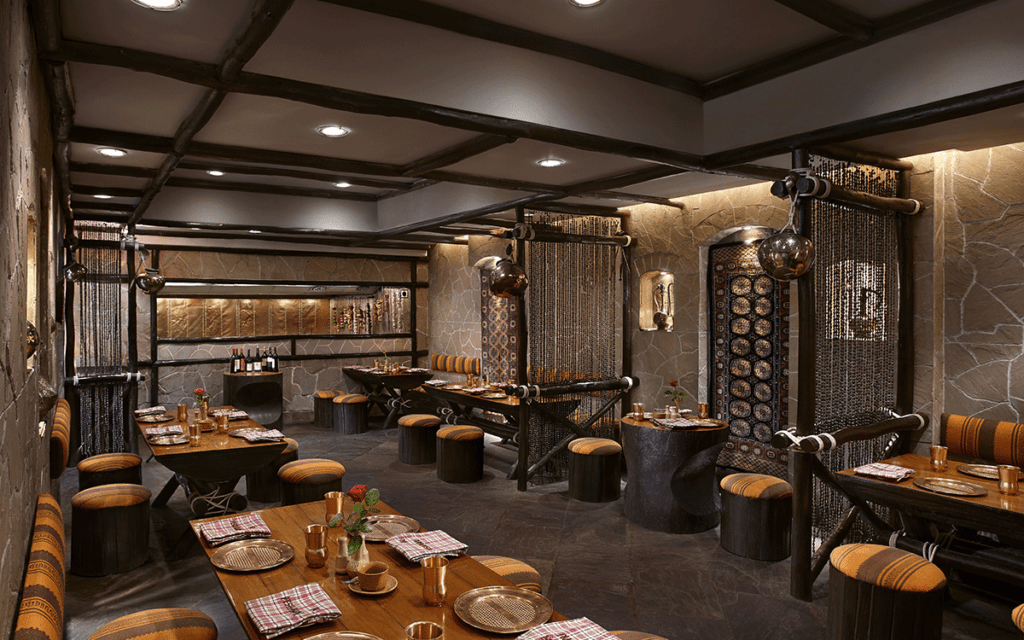 If you want to be treated like royalty then you must visit 1135 AD at least once. Situated in the Amer palace, we don't believe that the food is the best over there but the experience surely is. The interiors of the place will leave you awestruck and so will the view from the top. You get to see the panoramic view of Jaipur from the walls of this luxury restaurant. It's absolutely the best place for a date night where you want to enjoy some quiet time with your loved one and have endless conversations.
City Palace has a whole different vibe altogether. A guided tour of the palace for the tourists, an in-house museum, bunch at Baradari – their in-house restaurant, there's a lot to do and click over there. It's stunning, their architecture and the way they have maintained it. It's truly something you'd not want to miss.
Jaipur has always been extremely close to our heart. The city is obviously quite famous amongst the tourists all across the world and the reason why anyone of our friends or family who is visiting the place, we always have a list of places to go to for them. During the day, you can visit the Albert Museum Hall or shop around, have a look at the main walled-city, shop for some glass bangles and silver jewellery from Johari Bazaar, get a ton of cotton suits or Kurtis from Gulaab Chand which is right behind the famous Hawa Mahal, stroll around Badi Choppad and enjoy those mini-dal kachoris for snacks and pick up some Jootis, Kolhapuris, handicrafts and handlooms from everywhere around the city. You can even go to the busy lanes of Raja Park where you get the best Gol Gappas and chaat in Jaipur. The city is so vibrant and colourful during the day and we promise you, it's even more charming during the night.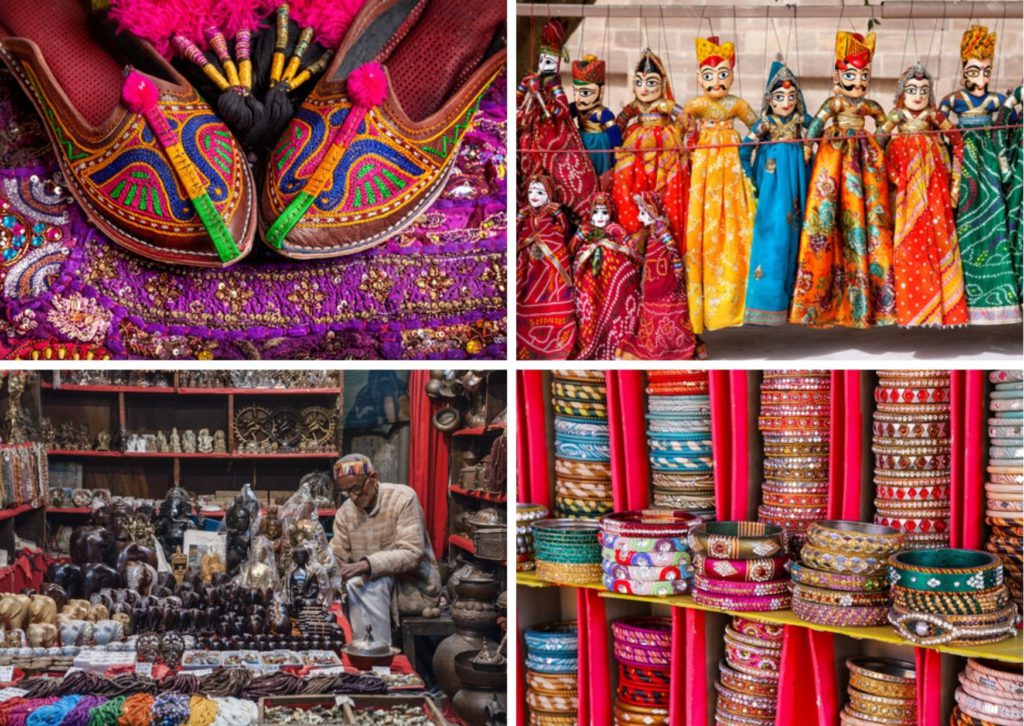 We can't think of a weekend where during the night we did not visit Nahargarh Fort. The view from the top of the entire city is absolutely breathtaking. If you're up early, you cannot miss visiting Amer Fort but even late in the night, the fort looks exquisite. We personally feel that when you're in Jaipur, you'll flood your Instagram followers with a ton of beautiful pictures of the city.
If all this was not enough, there are some really nice home-grown brands where you can shop from. Starting from Suprint, Cottons, Suvasa, Ratan textiles for casual and formal wear, table and bed linens, blankets, bed covers, table lamps and whatnot. Visit Rukhmani for some pure, heavy or light, chiffon saris that you'd usually see these extremely sophisticated Rajput women in. Visit Anokhi for their Jaipuri, cotton wear for the summer and while you're shopping at Anokhi, you have to visit Anokhi Café and try their organic salads and sandwiches. And if you're in the mood to indulge a bit, definitely try their slices of coffee cake and cheesecake. Their baked cheesecake is the best we've had in our life, we assure you that. We know, we always end up finding something to eat, wherever we go.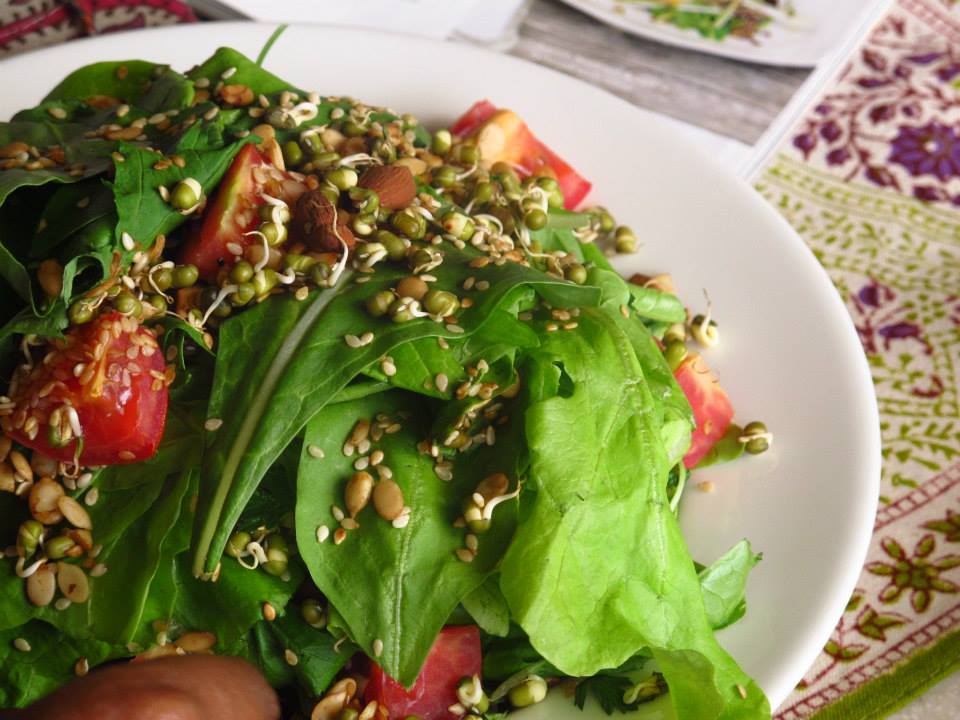 Apart from the places that have been around for many years, recently a few game changers have entered the market offering a whole new variety of things to offer. Vegan, organic or even fusion food. White Sage, Meraaki Kitchen, Café Quaint, Café Kothi to name a few. We've had some delicious things out here and it doesn't even look like the menu is from a café in Jaipur. Quite up-to-date and ahead of its time in comparison to what the city traditionally has to offer. You'd enjoy a few light meals and some great salads at these places. You'd also get your dose of Khow Suey, Sushi, Turkish Eggs and much more in these cafes. And while you're visiting White Sage or Meraaki Kitchen that are owned by the same person, you can shop for your kitchen at the Ellementary store. They have some amazing ceramic, wooden and glass crockery.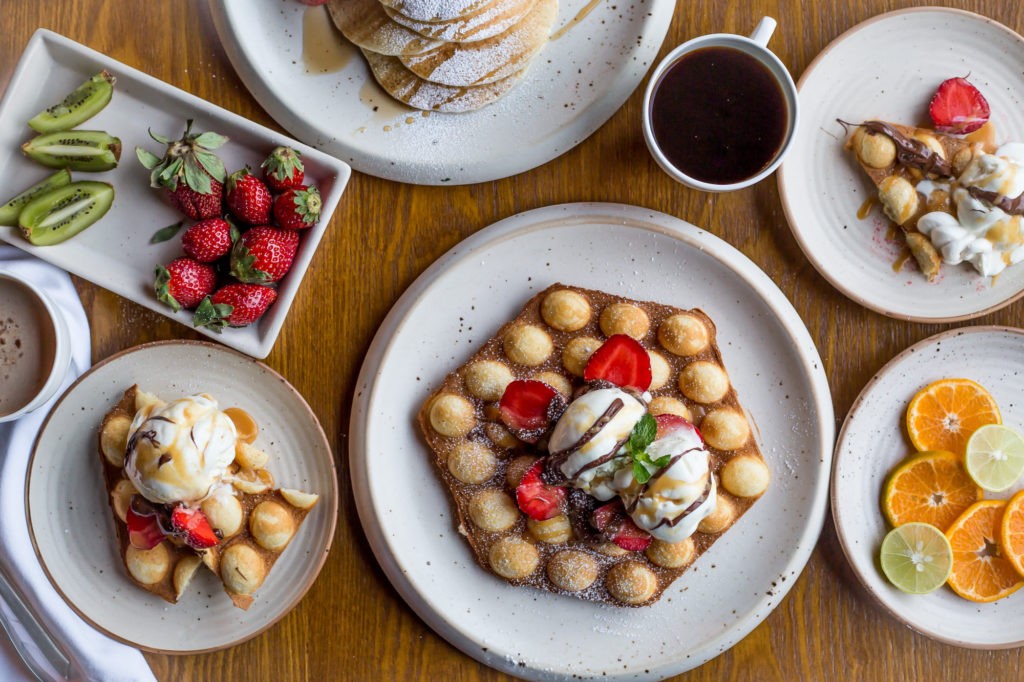 For tourists, the right time to visit the place is sometime between October to March. When you can walk around and soak the beauty of the city without having to worry about the scorching heat. We'd personally say it takes about 5 days to cover the city. Maybe not the places that you want to eat at but even if you can end up visiting 4-5 places, that's good enough. There's so much to do and so much to fall in love with this place, while for one of us it is home now, for the other, it's their comfort zone.
We still go back to Spice Court because of the nostalgia associated with it. Every time we snuck out of Marwari weddings during lunchtime and ate some good old non-vegetarian food in Rajput style. From Safed Maas, Junglee Maas to Raj Sula, we've tried it all right here at this restaurant. It only makes sense that we recreate one of our favourite dishes in the world for you to enjoy and experience the authentic flavours of Rajasthan. Yes, we are giving out the recipe of our Laal Maas that we learnt from a cousin who hails from Jodhpur. It's time you get a taste of our childhood from our hometown, the Pink City.
Recipe for Laal Maas
Ingredients:
125 ml of mustard oil
3 medium sliced onions
½ inch cinnamon stick, 4 cloves, 4 peppercorns and 1 black cardamom soaked in water
1 teaspoon cumin seeds
1 bay leaf
500 grams of mutton
½ teaspoon turmeric powder
Salt to taste
5-6 Mathaniya chilies or dried chilies (soaked in water and then make a paste out of it)
½ inch of crushed ginger
8 crushed garlic cloves
200 grams of curd
½ teaspoon coriander powder
2 teaspoons red chilli powder
1 inch of charcoal
1 tablespoon of ghee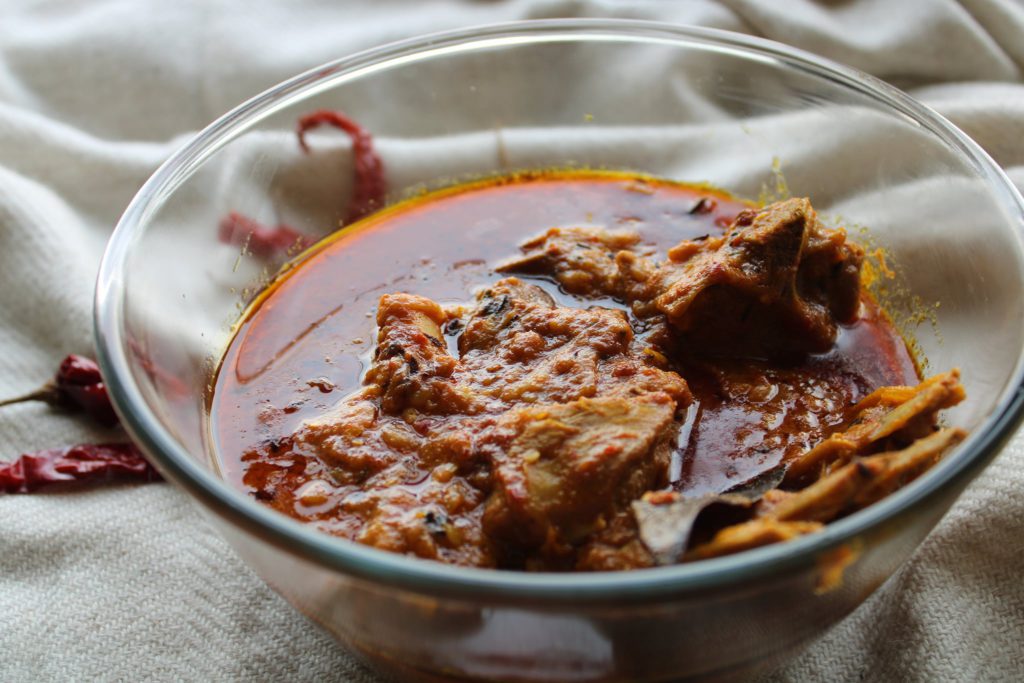 Method:
In a kadhai, add mustard oil. Once its boiling hot, add cumin seeds to it. Right after 10 seconds, add the soaked masalas and the bay leaf as well. (It's preferred to soak the masalas so that they do not flutter in the oil).
Now, add the sliced onions to it. Let them cook until they are translucent.
Add the mutton, let it cook for a while. Add turmeric powder to it, salt to taste, mix it well and let it cook more.
Add little bit of water and cook the mutton furthermore for 5-7 minutes on medium flame. In the meantime, soak some dried chillies for half an hour and blend it into a smooth chilli paste using half a cup of water.
Add crushed ginger and garlic to the mutton and give it a good mix.
Add 200 grams of beaten curd to the mutton and let it cook for a while.
Add coriander powder and chilli powder to the mutton. After 5 minutes, add the chilli paste as well.
Cook on low flame for 30-35 minutes and keep mixing it well to prevent the masalas from sticking to the kadhai.
Using a fork, check if the mutton is cooked and once it is cooked, put a burning charcoal in a steel katori, place it in the centre of the mutton, add ghee to it and cover it immediately. This procedure is called 'dhungaar' and it's done to give a smokey flavour to the dish.
Serve it with plain phulkas.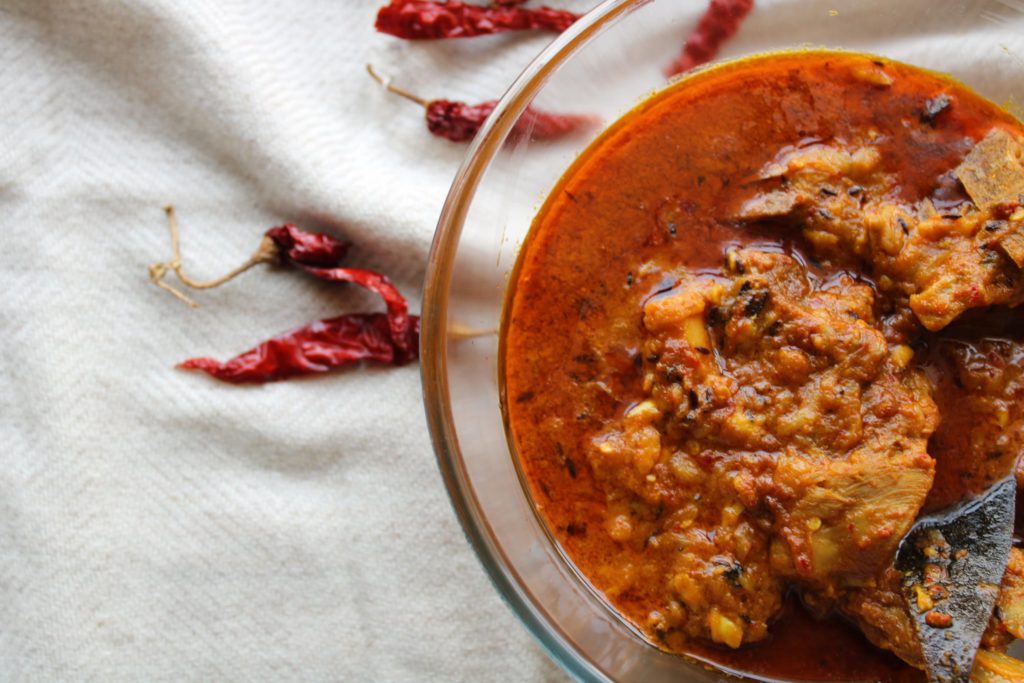 For latest travel news and updates, food and drink journeys, restaurant features, and more, like us on Facebook or follow us on Instagram. Read more on Travel and Food Network
Trending on TFN
A Potterhead's Guide To Harry Potter Filming Locations
Long Weekends 2022: You Can Plan 16 Mini Vacations This Year
Quintessential Srinagar And the Kashmir Valley Travel and Food Guide
Also Checkout the below articles
Shruti and Twisha, met in the year 2005 where they sat one behind the other at school in Jaipur. They may have moved cities – Mumbai and Delhi respectively, but never let distance come in the way of their love for food. It never restricted them from travelling to other cities in India as well as all over the world to satiate it!
They love travelling and tasting local cuisines everywhere and that's what truly has opened doors for them to experiment with their taste palette.
Almost a year ago, they both quit their advertising jobs to put their heart into that one thing that they love the most Food and founded their blog Two Hangry Women.