It's that time of year again. Bengalis around the country, and the world, are gearing up for their five-day extravaganza. From October 1 to 5, parts of cities around India will be transformed—brightly lit pujo pandals, music and dance, delicious aromas, and raucous laughter will take over the night.
The ceremonial worship will begin on Shasti the sixth day after Mahalaya and be carried through over the next four days. Saptami, Ashtami, Navami and Dashami. The most important historical dimension of the festival lay in its transition from the courtyards of elite homes to the neighborhoods of public spaces in the city. These community pujas around 4000 which are organized just in the city of Kolkata, constitute the most effervescent phase of the festival. Durga Puja has now become a vast street festival.
A sight of an enormous exhibition of public art on a scale that is few parallels in any other festival of the world. With the active engagement of artists many of these displays have taken on the local name of theme pujas and they have produced a new genre of contemporary festival art around individual pujas. The new forms of theme pujas with kind of art practices where older traditions have blended with the contemporary. The sound of dhaak traditional Bengali drumming and the arti veneration of the goddess is integral to the ritualistic ambiance of the festival.
Now that the city's Durga Puja is on UNESCO's Intangible Cultural Heritage list, this year the celebrations are getting more spectacular than ever before.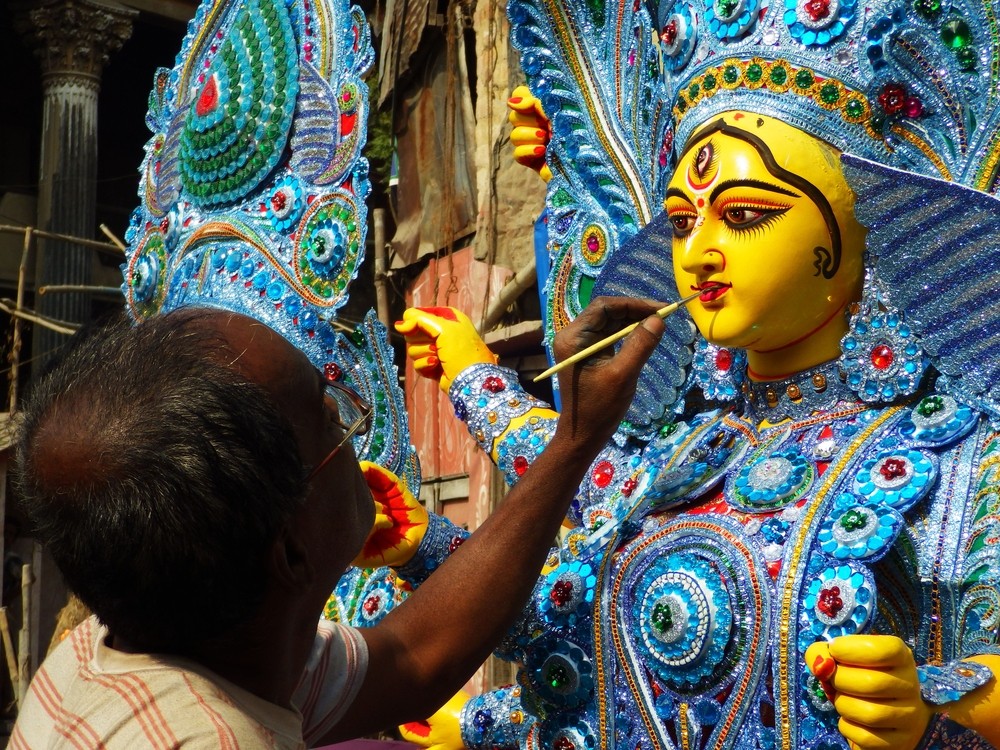 KOLKATA
The Durga Puja pandals in Kolkata are famous for their grandeur, authenticity and opulence. This is the time of year when these pandals come alive with intricate carvings, paintings, sculptures and other decorations that pay tribute to the goddess, Ma Durga.
Shree Bhumi – Lake Town
Shree Bhoomi Sporting Club, known for their captivating puja pandals has set the theme as Vatican City's St. Peters Basilica church this year. The club, located at Bidhannar, is also celebrating its the Golden Jubilee Celebration of 50 years. Last year themed as Burj Khalifa, the club expects this year's theme will fulfil people's wishes to visit the European country right here in Kolkata.
Rajdanga Naba Udah Sangha – East Kolkata Township
Rajdanga Naba Uday Sangha highlights marine pollution this year. As rising pollution levels and water scarcity are emerging as fundamental challenges for people across the planet, Durga puja committees in Kolkata have come up with a theme named 'Ashani Sanket' (Bengali) in English Distant Thunder to raise awareness on environment conservation.
Mudiali Club – Kalighat
Mudiali Club which is located in South Kolkata, has been celebrating Durga Puja for 88 years. This year, they took an initiative to go one step ahead to conduct eco-friendly puja.
This year, they have decided that the entire decor in the puja pandal will be lit up through solar power. On the grid, solar systems have been set up in pandal.
FD Block, Salt Lake
FD Block of Salt Lake known for award winning themes year on year, has depicted a fictional story of a tribal clan which is on the verge of extinction this year. The committee has made an artificial village amid the jungle using eco-friendly products or without any plastic products.
The Babubagan Sarbojanin Durgotsav Puja – Dhakuria
The Babubagan Sarbojanin Durgotsav Puja pandal at Dhakuria in South Kolkata has come with this unique theme of "Maa Tujhe Salaam." The pandal's theme is in the spirit of the Azadi Ka Amrit Mahotsav celebrations.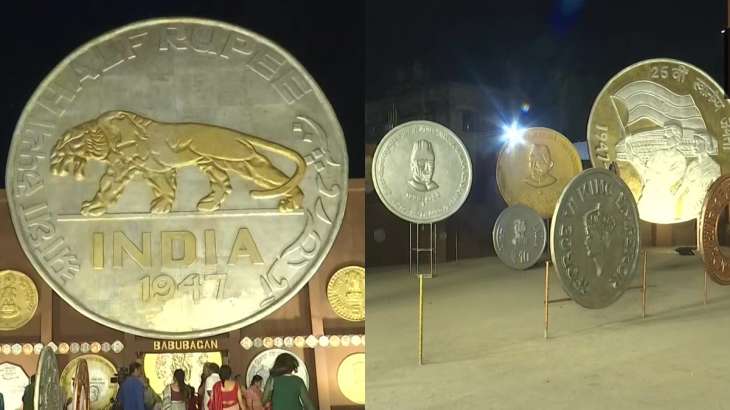 Baghbazar Sarbojanin Durgotsav- Baghbazar
This is one of the oldest pujas in Kolkata that is more than a century old. It is famous for its striking traditional idol and pandal.
Bosepukur Sitala Mandir – Kasba
This group comes up with some really innovative themes, especially in their pandal decor. Once, the entire pandal was made of kulhads, or terracotta teacups. Another time, clay was moulded to resemble biscuits, in an attempt to raise awareness about equal food distribution.
Ballygunge Cultural Association – Ballygunge
This is a vibrant and fun pujo that just gets more lavish each year. Its eclectic mix of members, from national sportsmen to cultural giants, is reflected in the massive pandals, interesting murtis (idols), and most energetic dhakis (drummers).
Kalyani ITI
This year they are creating one of a kind replica of Malaysia's Petronas twin towers as their pandal for Durga Pujo. Nearly 70 workers helped in building the 148-foot tall pandal.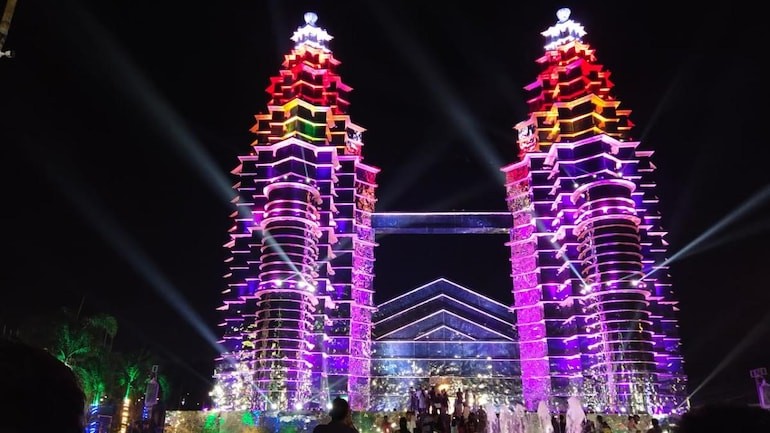 Suruchi Sangha – New Alipore
This pandal is very artsy and focuses on a different Indian state each year. What I love about the Suruchi Sangha pujo is that the idols also reflect the theme.
Maddox Square – Ballygunge
Calcutta's families, couples, literary elite and aspiring literary elite, and students from across college campuses spent many an idyllic hour at the large park inside a quiet residential neighborhood. Majorly attracting South Kolkata pandal-hoppers.
Rajabari Pujos – North Kolkata
At first, the Durga puja celebration at a vast scale was within the walls of aristocrats and elites of Kolkata. To date, the tradition of the idol in the thakurdalan (courtyard) is maintained by the families. Each home has its unique customs.
Witness the 'MetaPujo' this year as Durga Puja enters the Metaverse universe for the first time in history!
For the first time in history, the Durga Puja has entered the world of Metaverse! Yes, you read that right. India's Durga Puja this year has become MetaPujo as all the prominent puja pandals in Kolkata will be accessible through 3D twins on the metaverse. The famous puja pandals including Ahiritola Sarbojanin, Deshapriya Park, Ballygunge Cultural and Tala Prattay have turned into Metaverse.
MUMBAI
Tulip Star Durgostav – Juhu
A pandal where you can spot many celebrities as it is organized by the North Bombay Durga Puja Charitable Trust, patronized by many celebrities such as Rani Mukherji, and Kajol.
Lokhandwala Durgotsav – Andheri
One of the happening puja pandals as it exudes the flavor of Bengal with its authentic food stalls and cultural programs.
Ramkrishna Mission Durgotsav – Khar
The rituals here are conducted with such great devotion that you get transported back to Bengal. An iconic and beautiful pandal to be witnessed in Mumbai.
Chembur Durgotsav – Chembur
Since 1954, Chembur Durga Puja Association has been conducting puja. It's a huge tourist attraction with over 1.5 lakh people visiting every year.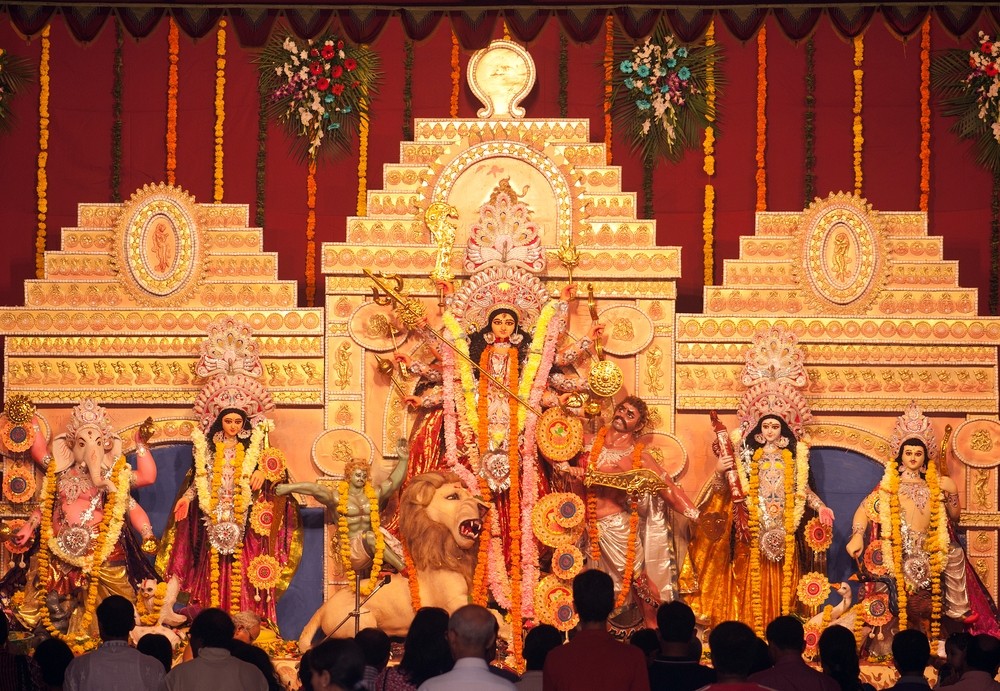 The Powai Sarbojonin Pujo – Powai
The Powai Sarbojonin pujo has been gaining attention for its creative pandals. For the past few years, they have been recreating facades of famous temples such as Odisha's Konark Sun temple and Delhi's Lotus Temple. This year, the theme is community-centric, and the pandal will be built entirely of natural products like jute and bamboo. With great food stalls and engaging competitions, this one is always a hit.
Navi Mumbai and Thane
The Navi Mumbai Cultural Association and Vashi Cultural Association organise the most well-known of Navi Mumbai's pujos, with creative pandals, and food and handicraft stalls rivalling that of Shivaji Park. Thane has a few smaller but extremely creative pandals—themes have included recreations of pujos in the huts of rural Bengal to a depiction of Mother Nature through Durga. Worth dropping in for a while.
Must Read: 7 Extraordinary Durga Pujo Experiences to have in Kolkata, Beyond Pandal Hopping
CHENNAI
The Bengal Association – T.Nagar
One of the first Durga Pujas in Chennai with various cultural performances, dance and drama artists, and musicians from Kolkata.
Dakshini Society – Anna Nagar
Started in 1995, the Dakhsini Society is well known for its puja celebrations or Sarodotsav in Anna Nagar. There is music, dances, and even theatres reciting some of the oldest folklore associated with the festival
SMCA Durga Puja – Besant Nagar
Organizes one of the oldest Durga Puja pandals in Chennai. You can munch on home-cooked food here. The food stalls usually serve Kolkata biriyani, Mughlai porotta, and kosha mangsho.
Sri Ramakrishna Math – Mylapore
It's away from the usual extravaganza of pujas and a more spiritual connection with the goddess. The greenery and tranquillity of the Math take in the divine beauty of the goddess.
DELHI
Chittaranjan Park Kalibari
A go-to place for every single Bengali in Delhi. CR park is the most happening place during pujo with committees organizing different events to keep up with the fervor of non-Bengalis and Bengalis zeal.
Matri Mandir – Safdarjung Enclave
It is a place that houses quiet, calm, and serene Kali Bari that too amid Delhi. Pujo celebration here is done in a beautiful traditional way.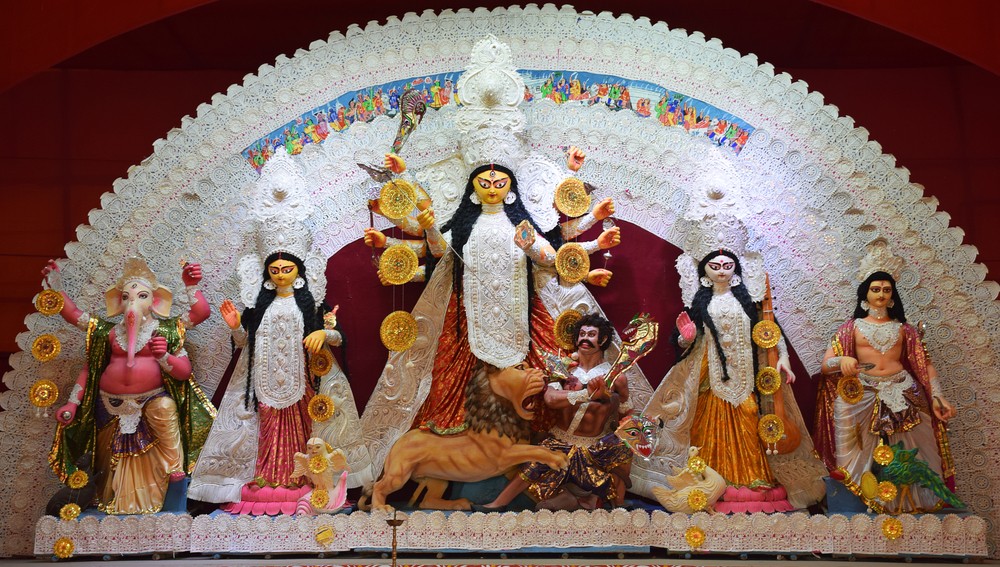 Minto Road – Rajiv Chowk
It is one of the beautiful and traditional pandals offering an incredible amalgamation of culture and Bengali tradition. This pandal is well known for its 'Dhunuchi Nach' and best pushpanjali. This puja pandal is a big spot of entertainment since 1940.
Timarpur and Civil Lines Puja Samity
Known for its thematic pandal is one of the most gorgeous pandals in Delhi visited by a such crowd that wants a community feeling.
Bangalore
Bengalee Association – Ulsoor
It is one of the oldest Durga puja in town and they are going to celebrate their 73 rd year in 2022. Also known for organizing dandiya on Navami. the pandal also puts up a large number of multi-cuisine food stalls, clothes, automobiles, handicrafts, etc. along with performances by its members and renowned artists from West Bengal.
JP Nagar/Kanakapura Road
One of the biggest puja pandals in the city and one of the most happening puja venues in South Bangalore.
Jayamahal Sarbajanin Durga Puja
The 68-year-old Jayamahal Durga Puja is pretty much the city's most famous 'theme pujo.' In 2017, there was a larger-than-life Mowgli guarding the gates.
For latest travel news and updates, food and drink journeys, restaurant features, and more, like us on Facebook or follow us on Instagram. Read more on Travel and Food Network
Related Coverage
Festive Feast | 8 Must-Try Dishes During Durga Puja
72 Hours in Kolkata – Travel and Food Guide
Feast From The East | The Lavish Durga Puja Bhog
7 Extraordinary Durga Pujo Experiences to have in Kolkata, Beyond Pandal Hopping