For anyone who has experienced Durga Puja celebrations anywhere in the world is aware that it is much more than a religious affair of towering pandals, dressed-up revelers, and the sound of dhak. In fact, it won't be wrong to say that more than the big festivities, it is about the small joys of catching up with friends and family, participating in cultural activities, and gorging on the tastiest food on the planet that creates a timeless and charming atmosphere, that's otherwise hard to come by. One of the many good things the festival brings with it is the food. The food here is just boundless, and quite frankly even overwhelming sometimes. While the afternoons are marked by the consumption of the humble bhog the evening food scene gets bigger and crazier. You will never find any Bengali sitting in their house and preparing meals during these five days and instead you will always find them feasting around the puja pandals on lip-smacking snacks and then heading to their favorite restaurants to indulge in the glorious menu on display!
Here are some of the delectable food items (mostly snacks) that Bengalis can't get enough of and we are sure, you won't be able to resist either. So go ahead and order them or even better make them at home, considering this year it is all about participating in virtual celebrations to ensure you and your loved ones are safe. These are some dishes during durga puja.
1. Luchi and Aloor Dum
That's a pair made in heaven! Luchi, also known as, 'poori' in Hindi, is prepared with maida and is deep-fried in refined oil, and it is best served with 'aloor dum', (baby potatoes cooked in Bengali spices)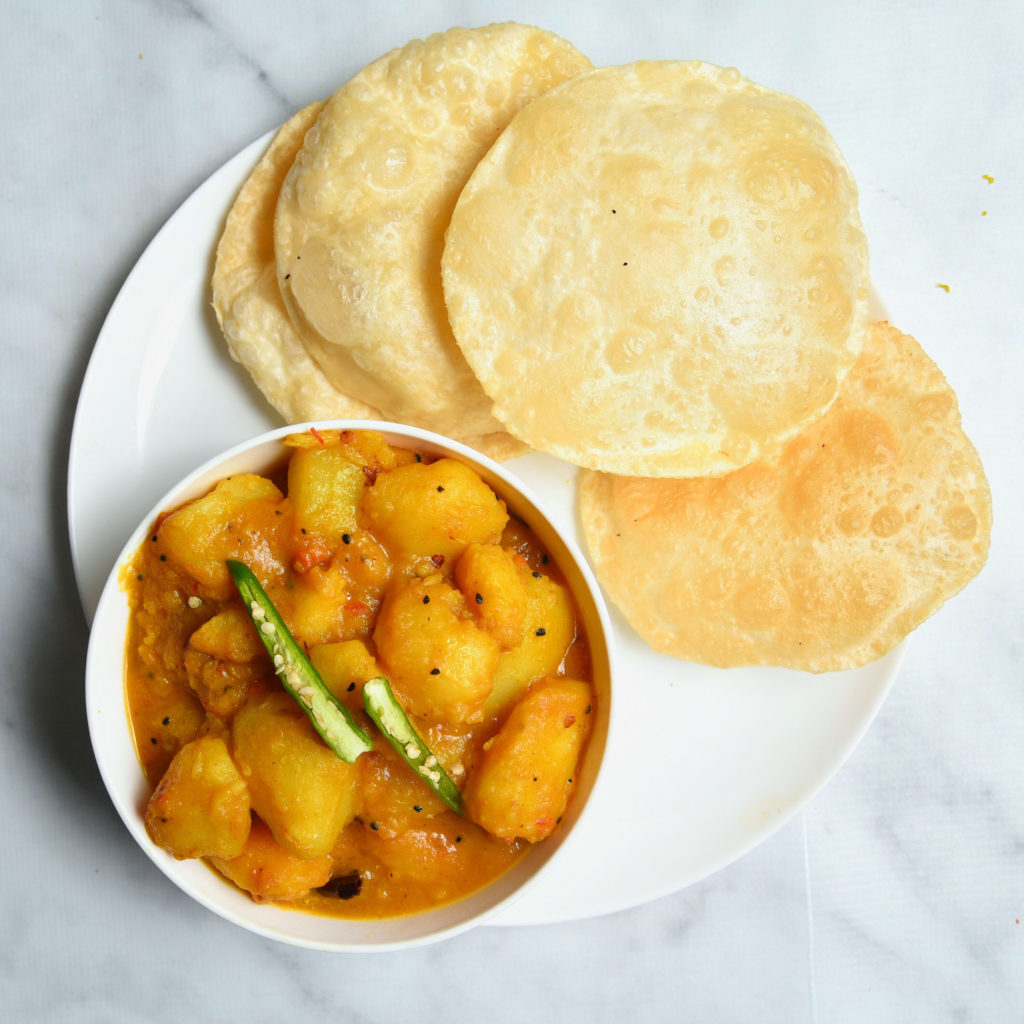 2. Kathi Rolls: Rolled up paratha with a stuffing of mixed vegetables, potatoes, or paneer for the vegetarians. For the non-vegetarians, they are made with egg and little chunks of meat, fish smothered with sauce, onions, and lime juice.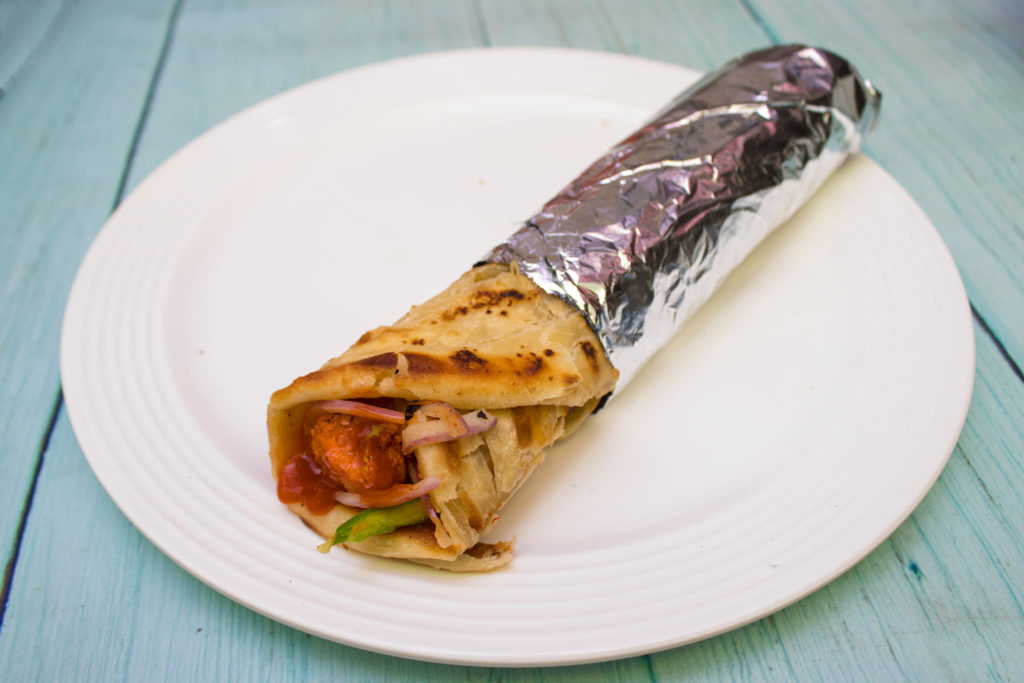 3. Mochar Chop: These are banana flower croquettes made with 'mocha/banana flower', potatoes, green chilies, tamarind, and some spices. These deep-fried chops are perfect for serving with tea as an evening snack. Apart from this, Bengalis also prepare 'Aloor chop' and 'vegetable chop'  (Potato and vegetable fritters) during the Durga puja festive season.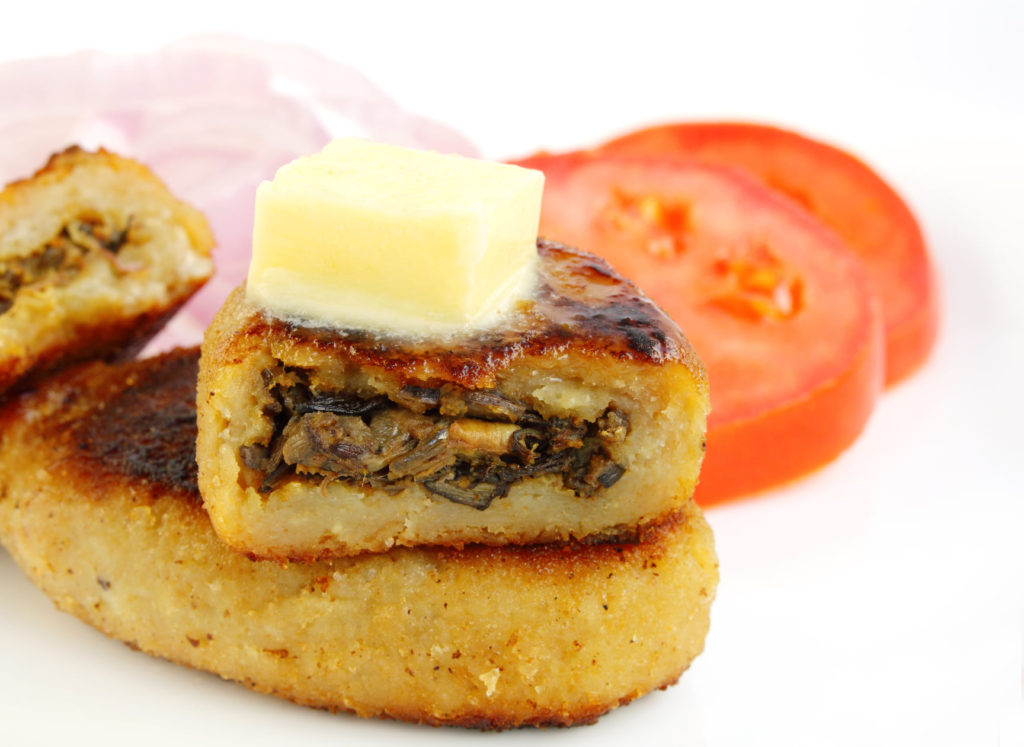 4. Fish Rolls and Fish Fry: Bhetki (Barramundy) fish fillets stuffed with a delectable filling of bhetki and shrimps, coated in bread crumbs, and fried till golden. Fish Fry is the Indian version of Fish and Chips where boneless Bhetki fillets are marinated with ginger, garlic, lime juice, salt, coriander, and green chilies and then coated with crumbs before deep-frying them. They are served with Kasundi (Bengali mustard sauce) and cucumber salad on the side.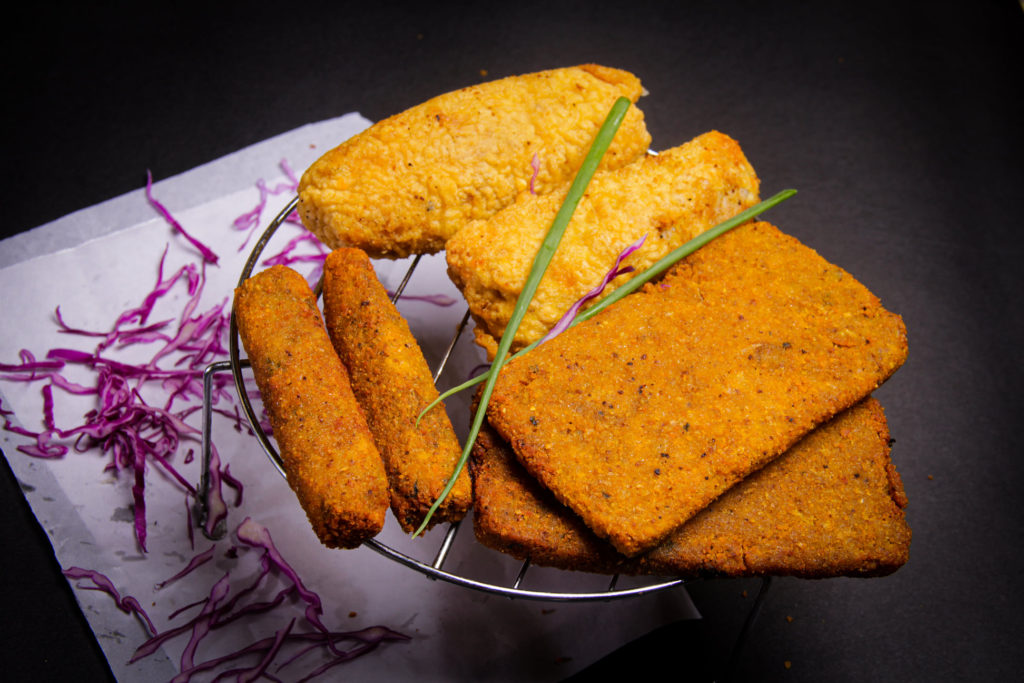 Must Read: Feast From The East | The Lavish Durga Puja Bhog
5. Kolkata Biryani: Even though biryani is not native to the city, but this sub-variant of the Lucknawi-style of biryani is a fan favorite not only in Kolkata but has gained popularity around the world. This biryani draws more inspiration from the Persian pulao than any other version available in the country.  It's lightly spiced on the yakhni (in fact it's a close cousin of the Kashmiri Yakhni Pulao) and also comes with a huge chunk of flavored potato and a boiled egg. Much lighter than the Biryanis of Hyderabad and Kerala, trust us, once you've had the Calcutta biryani, with the slow-cooked yakhni oozing, there's no other biryani you would enjoy as much.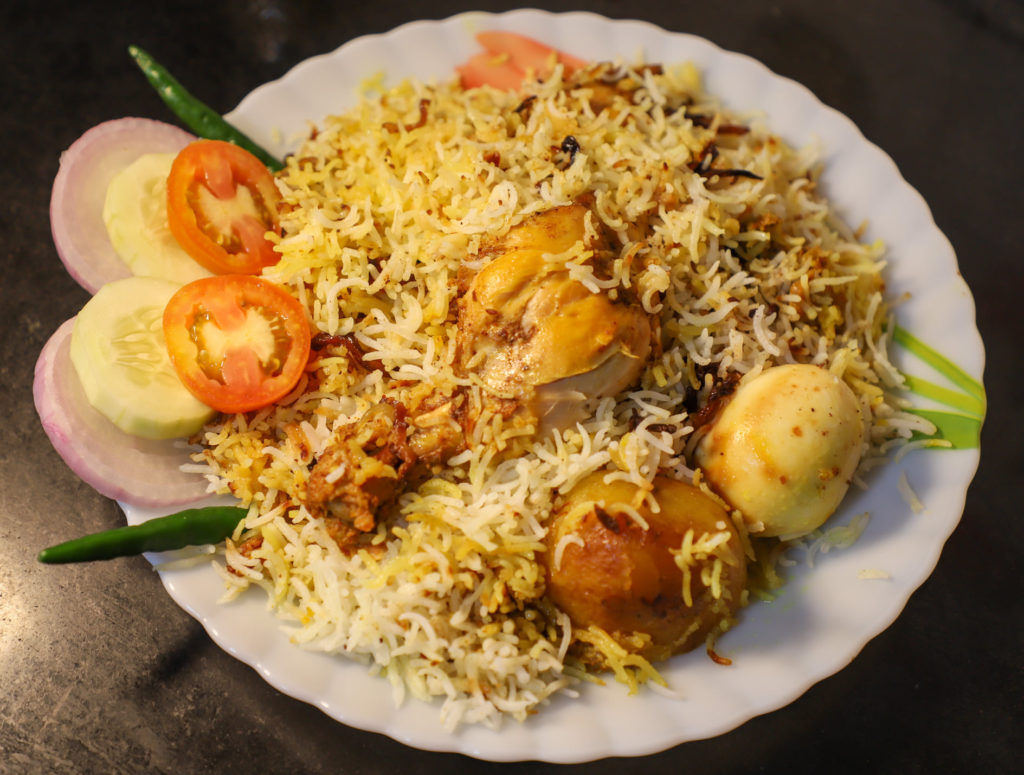 6. Chowmien: Basically a variation of the Hakka Noodles, but in Calcutta they say that this is not just noodles, it's food for the soul. A typical Kolkata chowmein is served on a plate with the noodles drenched in a mix of tomato with schezwan sauce and heaped with generous portions of onions, capsicum, and cucumber.

7. Phuchka: These spiced water balls with potato filling are easy to make and tastes delicious. It is a spicy, tangy, and thirst-quenching street food that is loved by all. And no they are not Pani Puri or Golgappas. They are Phuchkas (we only serve it with khatta pani) and are to be taken as seriously as the potatoes in the Biryani!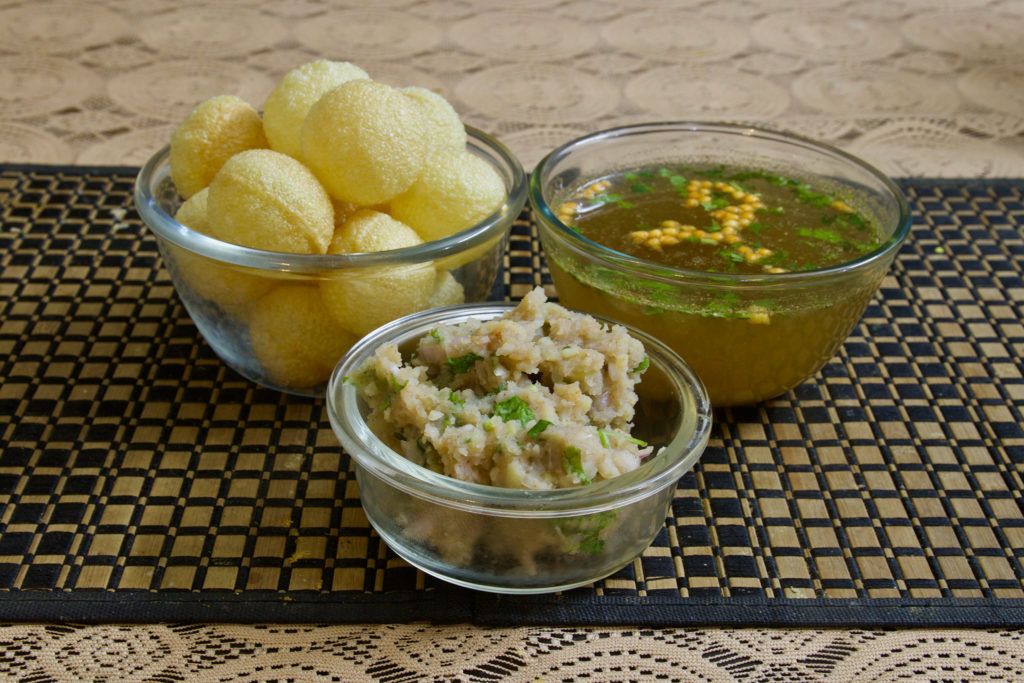 8. Kacha Aamer chatni (Mango Chutney)
So, here we end the list with a sweet recipe because no Bengali can live without sweet dishes! This sweet and sour 'chatni' (chutney) is prepared with raw mango, dry red chilies, and sugar, and is traditionally served with 'blog khichudi', but you can also enjoy it with 'fried papad'.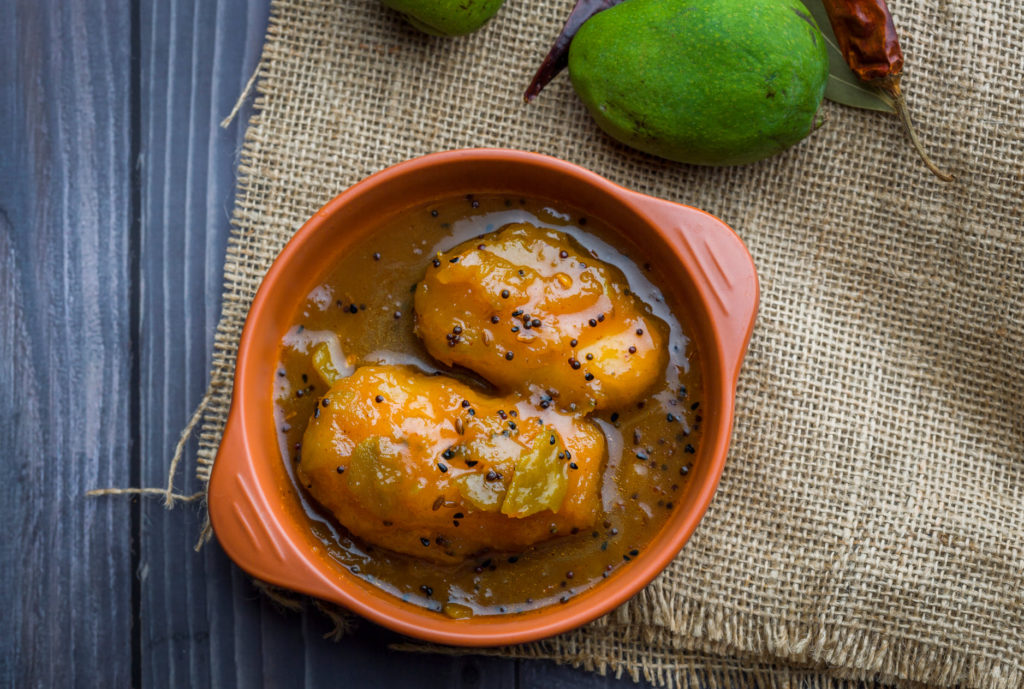 For the latest travel news and updates, food and drink journeys, restaurant features, and more, like us on Facebook or follow us on Instagram. Read more on Travel and Food Network
Check Out Fasting Recipes In The Navratri Series
Gujarati Fasting Food Recipes | Navratri Special
Recipes Of Kashmiri Snacks For Fasting | Navratri Special
Punjabi Fasting Recipes | Navratri Special
Maharashtrian Fasting Recipes | Navratri Special