The city famous for its coffee culture, sundal, Kanchipuram silk saris, artistically built temples, long beaches and the iconic Thalaivar, Chennai has a little bit of something for every ardent traveller. The former Madras, this metropolis city is a mix of the old and new; a culture centre sprinkled with purple sunsets at the world's second-longest urban beach Marina Bay, Chettinad flavours and gullys bursting with South Indian cinema. The sweltering heat of summer is best avoided but come October, there is a significant drop in temperatures and the pleasantness lasts till February.
Here is a travel junkie's 72-hour guide to this coastal city, filled with picturesque views, art, heritage and scrumptious meals.
Must See | The Capital City Experience
Cultural traditions, religious spots and nature, all of these can be seen and experienced in Chennai. Make sure you have your walking shoes on, it's going to be one long ride.
Marina Beach: a bucket-list moment
An early morning stroll on Marina Beach is exactly what you need to start off your trip in Chennai. Enjoy the sea breeze along the main 3km stretch of the beach and make your way to the bigger attractions that sit right by the sands: The Chepauk Palace, Senate House, PWD office and the Chennai University. All these historical buildings are located on the beach drive and are Chennai staples.

City Sights
Chennai's Connemara Public Library is over 100 years old and is a home to over 600,000 books. Its interiors remind you of Harry Potter movies, where libraries have tall pillars, woodwork, intricate designs and rays of sunlight spilling through glass windows. The library is right by the Egmore Museum, a relic in itself and worth a visit. Chennai's best museum is deemed to the Government Museum with a prominent Bronze Gallery and anthropology galleries showcasing South Indian human history.
Chennai is also home to India's oldest bookstore Higginbothams with a large collection of reads while Odyssey is fairly new with something for everybody. Tara Books in Thiruvanmiyur is a treat for the eyes; they publish their own books and cards with quirky designs and keep English, Tamil and German books at the store as well.
Travellers in search of some spiritual daydreaming must head to Vivekananda House. The semi-circular structure is a storyteller's paradise with a photo gallery, exhibitions and a 3D movie, all focussing on the wandering monk's life.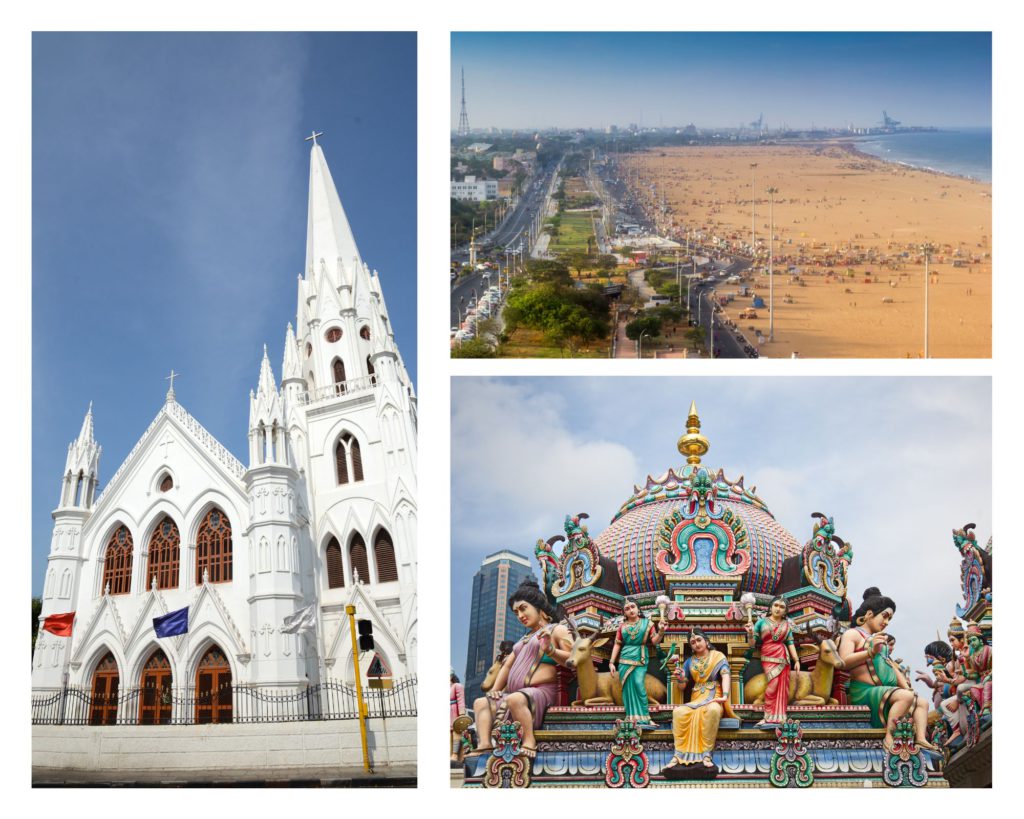 Exploring George Town
One of Chennai's most loved neighbourhoods, George Town has only been growing. Fort St. George is a popular spot for tourists and history lovers alike; the adjacent museum has paraphernalia dedicated to the fort's history, the origin of Chennai and other artworks from colonial times.

George Town is great for shopping too; you can get your hands on local mulberry silk saris along with Kanchipurams. Fabric lovers can shop on Sowcarpet Street and head to Perumal Mudali Street, a mighty colourful street selling glass bangles.
The Cathedrals of Chennai

The churches of Chennai are more than just spiritual spots; they are architectural marvels. The most popular among the lot is San Thome Cathedral that was founded by the Portuguese in 1523 and was rebuilt by the British in a classic Neo-Gothic style. St. Mary's Church on Rajaji Salai stands tall with a gorgeous interior. The Armenian Church is simple looking, almost old-world and shines bright every Christmas. Among others there are St. Andrew's Church, Velankanni Church and St. George's Cathedral
Temple Runs

It's no secret that Chennai has some colourful temples. Kapaleeswarar Temple in Mylapore is a treat for the senses; a bright myriad of colors and the aroma of mogra. The Parthasarathy Temple with its colourful Gopuram, the Ashtalakshmi Temple close to Elliot beach and the beautiful Marundeeswarar Temple make for spiritual retreats and eye-candy, all in one.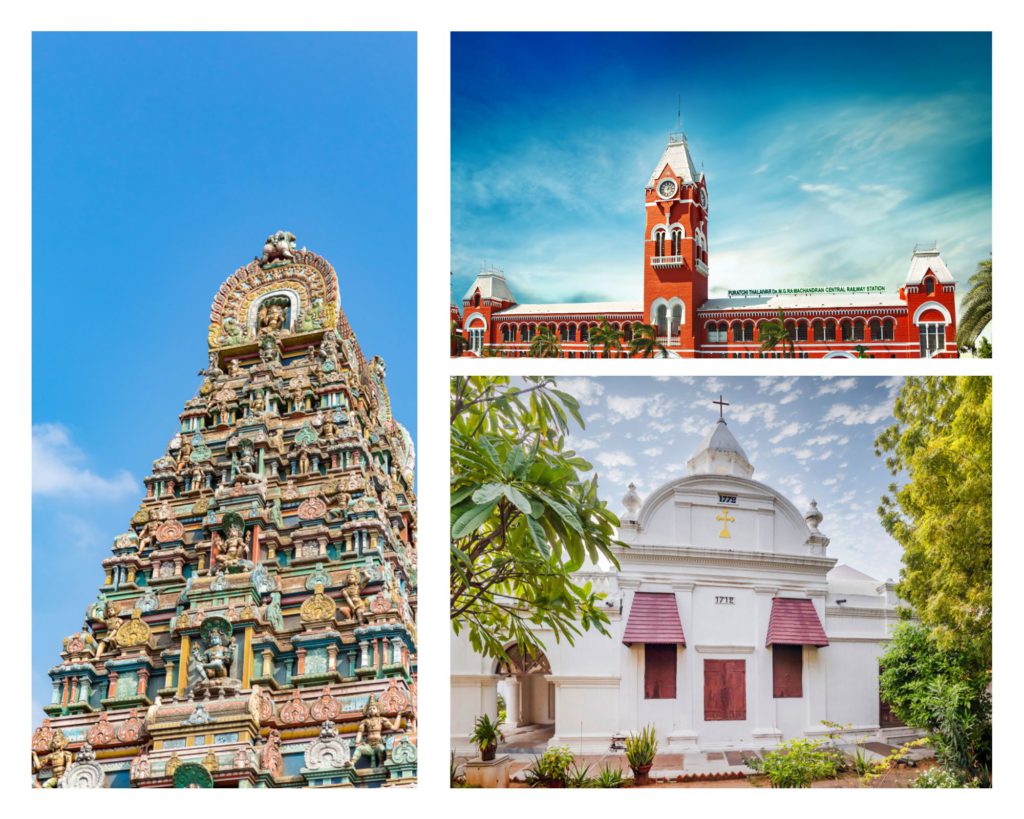 Gastronomical Experiences| Must eat
All this exploring is bound to make one hungry. While Chennai is among the hotter cities in the country, it ranks high on a foodie's list. The city's food scene is a global affair and while there, here are a few must have local dishes and must visit restaurants.
Filter Coffee
Calling all coffee snobs, don't forget to try the milky goodness that is sacred to Chennai, a tumbler of filter coffee. While Sarvana Bhavan is iconic, there are smaller establishments too that serve up a mean cup of filter kaapi. Vishranthi in Besant Nagar has some delicious breakfast that goes well with their coffee, the age-old Vivekananda Coffee House uses a special Kumbakonam degree coffee powder and Vijayaram's Coffee Company in T Nagar serves its coffee in a special edible cup.
Sundal
Chickpeas mixed with onions, spices and herbs, sundal is a street food staple; its yummiest version is found on Marina Beach.
The Breakfast Specials
Idli-sambar, dosa and uttapam are crowd pleasers across the world, let alone just the state of Tamil Nadu. Grab a meal at Sarvana Bhavan or Sangeetha Veg Restaurant. You can also waltz into most Udupi establishments in the city and will not be disappointed.Woodlands and Mathsya are two places that are bound to satisfy your taste buds. Murugan idli shop is a must visit, their signature Jigarthanda drink is the perfect start to your day.

Chicken 65
A spicy number, this dish is must-have whilst in Chennai. Buhari claims to be the restaurant that created Chicken 65 back in 1965; you must try the dish at its origin.
Chettinad Love
It's spicy, well-loved and perfectly balanced with some great flavours; Chettinad cuisine is Tamil Nadu's greatest offering to the world. Amma Chettinadu, Velu Military Hotel, Anjappar and Thambi Vilas are some city favourites. The vegetarian and meat curries, biryani and coconut and jaggery sweets are a must-try; get ready for a wholesome meal. Kaaraikudi's crab pepper masala, idiyappam and mutton nalli kuzham are every foodie's dream on a plate.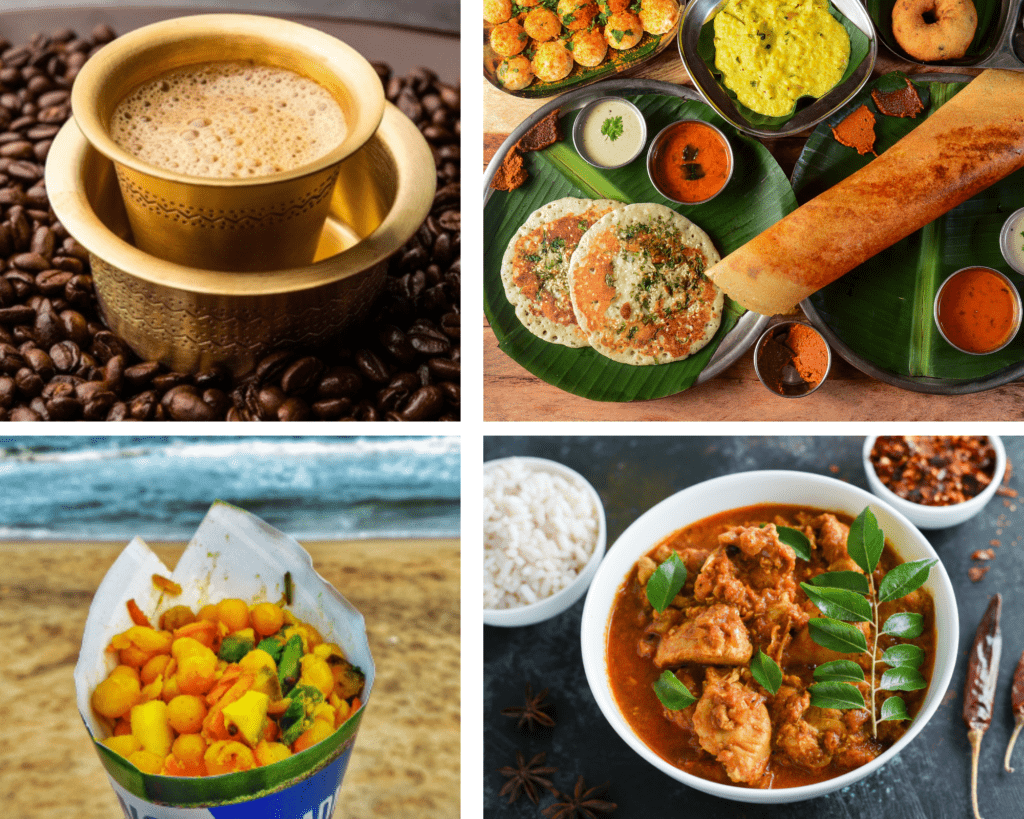 City Favourites

Chennai really does offer a host of options for foodies; from street side specialities to luxury restaurants. Madras is fine-dining with the best flavours of Chennai, Eden is among the best vegetarian restaurants in the city for continental dishes and Krishna Restaurant is an iconic Udupi chain with the best thalis.
A food trail in Chennai would be incomplete without eating large thalis at local messes. Popular hotspots for traditional thalis include Mylai Karpagambal Mess which has been sitting close to the Kapaleeswarar Temple since 1953, Kasivinayaga Mess in Triplicane and Senthilnathan Mess in Mylapore. Another local favourite is Triplicane's Nair Mess known for their seafood. Their signature dish is vanjaram fish fry, a dry seared portion of king mackerel.
Chennai is yet another Indian city that has not only fallen in love with biryani, but has also innovated and created new variations. A go to place for the city's favourite mutton biryani is Dindugal Thalappakkatti which has 40 outlets across Tamil Nadu. For light and extremely flavourful Biryani, one can opt for Kongunad-style biryani at Junior Kuppanna or Tamil-style biryani at Buhari (Anna Salai). There's also Nammaa Kitchen offering a selection between chicken, prawn and Mughlai varieties.
The Madras Pavilion at ITC is ideal for those who want a luxurious experience mixed with great food.
All in all, a trip to Chennai is gastronomical and the perfect blend of nature and city life. It's a city worth exploring with its coffee, coasts, culture and comfort.
For the latest travel news and updates, food and drink journeys, restaurant features, and more, like us on Facebook or follow us on Instagram. Read more on Travel and Food Network
Related Stories:
72 Hours in Kanyakumari | Travel and Food Guide
Best Wildlife Sanctuaries In Tamil Nadu
10 Must-Visit Waterfalls in Tamil Nadu
Must Eat Local Dishes In Madurai And Where To Eat Them
10 Reasons To Visit Tamil Nadu
In Photos | 5 Incredible UNESCO Heritage Sights to Visit in Tamil Nadu