Christmas lasts all year around in Rovaniemi's Santa Claus Village
Yes, if you didn't know, an actual Santa Claus Village exists in Lapland that is home to the legendary and much-loved Santa Claus. Located in the Arctic Circle, the Santa Claus Village in Rovaniemi is regarded as "Santa's official North Pole residence" and is one of the top tourist destinations in Finland. The village is open year-round for visitors of all ages to see Santa and his elves.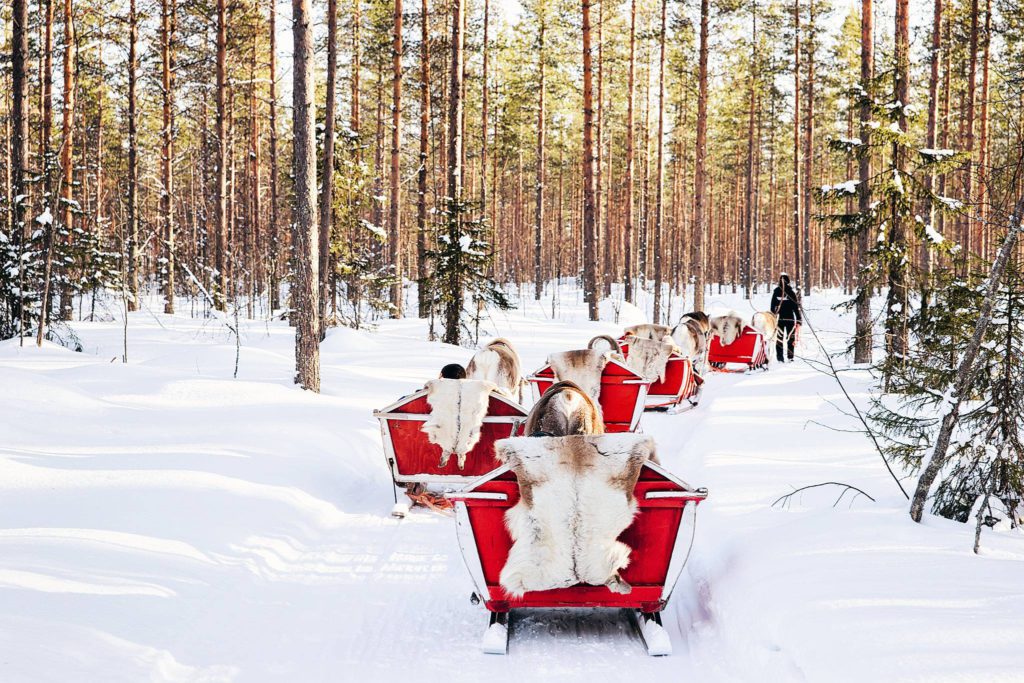 We couldn't think of a more magical Christmas than by hanging out with the man of the hour himself accompanied by elves and even a reindeer-driven sleigh. Make a prior appointment of course; Santa has a pretty busy schedule distributing gifts around the world specially during Christmastime.
Leaving from the Elf's Yard, kids can cross the Arctic Circle with traditional Lappish wooden skis. The region forms part of the natural habitat for roaming reindeer–unlike the North Pole.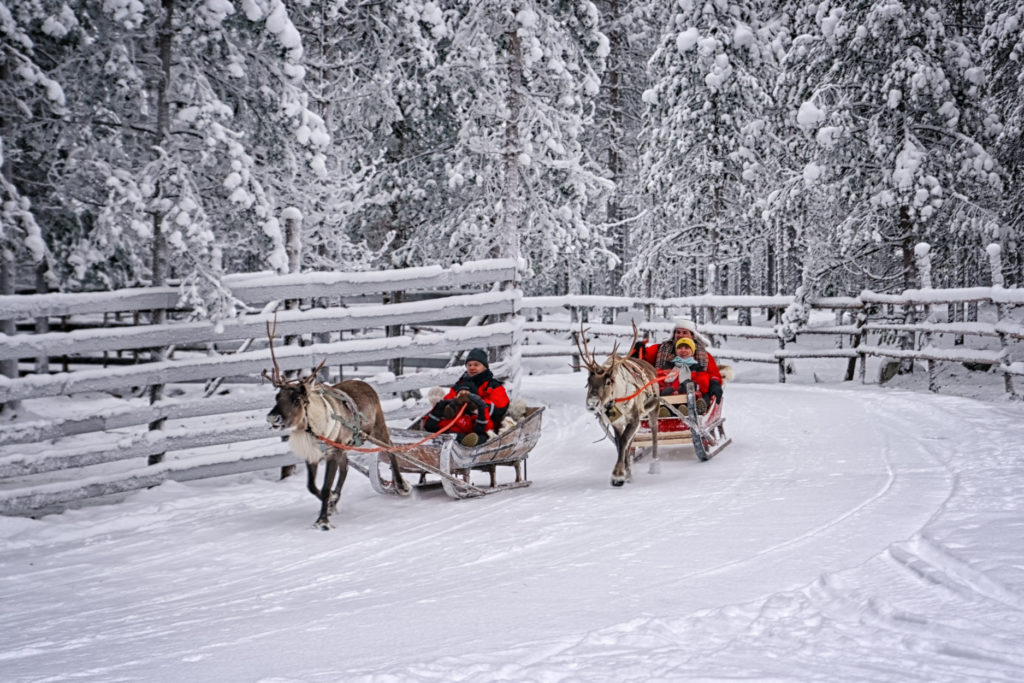 Visitors can also send postcards — with Santa's special postmark — from the Santa Claus Post Office, learn to make gingerbread cookies, shop for souvenirs at the various handcraft shops or learn about Finnish Christmas traditions at the Christmas exhibition.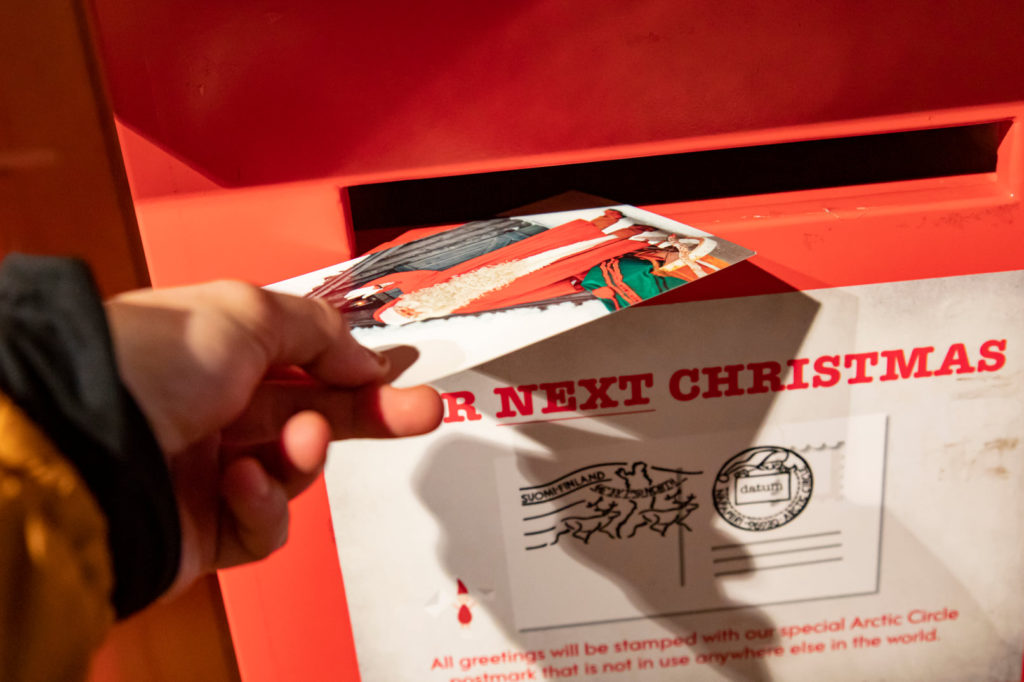 Santa's post office is a colourful world of beautiful cards and unique stamps and gifts! You can actually sit there and write your greetings from the Arctic Circle to your friends all over the world. The cheerful Postal Elves will post your greetings for you, whether it's Christmas or the middle of summer! All post will be stamped with the special Arctic Circle postmark. Though there in no entry fee, everything from a photo with Santa to the special Arctic Circle stamp costs extra.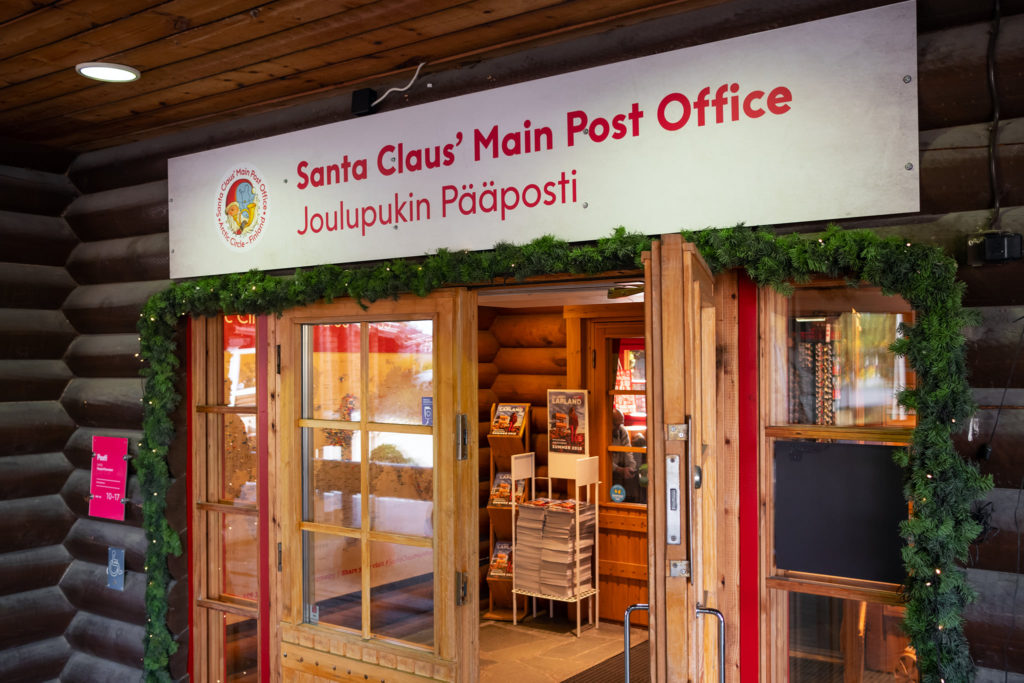 Getting There: The Santa Claus Village is open all days of the week and one can head there by landing at the Rovaniemi airport and thereafter, board bus number eight or the Santa Express, which departs from the city centre, every hour. Some of the airlines flying to Finland are Finnair, British Airways, KLM, Japan Airlines, Lufthansa, Air France, Aeroflot, Qatar Airways, and Turkish Airlines.
Other Activities:
Rovaniemi isn't just home to Santa. It's a magical winter wonderland that brings together culture, wildlife, and more. Here's what you can see and do while you're here:
Catch The Northern Lights: You can see the Northern Lights in the city from mid-August until early April, but you need clear skies to see them. Fortunately, you don't need to head too far from the city center to find the breathtaking display.
Riding a reindeer: Ever dreamt of chasing the Northern Lights on a sleigh? Ride reindeers or huskies through the winter wonderland for that once in a lifetime experience.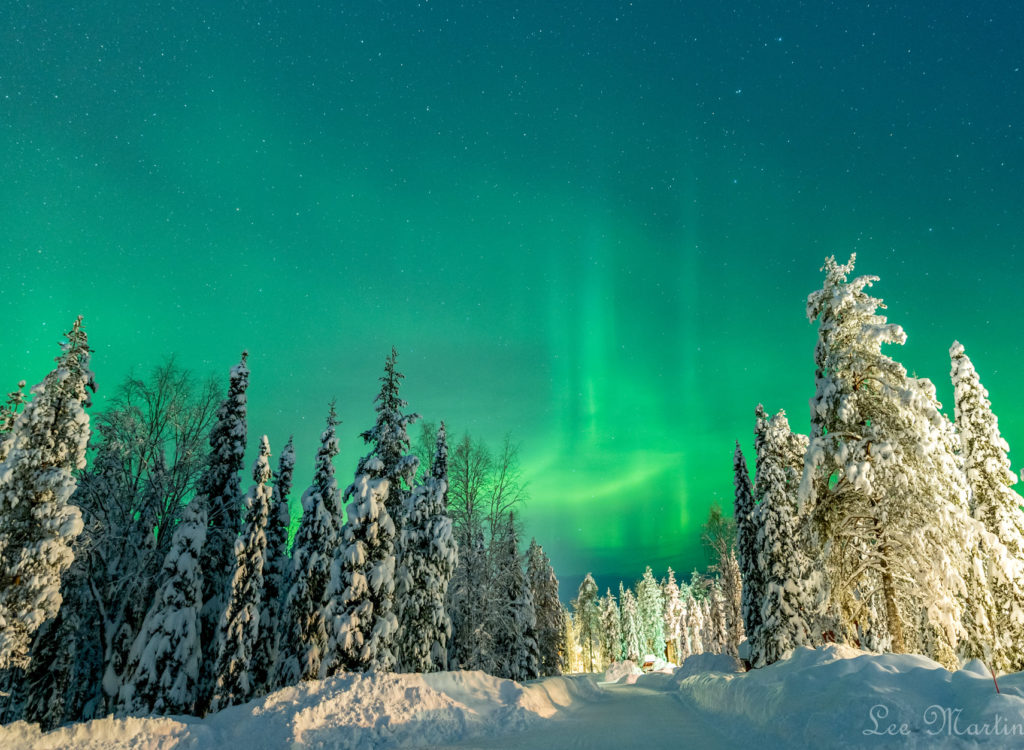 Snowmobiling: Finland's most traditional mode of transportation is also a favourite pastime. You can select between a beginner's ride and a longer-distance safari. Some tours combine snowmobiling with activities like ice fishing and campfire lunches. Book here.
Ice Fishing: Many choose a fishing holiday in Lapland. Once you reach the fishing spots by car, snowmobile or snowshoeing, you will have to drill a hole, lower your bate and hope the freshwater fish find their way to you. If you catch a fish, you might be able to prepare it for dinner.
Skiing: Cross-country skiing is the national sport of Finland. From a beginner to a seasoned alpine skier or snowboarder, there's a class for everyone. Make a reservation here.
Wellness: Did you know that Finns go to sauna almost every day? There are many ways to experience sauna in Rovaniemi. Step on a sauna ferry and have a steam of your life while cruising on river deltas, combine sauna with ice swimming or make it the most relaxing experience of your life. Book here.
Top 7 Finnish Christmas Foods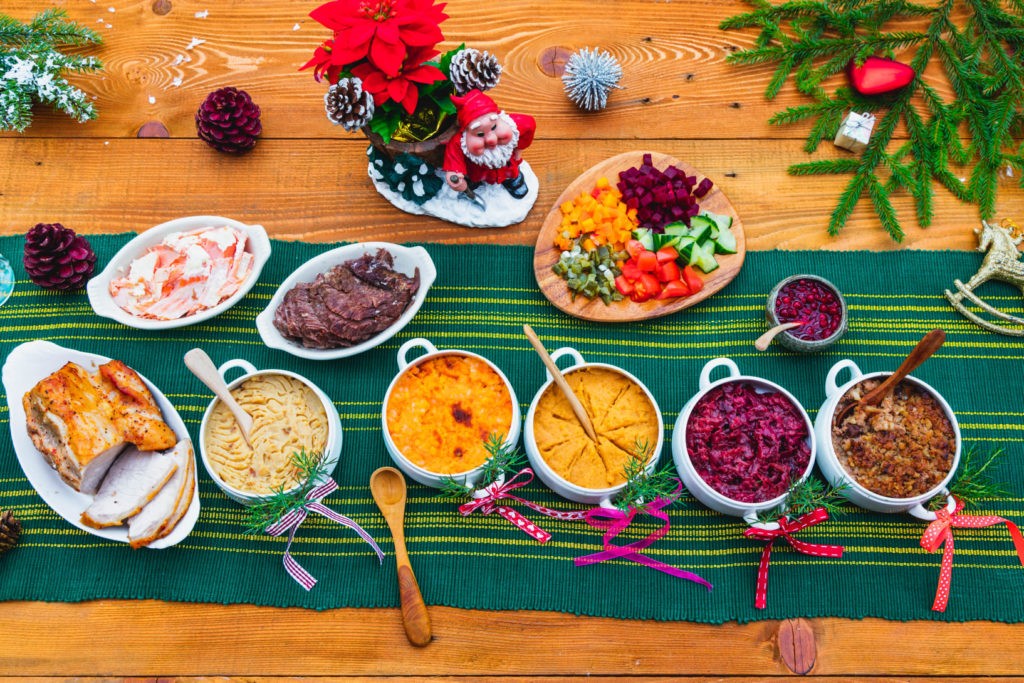 A food trip to Lapland is one of a kind experience. In Rovaniemi, you'll find plenty restaurants with traditional Lappish and international menus. Familiarize yourself with local food culture, sip your drink from a wooden "Kuksa" and get inspired of inviting tastes of Finnish Christmas with our recommendations below.
Glögi: Glögi is a traditional Finnish Christmas drink that is similar to mulled wine. It is made from red wine or red juice blended with spices like cinnamon and cardamom. The Scandinavian and Nordic versions include almonds and raisins. You can drink it almost everywhere in Finland during Christmas and is best paired with a homemade Finnish gingerbread cookie.
Oven Baked Ham: The baking of ham in the oven for a long time is one of the Finnish Christmas traditions. The ham is served with homemade mustard or with bread with the other Christmas dishes.
Ruisleipä – Rye bread made from sour dough, is a staple of the Finnish diet and is often served with ham and cheese or a side of butter.
Casserole: Casseroles are the most iconic dishes at a Christmas dinner. There are usually four casseroles made with swede, potato, carrot and liver and those are served with Christmas ham and other meat dishes at Christmas dinner.
Christmas Pastries: One of the most common Finnish Christmas foods is the star-shaped Christmas pastry. These are made with puff pastry and filled with sweet plum or apricot jam.
Christmas Porridge: It's a traditional feature of any Finnish Christmas dinner, and it's normally served as the last course, but it can also be served for breakfast. On Christmas, rice porridge is usually topped with sugar and cinnamon. Whoever finds an almond buried in the porridge pot is said to have "good fortune."
Gingerbread Cookies: Cinnamon, cloves, and nutmeg are inextricably linked to Finnish Christmas. It comes from baking gingerbread cookies. The dough is so delicious by itself, we wonder how much of it actually makes it to the oven without being eaten.
Best Restaurants and Cafes:
Christmas House Restaurant & Coffee Bar: Popular for their sumptuous lunch buffet available every day of the year 11 a.m. – 2 p.m.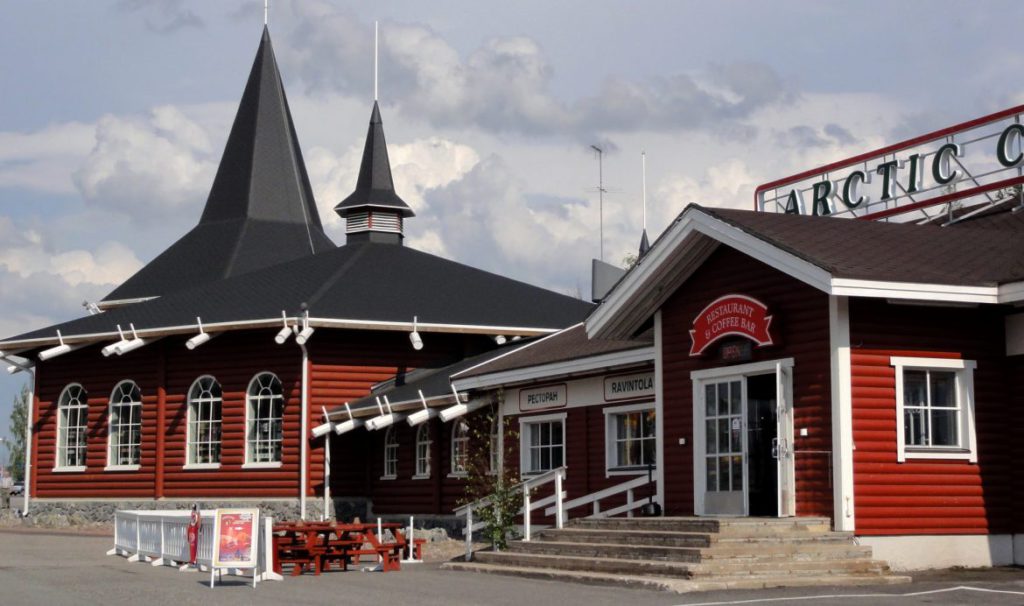 Santa's Pizza & Burger: is a traditional fast-food restaurant famous for their pizzas and hamburgers. Don't miss their vodka ice-cream for adults.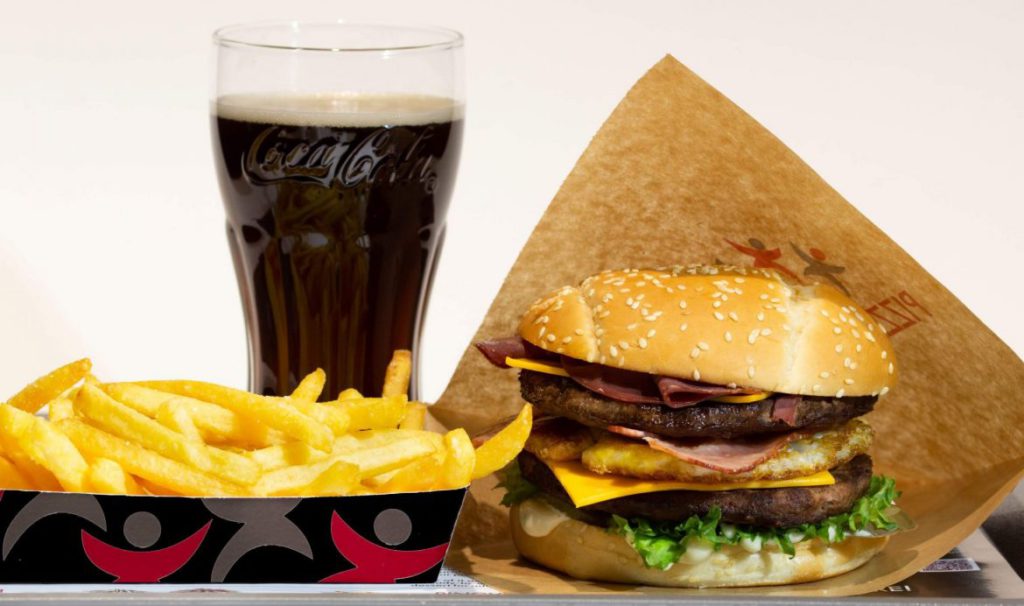 Cafe & Bar 21: One of the coolest Cafeteria and Cocktail Bars in Rovaniemi with vegan options! Cafe & Bar 21 is situated right in the city center of Rovaniemi, and provides Wi-Fi and iPads for customers to use freely. Apart from a fabulous cocktail menu, they specialize in waffles and salads. The waffles are not vegan, but salads have vegan options with tofu, tempeh, or falafel for a topping. They also serve oat milk coffee.
Café Koti: The modern café is full of light and warmth, even during the darkest months of the year. They are popular for their brunches and also have vegan options for breakfast and lunch including yogurt, tofu, porridge, hummus, soups, salads, and pastries.
Three Elves Restaurant: offers culinary experiences full of pure, genuine flavors and featuring Lappish ingredients. They serve breakfast, lunch and dinner as well as drinks and coffee.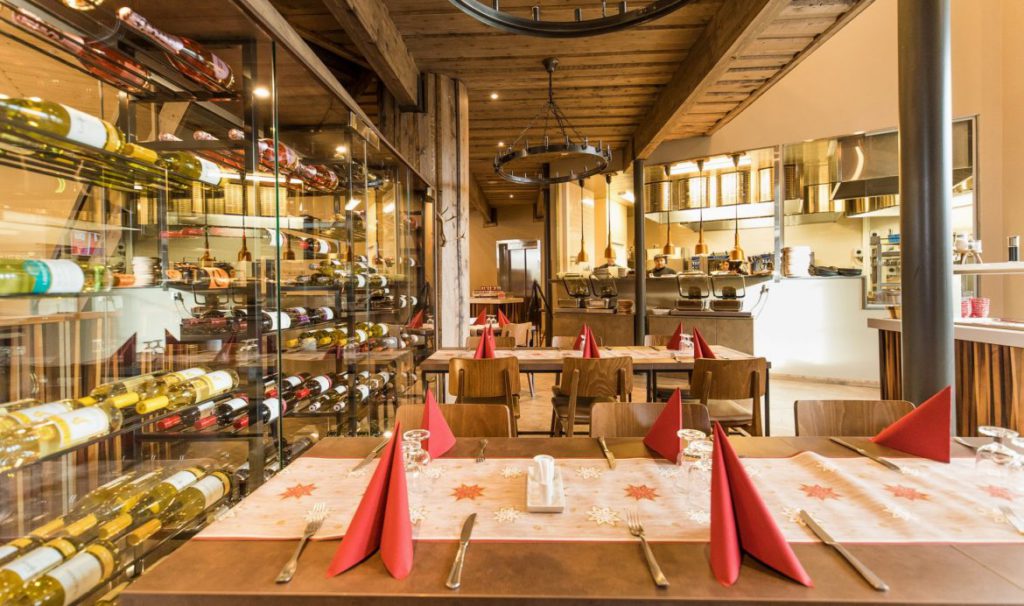 Restaurant Nabo: This is a Nordic Restaurant with a menu that changes with the seasons, as they only serve local produce. They have a separate vegan menu.
Saigon Noodle Bar: As the name suggests, they specialize in different kinds of noodles, as well as handmade bubble tea or milk tea. This Vietnamese restaurant has several choices for vegans: pho soup, dry pho bowl, spring rolls. You can also opt for tea with plant based milk.
Santa's Salmon Place: Located right next to the post office, here you can try some of the best traditional salmon cooked on an open fire right in front of you. Fresh salmon steaks combined with some magic of the fire promise you an extremely juicy experience!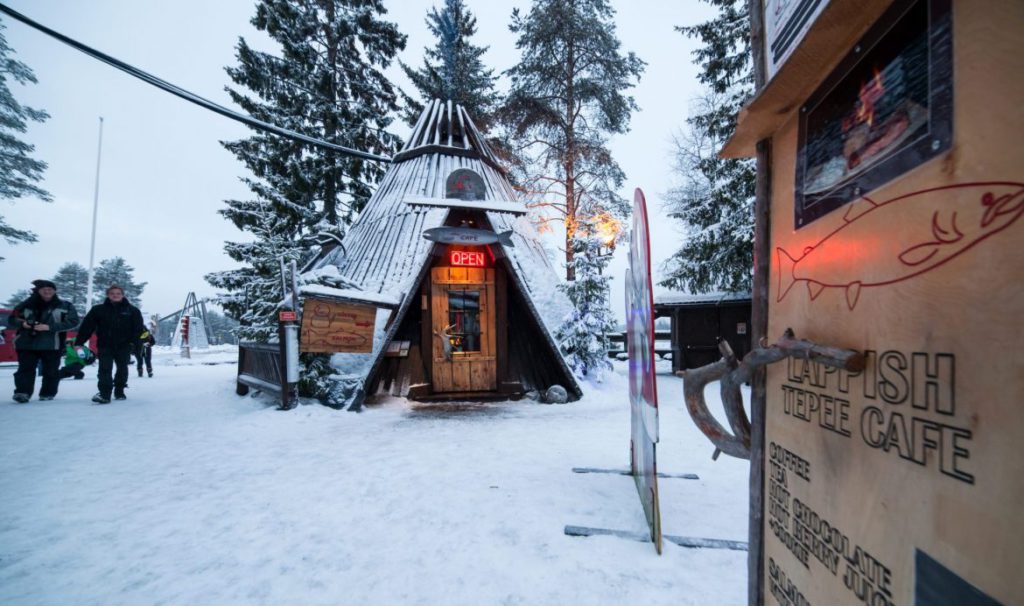 Rang Mahal: Indian restaurant in the heart of Rovaniemi's city centre where you can enjoy a lavish lunch buffet, or order from an á la carte -menu which also feature some vegetarian dishes. In addition to serving traditional Indian food, they also serve exotic Lapland reindeer meals.
Make your restaurant reservations here.
Where to Stay?
1. Nova Skyland Hotel and Restaurant: Located in the Santa Claus Village on the Arctic Circle, near the Santa Claus Office and Main Post Office this high-class hotel is decorated in Scandinavian style. Panorama windows opening into beautiful nature, open fires, private saunas, fully-equipped kitchens and cozy semi-detached cottages await you. Nova Skyland restaurant, famous for their Lappish and Asian meals, is open all year long.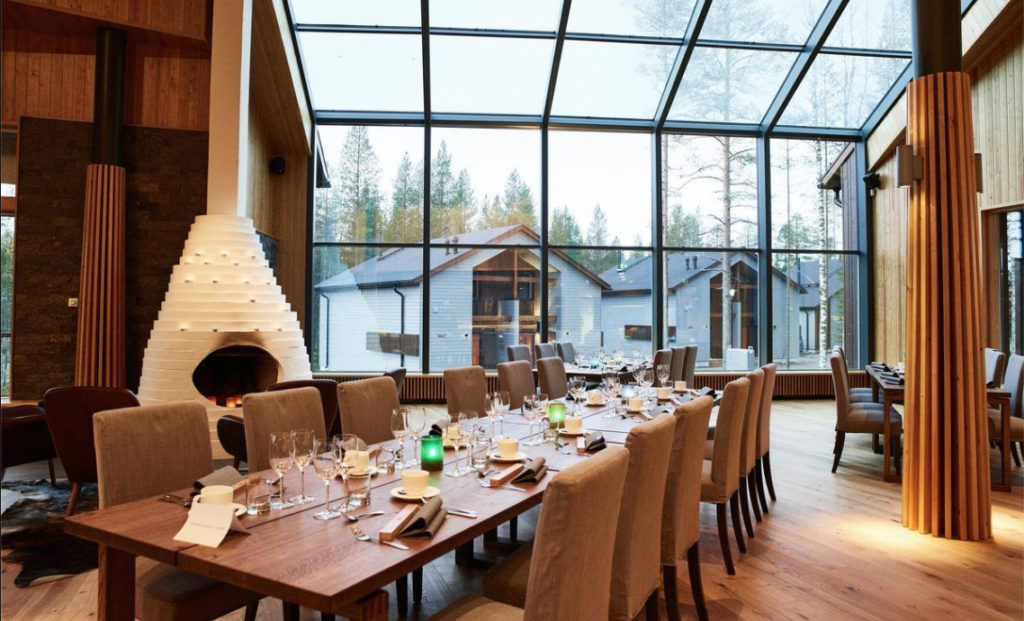 2. Santa Claus Holiday Village: A minute or two walk from Santa Claus's main office, this place offers hotel-quality accommodation at the Arctic Circle, in the heart of Santa Claus Village in Rovaniemi.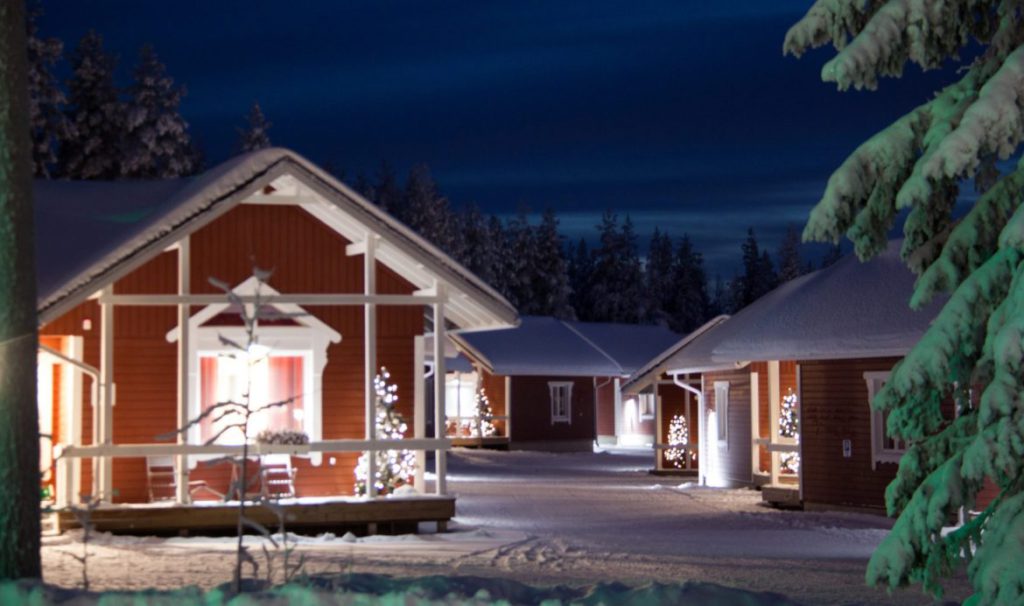 3. Glass Resort: These magnificent Glass Apartments are decorated with Lappish handicrafts and high quality Scandinavian Design and offer unique igloo style Glass Accommodation. The large windows and glass ceiling provide an unrestricted view of the Lappish Nature and the Northern Sky, offering the possibility to view natural phenomena such as the Northern Lights.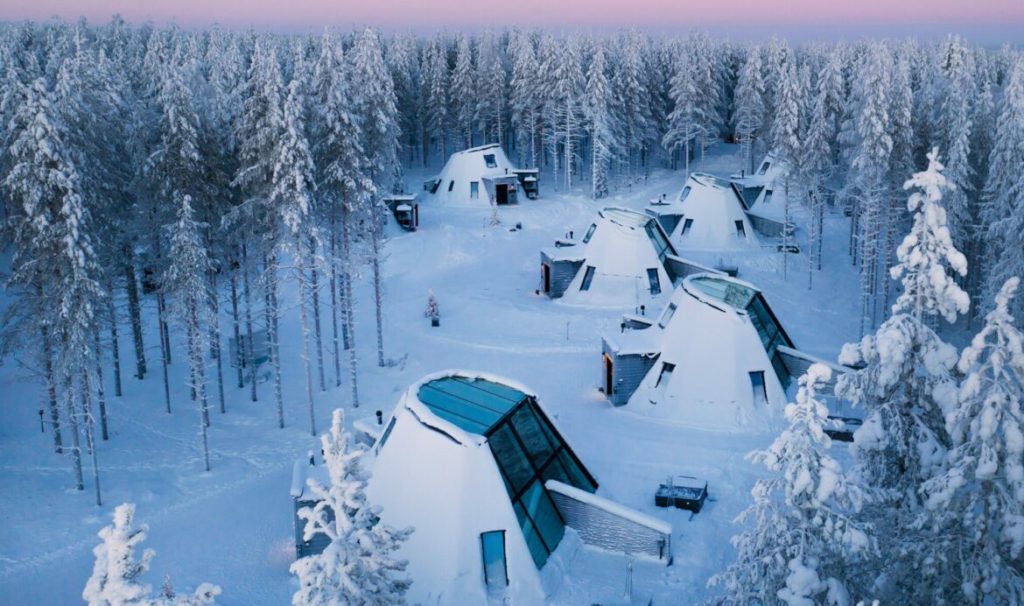 Travel Update : There could be travel restrictions due to the ongoing pandemic. Before travelling, please always check the latest government advice about COVID-19 travel restrictions in your destination. For more information visit santaclausvillage.info
This piece and the gallery have been updated with new information since its original publish date.
Photos : Shutterstock
For latest travel news and updates, food and drink journeys, restaurant features, and more, like us on Facebook or follow us on Instagram. Read more on Travel and Food Network
Trending Now :
The 23 Best Places To Go In 2023
Video | 10 Best Christmas Markets Around The World
Essential Travel and Food Guide To Santa Claus Village, Finland