Brett Lee has been frequenting India for the last 25 years. Given his strong connection with Mumbai (left), the former paceman considers the city his second home. Photos by: Ultimate Travel Photos/Shutterstock (city); Brett Lee/Facebook (self)
The legendary fast bowler talks about his favourite haunts in the city, his rock 'n' roll band, and Australia's secret nooks of paradise.
Growing up in Australia, Brett Lee spent most of his weekends watching cricket with his parents in stadiums. At age nine, he had made up his mind to be one of those men he cheered from the stands, to don the green cap of the Australian national team and bowl at a smashing speed of 160 km/hr. At 29, Lee set the record for his quickest delivery: 161.1 km/hr against New Zealand in 2005, sealing his name as one of the greatest fast bowlers in cricketing history.
The 45-year-old's approach to life is simple yet strategic, both on and off the pitch. His take on travel, however, is like a game of gully cricket: immersive, raw, and fun. Alongside his celebratory career, Lee also infused his time with music—he is a vocalist and guitarist with the rock band Six & Out.
Both these journeys came with chances to see the world, but it is India that truly won him over, he says, second only to his homeland. A little while ago, I caught up with Lee over a Zoom call six hours before he was set to fly from his home in Sydney to Adelaide, ahead of the first India vs. Australia 2020-2021 test match. Edited excerpts from the interview:
You once called Mumbai your second home—what draws you to the city?
Well, I'm based in Sydney, so that's my first home. My second home is where I spend most of my remaining time—and that's Mumbai. It's the hustle and bustle, the cricket, the fans, the food, and the culture. Something is always happening there, which is nice because sometimes when you visit a place, it can get boring and everything comes to a standstill after 9 o'clock. But Mumbai never sleeps.
You've been visiting India for about 25 years now. What are some of your fondest memories, and what helps foster your connection to it?
There's Mumbai like I said. I love Goa, going further down south, and Thiruvananthapuram is beautiful. As is being on a houseboat in Kerala. I've been up north, to Punjab, where I visited the Golden Temple in Amritsar—I dressed up in a traditional yellow kurta and turban! The love and warmth India has given me as a traveller is just amazing. I'm drawn to the country's hospitality. I like the peace and the quietude of a hotel room, but there's so much more. Before COVID, I'd just walk outside to explore the beautiful markets, flower gardens and local shops selling different kinds of clothing; people just want to listen and talk to you. And all of a sudden you've spent a whole day doing nothing, but you've achieved everything.
I feel Indians have embraced me, and I've embraced them back. My family loves coming to India—my little daughter loves doing the 'Namaste' and my son can count to 10 in Hindi. I've picked up a bit of Hindi too. Mujhe aapse milke khushi hui! (laughs). I've also been training youngsters with Virender Sehwag here in India. They need to know about the skills and it's my way of putting something back into cricket.
Which three stadiums in India would you recommend to catch a live game of cricket in?
You have to go to Wankhede Stadium—it's probably the most important place you can visit in Mumbai. The M. Chinnaswamy Stadium in Bengaluru is also a great spot to watch cricket. In Chennai, there is the M.A. Chidambaram Stadium—the home ground of the Chennai Super Kings. You can get a hang of MS Dhoni there.
Has being a sportsman given you a taste for other athletic travel pursuits?
Look, I've always enjoyed athletics and running. I never found cricket easy, but it was easier than most other games I've played. I've done a couple of semi-marathons in Australia like the 16-kilometre marathon, which generally takes place in August. It always feels like a massive achievement.
You were born in Wollongong, New South Wales. What hidden spots would you recommend?
Well, there are some amazing coastal towns when you get to Wollongong on the south coast. It is about two hours south of Sydney. Kiama—the place where I was born—has some of the best beaches and friendliest communities in the world. It's most famous for its blowhole. There is a beautiful stretch of green, where the cows are grazing on the grass, and the land drops off to the ocean. There are beautiful farms, some great shopping and dining options, too. The city is both vegetarian and non-vegetarian friendly, but you'll find incredibly fresh seafood there. The mussels come from down the south coast in Merimbula.
Australians are known to be very outdoorsy. How did you travel while growing up?
We've travelled a fair bit. We went to the Snowy Mountains, which is about a six-hour drive from Wollongong. As young children growing up in a coastal town where the daily average temperature is 23°C, it was great to jump in a car in the winter and drive down to this beautiful white city. We'd bring out the toboggan and slide down the snow-packed field. And if you ever want to ski in Australia, you have to go to Thredbo. The rest was all about cricket—Mom and Dad would take us to catch a game of cricket every single weekend.
What are some of Australia's unmissable hits?
A city you should definitely visit is Adelaide in South Australia. If you like your wine, head northeast to Barossa Valley—it has some of the best vineyards in the country. You can have a great meal with a glass of Chardonnay or Pinot Noir. Melbourne too is a fantastic place and home of the Melbourne Cricket Ground, which a lot of Indian fans love. You'll find great coffee, little boutiques, and pop-up restaurants that are easy to miss, but if you head in you'll find a beautiful, big open area where you can wine and dine.
Australia is full of little surprises. But most importantly, we are a culture that wants to invite everyone over. I know Indians love fresh fish—some of the best fish comes from the south coast. I'm a big fisherman and I've fished a lot in my life. If you want to go swimming with the fish, including sharks, go up north to the Great Barrier Reef. You can take out a charter boat and dive into the water. In the interiors there are ranges like the Blue Mountains, and some national parks too. Then there are towns like Batemans Bay and Huskisson—you'll have a great time anywhere on the south coast. If you love oysters, visit Coffin Bay.
What is your idea of a perfect weekend getaway in Australia?
Camping in one of the inland national parks—it could be to see the Three Sisters rock formation in the Blue Mountains or pitching a tent in Budderoo National Park. There are heaps of camping grounds in the Southern Highlands, too. You might have a campfire, cook some food in the open fireplace. You learn to enjoy your own company. When you get away from the outside world and are in the company of your loved ones, you go back to the basics. To me that's living.
What were journeys like with your band, Six & Out?
We wound up doing about 250 shows all over Australia, including Adelaide, Brisbane, Cairns, Melbourne, Sydney and parts of Western Australia over 15-20 years. It's great fun touring with the Australian cricket team, but it's incredible touring with a rock 'n' roll band!
What's your travel bucket list like—places you've ticked off and haven't?
I haven't had the chance to visit Uluru or the Ayers Rock, which is a gorgeous sandstone monolith (in Uluru-Kata Tjuta National Park in the Northern Territory). You can actually wine and dine underneath billions of stars. I've always wanted to go to Kakadu National Park in the Northern Territory too. On the other hand, visiting the Taj Mahal in Agra was such an incredible experience; to see Humayun's Tomb and feel the cold marble.
Is there an under-the-radar destination that you think deserves to be seen by more people?
Byron Bay. It's a beachside town located in the far-northeastern corner of New South Wales, where a lot of celebrities have now started to live. It's very on trend with surfing, music and fun times. If you're between 18 and 40 years of age, go check it out.
Darwin's also amazing, you know. And when you get to the top of Western Australia's East Kimberley region, there's Kununurra. You can stay at El Questro, which can accommodate six couples. There are two gourmet chefs who work around the clock. You can dive in natural springs, swim with freshwater crocodiles. Generally they won't hurt you.
Where would you like to go once the pandemic subsides?
I would honestly just love to spend time here in Sydney and enjoy the city for what it is. In February, right after the end of the cricket season, it'll be a great time of the year to get into a fishing boat, walk around the Sydney Harbour, or even visit nice restaurants, cafés and nightclubs. The whole experience had been abandoned, and now it's all going to mean so much more.
This feature also appeared in National Geographic Traveller India
For latest travel news and updates, food and drink journeys, restaurant features, and more, like us on Facebook or follow us on Instagram. Read more on Travel and Food Network
Trending on TFN
The 23 Best Places To Go In 2023
Explore Utah's Mighty 5® and What Lies in Between
Five Epic U.S. National Parks To Visit This Year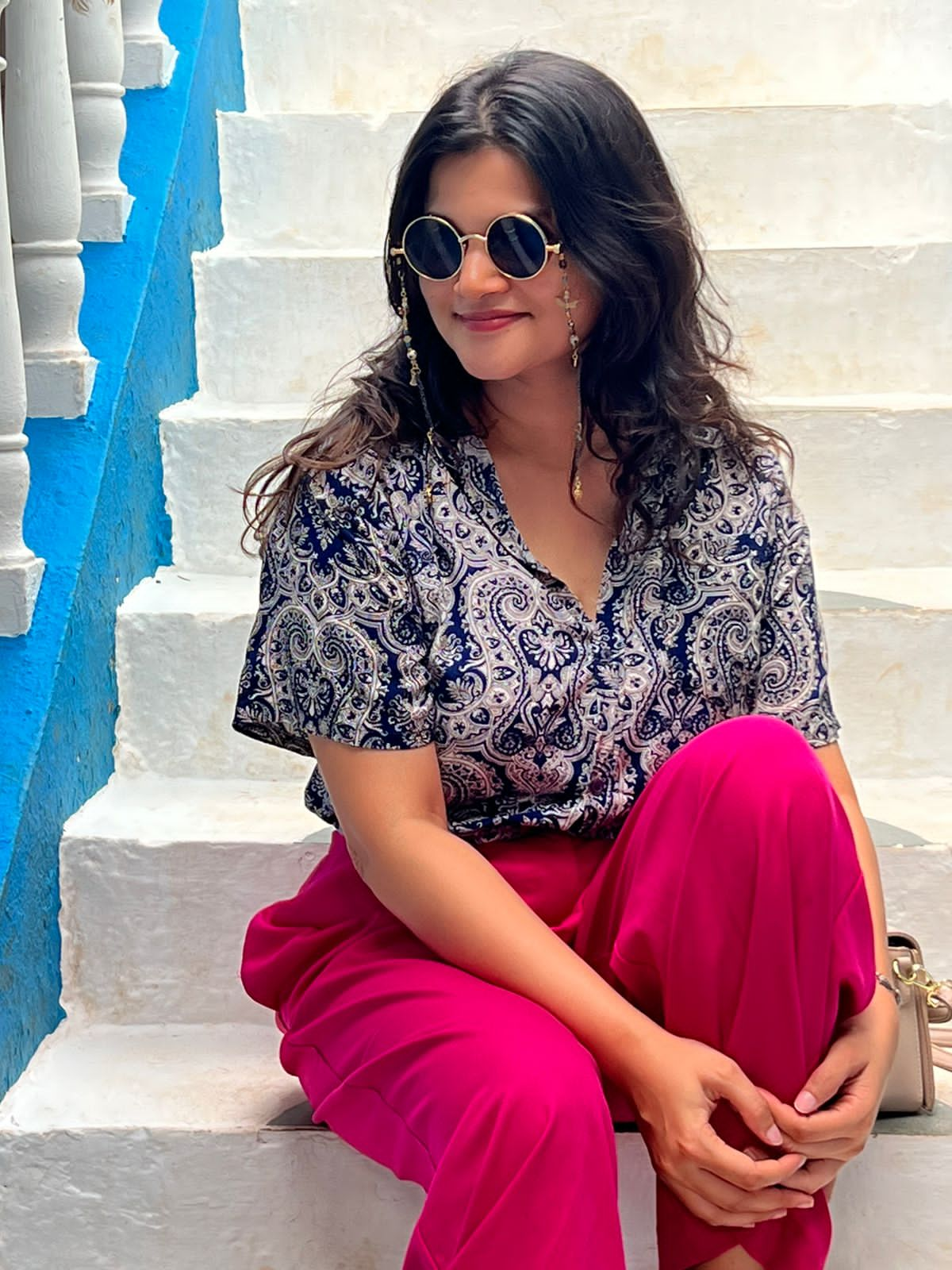 Pooja Naik is a Mumbai-based journalist with a penchant for food, art, and adventure. Her affinity for travel has often led her to many cultural crossroads, whereby she savoured butter tea with the resident monks at Thiksey Monastery in Ladakh and guzzled an indigenous produce of green ant gin at a local's behest in Australia. Her work has appeared in National Geographic Traveller Ind