Photo : Starbucks
Starbucks brought back the Pumpkin Spice Latte officially on August 25 making it the earliest recorded release day ever.
The drink is back for its 17th year (!!!) and as always you can get it hot, iced, or blended. Also returning for the second year is the fan favorite Pumpkin Cream Cold Brew. It's made with cold brew sweetened with vanilla syrup, topped with a pumpkin cream cold foam and a dusting of pumpkin spice topping, and honestly, we may even be more excited for its return than for the PSL's!
The fall menu goodness continues with the return of the Salted Caramel Mocha, which also comes in Frappuccino form, as well as bakery items like the Pumpkin Cream Cheese Muffin and Pumpkin Scone. It may still be sweltering outside but with this news, I officially declare that fall is here!
The fall menu is currently available at Starbucks stores across the U.S. and Canada. Customers have various options to order and pickup their favorite fall drinks, including ordering at the drive-thru or ordering and paying ahead through the Starbucks® app. Those looking for their favorites without leaving home can place an order for delivery through Starbucks® Delivers via Uber Eats.
Starting September 15, Starbucks® Rewards members can make the most of fall with more ways to pay and to earn Stars through the Starbucks® app and in the store.
For more ways to experience fall with Starbucks, try out all of your favorite seasonal flavors at home with pumpkin spice-flavored ground, packaged, and ready-to-drink products, available online and where groceries are sold nationwide.
Don't Miss : Dunkin' Is Dropping Its Pumpkin Spice Latte Earlier Than Ever This Year
And to fall into the season no matter the weather or where you are, check out Starbucks 1-833-GET-FALL hotline, inspired by our customers' love for the sounds and flavors of the season. The company first shared the secret phone number for the hotline on Monday, Aug. 24 in a closed Facebook Group for autumn enthusiasts called the Leaf Rakers Society. (Starbucks later posted it to Instagram and Twitter on Aug. 24.) In the post, Starbucks wrote, "There's a secret number you must call, to get your very first taste of fall." The chain explained in a comment that the hotline is for fans to enjoy all the fall feels, no matter where they are.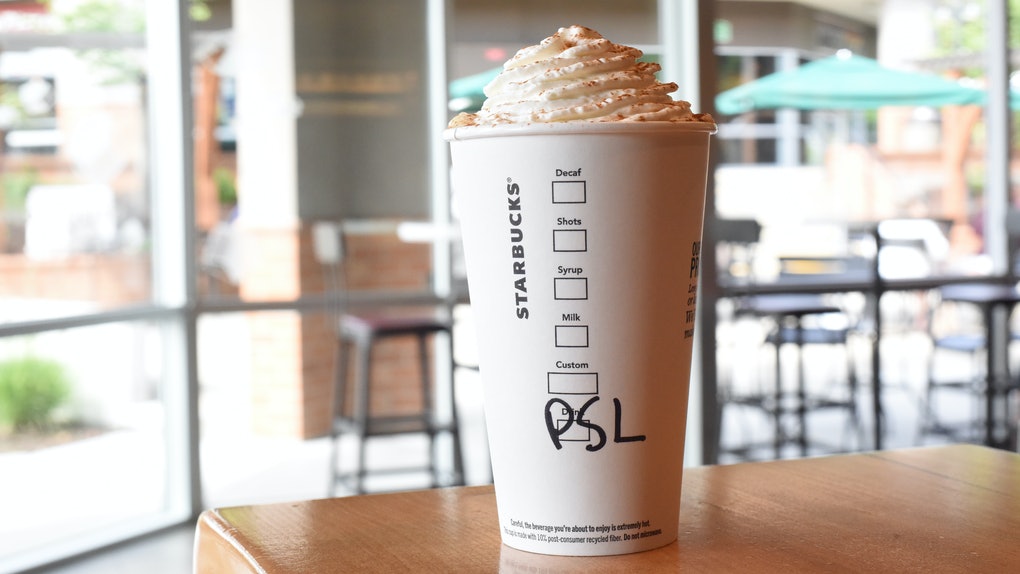 In Other News:
Baileys Is Selling An Apple Pie Flavor That Is Perfect For All Of Your Cozy Fall Cocktails
Chelsea Market In NYC Launches New Outdoor Dining Experience