Photo Starbucks
Peppermint Mocha anyone?
Need something to be merry about after a long week? Starbucks kicked off the holiday season early by revealing its lineup of cups, which features four festive designs that will be rolled out this week. The coffee chain also announced a collectible cup and said its signature holiday drinks will become available November 6 onwards.
The four paper cups feature traditional red and green colors, plus motifs that reflect the holidays. Two of the cups display this year's theme: "Carry the Merry." Last year's was "Merry Coffee."
"This year's holiday design brings forward all the joyful elements of the holiday season in ribbons of Starbucks greens and a jolly red like a cozy holiday sweater," the company said in a press release.
Don't Miss: Dunkin's Holiday Drinks Are Hitting Menus Next Week, Including A Vegan Latte
Starbucks also said customers will be given a red reusable collectible cup when they purchase a handcrafted seasonal beverage. Some of the holiday-themed beverages that will be on the menu include Caramel Brulee Latte, Eggnog Latte, Peppermint Hot Chocolate and Peppermint Mocha, among others. The company also outlined how stores have taken precautions to ensure the health of its workers and guests amid the coronavirus pandemic.
The Seattle-based coffee company is also serving new holiday-inspired foods like the cranberry orange scone, sugar plum Danish pastry, cranberry bliss bar, snowman cookie and a snowman cake pop.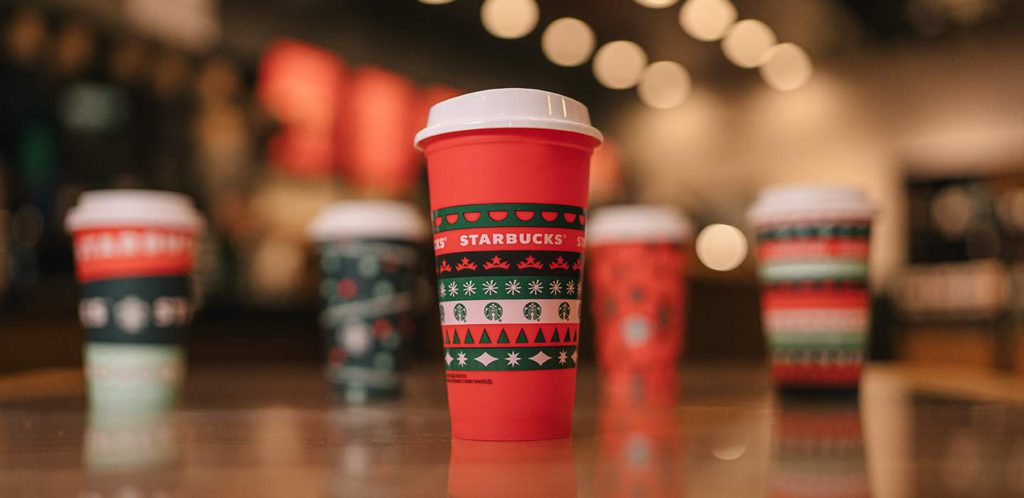 In Other News:
A New Candy Land Museum Just Opened In Madrid
Tim Hortons reveals ambitious plans to open in 'every major city and town' in the UK within 2 years
Dont Miss: Amp up your style quotient with our newly launched masks as part of our official merchandise.
For food and beverage news, food journeys, healthy recipes, restaurant features, food reviews, like us on Facebook or follow us on Instagram. Read more on TheFoodieNetwork.In