This definitive list should be every foodie's companion during a visit to Madhya Pradesh
Madhya Pradesh's cuisine is a reflection of its central location. Bound by Bundelkhand and Mewar to the north, Gujarat to the west and Maharashtra to the south, the state has a distinct culture and language, though its cuisine borrows some elements from its neighbours–be it Gujarati kadhi-fafda and khaman (dhokla) and Rajasthani style dal-baati–churma with a twist, to the love for poha stemming from its proximity to Maharashtra. Still, MP has its own set of treats unique to certain places.
If Gwalior has its bedai and Jabalpur its badkul, then Burhanpur is known for its mawa jalebis, maande and daraba. Bhopal has a Chatori Gali (Eat Street), buzzing with food stalls selling kebabs and paaya (trotter soup). But all culinary journeys in M.P. begin in Indore, the imperial city of the Holkars. Despite the local fondness for namkeen (savoury snacks) and charkha (spicy) flavours, Indoris love their sweets. So much so, that poha-jalebi is considered as acceptable as macaroni and cheese.
Breakfast rests on the four pillars of samosa, kachori, poha and jalebi. Chhappan Dukaan, a precinct of 56 shops, mostly food joints, is Indore's street food centre. Visitors flock to local food legends like Vijay Chaat House and Johnny Hot Dog. By night, the party shifts to Sarafa, where jewellery shops down their shutters at dusk and food stalls reclaim the streets. Locals and tourists alike feast on garadu (deep fried yam), sabudana khichdi, dahi bada, bhutte ka kees, kachori, desi pizzas, pasta and Maggi, besides desserts like mawa-bati, khoprapak (a coconut-based sweet), shrikhand and malpua.
Here's a look at 25 typical treats from the region:
1. Bedai
Gwalior's local snack bedai is a puri stuffed with spiced lentils. Every morning, regulars queue up at S.S. Kachoriwala and Bahadura, an 80-year-old shop in Naya Bazaar for bedai, samosa, kachori, scrumptious jalebis and gulab jamuns. And while you're on the foodie trail, stop by at Dilli Parathe Wala at Sarafa Bazaar, Agrawal Puri Bhandar at Nayi Sadak and Shankerlal Halwai's legendary ladoos , which had a big patron in former PM Atal Bihari Vajpayee.
2. Badkul
Jabalpur's version of a jalebi is made of khoya and arrowroot batter. It is believed that the dark coloured sweet with a spongy texture was invented in 1889 by Harprasad Badkul, after whom it is named.
3. Khopra patties
A specialty from the western MP region of Malwa, khopra patties are golden-hued deep-fried aloo bondas with a stuffing of khopra (grated coconut) and dry fruits like cashews and raisins! Insanely delicious, it's served with green mint-coriander chutney and red tamarind chutney. Try it at Vijay Chaat House in Indore or Amrit Sweets in Dewas.
4. Shikanji
Indore's shikanji is a thick, milkshake enriched with dry fruits. It is regarded as a concoction created by Nagori Mishthan Bhandar in Bada Sarafa, which still churns out a limited batch daily. Since it is a blend of various ingredients, it is called shikanji (literally 'mixture') made from kesar, elaichi, javitri, jaiphal, kishmish, mattha and milk reduced for 12 hours and cooled for another 12 hours before being served cold. Shyam Sharma ji from Beawar in Rajasthan started a small sweet shop 35 years ago and called it Madhuram as he wanted a short and sweet name. Sporting a Krishna medallion, the cheery mustachioed owner, personally ladles out shikanji for visitors. "Aise gatak ke mat peena, ismein alag alag taste khojna!" (Don't gulp it. Savour it slowly to discover its different hidden flavours). First shrikhand, then rabdi, dry fruit and milk.
5. Gajak
A signature sweet from Bhind in Morena, gajak (sesame brittle) is mostly made of roasted sesame or peanuts and cashew, with jaggery and ghee. Gajak is a winter specialty with shops lined with these goodies. In Gwalior, Ratiram Gajak or Morena Gajak Bhandar are trusted for their quality products.
6. Poha
Unlike the Maharashtrian style poha, the Indori poha is much lighter with less use of oil and spices. It is topped with sev or mixture, chopped onion and coriander and served with a wedge of lime. Usually paired with hot scrumptious jalebis, you got to try the combo to believe it.
7. Doodh-jalebi
In the winter months, you'll often see milk being reduced in large vessels outside sweet shops and hot jalebis dunked in it and served. A Khandwa specialty, the town's famous son Kishore Kumar often longed to leave Bombay and go back to his roots. His common refrain was, "Doodh-jalebi khayenge, Khandwa mein bas jayenge."
8. Bhutte ka kees
Across the Malwa region, maize is eaten as bhutte ka kees, made with grated corn (keesna means to 'grate'), roasted in ghee and cooked in milk with spices. Sarafa Bazaar in Indore is the place to have it.
9. Dal-paniya
Corn is also used to make paniya or maize flour cakes, sandwiched between aak ka patta (leaves of Calotropis gigantea) and cooked on an open fire of dried cowpat. Best enjoyed at Hotel Gurukripa in Mandu, paniya is slightly bigger and flatter than a bafla, but served with the same accompaniments – dal, sabzi. onion and chutneys
10. Dal-bafla
The traditional bread is bafla, a small ball of wheat dough. The bafla is typically boiled in water, roasted over dung cakes on an iron griddle and dunked in ghee. It is served as a thali meal with dal, kadhi, aloo sabzi and chutneys of garlic and coriander, often rounded off with laddoos. At Hotel Sai Palace near Mangalnath temple in Ujjain, turbaned stewards serve an unlimited meal for Rs. 200.
11. Chakki ki shaak
Another popular local delicacy, chakki ki shaak is made of steamed wheat dough cooked in a curd-based gravy. Tapu, a local variety of wheat, is also used to make sweet cakes that are used in religious occasions and festivities
12. Batla kachori
While kachoris are popular all over the country, in Indore it's stuffed not with spiced lentils, but with batla (green pea). The best place to have it is Vijay Chaat House, started in 1969 by Dayashankar Thakar of Surat. Their flagship shop D. Harishankar Dhanjibhai Bhajiyawala has been running in Surat since 108 years.
13. Sev
Sev is a savoury noodle-shaped snack made from chickpea flour paste seasoned with spices, sieved and deep-fried in oil. It is of varied thickness and is consumed as a stand-alone snack across MP or as a garnish on poha, mixtures or chaats like bhel puri and sev puri. Each region has its flavour variants–from Ratlami sev to finer Ujjaini sev. In Ratlam, you get long (clove) flavoured sev while in Indore, the lasuniya (garlic) flavoured sev is the rage. Shops sell a mind-boggling assortment of sev: palak (spinach), tamatar (tomato), dhaniya-pudina (coriander-mint) and hing (asafoetida).
14. Burhanpur Jalebi
Unlike regular jalebis, the Burhanpur jalebi is made of mawa and is quite popular at food stalls stretching from Bohri Mohalla to Minara Masjid in Mumbai or Mominpura in Nagpur during Ramzan. Thick and chewy, some add arrowroot to bulk it up, but it is best enjoyed fresh in its city of origin at Burhanpur Jalebi Centre.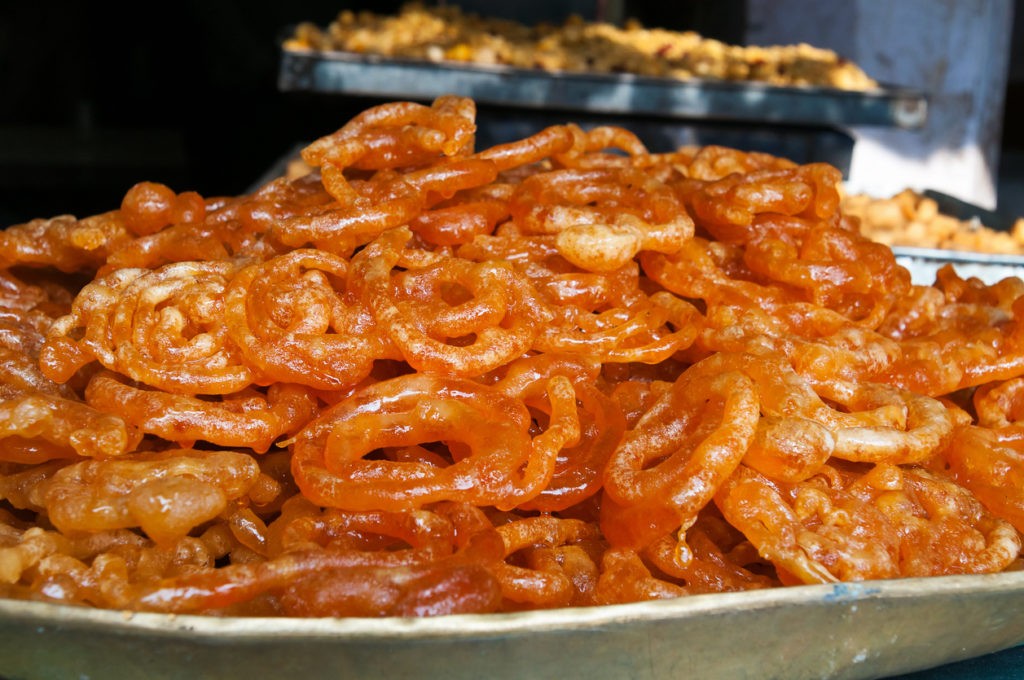 15. Sabudana khichdi
Sabudana or pearl sago is used to make khichdi (though its consistency is not like porridge but drier like poha or upma). At Indore's Sarafa bazaar, Sanvariya Seth mixes the sago pearls by hand, tossing in some chopped onions, coriander, chilli, lime juice and sev
16. Khorasani imli
Malwa's ancient capital Mandu is home to giant baobab trees, gifted by the Caliphs of Egypt to the sultans of Mandu sometime in the 14th century. Locally, it is called Khorasani imli (tamarind from Khorasan, ancient Persia) and makes a good souring agent for curries like imli ki kadhi. It is deseeded and sold in packets by local vendors, along with other seeds, barks and agro produce.
17. Maande
The region of Khandesh is legendary for its maande (roomali rotis), hand stretched and tossed with flourish at roadside stalls. The workers dexterously fling the rotis on to the upturned tava and then to the take-away counter, where it is neatly folded into rectangles and taken home
18. Daraba
Burhanpur's signature sweet is daraba, made of sugar, semolina and ghee whipped together into a fluffy consistency. The word daraba could be derived from the act of beating. Local INTACH convener and owner of Hotel Ambar, Hoshang Havildar, says the sweet used to be really soft and smooth earlier. "Isey ghoy ghot ke, ghot ghot ke banate the (They used to beat it for hours). It was so fine, if you touched it to your eye, you wouldn't feel a thing." Sold at Milan Sweets, it is relished during the annual Balaji ka Mela on the banks of the Tapti river.
19. Kadhi-fafda
Another Gujarati touch, fafda (chickpea flour crackers) is typically served with kadhi or buttermilk based curry. Locals swarm shops like Shri Balaji Chaat Corner in Indore, dipping their fafdas in the tangy curry and biting into fried green chillis.
20. Fried khaman
While khaman (or dhokla as it is better known) is universally loved, in western Madhya Pradesh it is also available in a fried version and sprinkled with chaat masala. While regular khaman is made from besan, for the fried version only Surti khaman, made from chana dal, is used as it is firmer and handles deep frying much better.
21. Baalam kakdi
In Mandu and its surrounding regions, there's a giant cucumber called baalam kakdi, which is served with salt, chilli and lime. Unlike regular cucumbers, it is lemon green in colour with a soft, fleshy pulp and a texture that's more like steamed squash.
22. Mawa bati
Similar to a stuffed gulab jamun, the mawa-based dough is filled with mawa, dry fruits and nuts, deep-fried till brown and lightly soaked in sugar syrup. Sometimes, it is dusted with desiccated coconut powder.
23. Garadu
If Delhi loves its aloo chaat in winters, Indore goes weak-kneed for garadu, a tuber from the yam or sweet potato family. Cut into cubes and deep fried, it is sprinkled with chaat masala and a dash of lime before being devoured by locals.
24. Kadaknath
Another local specialty is a sooty country chicken called 'Kadaknath'. Charcoal black in colour, its blood is believed to be dark and even its skin tone is purple-grey. A connoisseur's delight, this extremely rare fowl is sold at twice the price of a regular country chicken. However, it is not available on regular restaurant menus and patrons must procure it before it can be prepared.
25. Batteesee chutney
Richard Holkar, royal scion of Rani Ahilyabai Holkar, renovated the queen's royal seat Ahilya Fort in Maheshwar and revived its weaving and cultural traditions. A gourmand, he also authored Cooking of the Maharajas in 1975 and often joins his guests for conversations over a drink or meals. His creation, the legendary Batteesee chutney is a secret recipe involving as many as 32 ingredients.
For latest travel news and updates, food and drink journeys, restaurant features, and more, like us on Facebook or follow us on Instagram. Read more on Travel and Food Network
Trending on TFN
The 23 Best Places To Go In 2023
Explore Utah's Mighty 5® and What Lies in Between