Summer's here with a vengeance! With temperatures already soaring, and heatwaves being predicted, there's nothing to do but stay cool, and keep our cool! So, stay hydrated folks, remain indoors as much as possible, dress light and loose and eat foods that cool your body. And speaking of foods, chilled soups are easy to make, delicious to eat and perfect for a quiet evening at home or if you're entertaining!
Here are some very delicious cold soups just waiting to be appreciated:
Boozy Watermelon Ginger Soup
This unusual soup is perfect for entertaining!
5 cups seedless sweet watermelon, chilled
3 tbsp freshly squeezed lime juice
1 mango diced, chilled
¾ cup gin
3/4" piece of fresh ginger grated
3 sprigs of mint
Put all ingredients except for mint into a blender and process till smooth and creamy. Chill well. Serve garnished with fresh mint leaves.
Zucchini and Buttermilk Soup
A light, flavourful soup with a surprising twist!
750g zucchini plus 1 small zucchini
2 cups buttermilk
Salt to taste
6 large hard-boiled eggs, peeled
5 tbsp extra virgin olive oil
½ kg potatoes, boiled
¼ cup fresh chives, thinly sliced
1tbsp fresh dill, and a few extra sprigs for garnish
100g smoked bacon, fried and crumbled

Peel and cut zucchini into 1" pieces. Steam till tender, about 15 minutes. Cool.
Transfer into a blender with residual juices, add buttermilk and blend well. Then, pass through a wire mesh strainer. The soup should be very smooth and creamy. Add salt, refrigerate till chilled, about 2 hours.
Cut the remaining zucchini into 1/3rd "cubes, cut the potato into ¼ "cubes. Heat a heavy bottomed frying pan, add olive oil. Fry the zucchini till crisp tender, remove. Fry the potatoes till golden and crispy. Set aside. Let both cool. Mix both in a bowl along with dill and chives. Season with a bit of salt.
Cut the eggs into ¼" pieces; set aside and gently stir in 1/4 teaspoon salt.
Ladle the chilled soup into 6 bowls. Top evenly with potato mixture, chopped eggs, and bacon. Garnish with dill leaves and serve!
Cucumber Yogurt Soup
2 large seedless cucumbers, ½ cup very finely diced and the rest coarsely chopped
1 ½ cups plain Greek yogurt
3 tbsp fresh lemon juice
1 small spring onion bulb, chopped
½ red onion finely chopped
1 garlic clove, chopped
¼ cup parsley
1/3 cup dill
1/4 cup olive oil, plus more for drizzling
Salt to taste
Fresh ground white pepper
Put chopped cucumber, yogurt, lemon juice, shallot, garlic, dill, parsley, and olive oil in a blender and blend until smooth. Season with salt and white pepper, cover and refrigerate for at least 8 hours or overnight. Check seasoning again just before serving. Pour the soup into bowls. Garnish with the finely diced cucumber, red onion and a drizzle of olive oil and serve.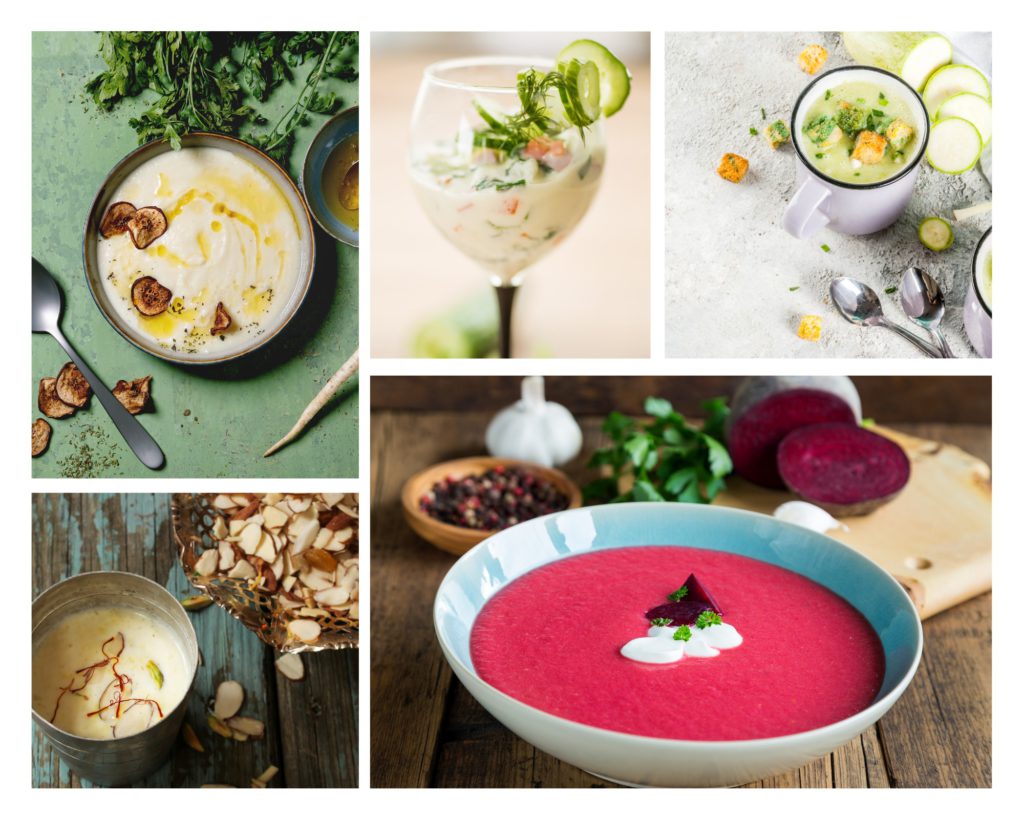 Also Read: 5 Comforting Soups From Around The World
Chilled Almond Soup

This soup is sure to impress family and friends.

1cup of almonds soaked overnight and then peeled. Keep a few for garnish.
2 slices of white bread dried overnight, cubed
1 small garlic clove
1 green apple, peeled and diced
1 tsp wine vinegar
salt to taste
1 cup of chilled water
¼ cup of EVOO
Put bread into the blender, cover with cold water and vinegar. Add almonds, apple and garlic. Blend till smooth and creamy. Season with salt, add a little extra vinegar if needed. Blend again, slowly adding olive oil. Chill in the fridge till it's time to serve. Garnish with sliced almonds.
Chilled Beetroot Soup
4 beetroots, tennis ball size
1.4 cup red onion, finely diced
1-2 garlic cloves
3 small seedless cucumbers, diced
1/3 cup fresh dill
2 tbsp wine vinegar
Salt to taste
¼ tsp freshly ground pepper
Olive oil, yogurt or sour cream for garnish
Boil beetroot till tender, cool and then chill in their cooking liquid. Peel off their skins. Chop three of the four beets roughly and put into the blender with the cold cooking liquid (or ice water or cold veggie stock). To this, add half the chopped onion, 2 of the chopped cucumbers, garlic, salt, pepper, vinegar and 2/3rd of the fresh dill. Blend until very smooth. Chill in the fridge till ready to service.
In the meantime, prepare the garnishes. Dice the remaining beetroot, reserve the balance chopped cucumber, chop the remaining dill. Pour the soup into bowls, top with garnishes and add a swirl of olive oil or yogurt or sour cream. Serve and enjoy!
Roasted Pear Soup
3 tbsp butter
1 white onion sliced
2 cloves garlic minced
6 juicy ripe pears quartered; seeds removed
Juice of 1 lemon
1/2 tsp cinnamon powder
1 tbsp maple syrup
1/2 cup regular milk/ soy milk/almond milk
Set your oven to broil on high, with the top rack about 6" from the top burner. Using an ovenproof skillet over medium/high heat, melt butter, add the onions and garlic and cook until translucent and lightly caramelized, about 5 minutes. Turn off heat and add 5 of the pears, lemon juice, cinnamon and maple syrup, and toss to coat. Place the skillet in the oven and broil for about 10 minutes until pears are lightly browned. Remove, cool and transfer to a blender. Add the milk and blend until smooth and creamy. Chill for 30 minutes. Cut remaining pear wedges into thin slices and fan them out as a garnish before serving.
For the latest travel news and updates, food and drink journeys, restaurant features, and more, like us on Facebook or follow us on Instagram. Read more on Travel and Food Network
Trending on TFN
The 22 Best Places To Go In 2022
Explore Utah's Mighty 5® and What Lies in Between
Five Epic U.S. National Parks To Visit This Year
Utah: The USA's Best-Kept Gourmet Secret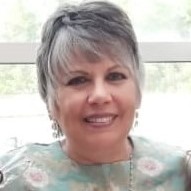 A homeschooled chef even before she joined Catering College in Bombay, Christine's gastronomic journey started with mother and grandmother. Polished with a degree and 10 years of experience in the Hospitality industry, Christine's love of food, drink and everything gastronomic has been sharpened and honed with travel across the world. Today, she shares the wealth of her foodie experience and adventures across the world with Travel and Food Network, so look forward to much more from Chrsitine!