Maharashtra, the third largest state of India is a treasure for all the travel aficionados and has something for each kind, be it hill stations, beaches, forts for trekkers, heritage sites, historical relics to see the glorious past or national parks for glorious fauna and flora. This is especially true due to its geographical location; Sahyadris on one side and the Konkan coastal strip on the other, embracing the plateaus in between. Maharashtra has good internal connectivity by air, train and road to all the places that you can visit.
Here is a list of places that one can visit in Maharashtra, that caters to every kind of travel enthusiast
1. Mumbai
Mumbai, the island city, always bustling with energy, is termed as the city of dreams or the city that never sleeps. Mumbai beckons everybody, due to its old-world charm and the fast pace of contemporary life. Chances are, if you are arriving in Maharashtra from anywhere in the country (or from outside the country), you will start your tour of Maharashtra from Mumbai.
Places to visit in Mumbai are the Marine drive, Gateway of India, Film city at Goregaon, Haji Ali Mosque, Siddhivinayak temple for a spiritual experience, the modern marvel that is the Bandra Worli Sealink, Victoria Terminus the railway station, Nehru Planetarium and Nehru Science Centre, the Taraporewala aquarium or beaches like Chowpatty, Juhu, Aksa, Mandwa, Madh island, the Gorai Beach, Dr. Bhau Daji Lad Museum, Elephanta Caves, Elephanta Islands, Banganga Tank, Girgaum Cave, Mount Mary Church, Bandra bandstand, Sanjay Gandhi National Park, Kanheri Caves, Essel world and Snow world.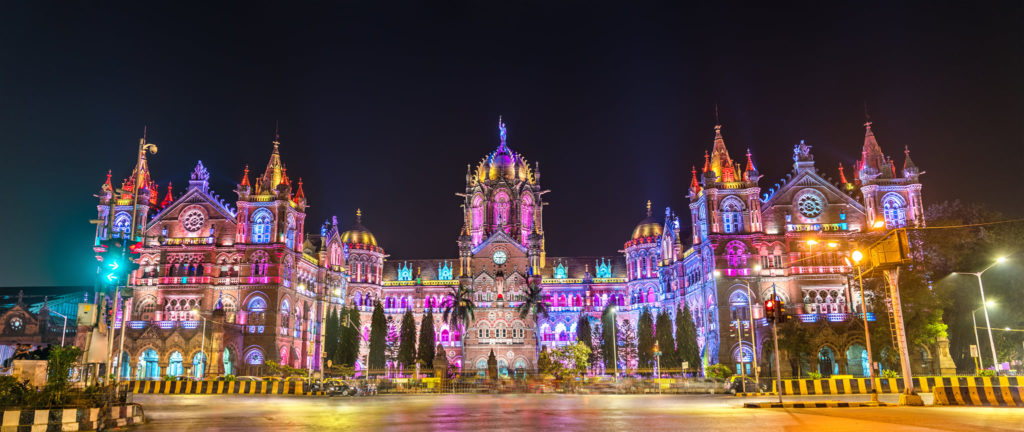 Mumbai is famous for its street shopping as well as high street fashion like shopping district at Colaba causeway, High street fashion at Lower Parel, or Linking road at Bandra where you can get everything from reputed brands to cheap knock-offs to make your fashion statement. Enjoy the seamless intermingling of religions, festivities, food, music, and theatres with a trip to Mumbai. Mumbai has a rich cricket heritage and if you are lucky, you may get to watch a match at Wankhede or Brabourne stadium. Of course, cricket fans can also pay a visit to Shivaji Park – the revered training ground that gave us cricketing legends like Sunil Gavaskar and Sachin Tendulkar.
Food : From the delicious Panipuri to its own Pavbhaji, or the quintessential vadapav, Mumbai is famous for its lip-smacking street food. The city is a gastronomical delight for foodies and caters to all the palates and genres of food. Enjoy both veg and non-veg cuisine as well as taste Parsi and Irani fare in the few remaining Irani and Parsi cafes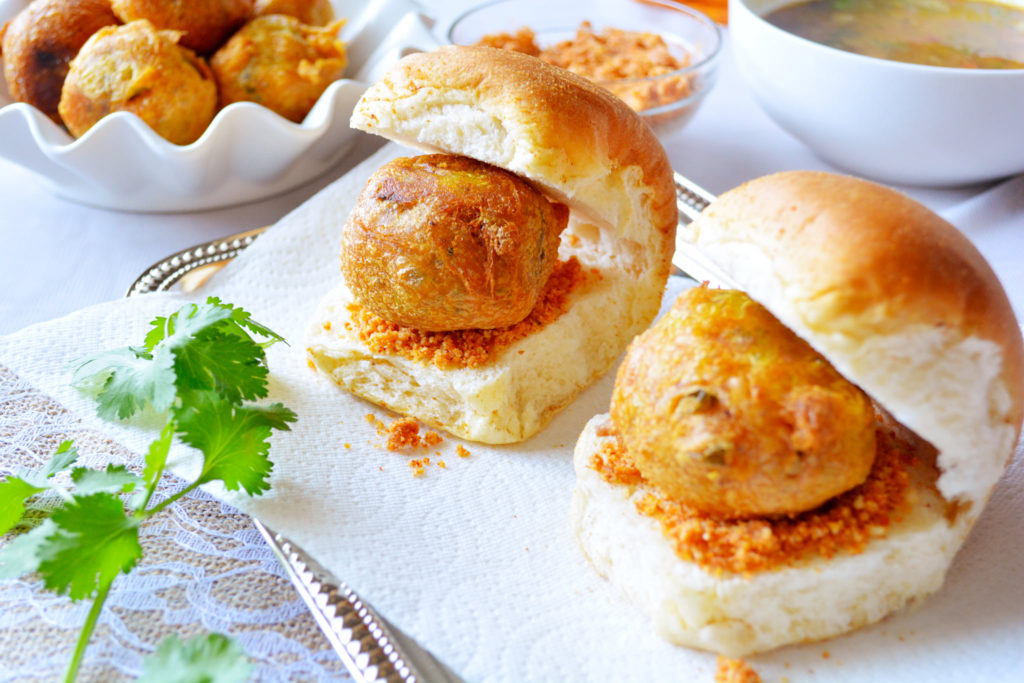 There are many delightful getaways from Mumbai.
2. Thane (nature – lakes, waterfalls, bird watching, butterfly gardens)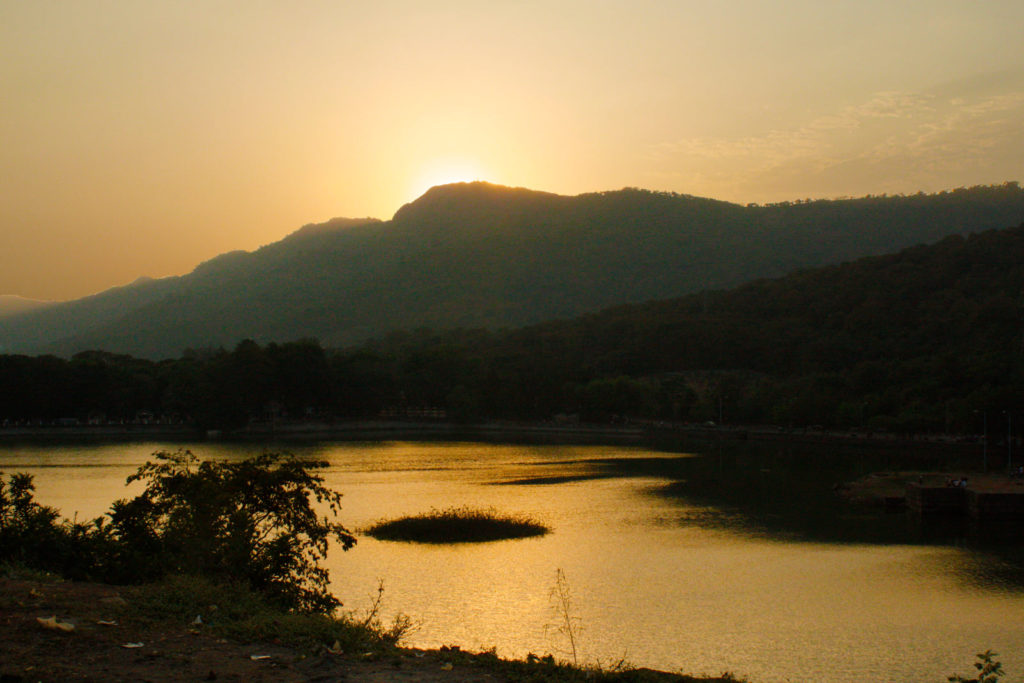 Thane has more than 35 lakes hence is referred as city of lakes. An immediate neighbour of Mumbai (and now more like a satellite town), Thane is well known for the various sites like Kachrali lake, Upvan lake, the Yeoor hills, spiritual landmarks like Shvetambara Jain Derasar, or, St. John the Baptist (which is a 400 years old church), surreal Masunda Lake known as Talao Pali; historic places like Gadkari Rangayatan and Kopineshwar temple, Jambli market, beautiful butterfly gardens like Elvis Butterfly Garden and Ovalekar Wadi Butterfly Garden to check out horde of butterflies, or bird-watching in the Yeoor nature trail or camp at night at Wada, Kurungwadi, and many places around Thane. The other places to see in an around Thane are Tansa Lake, Sudhagad Fort, Har Har Gange Waterfalls, Titwala Ganesh Temple, Naneghat Hills, Thane Creek, Kelva Beach, and Gorakhgad Fort. Thane is approximately 22 Kms from Mumbai and well connected to Mumbai by road as well as railways.
3. Vasai-Virar (fort, beaches, adventure and water sports, water theme parks)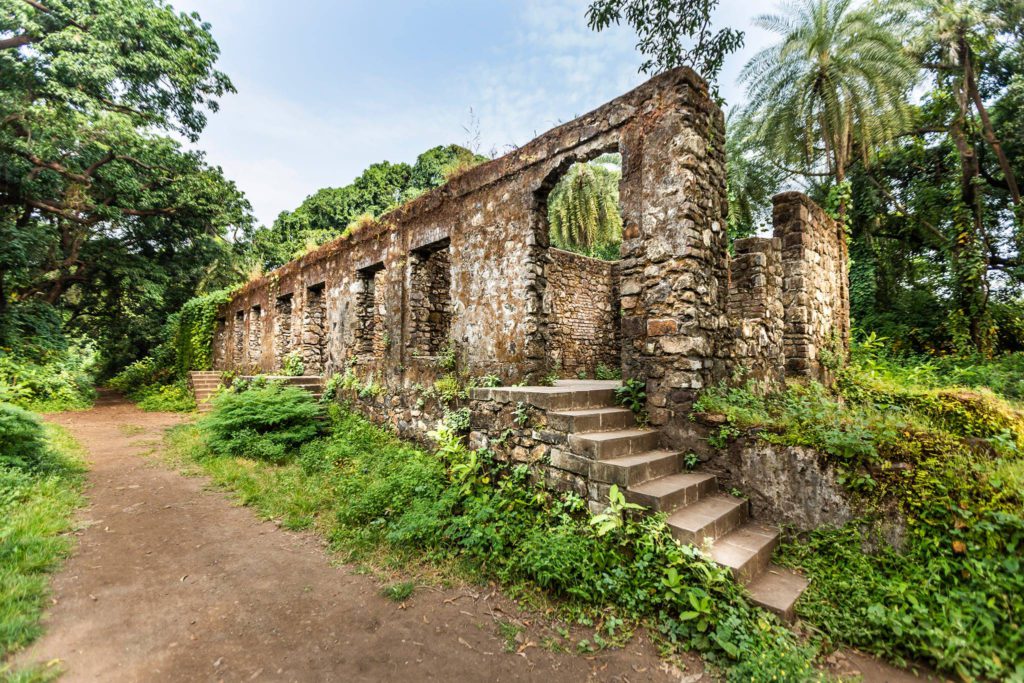 Settled between Vasai Creek and the Ulhas River, Vasai, has centuries old historical presence. Main attraction of Vasai is the Vasai Fort also known as Bassein Fort. Besides the fort you can visit the Arnala Beach, Tungareshwar, Jivdani and other temples in Vasai-Virar. Dotted with palm and coconut trees, soft sand and clear sea waves, you can indulge in a number of adventure and water sports like parasailing, Jet-skiing, and horse-riding. You can also enjoy the various waterparks in the area with your family or friends. Vasai/Virar is approximately 60 Kms from Mumbai and well connected to Mumbai by road as well as railways.
4. Jawhar (scenic hill-top views, cultural heritage, nature, palace)
A village in Palghar district, Jawhar is located in the Western Ghats, and is known for its picturesque location and cultural heritage. It is one of the rare tribal regions of Maharashtra and known for its beautiful Warli paintings. Jawhar was a princely state ruled by the Mukne royal family and they built a palace on a hill top, known as the Jai Vilas Palace in neoclassical style. The palace is a master piece of architecture with blend of western and Indian styles of architecture in majestic pink stones, built by Raja Yashwant Rao Mukane. Other places of interest are Katya Maruti mandir, Hanuman Point, Sunset Point, Kal Mandavi Waterfall, Dabhosa waterfall, and Khad-Khad Dam. Jawhar is approximately 129 Kms from Mumbai and 80 kms from Nashik.
5. Malshej Ghat (nature, walks and treks, forests, waterfalls)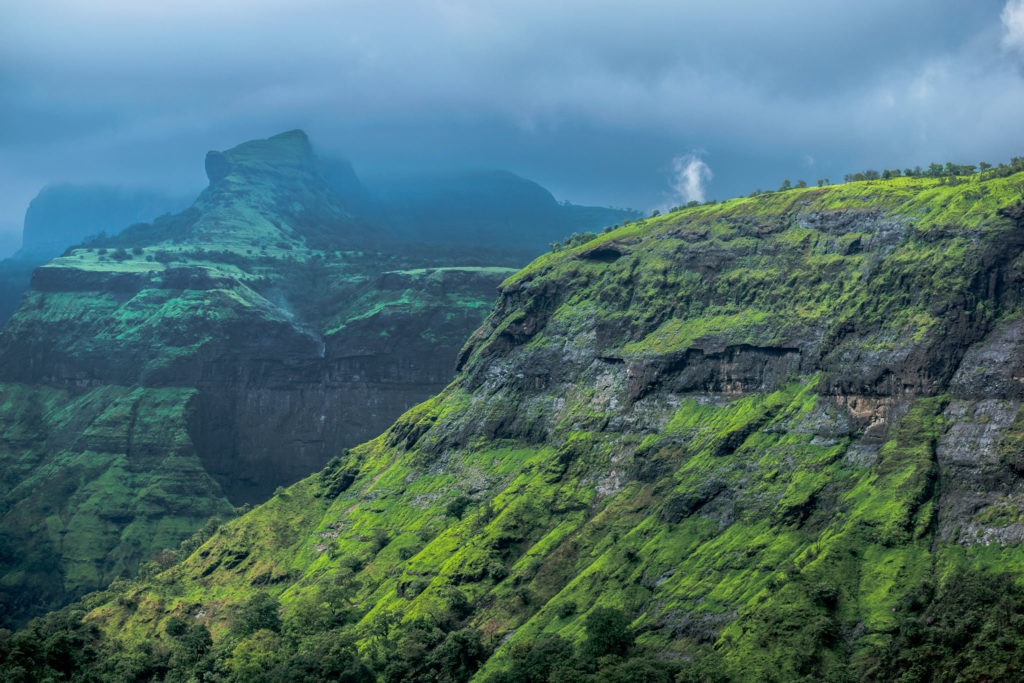 Malshej Ghat, a mountain pass in the Western Ghats on the Kalyan–Ahmednagar highway, located 700 meters above sea level, is cushioned in the rugged hills of the Western Ghats. Malshej ghat is serene surrounded by greenery and dense forest. You can visit Pimpalgaon Joga Dam, Malshej Falls, Konkan Kada, trek to Harishchandragad Fort, and Ajoba Hill Fort, at Malshej ghat. In the monsoon, it is a sight worth watching, when the clouds descend, on the ghat, misty, engulfing the mountains and valley. Malshej Ghat is approximately 127 Kms from Mumbai
6. Karjat (nature, mountains, waterfalls, caves, forts treks)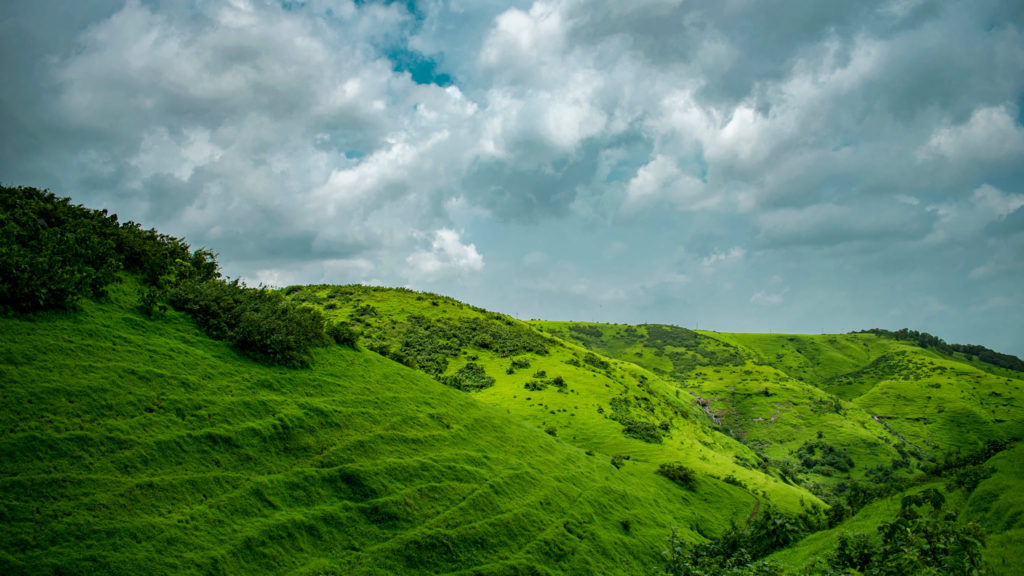 Karjat is just an hour's drive from Mumbai and is a nature's delight with lush mountains, multiple waterfalls, flora and fauna to enjoy. Karjat is a heaven for trekkers as there are many forts in and around this area. The places to visit in Karjat are Ulhas valley, Bahiri caves, ancient Kondeshwar temple, Kondana caves from the 1st century B.C, Songiri fort, Kothaligad fort, Morbe dam, Bhor ghat, blackwaters of Pali Bhutivali dam, Bhivpuri waterfalls, Sondai fort, Bhivgad fort, Zenith waterfalls, Bekare falls, and a multitude of studios and sets in case you are interested to see shooting of films and web series. Karjat is approximately 63 Kms from Mumbai and well connected to Mumbai by road as well as railways.
7. Matheran (nature, treks and walks, scenic hill-top views, forts, shopping)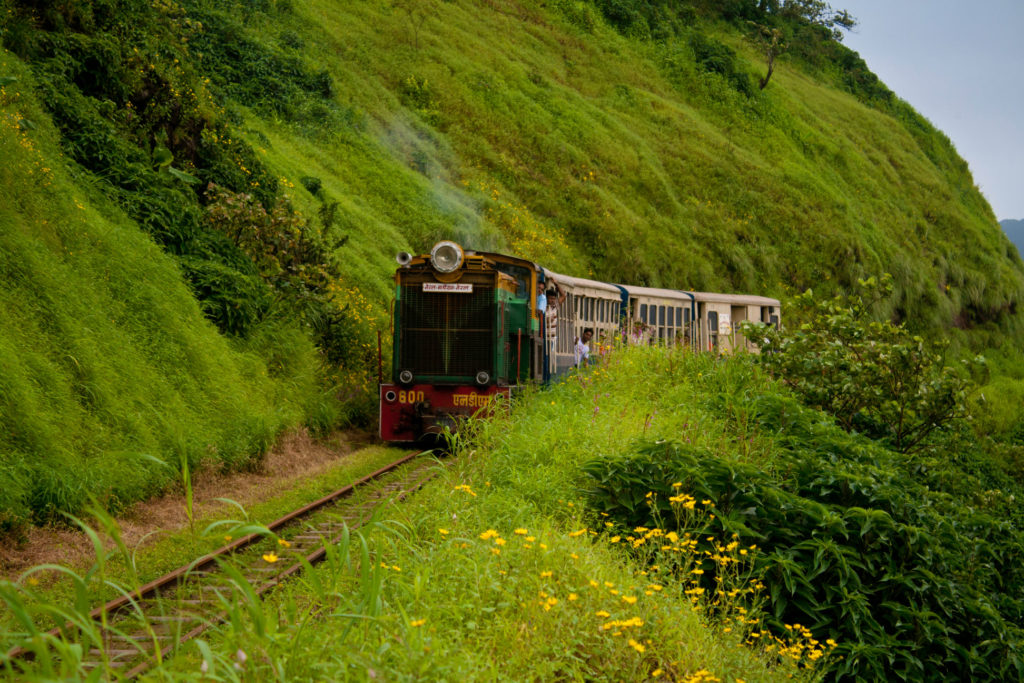 Matheran, the smallest hill station, is the cutest hill station and both the sunset and sunrise view is something that you watch many times in your lifetime, if you stay in Mumbai or Pune. Matheran is an eco-friendly hill station and no vehicles are allowed at the hill station, a step taken by the government to protect the beauty and fragile ecology of this hill town. You can travel by the toy train, chugging along the ghats to scenic views or travel by car till the car parking and trek to the hill station. It is characterized by red mud and surrounded by valleys and forests. Places to see are the different points that gives a panoramic view of the hill station, as well as Charlotte lake, Irshalgad Fort, Prabal fort, and Dhodani waterfalls. Shopping in Matheran is a great tourist attraction. Matheran is approximately 83 Kms from Mumbai and 119 from Pune and well connected to Mumbai by road as well as railways.
8. Lonavala and Khandala (panoramic views, lakes, dams, forts, theme parks)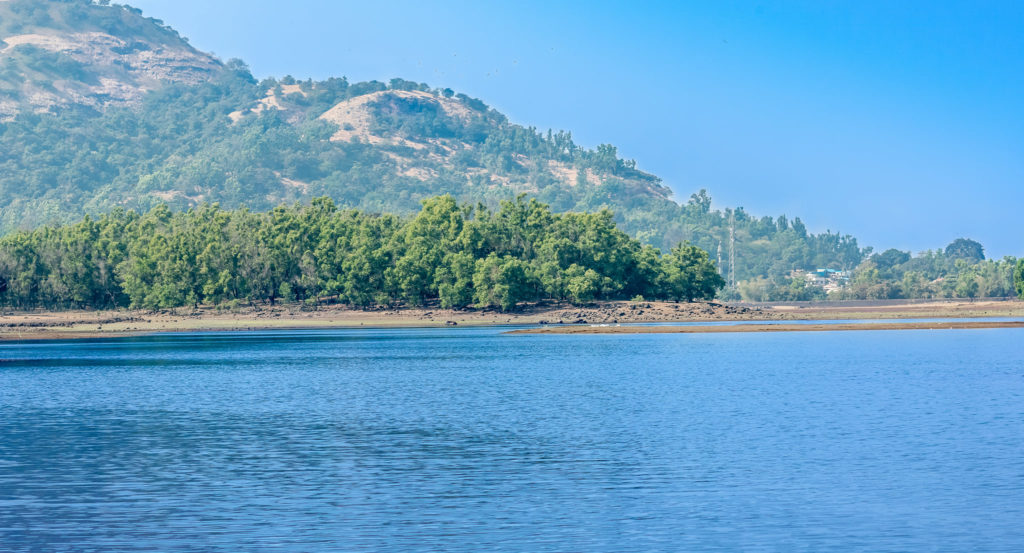 A breath of fresh air, Lonavala as well as Khandala, helps the city dwellers to unwind, to retreat from the fast-pace of both the cities, due to its tranquility and serene atmosphere. Lonavala and Khandala have breathtaking cliff-tops, scenic lakes, artistic caves, and historical forts. Dams and waterfalls are a main attraction in monsoon. Places to visit in Lonavala-Khandala are Tiger's Leap, Rajmachi Point, Bhaja Caves, Karla caves, Lonavala Lake, Tikona Fort, Shivaji Udyan, Lohgad fort, Bedsa caves, Valvan Dam, Bhushi Dam, Pawna lake, Ekvira Devi Temple, Duke's Nose, Kune waterfall, Tunga as well as Visapur fort, Ryewood Park, MTDC Water Park, Della Adventure Park, and the celebrity wax museum. Lonavala is approximately 84 Km from Mumbai and 65 Km from Pune and well connected to both cities by road as well as railways.
Food : The chikki and fudge (many varieties) definitely needs to be tasted.
9. Bhimashanker (nature and wild life)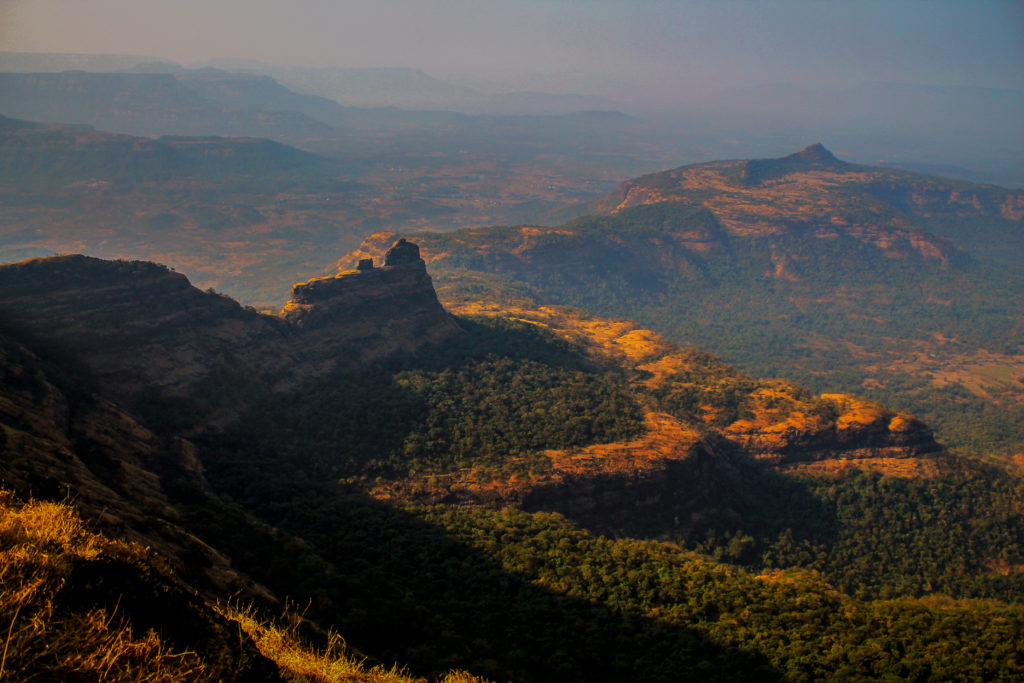 Bhimashanker is a untouched natural location which offers waterfalls, hills, forests, a wild life sanctuary and an ancient temple. Bhimashankar is the abode of Shekru, the giant flying squirrel, the state animal of Maharashtra. Places that you can visit are the sixth jyotirlinga Shiva temple at Bhimashankar, one of the most popular places for the worship of Lord Shiva. Trekking to the Shivneri fort – the birthplace of Shivaji from Bhimashanker is done by most travelers. Monsoon is a great time to relish the region's spectacular natural beauty. Bhimashankar is approximately 196 Km from Mumbai and 110 Km from Pune.
10. Durshet (nature, wildlife, adventure sports, hot springs)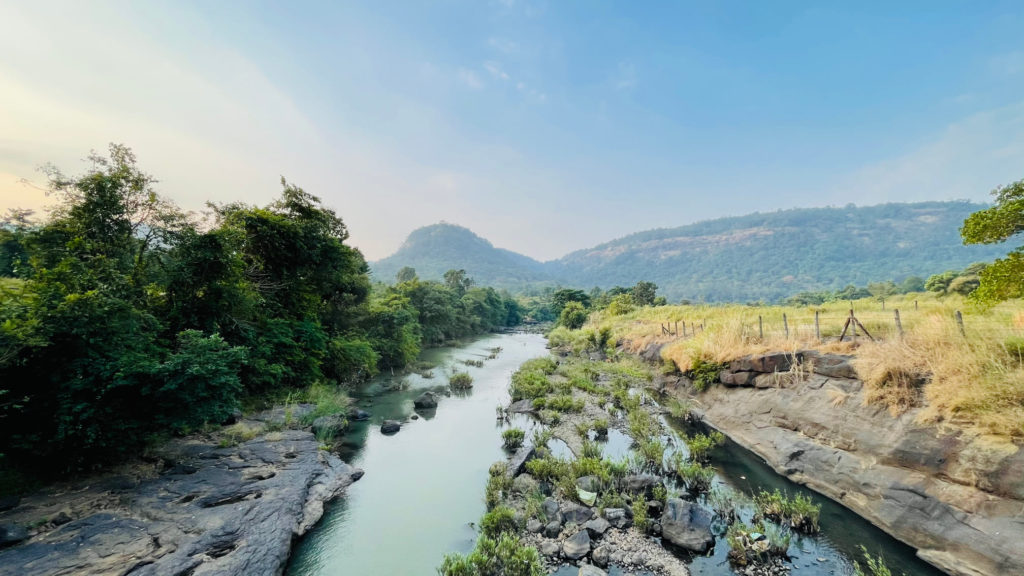 Durshet, nestled between Mumbai and Pune, is bound by hills, highlands, rivers and cascades beautifying the surrounding thereby rejuvenating the traveller. Durshet is a haven for mountaineers and trekkers. The area surrounding Amba river is an exotic wildlife natural reserve. For the history and spiritual seekers, there are ancient ruins of temples and heritage sites like the Siddhi Ashtavinayak temples, displaying their magnificence. Adventurers can go berserk by walking across the magnificent Burma Bridge, rappelling, wall-climbing, or mountaineering along the rocky terrain, nature walks for nature lovers, laddering, and Tarzan Swing. The Uddar Hot Spring delights you with its warmth on cold days. The post-monsoon season makes Durshet, covered with greenery, even more alluring. Durshet is approximately 77 Kms from Mumbai and 99 Km from Pune.
11. Adlabs Imagica (India's biggest amusement park)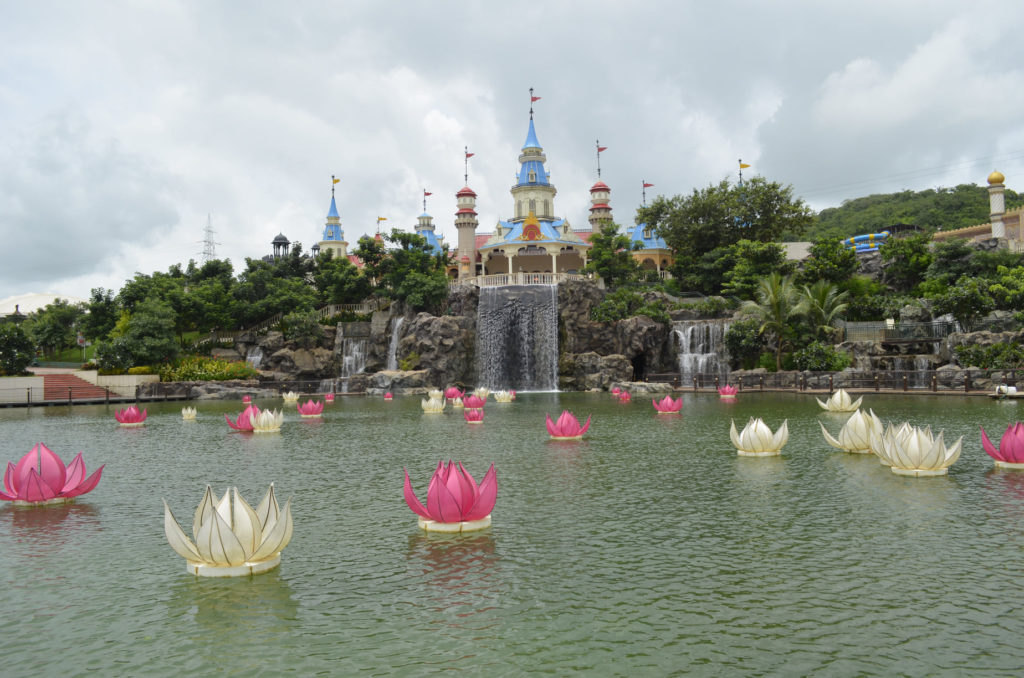 Enjoy the 130-acre theme park that will completely exhilarate you unlike any other place in Maharashtra. The theme park offers a delightful enjoyment entertaining both young and old alike and is a popular recreational getaway. It is segregated into three parks mainly Theme park, Water park and Snow park. Rides at the Theme Park are Nitro roller coaster, Deep Space, Gold Rush, Dare 2, Scream, I for India, Mr. India D2, Salimgarh, Alibaba, Rajasauras River Adventure, the Detective Bow Wow Show, Alibaba aur Chalis Chor, Wrath of the Gods, Prince of the Dark Waters – Cinema 360, Motion Box , Mambo Chai Chama , Splash Ahoy, Bump It Boats, Save the Pirate, Loch Ness Expplorers, Happy Wheels, Humpty's Fall, Wagon – O – O – Wheel, Tubbby Takes Off, The Magic Carousel, Chhota Bheem rides, and The House of Stars. Adlabs Imagica is approximately 70 Kms from Mumbai and 92 Km from Pune.
12. Pune (history, food, culture and heritage, adventure sports)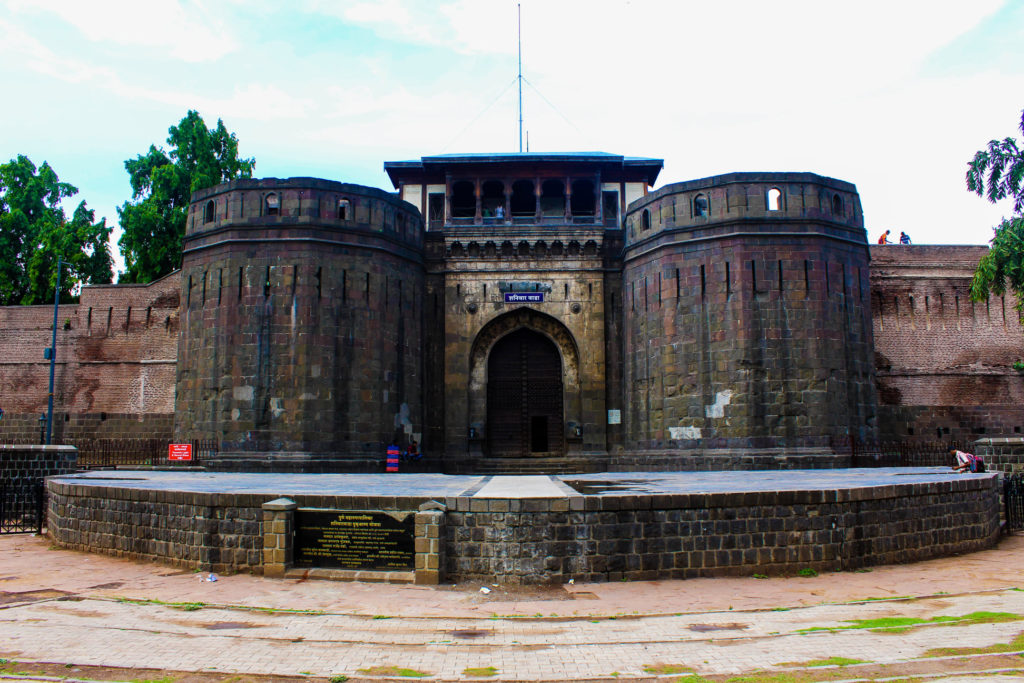 Pune, the twin city of Mumbai, is the cultural center. Pune stimulates us with myriad places to visit; historical places like Parvati hill, Saras baug or the Shanivarwada of the Peshwas, or a trek to Sinhagad, Lohagarh Forts nearby. Indulge in adventurous sports like white water rafting or canoeing in Kolad River, or experience scuba diving in Andharban or Kundalika river or underwater experience at Sangam safari or be a daredevil at Crocodile Island or just camp out at Pawna lake or experience a village stay at Junnar. The other places to visit in and around Pune are Osho Ashram, Pataleshwar Cave Temple, Appu Ghar, Khadakwasla or Panshet Dam, Aga Khan Palace, Shinde Chhatri, Krushnai Water Park and Vishrambaug Wada.
Food – Whether it is the thali at Shreyas, or misal pav as street food, Pune brings the best of Maharashtrian food to the gastronome. Other must visit attractions for the foodie are the Parsi eateries, and must eats are the famous Shrewsbury biscuits at Kayani bakery, the Mastani icecream, Chitale's Ambabarfi and Bakerwadi.
13. Kamshet (adventure sports-para gliding, caves, temples, lakes)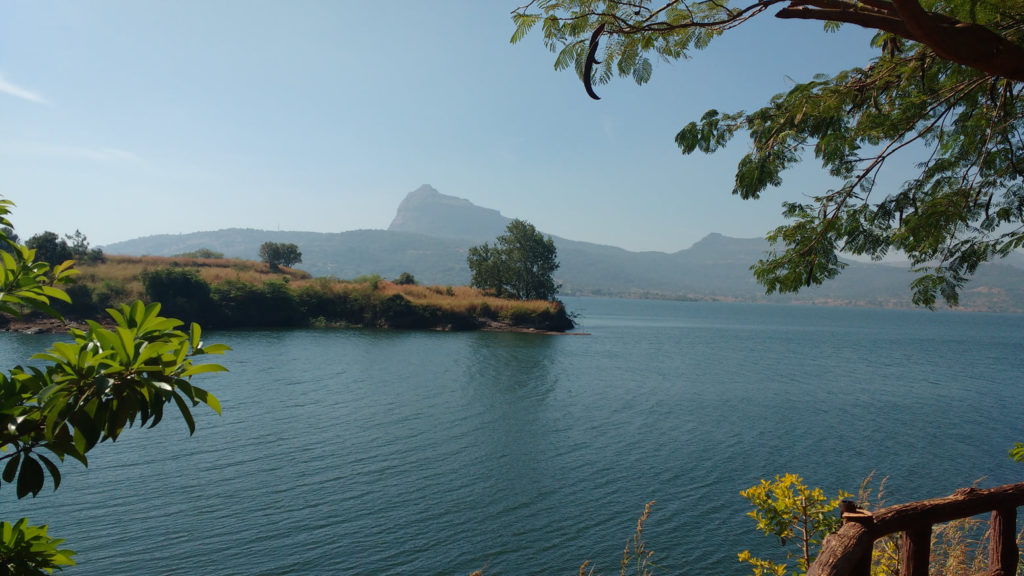 Kamshet is a stunning hill station situated in the western Ghats of India. Kamshet is well-known for paragliding. Tourist places comprises of Bedse caves, Bhairi caves, Kondeshwar Temple, Pavna lake, Shinde Wadi Hills, Bhaje Waterfalls, Andra Valley Dam, Uksan Lake and Bhandar Dongar. Kamshet is approximately 102 Kms from Mumbai and 47 Km from Pune.
14. Mulshi (rural eco-tourism, nature, boat rides)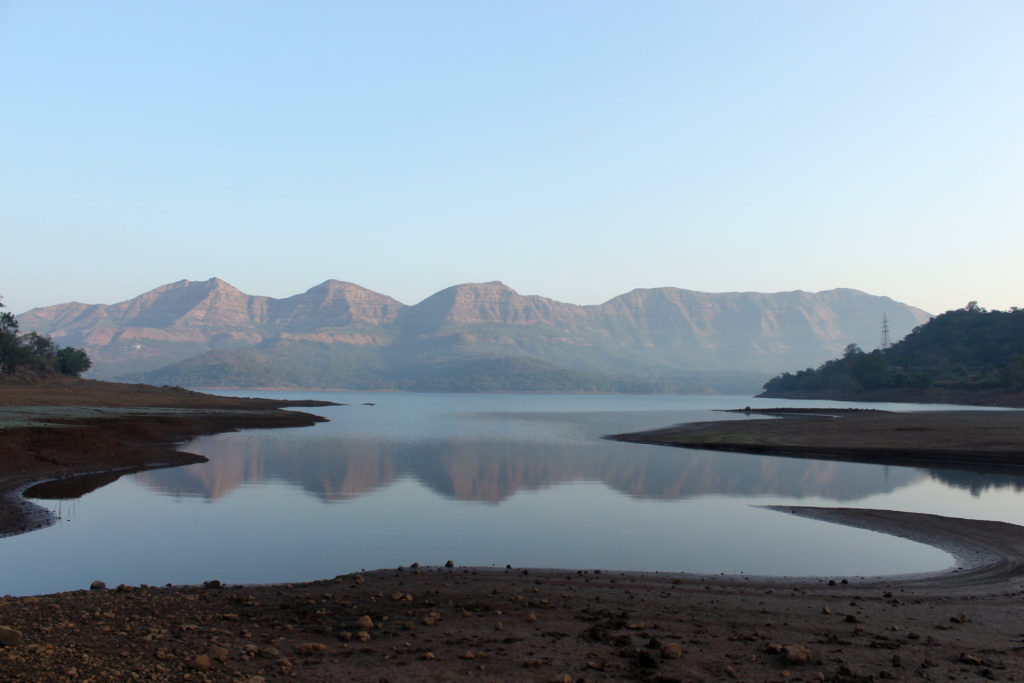 A scenic village, Mulshi is lush with greenery. The village has many eco-tourist farms boasting of peaceful atmosphere and natural tranquility. You can relax and rejuvenate in photographic vista of Sahyadri ranges, clean and green milieu crammed with munificent flora, nothing less than a piece of paradise. Places to visit are the Andharban Trail Point, Tamhini ghat, Temghar dam, Koraigadh, Kailasgad, and Dhangad forts, boat ride on Mulshi lake, seeing the Mulshi Dam, and Vanjai Mata temple. Mulshi is approximately 170 Km from Mumbai and 48 Km from Pune.
15. Lavasa (spas, resorts, water sports)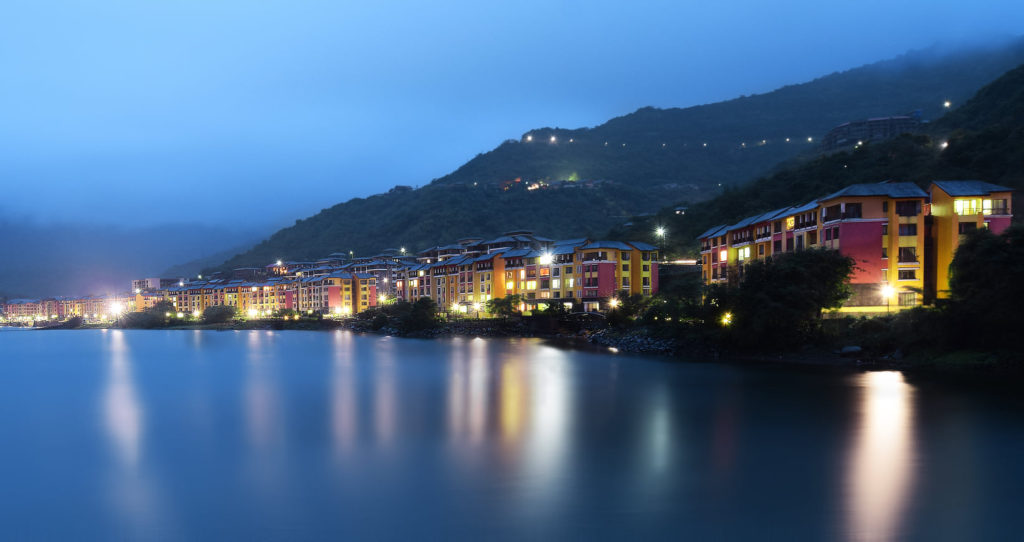 Lavasa is a man-made hill station near Pune and was created for tourism as it nestles in the western ghats and have many water bodies like Panshet Dam, Velhe and Mulshi lakes around it. It has good food, nature resorts to provide peace and calm to unwind, ayurvedic massage spas to relax, adventurous and fun filled activities like water sports, trekking, mountain biking, rock climbing, for the adrenalin junkies – Lavasa has something to offer to the entire family to enjoy. Lavasa is approximately 187 Kms from Mumbai and 60 Km from Pune.
16. Satara (nature, lakes, falls, caves, bird sanctuary)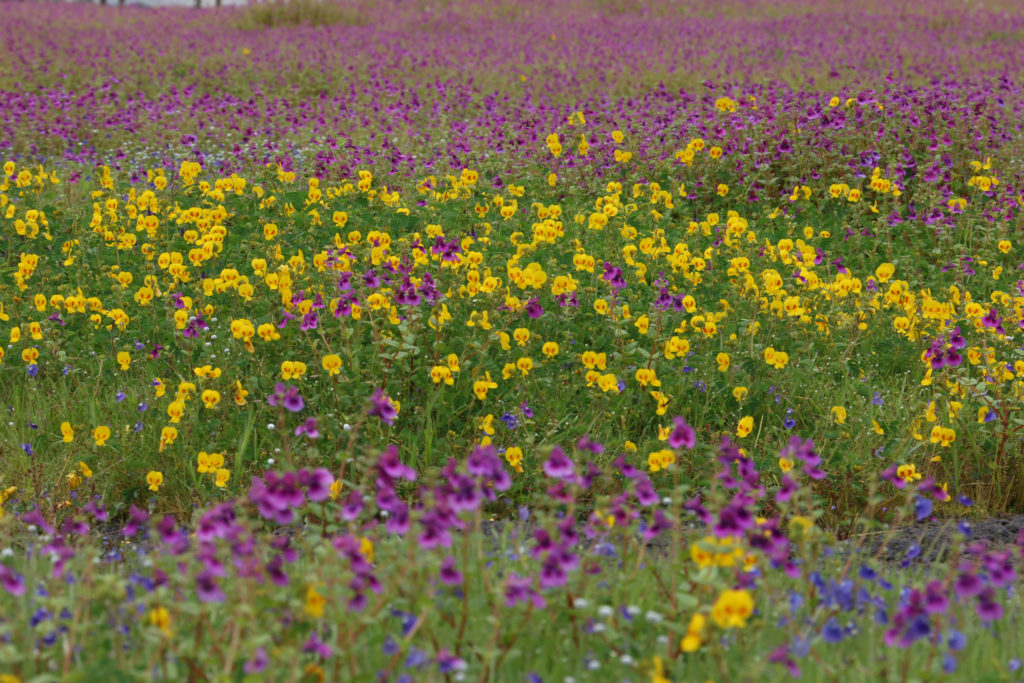 Satara is a place full of nature's magic enveloping you in its serenity. One of the main attractions near Satara is Kaas plateau, blossoming with flora and fauna. It is a protected place to preserve the ecology. Satara also has picturesque locations such as Ajinkyatara Fort, Mayani bird sanctuary, Pratapgarh Fort, Shivsagar lake, Koynanagar dam, Kaas lake, Thosegar falls, Kalyangad fort, Satara fort, Rajpuri caves, Natskies observatory, and Wai a beautiful village full of natural beauty. Satara is approximately 113 Km from Pune.
17. Kolhapur (temples, wildlife sanctuaries, forts)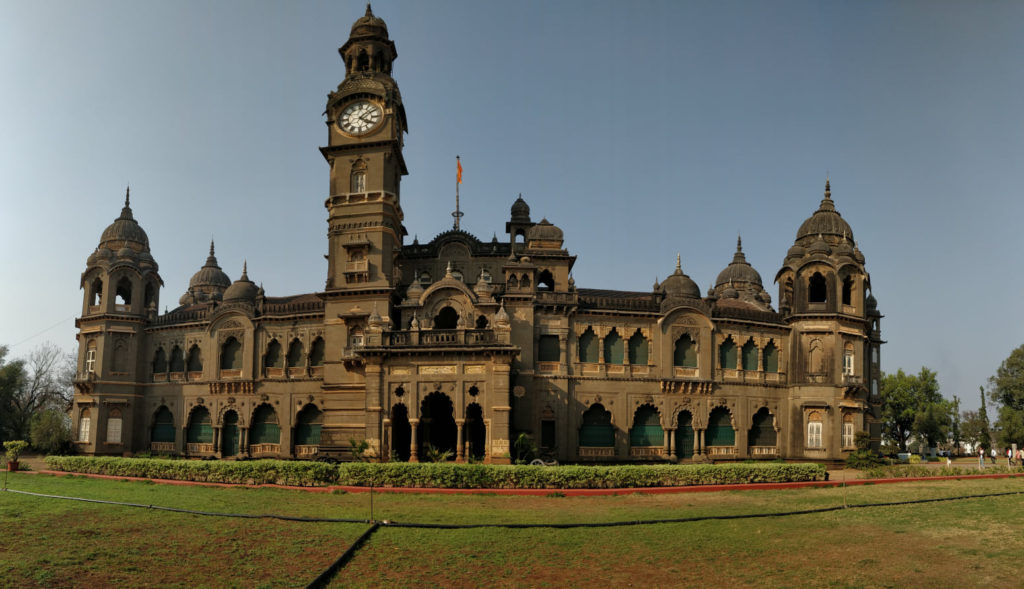 Kolhapur is named after the demon Kolhasur as per his death wish. Pur means city in sanskrit so literally it is Kolhasur's city. Kolhapur has much to offer to both young and old be it temples such as Jyotiba temple, Shri Binkhambi Ganesh mandir, The Kaneri Math temple Shree Mahalaxmi mandir and Kopeshwar Temple or Siddhagiri Gramjivan Museum or Rankala Lake or Dajipur Wildlife sanctuary, Radhanagari Wildlife Sanctuary, Sagareshwar Deer Sanctuary or New Palace, or trek to Panhala Fort. Kolhapuri chhapals are a must buy. Kolhapur is approximately 377 Kms from Mumbai and 233 Km from Pune and well connected to Mumbai and Pune by road as well as railways
18. Mahabaleshwar (nature, panoramic views, rivers, waterfalls, forests)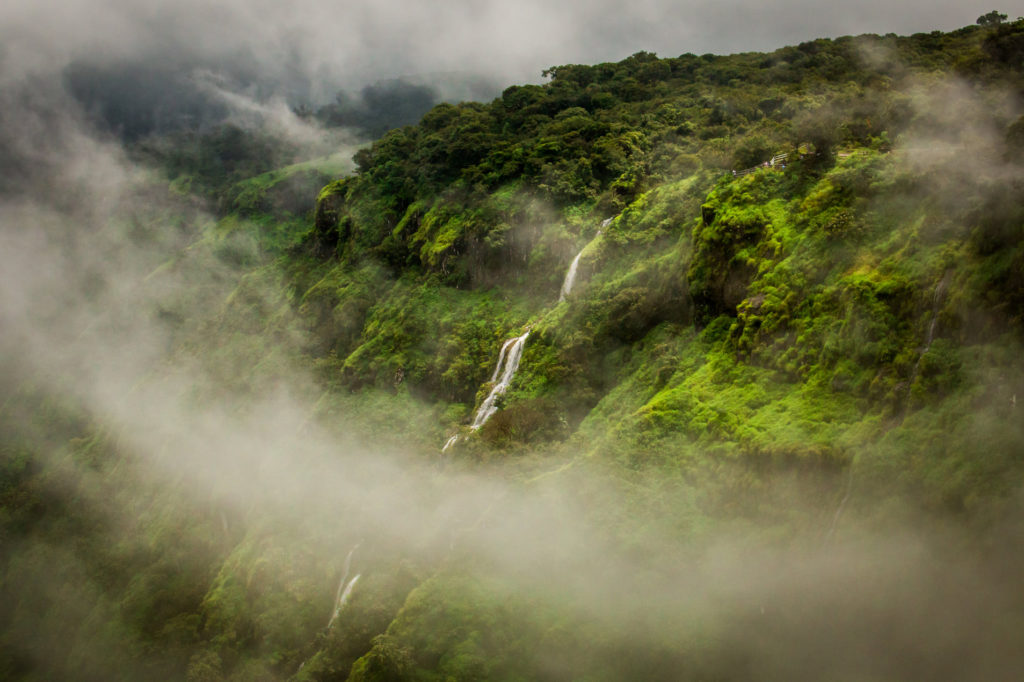 Snuggled in the charming western ghats, Mahabaleshwar, once the summer capital of Maharashtra, enthralls with its natural grandeur. Mahabaleshwar is famous for its many rivers, splendid cascades, grandiose peaks, ancient temples, boarding schools, lush green dense forest, waterfalls, hills and valleys that will take your breath away on your visit. Places to Visit in Mahabaleshwar are Venna lake, Arthur's seat, Chinaman's falls, Mahabaleshwar temple, Dhobi waterfall, Elephant's head point, Connaught peak, Wilson point, Tapola with a lot of adventure sports, Elphinstone point, Babington point, Falkland point, Rajapuri caves, Carson point, and the Panch Ganga temple. Strawberry is grown in plenty at Mahabaleshwar and you can visit strawberry farms to see the farming and buy the strawberries. The market road is famous for various shopping treats besides the food that you can buy. Mahabaleshwar is approximately 263 Km from Mumbai and 120 Km from Pune.
Food – Strawberry and cream is a lip-smacking specialty of Mahabaleshwar.
19. Panchgani (nature, panoramic views, lakes, waterfalls, forests)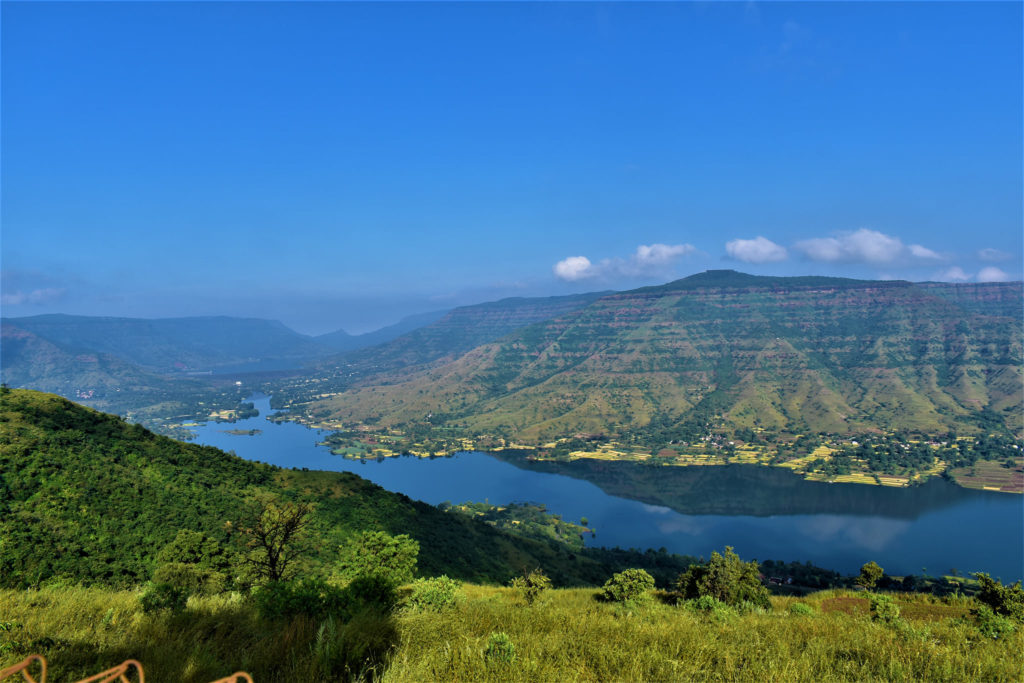 Close to Mahabaleshwar and said to be its twin hill station, Panchgani is termed after the five imposing hills encircling it. Panchgani is filled with towering mountains, serene valleys, cascading waterfalls, and dense forests. Places to see in Panchgani are Table land , Bhilar waterfalls, Sydney Point, Rajpuri Caves, Kamalgad fort, Pratapgarh fort, Mapro garden, Kate's point, Lingamala waterfalls, Parsi point, Wai village, and Dhom Dam. Panchgani is approximately 245 Km from Mumbai and 100 Km from Pune.
20. Igatpuri (resorts, water sports, nature trails, spiritual places)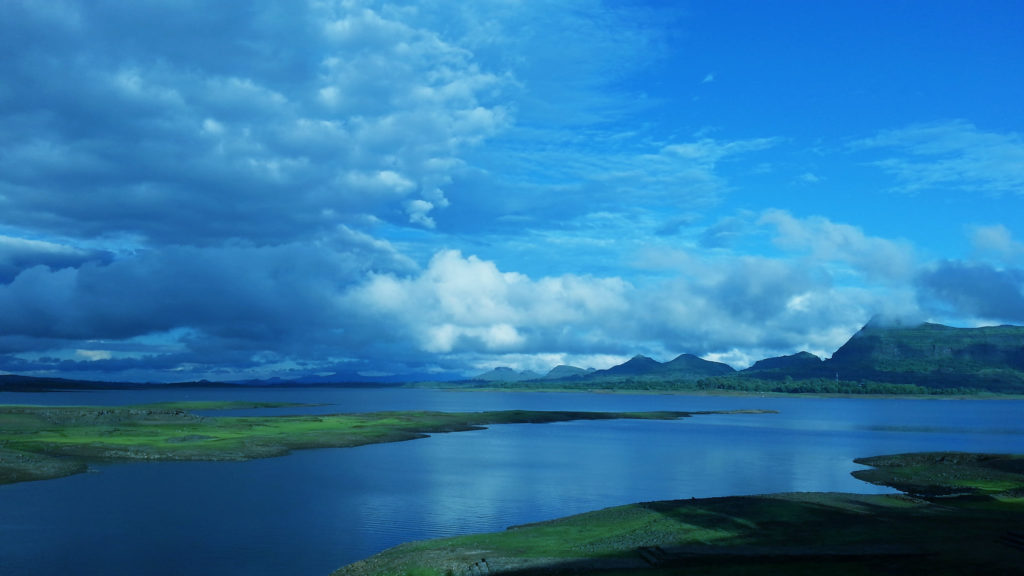 Igatpuri, situated in the naturally impressive Sahyadri mountain ranges, just 2 hour drive from Mumbai, is a small hill station, much sought after by nature lovers. You can travel by train or road to Igatpuri. You can just soak up nature by relaxing in the many resorts available or go on an adventurous trek or enjoy water sports like rafting and kayaking or visit holy temples or just walk around the serene nature trails surrounded by dense forests. Places to visit in Igatpuri are Tringalwadi fort, Amruteshwar temple, Kalsubai peak, Vihigaon waterfalls, Vaitarna dam, Ghantandevi mandir, Darna Dam, Bhatsa river valley, Camel valley, Vipassana International academy, Avandha fort and Karoli ghat. Igatpuri is approximately 120 Km from Mumbai and 47 Km from Nashik.
21. Nashik (vineyards, adventure parks, spiritual places)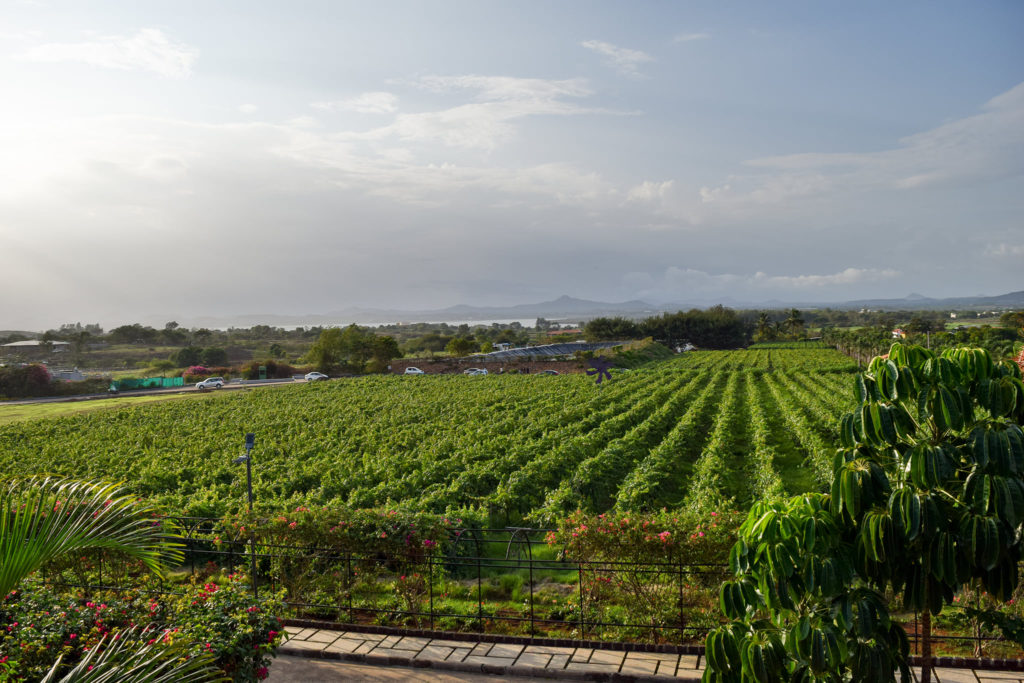 Nashik is famous for its religious importance as well as vineyards. You can go to the various vineyards for wine tasting and to partake in the wine making process. The places to visit in Nashik are Ramkund, Saptashrungi temple on the hill, Kalaram temple, Harihar fort, Gangapur dam, Dudhsagar falls, Trimbakeshwar temple, Pandavleni caves, Dhodap fort, Anjaneri hills, Dugarwadi waterfalls, Coin museum, Sundarnarayan temple, Brahmagiri hills, Dabhosa waterfall, Artillery museum, Sula Vines and many adventure parks.
22. Shirdi (spiritualty, nature)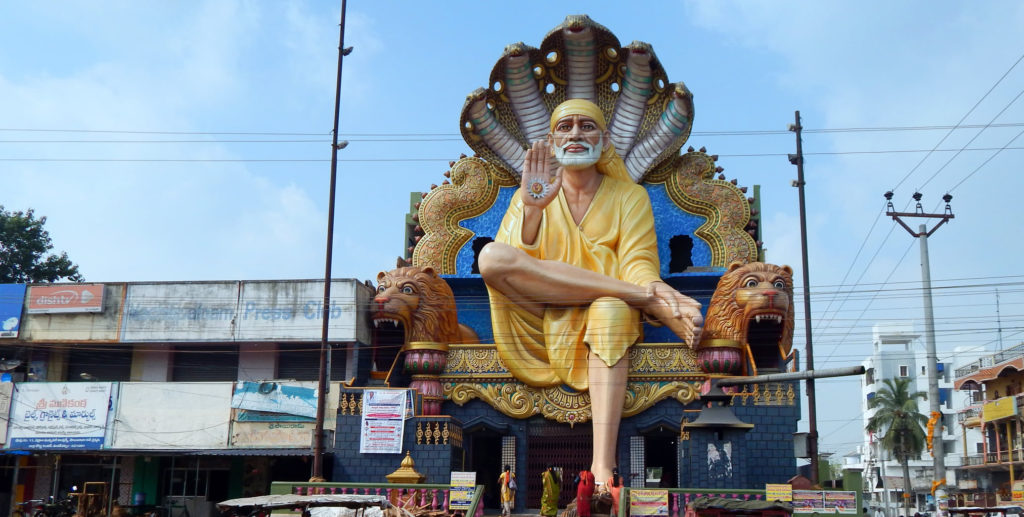 Shirdi, is considered the birthplace of spiritual guru Saibaba. The temple complex build by the Saibaba trust, houses many temples and is a great place for spirituality. You can visit the Sai Heritage Village to see life of Sai Baba. Besides the temple, you can also enjoy the Wet N Joy water park or the Jangli Maharaj Ashram or visit Lendi Baug for its untouched beauty and greenery. Shirdi is approximately 239 Km from Mumbai and 85 Km from Nashik.
23. Bhandardara (natural beauty, waterfalls, forests, temples, lakes)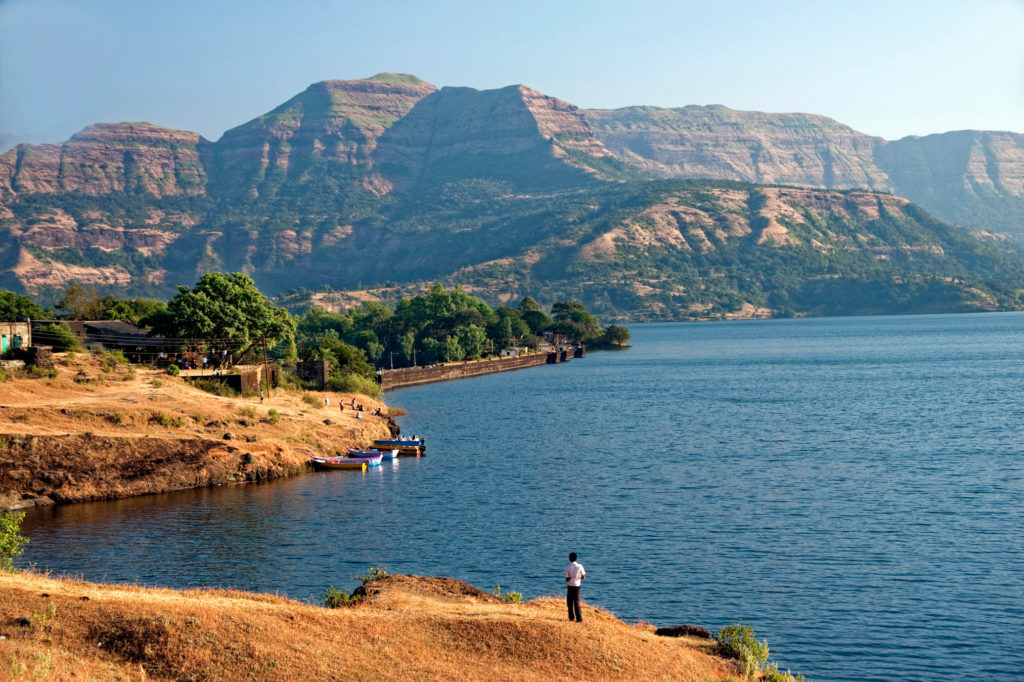 Perched charmingly amid Sahyadri ranges, Bhandardara is the go to location during monsoons. Lush green nature beckons you to its fold. Bhandardara plainly means valley of treasures. It is a scenic hideaway in Ahmednagar district and you can have your fill of nature amidst the lush forest and many waterfalls. You can visit places like Umbrella Falls, Amruteshwar Temple, Randha Falls Wilson Dam, Agastya Rishi Ashram, Arthur Lake, Ratangad, Ratanwadi Village, Harishchandragad Fort and you get a glimpse of Mount Kalsubai, the highest peak in Maharashtra. The untouched forest around Arthur lake is full of flora and fauna and takes a good 3 hours even with a car to go around the lake. Bhandardara is approximately 164 Km from Mumbai and 163 Km from Pune.
Must Read : Roadmap For Future of Sustainable Tourism In Maharashtra
24. Nagpur (nature and wildlife, lake, water sports, culture and heritage, spiritual places)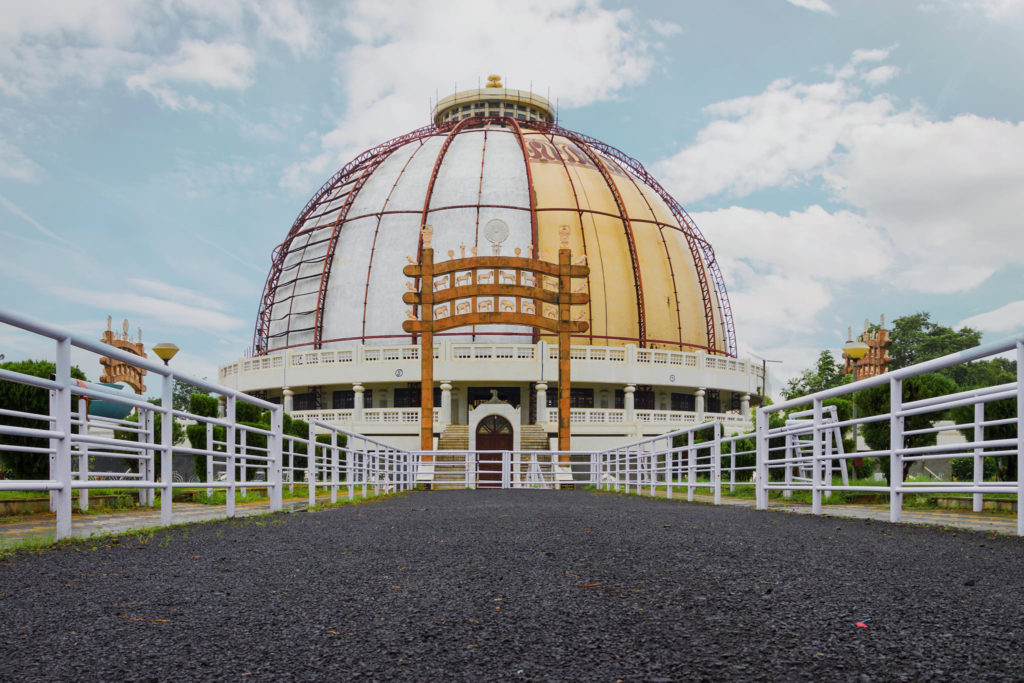 Nagpur is known as Orange city and has a cultural heritage that is vibrant with many places to visit. Pench National Park and Tadoba Andhari Tiger Reserve as well as Maharajbagh Zoo beckons the wildlife enthusiasts, while there are many lakes like Shukrawari Lake, Futala Lake, Ambazari Lake that attracts the nature lover while tourists enjoy sites like Dragon Temple Deekshabhoomi and Narrow Rail Gauge Museum for the train buffs. For religious and spiritual experiences, you can visit Shri Shantinath Jain Temple, Shri Ganesha Temple, Telankhedi Hanuman Temple, and the Mata Mandir in Koradi. Enjoy many watersports at Khindsi Watersports or the gardens created by Bhonsle dynasty or the Raman Science Centre to check the science wonders. You can enjoy Ramtek or Nagardhan Fort or Nagzira Wildlife Sanctuary by taking a day trip. The other destinations to see are Krazy Castle Aqua Park, Umred Karhandla Wildlife Sanctuary, Ambazari Lake & Garden, Gorewada Lake and the Vidarbha Cricket Association Ground.
25. Tadoba National Park (wildlife)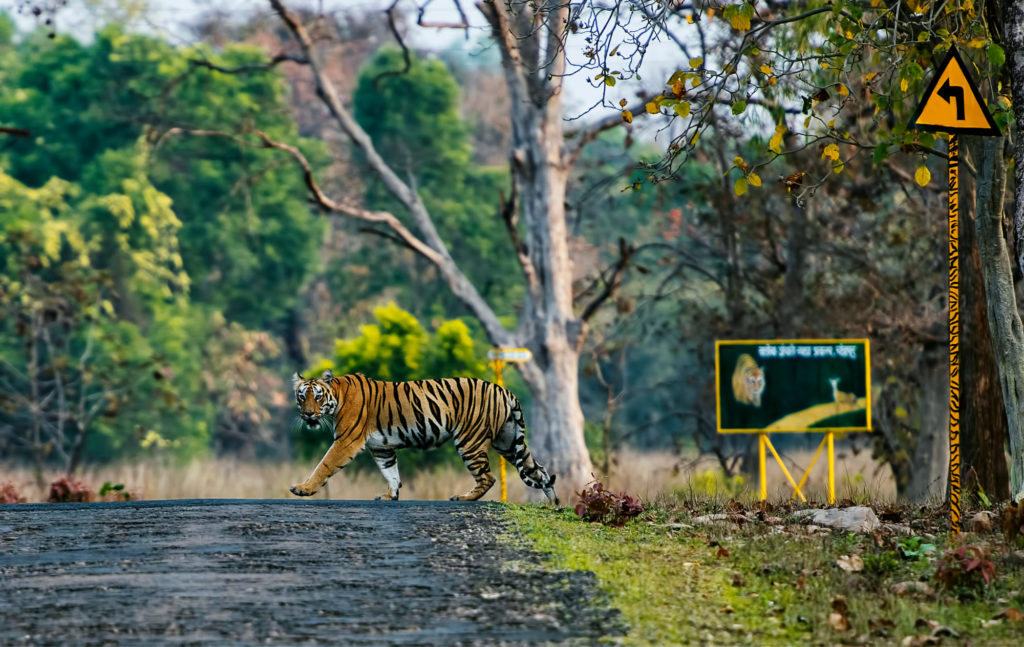 Tadoba National Park in Chandrapur district of Maharashtra, is the largest and oldest tiger reserve in Maharashtra. Tadoba name is derived from god Tadoba, worshipped by the tribes living in these deep forests of Tadoba and Andhari region. In 1995, the national park and Andhari Wildlife Sanctuary were merged to form the tiger reserve. Tadoba National Park encompasses the Tadoba lake, the forest, and Chimur Hills and is spread over 625.3 square kilometres. There are 88 tigers present in the reserve, along with other mammals like the Indian Leopards, Sloth Bears, Nilgai, Sambar, Barking Deer, besides a wide range of water birds and raptors. Many endangered species like the crested serpent eagle, grey-headed fish eagle, and changeable hawk-eagle can also be spotted in the reserve. Best time to see the park is from November to February but the summer months of March to June due to its high temperature can make sighting mammals near the lake likely. Tadoba is approximately 140 Km from Nagpur.
26. Khekranala (wildlife)
Khekranala, a short drive away from Nagpur on the Chindwara road is a serene getaway with lake, dam and wildlife sanctuary to visit. In the lap of nature you can visit the Khekranala lake amidst Nagalwadi Jungle (Pench buffer area), a natural cave and Mansinghdeo Tiger Reserve in the Mansinghdeo Wildlife Sanctuary (WLS). Besides Tigers, you can spot Leopard, Sloth Bear, Bisons, Sambar, Deer, Nilgais, Jungle Cats, Wild Boars, Barking Deer, a host of bird species. The Safari timings are 6.30 am to 10.30 am & 3.00 pm to 5.30 pm where private vehicles are allowed and night safari is available in Nagalwadi Jungle via online booking. Khekranala is approximately 64 Km from Nagpur.
27. Bodhalkasa (eco-tourism, forests, water sports, nature)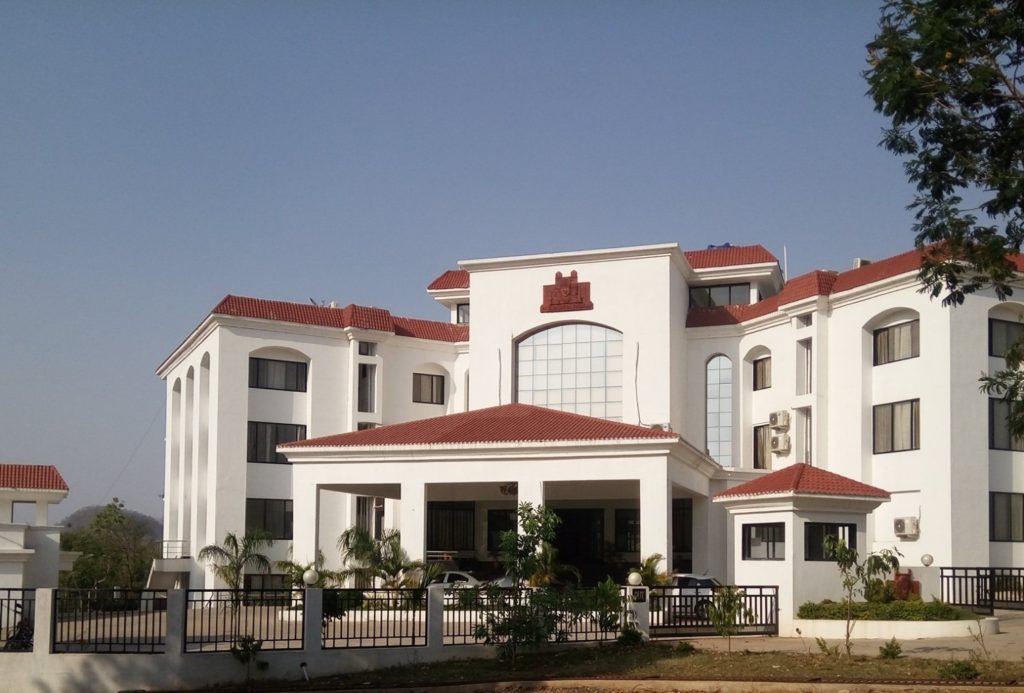 Bodhalkasa is a village in Gondia District near Nagpur. Bodhalkasa is a virginal destination, trending for its natural magnificence and splendid beauty. Fenced on three sides by thick forest, it has Bodhalkasa dam on the fourth side, making it an idyllic location for relaxation. It has water sports like speed boating and rowing for enthusiasts, or you could spend time with tribals turning it into an eco-tourism adventure. It is well connected by road and the nearest station or airport is Nagpur. Bodhalkasa is approximately 120 Km from Nagpur.
28. Gondia (national park, wildlife, temples, caves, waterfalls)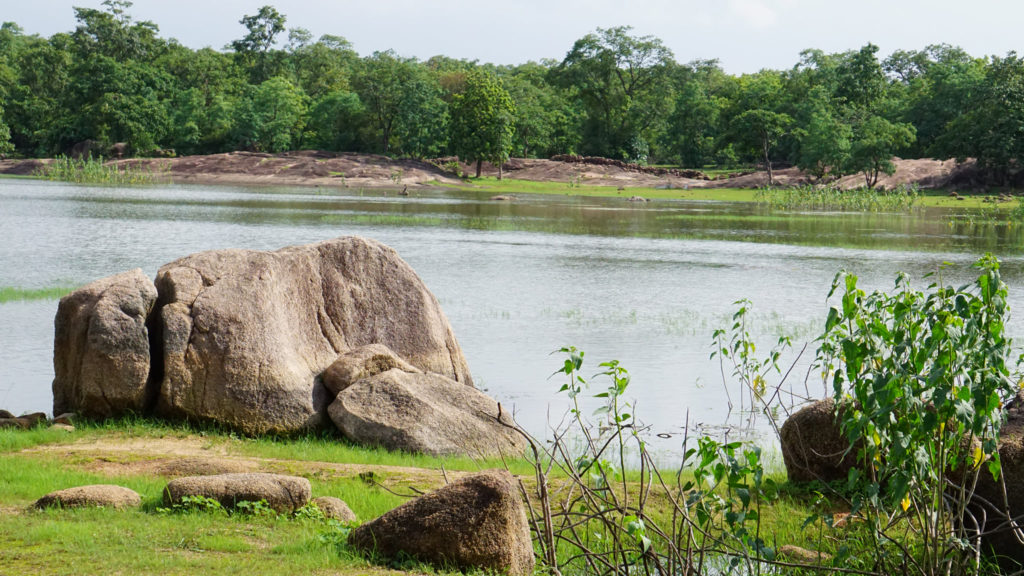 Gondia, though in Maharashtra, lies on the border of Madhya Pradesh. Gondhia owes its name to the Gond rulers who ruled the district for a long period. Gondia includes both natural as well as manmade elements like Navegaon National Park, Nagzira Wildlife Sanctuary, Mando Devi Temple, Nagra Shiv Temple, Darekasa Caves, Kachargadh Caves, Itiadoh Dam and Hajra Falls. Gondia is approximately 160 Km from Nagpur.
29. Melghat (nature and wildlife, tiger reserve)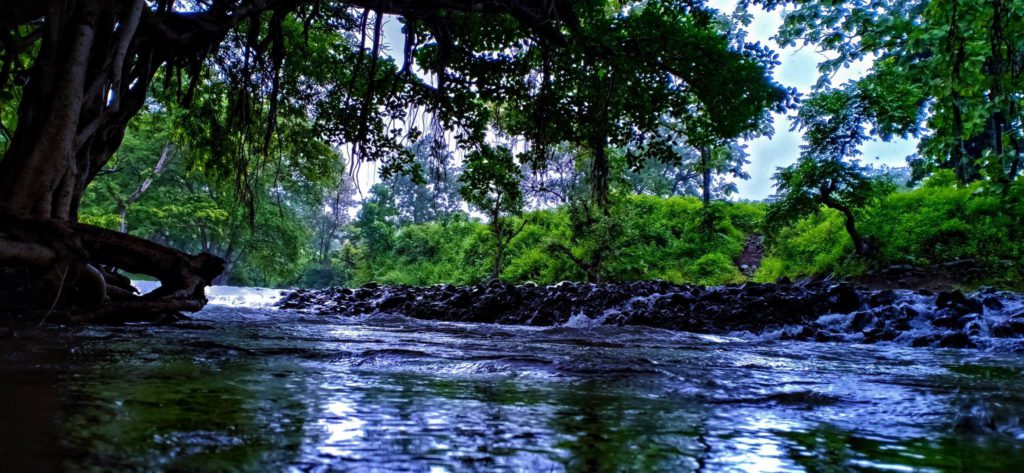 Melghat means 'meeting of the ghats, as it lies in the south western Satpura mountain ranges as an enormous area of unending hills and ravines scarred by jagged cliffs and steep climbs. Melghat has been declared in 1974 as a tiger reserve, a catchment area for five major rivers: the Sipna, Khandu, Gadga Khapra, and Dolar, all tributaries of the Tapti River. Flora Fauna and all kinds of wildlife flourish here. Melghat is approximately 247 Km from Nagpur and 108 Km from Amravati.
30. Chikhaldara (coffee gardens, hill-top views, national park, waterfalls, dams)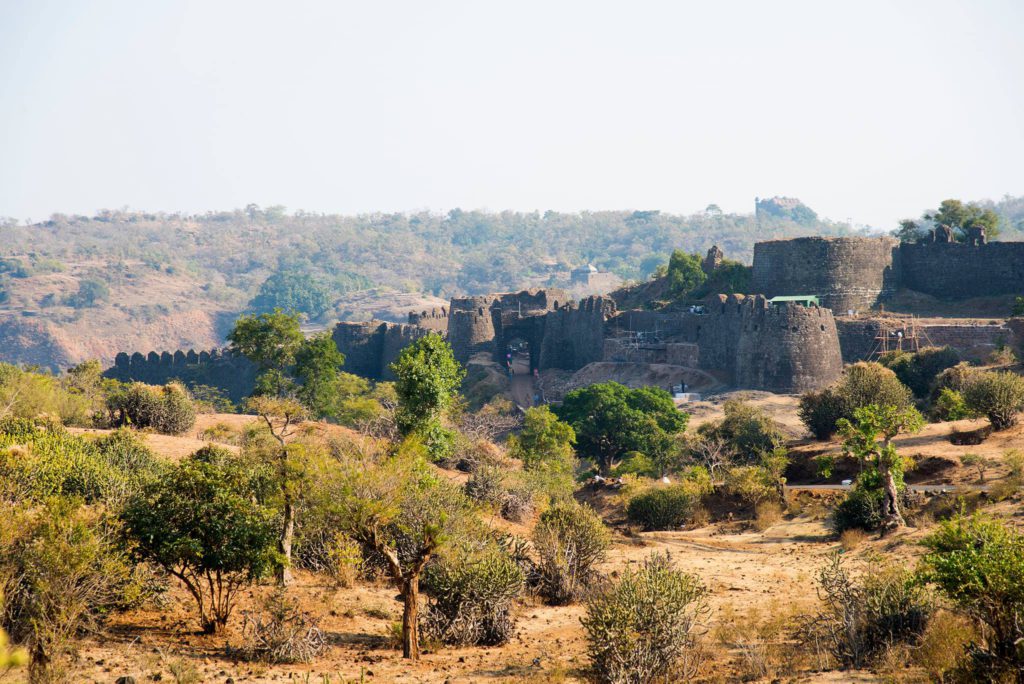 Chikhaldara is the only hill station in Vidharbha and the only coffee growing one in Maharashtra. Chikhaldhara is mainly inhabited by tribals. It is believed that Bheema after a titanic bout of fist fight killed the wicked Keechaka and threw him in the valley. Places to visit in Chikhaldara are Gawilgad fort, Gugamal National Park, Semadhoh Tiger Project, Bhim-kund, where Bhima washed his hands of the blood of Keechaka, Shakkar Lake Wildlife museum, Forest garden, Paratwada City, Mahadev Mandir, Vairat Devi mandir, Kalapani Dam, Bir Dam, Goraghat, Pancha Dharag waterfall, Dharkhora, Kolkaz, Muktagiri, Bakadari, and the various points like Malviya point (sunrise), Sunset Point, Hariken Point, Panchbol Point, Devi Point, Mozari Point and Prospect point. You can travel by road and is approximately 232 Km from Nagpur and 83 Km from Amravati.
31. Alibag (beaches, water sports, forts)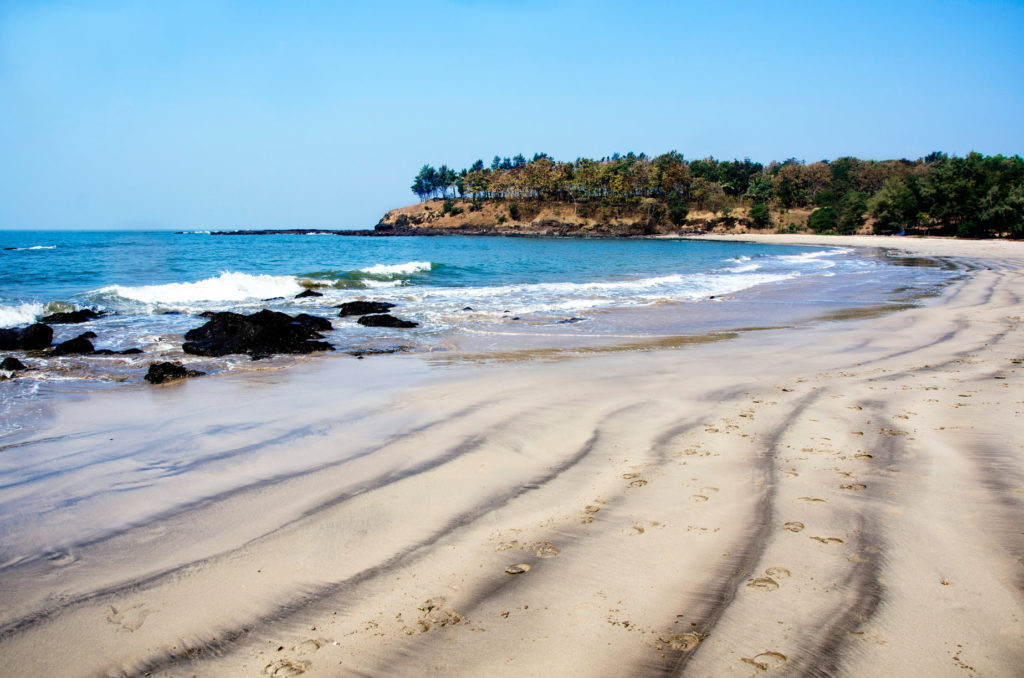 Alibag is the perfect place to relax, to get away from the hustle bustle of Mumbai. Alibag is dotted with beaches as it is made up of small islands and just a short 2 hour drive from Mumbai or 1 hour by ferry. The tourist places in Alibag are beaches (Murud, Kashid, Akshi, Awas, Varsoli, Revdanda Saswane Alibaug, Korlai, Nagaon, Kasim) and forts (Kolaba, Revdanda, Undheri, Murud – Janjira). There is also Kankeshwar forest, Brahma kund, and Raigadi bazaar. A variety of water sports are available at any of these beaches. Alibag is approximately 95 Km from Mumbai by road and 16 kms by sea and 141 Km from Pune.
32. Raigad Fort (forts, heritage)
Raigad, the capital of Shivaji's kingdom, has stood tall for more than 400 years, as a living example of the Maratha ruler's bravery. Though much in ruins, you can experience the history, the courts and coronation, of Shivaji maharaj on this historic fort. Raigad gives a bird's eye view from the top an awe-inspiring vista of the surrounding valley. To reach the top of the fort you can choose to climb the 1737 steps-pathway or climb in mere 4 minutes through the ropeway. Place you can visit at the Raigad Fort are the King's Durbar, Maha Darwaja, Takmak Tok, Hirakani Buruj, Jagdishwar Mandir etc. Raigad fort is approximately 67 Km from Mumbai and 112 Km from Pune.
33. Karnala (wildlife, bird sanctuary)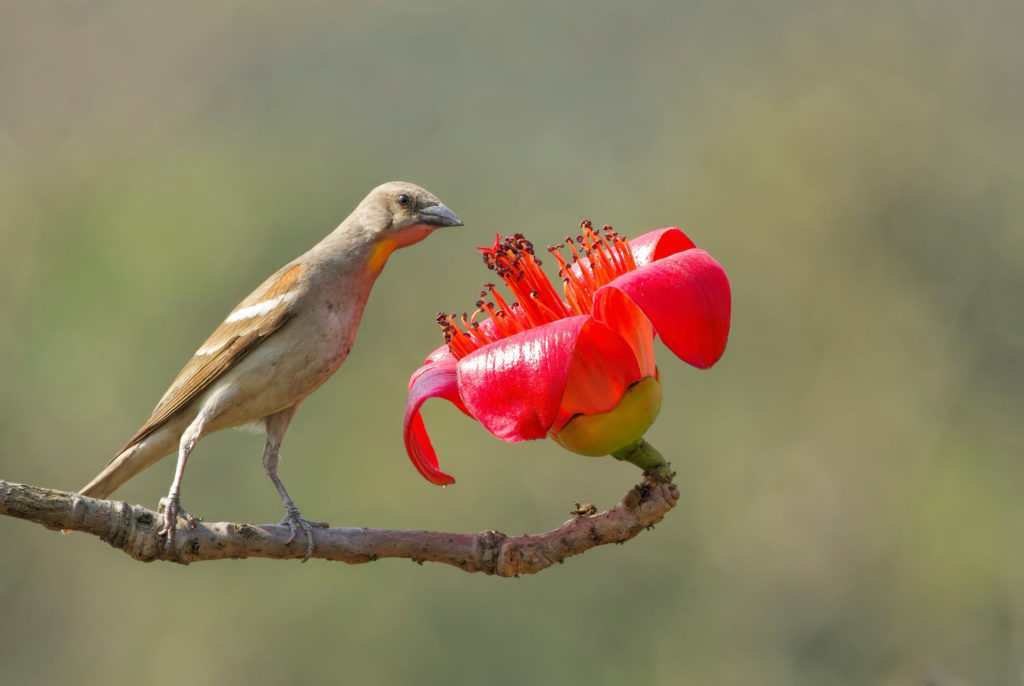 Karnala is popular for its bird sanctuary and situated near the Karnala fort. The Karnala fort is in ruins but it offers a breathtaking view of the lush green forests. It is a protected forest land where wildlife lovers as well as photographers come to see a variety of rare birds like Woodpigeon, Nilgiri Malabar Grey Hornbill and Malabar Parakeet. The sanctuary is inhabited by animals like four-horned Antelope, wild Boar, Muntjac or barking deer or rib faced deer, Leopards, common monkeys, and African monkeys. The best time to visit is monsoons or winters. Karnala is approximately 48 Km from Mumbai and 121 Km from Pune.
34. Bhira (nature, waterfalls, forests)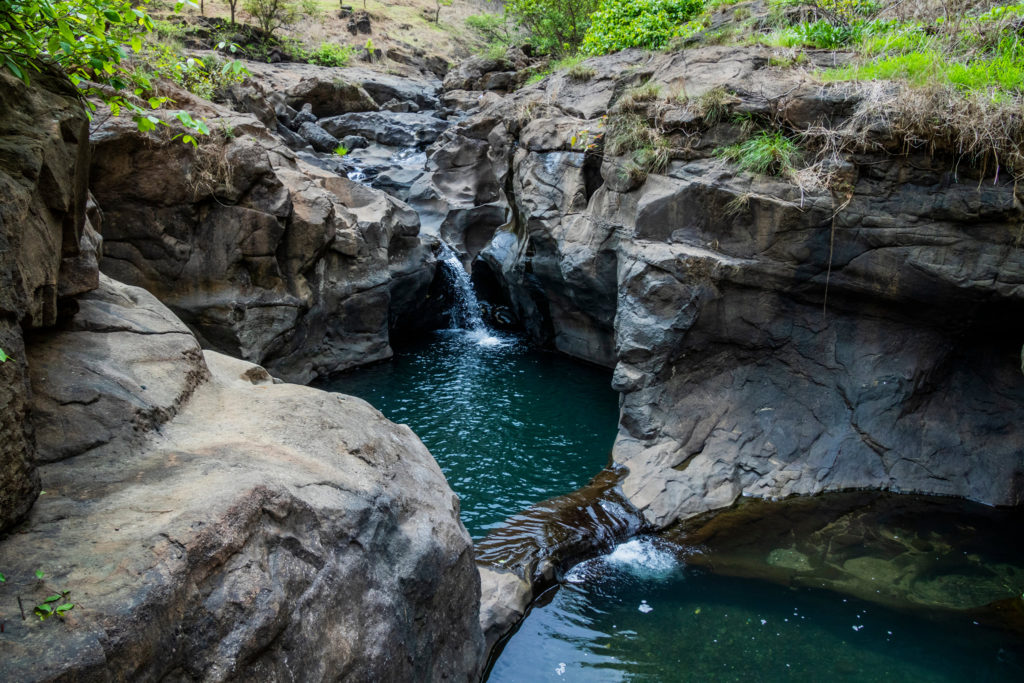 Part of Raigad district, Bhira is one of the undiscovered rural places of Maharashtra. The first Hydro Power Project was established here by TATA group. The unexplored beauty of Bhira has rustic charm. The many places to visit are the Kundalika River, Bhira Dam, Devkund waterfall, and lush green forests. Spending the day on the lake makes it a pleasant picnic spot. You should visit this spot during monsoon, i.e., from July to mid-October. Bhira is 124 kms from Mumbai and 99 kms from Pune.
35. Murud Janjira (fort)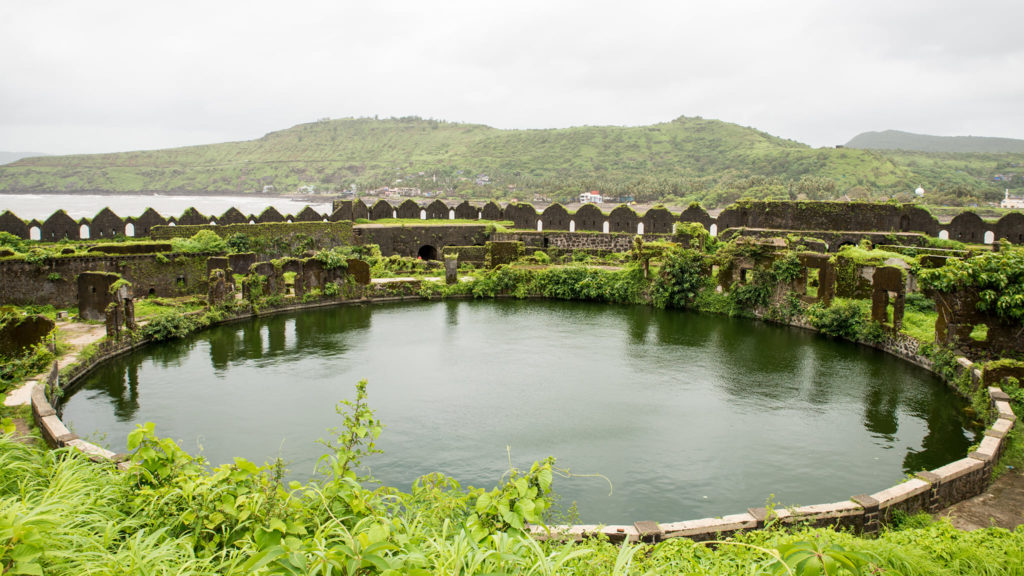 Murud Janjira is famous for its fort, standing tall near the port town of Murud. Well-known as one of the sturdiest water forts in India, you need to travel by boat to reach the fort. The three enormous cannons mainly Chavri, Kalalbangdi, and Landa Kasam are still there, narrating their past glory. Its powerful war position made it the strongest fort in Indian history. Surprisingly, the pond on Murud Janjira has sweet clear water with no salinity to it. Janjira hosts a grand palace of Nawabs as well. Murud Janjira is approximately 150 Km from Mumbai and 185 Km from Pune.
36. Mandwa (beaches, water and adventure sports, history)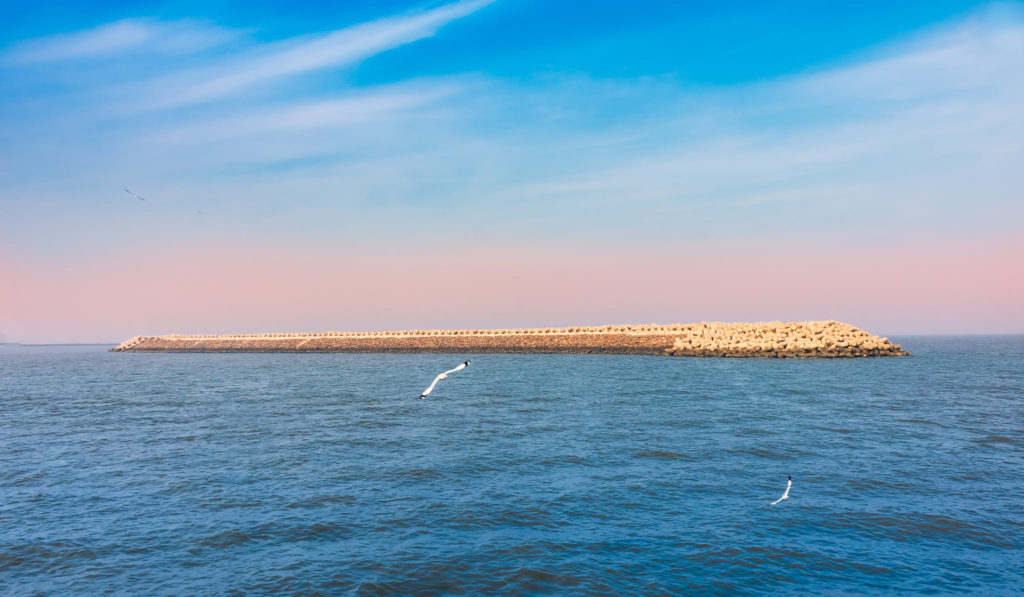 Mandwa is very close to Alibaug and can be travelled by road or by ferry. Mandwa, a small fishing village, is a well-known beach getaway and visited for its ruins of Portuguese historical sites, Buddhist caves, churches, synagogue, Karmarkar Museum and its un-spoilt beach. Take advantage of all the water and adventure sports activities like Jet Ski, Banana Boat, Quad Bike Ride, bumper ride, Power kite, Wakeboarding, Kite surfing, Parasailing, and the sedate swimming and fishing. You can visit it year around except during monsoons. Mandwa is approximately 150 Km from Mumbai.
37. Kolad (nature and hiking trails, adventure and water sports, camping, caves, waterfalls)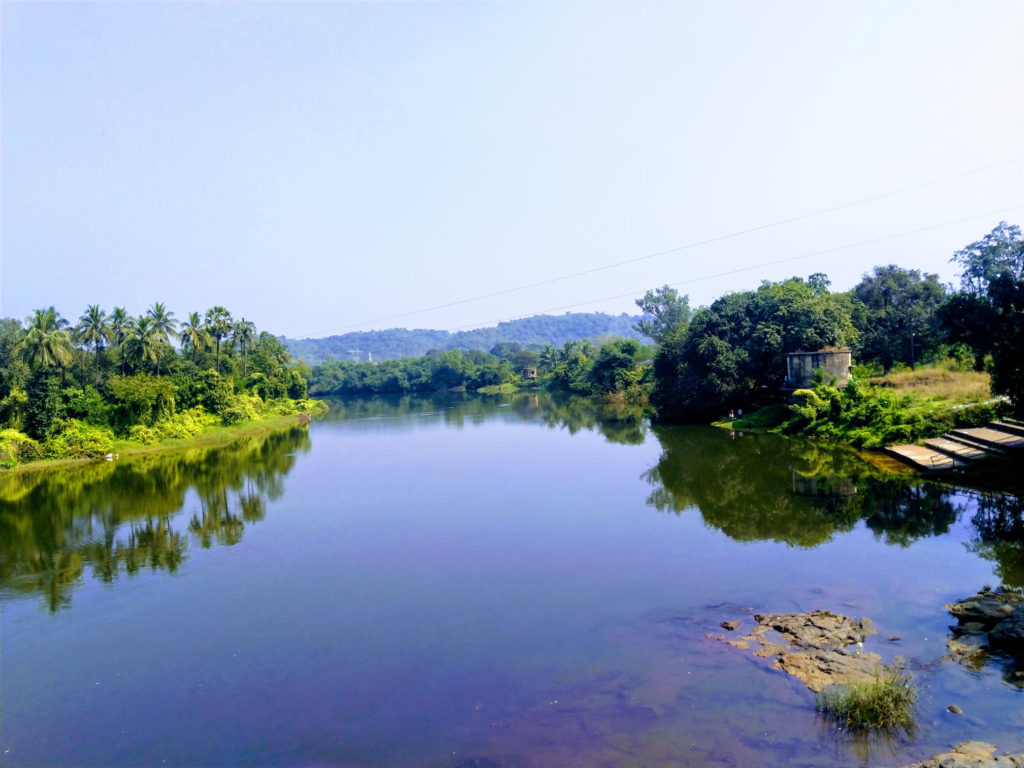 A small village in Raigad district of Maharashtra, Kolad is famous for its various nature trails, hiking trails and adventure and water sports activities besides camping activities as it nestles in the Sahyadri mountain range and is on banks of Kundalika river. You can white water river raft in Kolad as the Kundalika river is a fast-flowing river, providing a natural habitat for water sports. Monsoons see a plethora of people visiting Kolad for seeing Tala Fort ,Tahmini Ghat Waterfalls, Ghosala Fort, Kuda caves, Kundalika River, Dholwal Dam, Bhira Dam, Sukeli Waterfalls, Avchitgad Fort, Sutarwadi Lake, and the Kolad Museum. Kolad is approximately 122 Km from Mumbai and 114 Km from Pune.
38. Harihareshwar Beach (eco-tourism, natural beauty, hilly landscapes)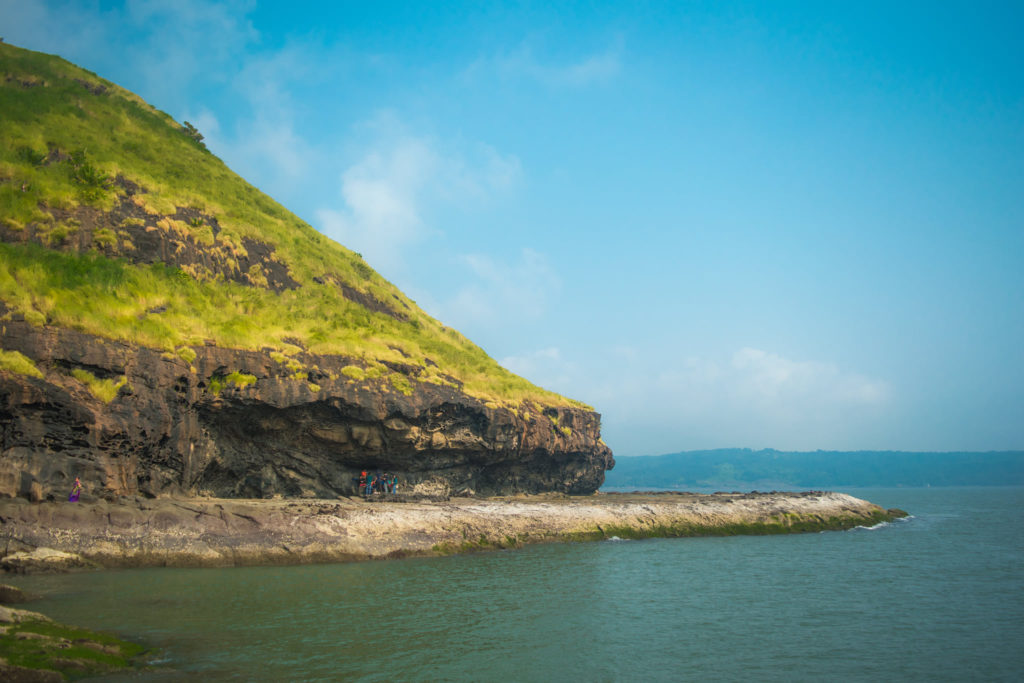 Another beach destination on the coastal belt of Maharashtra, Harihareshwar, is known for its scenic beauty, hilly landscapes and sharp bending streets, with the pristine river Savitri highlighting its charm. Enjoy the Harihareshwar beach or water sports at Diveagar Beach, offer prayers at the Bhagamandala, Harihareshwar Temple or Kalbhairav temple or go on a shopping spree at the local market. Enjoy the local food and the hospitality at one of the many ecotourism resorts. Harihareshwar is approximately 185 Km from Mumbai and 171 Km from Pune.
39. Dapoli (nature, beaches, watersports)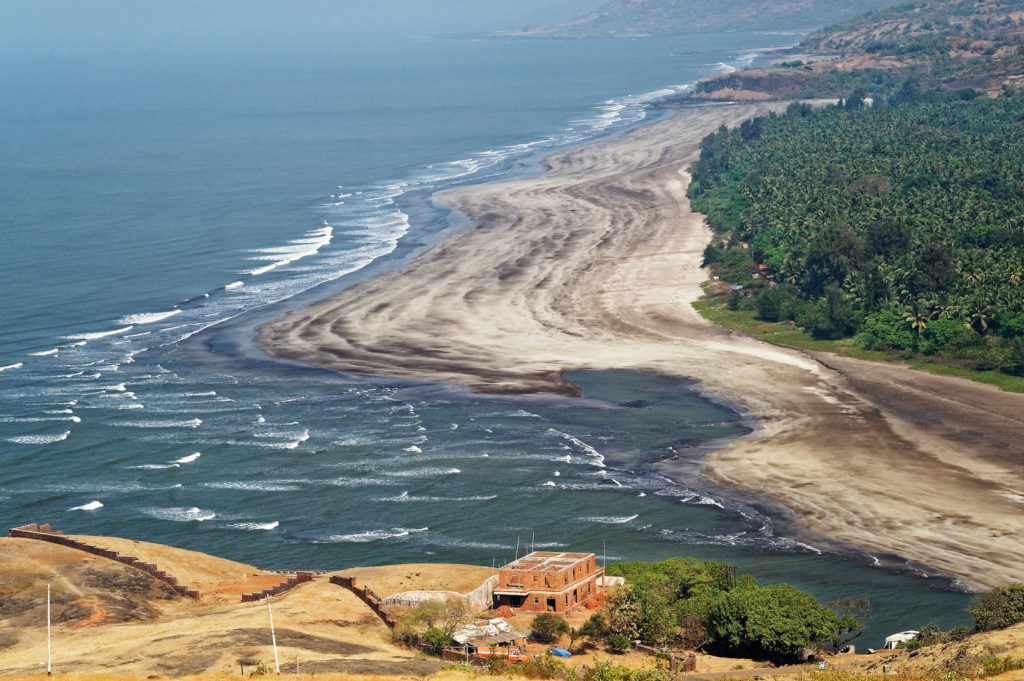 Dapoli is the nearest to Arabian sea and occupied by coconut farms throughout. The plunging seashore and abundance of nature has made it a favorite vacation destination. It is blessed with cool weather throughout the year. The main tourist attractions are the Harnai Sea Port, Suvarnadurga – the sea fort and Kanakdurga – the land fort, located near Harnai, the Unhavare hot springs, ruins of Panhalekaji caves, Kadyavarcha Ganapati, a temple established in the late 12th century, Kelshi Beach, Karde Beach and Murdu Beach. The Arabian Sea supports several watersport activities like swimming, canyoning, parasailing surfing, and scuba diving. Dapoli is approximately 218 Km from Mumbai and 184 Km from Pune.
40. Guhagar (beaches, temples, mangoes)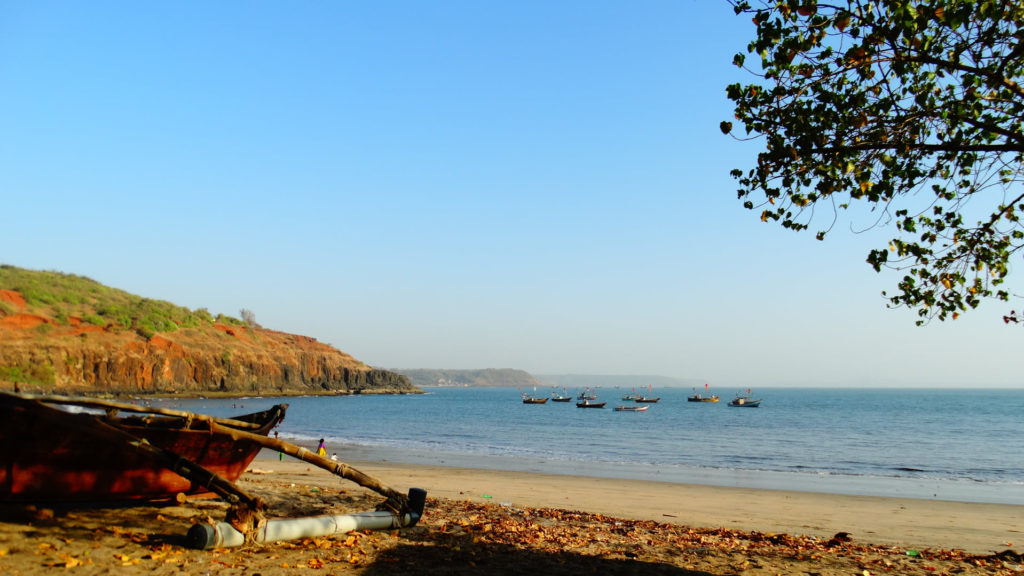 Guhagar is famous for its virgin beaches and bountiful produce of coconut, betelnut, and the delectable Haapus or Alphonso, the king of mangoes. The nearest railway station is Chiplun, which is about 44 kilometres away. Besides the Guhagar beach, there are several temples in the area which are worth visiting; such as the Ashtavane Ganapati Temple, Durgadevi Temple, Chandika Temple and the Vyadeshwar temple. The Budhal Kond and Budhal beach are also not too far and are worth visiting. Guhagar is approximately 265 Km from Mumbai and 244 Km from Pune.
41. Ratnagiri (beaches, marine museum, forts and palaces)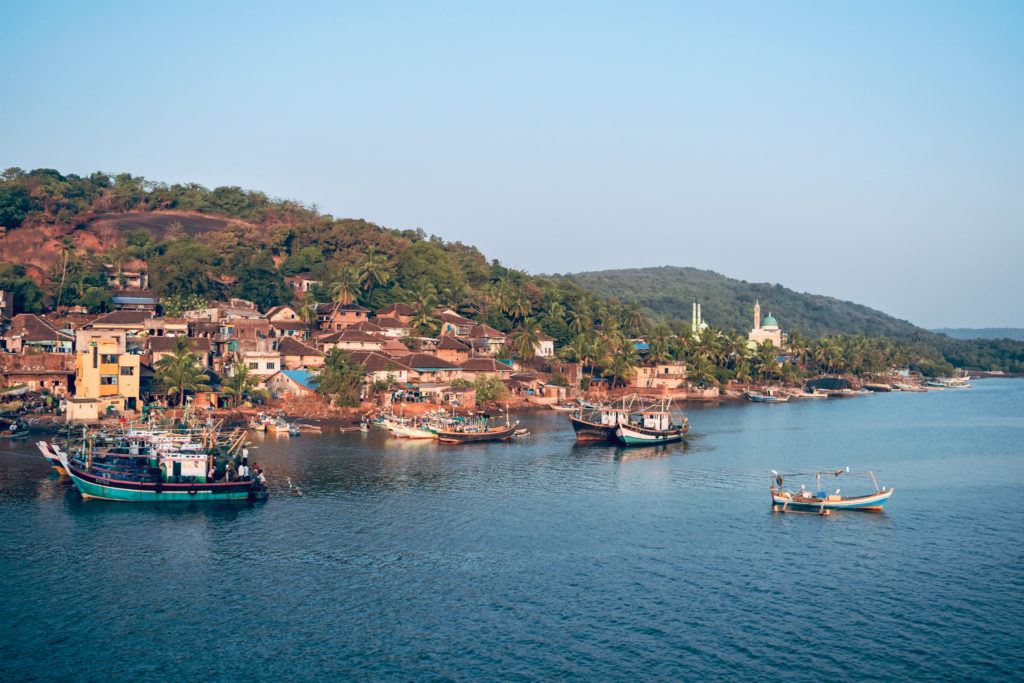 Flanked by the Sahyadri mountain range on one side and the Arabian sea on other; Ratnagiri is popular not just for its beaches but also for its cultural and historical significance. The Ratnagiri Marine Museum, which is home to many types of sea creatures, is the highlight of the place. The Swayambhu Ganapati temple, Jaigad fort, Pandre beach, Bhatye beach, Jaigad lighthouse, Gateway of Ratnagiri, Ratnadurga fort, Tilak Ali Museum, Thiba Palace, and Malgund village which are located in and around Ratnagiri are worth visiting. Ratnagiri is approximately 340 Km from Mumbai and 313 Km from Pune and well connected by road and railways.
42. Ganpatipule (beaches, spiritual places)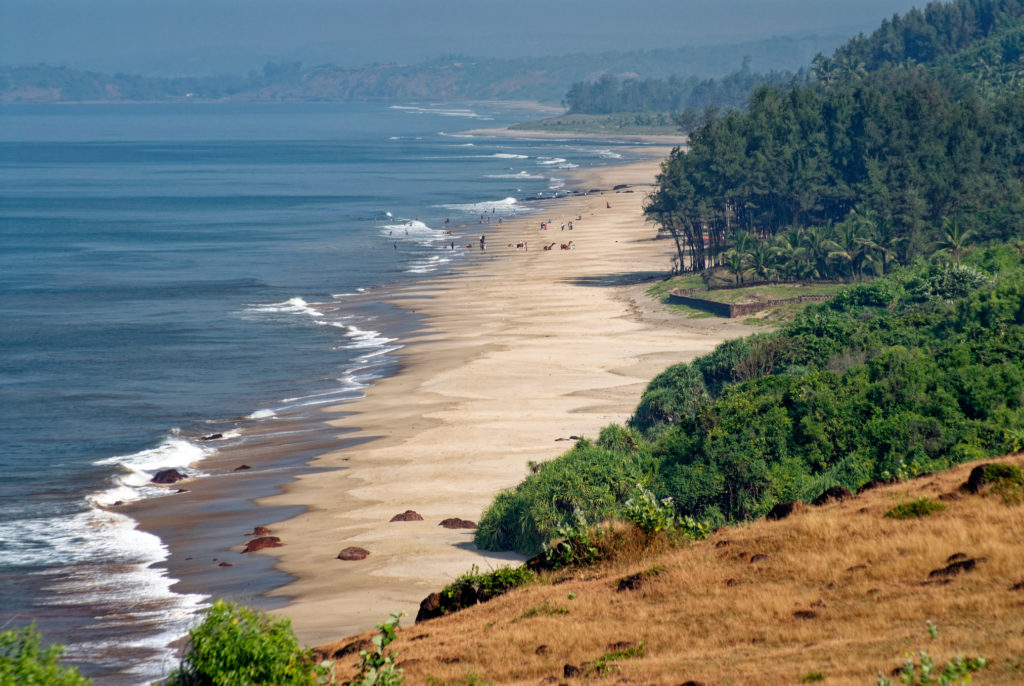 Ganpatipule is well known for its pristine white beach and clear waters. It has great religious significance due to the ancient "Swayambhu" or naturally formed rock idol of Lord Ganesha, which is said to have sprung naturally from the earth and discovered by a devotee. The Swayambhu Ganapati temple faces the sea with a hill as its backdrop. The sunsets here are spectacular, and the stunning natural beauty of the place combined with the spiritual vibes bring a sense of peace and joy that one must experience to believe. But that's not all! Ganpatipule even offers adventure sports as well as watersports activities from November to May. Ganpatipule is approximately 338 Km from Mumbai and 336 Km from Pune.
43. Malvan & Tarkarli (beaches, water sports, scuba diving, rock garden, food)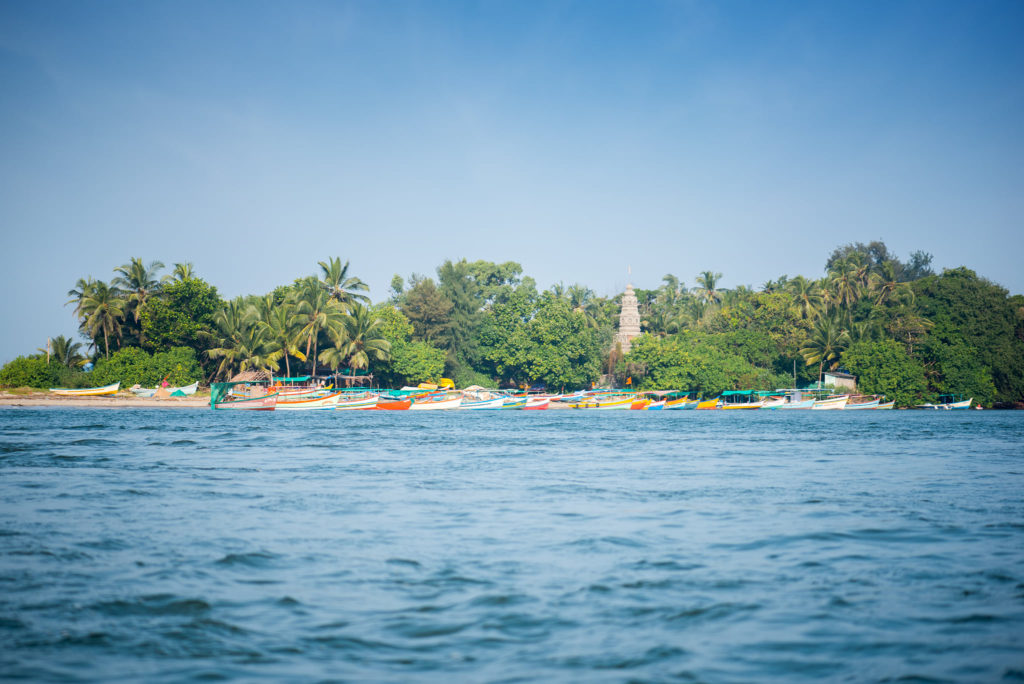 Located at the confluence of the Karli river and the Arabian Sea, Malvan offers some really interesting beach activities and adventure sports. One can even go scuba diving at its coral beach known as Tarkali! Do visit the Rock Garden, the Tsunami Island, and the Kolamb, Achara, or Malvan Chivla Beaches. Malvan is of course well known as heaven for sea-food lovers who can binge to their heart's content on the lip-smackingly delicious Jhinga Fry, accompanied by Solkadhi, Ghavan, and Malvani Khaja. Malwan is approximately 533 Km from Mumbai and 389 Km from Pune.
44. Amboli & Sawantwadi (natural beauty, panoramic hill-top views)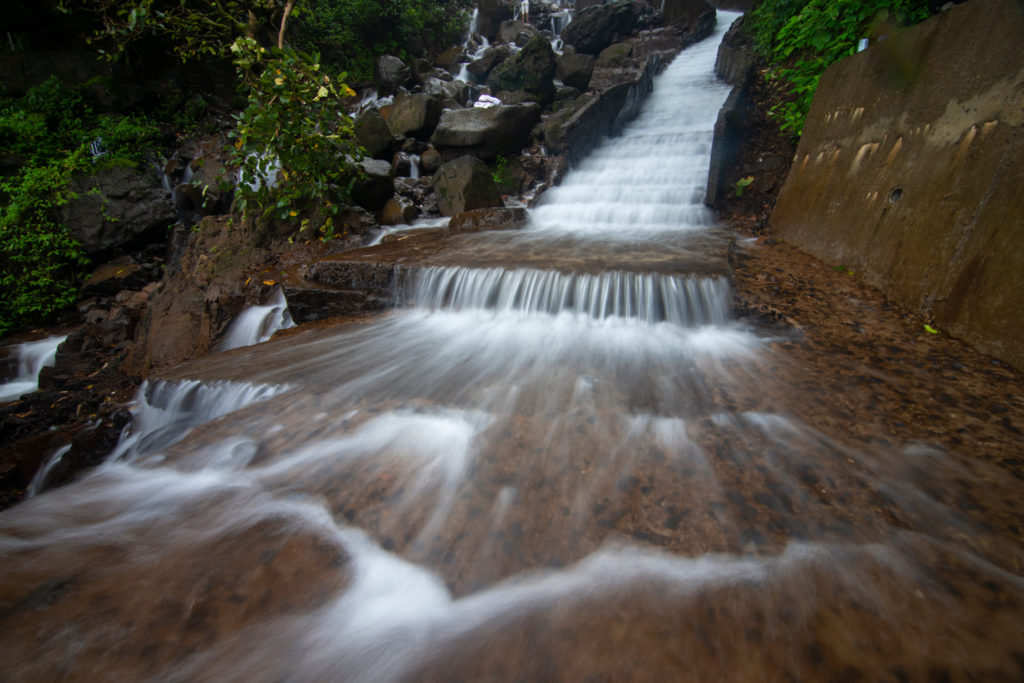 Head to Amboli if tranquility and natural beauty is what you are looking for! The Amboli valley, is nestled in the Northern Western ghats. Located just beyond Sawantwadi; the hills and the greenery offer vistas that are unbelievably beautiful. The Mahadevgad point, Purvicha Vas, Manohargad-Manasantoshgad point, Kawleshet point Shirgaonkar point, are some of the locations which offer birds-eye view of scenic terrains beneath. Amboli is approximately 490 Km from Mumbai and 346 Km from Pune.
45. Sindhudurg (fort, waterfalls, beaches, scuba diving, jungle safari)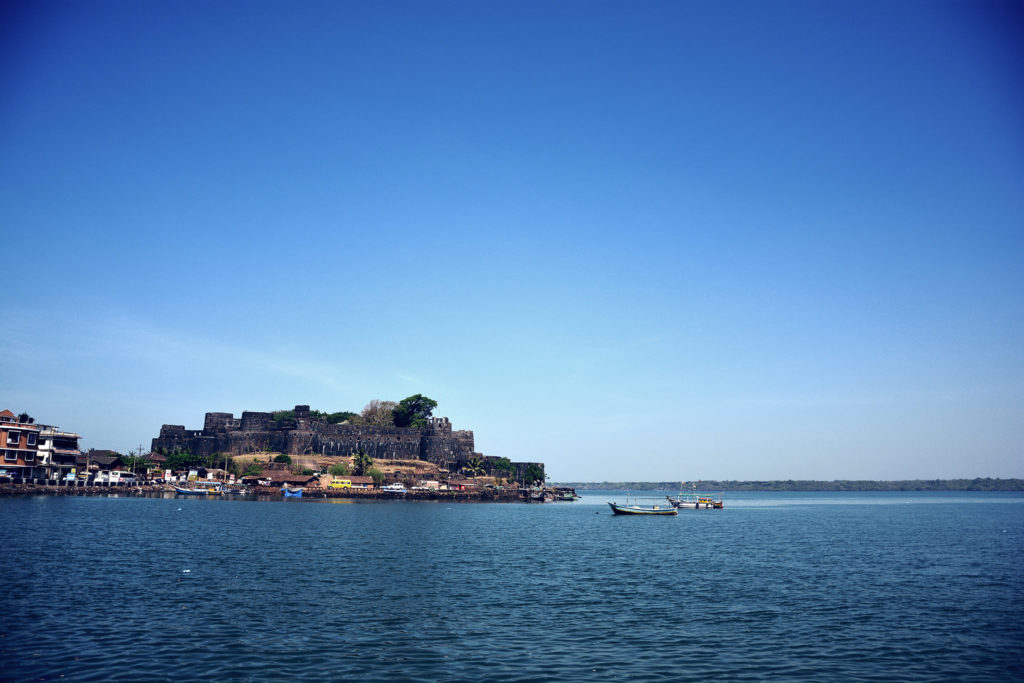 Built on an island in the sea, during the reign of Chhatrapati Shivaji Maharaj, the Sindhudurg fort symbolizes the grand history of the Maratha times. Places to visit in Sindhudurg besides the Sindhudurg fort are: Vijaydurg fort, Madhavgadh Fort, Napapne waterfall, Nagartas waterfall, Mangeli waterfall, Shivapur waterfall, as well as Tarkarli beach, and Nivati beach. You can also visit the temple dedicated to Lord Shiva on the banks of the Hiranykeshi river. If adventure is your thing, try snorkeling, scuba diving or take a jungle safari to spot leopard, wild boar, mongoose, elephants and other wildlife. Spend a romantic evening at the Sunset Point as you watch the setting sun turn the horizon into shades of orange, red and pink before plunging into the deep blue waters of Arabian sea. Sindhudurg is approximately 500 Km from Mumbai and 358 Km from Pune.
46. Aurangabad (history, culture, shopping)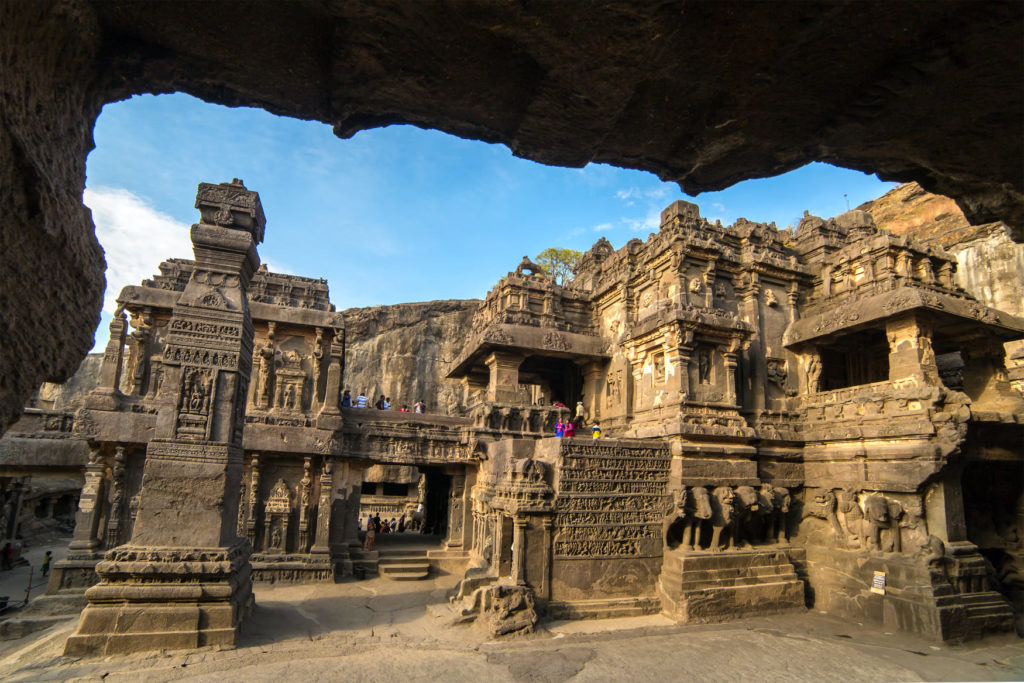 Aurangabad city is an important cultural hub being the center of art, education and commerce besides being famous for its silk and cotton textiles. You can travel to Aurangabad by air, train and road. Besides the many places to visit in Aurangabad the main attraction are the Ajanta and Ellora caves, situated 99 km outside the city. The Ajanta caves date back to 2nd to 6th century A.D while Ellora caves date back to the 6th and 11th century A.D. Both the cave complexes are each carved out from a single rock and have some amazing paintings on the walls. Other places to visit in Aurangabad are Daulatabad Fort, Bibi Ka Maqbara, Siddharth garden and zoo, Grishneshwar Temple, Chhatrapati Shivaji Museum, Naukhanda Palace, Jama Mosque, Pitalkhora caves, Jayakwadi Dam, Khuldabad, Salim Ali Lake and Panchakki, Bhadra Maruti Temple, Sunehri mahal, Himayat bagh, Zainuddin Shirzai's Maqbara, Bani Begum garden, Tulja Bhavani temple, Parli Vaidyanath Jyotirlinga temple and Dargah of Pir Ismail. The best time to visit Aurangabad is from October till March. Aurangabad is approximately 196 Kms from Nashik and 238 Km from Pune and well connected to Mumbai, Pune, Nashik by road as well as railways.
47. Lonar (natural wonder, temples)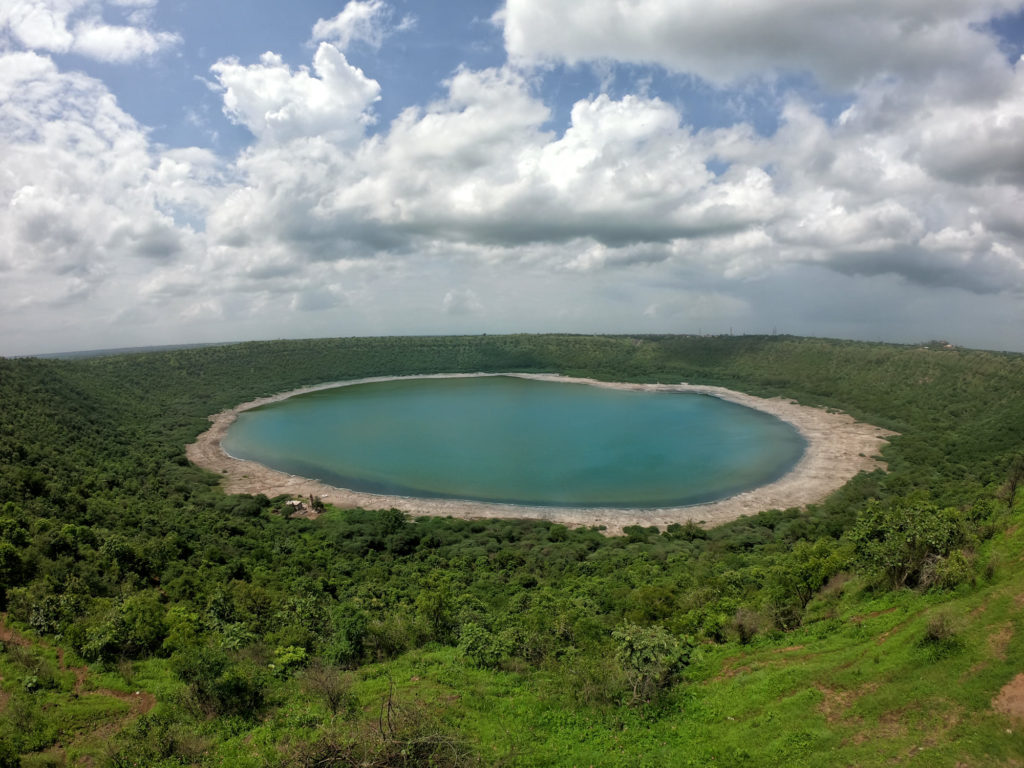 The Lonar Crater Lake is a round depression in basaltic rock, formed due to a meteoroid impact well over 52000 ago! The water of the lake is alkaline. The area is fascinating from a geological perspective. The other places of interest around the lake are Gomukh temple, Daityasudan temple, Kamala Mata mandir and Ambar lake. The idol in the Motha Maruti temple, near the Ambar crater lake, is believed to be made of a rock which was a splinter of the meteor that created the crater. By the way, do carry a compass when you go and watch the needle deflect due to the magnetic properties of the rocks! Lonar is approximately 138 Km from Aurangabad.
Travel Update : Please note that there could be travel restrictions because of the ongoing pandemic. Before travelling, please always check the latest government advice about COVID-19 travel restrictions in your destination.
For latest travel news and updates, food and drink journeys, restaurant features, and more, like us on Facebook or follow us on Instagram. Read more on Travel and Food Network
Trending Guides:
The Best Way To Holiday In Karnataka | 2021 Travel Guide
48 Hours In Prague | 2021 Travel Guide
East Sikkim | 2021 Travel Guide