These are the best places to travel this October.
The end of 2022 is approaching quickly. But there's still time for a vacation, so we've rounded up some of the best places to visit for your Diwali break. Whether you're travelling solo or with kids, looking for a foodie haunt or hoping to get your pulse racing, we've picked the destinations that are sure to add some sparkle to your festive break.
Golden Temple, Amritsar, For The Spiritual Soul
A visit to Amritsar makes for an enlightening trip as it has the spiritually and architecturally rich Golden Temple and various other sites of historical significance. Amritsar has a lot to offer in terms of its scrumptious Punjabi cuisine and mouthwatering food and desserts. Amritsar has a beautiful ambience and is one of the most important cities in Punjab and a place worth visiting for a long and fulfilling weekend getaway with your family and friends. During Diwali, the streets leading to the beautiful Golden Temple are lined with flowers and dotted with bright lamps and with the gorgeous display of fireworks, the temple itself radiating a golden glow with strings of lights all around.
How to reach: The nearest airport to Amritsar is the Sri Guru Ram Das Jee International Airport which is around 11 kms away. This Airport is connected to Delhi, Bangalore, Chandigarh and Mumbai. Since Amritsar falls on the National Highway it is well connected through daily bus services from Delhi, Chandigarh, Patiala, Ambala and Jammu which are run by both government and private bus operators. The Amritsar railway station is connected to most of the Indian cities such as Delhi, Mumbai, Agra, Kolkata, Hyderabad and Chandigarh making it easily accessible for visitors.
Things to do:
The Golden Temple in Amritsar is one of the most important places of pilgrimage for the Sikh community. It is surrounded by water on three sides as it is located in the middle of the Amrit Sarovar lake. What makes the Golden Temple special is that the dome of the temple is made of pure gold. The sight of the temple floating on the water is a treat to the eyes and is a must visit for anyone who comes to Amritsar!
Shopping enthusiasts must visit the Heritage Street in Amritsar which is not too far away from the Golden Temple. You can dive into a shopping spree as you will find a range of products starting from colourful juttis to lip-smacking kulfis!
You must visit the Jallianwala Bagh which is located at a walking distance from the Golden Temple. We have grown up reading about the Jallianwala Bagh in our history books, but the words do not justify the emotions that you experience when you visit this place. While you are here, you must also take a tour of the Partition Museum to get an enlightening glimpse of the history of the freedom struggle in the country.
When in Amritsar, you must also visit the Wagah Border where the Wagah-Attari border ceremony takes place. Here, you will witness a grand view of the routine parades that take place everyday filling you up with an immense sense of love and patriotism.
What to eat: When in Amritsar, the Amritsari kulchas are a must try! Dive into the extremely delicious makki di roti, sarson da saag, kulfis and faludas. Also, try out the refreshing lassi and a wholesome meal at the Golden Temple langar.
Srinagar, Jammu And Kashmir, For The Fall Foliage
Srinagar is beautiful throughout the year, but fall is a feast for the eyes and a photographer's delight when the leaves turn into a light show of golds, browns and shades of red that can only be found in Mother Nature. Leaves change color early fall due to shortened daylight and colder temperatures, typically beginning in October and continuing into early November, making it the ideal for a Diwali getaway.
How to reach : Best way to reach Srinagar is to fly to Srinagar International Airport. This airport is connected to the major Indian cities such as Leh, Jammu, Chandigarh, New Delhi and Mumbai. To reach Srinagar by train, one has to arrive at either Jammu Tawi or Udhampur railway station. The stations are well connected with different parts of India. From these stations, you can hire taxis, private as well as the state government buses to reach Srinagar.
Things to do:
Catch the fall foliage at the three Mughal gardens of Chesmashahi, Nishat and Shalimar where the terraced lawns transform into vibrant shades of yellow, orange, red, and more. The cascading fountains and panoramic views of the vast Dal Lake make it one of the Park's most photogenic times of year.
Sail on the Dal – Though it might seem like the most touristy thing to do, this is one cliché you want to follow, not just for the shikara experience but to view local life—morning markets on boats, floating farms and stores, gaily coloured rowboats—ferrying tourists around the lake.
Visit the beautiful Dachigam National Park located just 20 minutes from Srinagar to spot hangul (Kashmir stag), langur, and leopard located.
Plan for day-trips: A gondola ride in Gulmarg – cliche but is a rewarding experience just an hour and half from Srinagar; Head to Sonmarg for its magnificent glaciers and green meadows; Drive to Pahalgam, two hours from Srinagar, for the hiking trails and freshly caught trout. Stop and taste the apples from orchards along the road.
Shop for art and crafts, from Pashmina shawls to papier-mâché to copper engraved products, and from traditional apparel, handicrafts to woven carpets, as well as walnut-wood furniture, which can be shipped all over the world.
Check Out Our Quintessential Srinagar And the Kashmir Valley Travel Guide
What to eat: There's plenty on offer for meat-lovers and vegetarians alike, in the Kashmiri capital. For breakfast head to Bakeries in Srinagar and enjoy local breads like tsot, a small round bread topped with poppy and sesame seeds, Sheermal, baqerkhani, and kulcha amd wash these down with salted tea called sheer or noon chai or Kashmiri Kahwa. For lunch you can try a vegetarian thali comprising of gogji razmah (kidney beans with turnip), Chaman Kalia (paneer in yellow gravy), nadir palak (lotus stems cooked with Spinach or Radish), or dum olav (potatoes cooked in a thick yoghurt gravy). Haak saag, a Kashmiri leafy vegetable, is a must especially for the traditional Kashmiri Pandits. Ahdoos and Mughal Durbar on Shervani Road in Srinagar are good places to sample authentic Kashmiri food. For dinner, king's feast would mean trying the Wazwan featuring both vegetarian and non-vegetarian regional delights such as the classic rogan josh with succulent pieces of mutton, and gostaba, the lamb meatball curry. You could also dig into a delicious meal at one of Srinagar's many beautiful restaurants and cozy cafes.
Pushkar, Rajasthan, For The lights, Festive Vibes And Celebration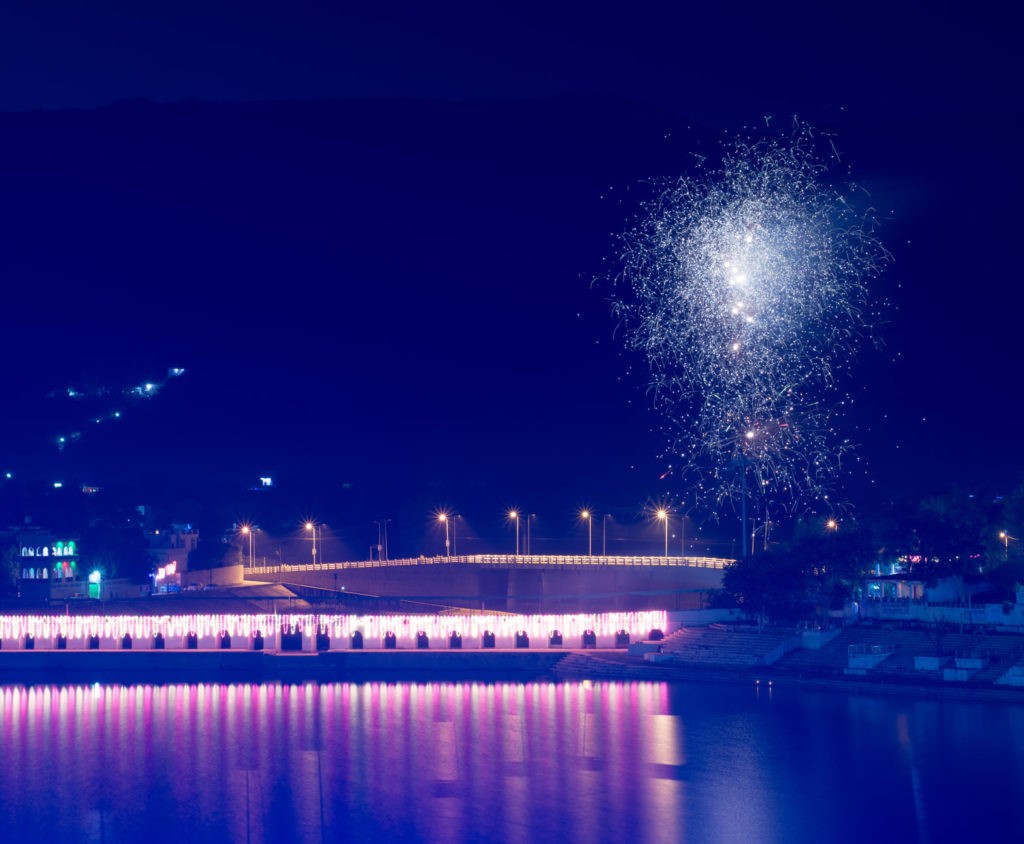 Located in the northwest of Ajmer, Pushkar is one of the oldest cities in the country. Pushkar in Rajasthan is a beautiful amalgamation of sand dunes, temples, hills and lakes making it a diverse place to explore. It has a rich mythological history with serene Ghats and temples as well as a wide range of street food to satiate your taste buds.
How to reach: The nearest airport to Pushkar is the Sanganer airport in Jaipur which is around 146 kms away from Pushkar. This airport is connected to most of the cities in the country such as Delhi, Mumbai, Jodhpur, Udaipur, Kolkata and Indore. The Ajmer junction is the nearest railway station which is around 11 kms away. Pushkar is also well connected by roadways as buses ply from the neighboring cities on a regular basis.
Things to do:
We recommend spending a night in Jaipur before heading to Pushkar. This year in the pink city, all the marketplaces will be lit up in shades of orange, green, blue and white in honour of India's 75th year of independence. Enjoy the festive vibes as you explore the city.
One of the most important places to visit in Pushkar is the Pushkar lake which also has been mentioned in many of the Hindu scriptures and had a rich history associated with it. The Pushkar lake has several Ghats and temples that you can explore and spend your time in!
If you are a camping enthusiast, Pushkar would not disappoint you. There are camping packages for you to avail in Pushkar where you can indulge in a great camping experience along with stargazing and bonfire. You can also enjoy camel rides at Pushkar for an unforgettable experience.
To indulge in shopping, you can head to Sharafa Bazaar, Kedalganj Bazaar, Baza Bazaar and Sadar Bazzar where you will find everything starting from textiles, handicraft items to souvenirs.
You can take a tour of the Savitri Temple in Pushkar where you will get a bird eye view of Pushkar. You can take the rope way that would take you across the Ratnagiri Hills or walk the steps for an unforgettable hike to reach the top. It is also a wonderful spot to watch the sunset!
If you are a yoga enthusiast, you would love to visit the Pushkar Yoga Garden for a therapeutic break. It is located in the Vamadev Road and is one of the most peaceful places to retreat and rejuvenate.
What to eat: Pushkar is one of the best places to explore street food. Try out the extremely delectable samosas, kachoris, malpuas, daal bati choorma, and the evergreen jalebis!
Ziro, Arunachal Pradesh, For The Love Of The Mountains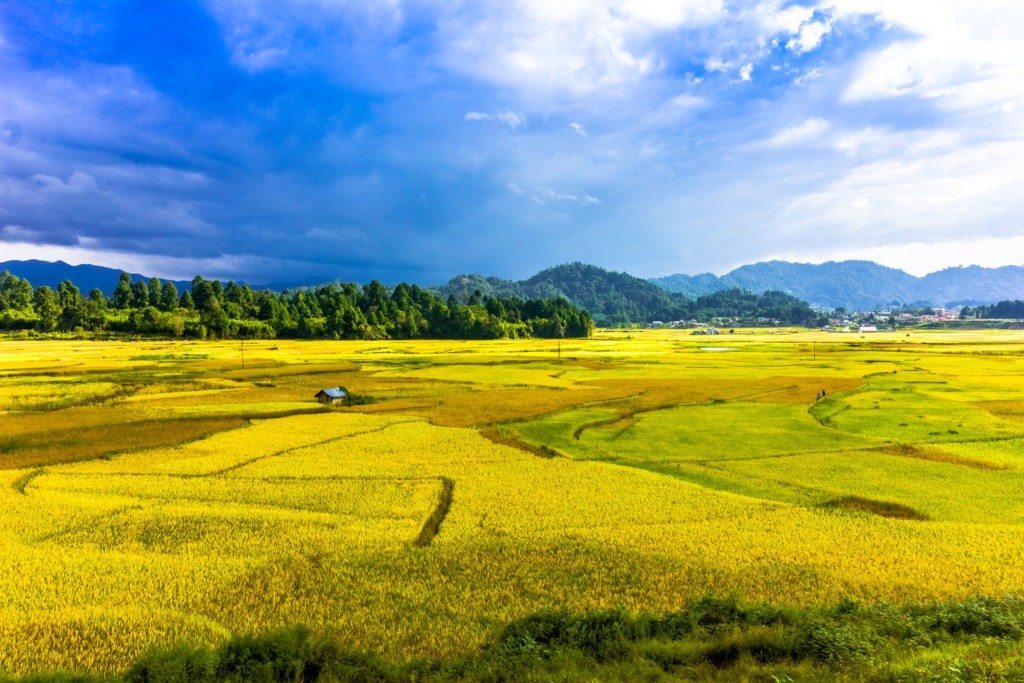 Ziro Valley in Arunachal is one of the most underrated places of tourism and is definitely worth exploring on your next weekend getaway. Set amidst the lush green paddy fields and surrounded by the beautiful Himalayan and the Patkai range of mountains, Ziro Valley is a delightful treat to the eyes. It is a marvelous place to visit if you are a Nature lover and an agriculture enthusiast. It also has several trekking trails to explore! So if you want a quiet Diwali, this should be your pick.
How to reach: The nearest airport to reach Ziro is located at Jorhat in Assam which is around 98 kms away. The nearest international airport is in Guwahati which is 449 kms away. The nearest railway stations are in Naharalagun and North Lakhimpur which are around 100 kms and 117 kms away respectively. From Guwahati, you can board the Naharalagun Express and then book a bus from Naharalagun to Itanagar. You can also avail taxi services to reach Ziro directly from Naharalagun.
Things to do:
Ziro Valley is filled with a large number of trekking trails. One of the most important destination is the Dolo Mando which gives you a panoramic view and a breath-taking sight of Ziro town adorned with lush green paddy fields. It is a very calm and peaceful hillock that attracts many tourists every year.
You can also take a tour of the Tarin Fish Farm which is a unique farm where fishes are incorporated in the paddy fields which facilitates agriculture as well as fishery. These paddy fields are surrounded by pine and bamboo trees making it a delightful sight to behold!
If you are a camping enthusiast, you can indulge in camping experiences near the Pange River basin. The Pange Valley hike is one of the most interesting hike that you can indulge in. It is a gateway to the Talle Valley Wildlife Sanctuary which is around 7-10 kms away from Ziro.
You can explore the Talle Valley Wildlife Sanctuary which is around 16 kms away from Ziro Valley. This wildlife sanctuary is a home of the Malayan giant squirrel, clouded leopard, Indian muntjac and many more species of fauna and flora.
What to eat: When in Ziro, do try out the traditional rice beer called apong, and rice with chicken or pork cooked with bamboo shoot!
Gokarna, Karnataka For The Love Of The Beaches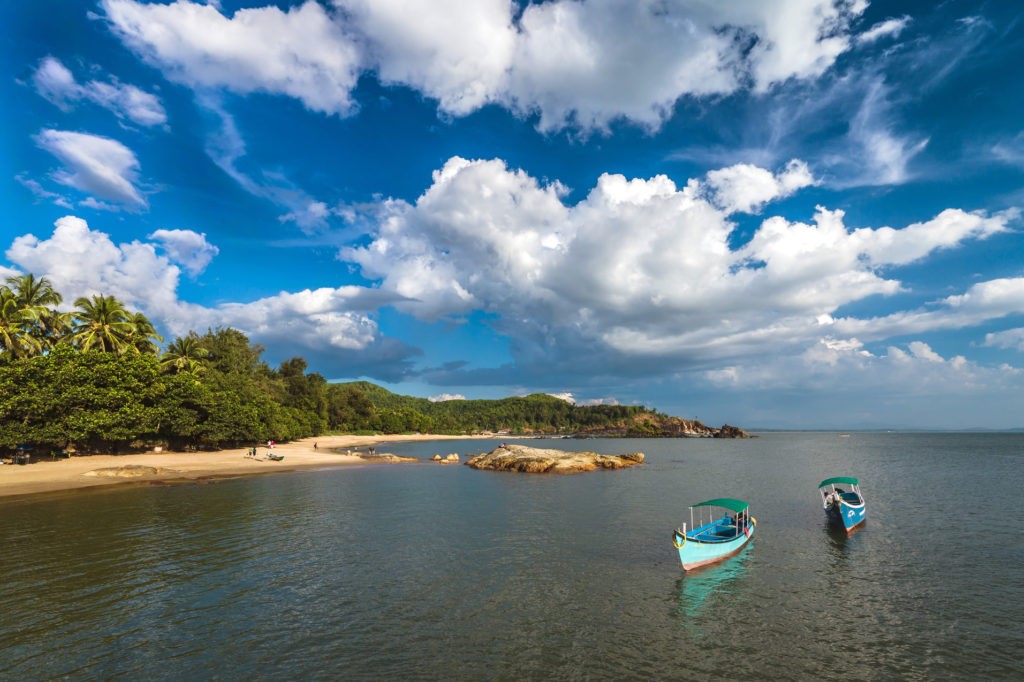 Gokarna is a temple town located in the western coast of India. Gokarna is best known for its beaches, so, if you are a beach lover, or if 'Netflix and Chill' is your idea of the perfect Diwali break, Gokarna is the place for you. Gokarna has many beautiful beaches and a wide range of water sport activities to offer. Therefore, it makes for a fulfilled and a relaxing weekend getaway destination at the same time!
How to reach: The nearest airport to Gokarna is the Dabolim airport in Goa around 140 kms away. There are taxis available outside the airport that would help you reach Gokarna with ease. The nearest railway station is located at Ankola which is 20 kms away from Gokarna. This railway station is connected to Mumbai, Mangalore and Thiruvananthapuram. You can also reach Gokarna by road from the neighbouring cities such as Mangalore, Bangalore and Hubli.
Things to do:
When in Gokarna, you can relax at the Om Beach which got its name due to its shape that resembles the symbol 'Om'. Here you can indulge in surfing, boating, parasailing as well as speedboat and banana boat rides at reasonable rates. It is a peaceful beach to lie down after a busy week and enjoy the serene waves of the sea.
You can also take a tour of the Paradise Beach, also known as the Full Moon Beach. The beach is rocky in nature with white sand. It is a wonderful beach to indulge in some peaceful swimming sessions. You can also hike to this beach via the Half Moon Beach which makes for a memorable hiking experience.
When in Gokarna, you can also take a tour of the Mahabaleshwar temple which is a home of a 6 feet tall Shiva Linga also known as the Atmalinga. The temple follows the Dravidian style of architecture and is a must visit site!
Camping is another activity that you can indulge in, in Gokarna. There are various packages that you can avail according to your requirements to have an unforgettable experience and make lasting memories.
Gokarna also has several flea markets to fill your shopping appetite. Here, you can find a variety of items such as bracelets and jewelleries made of seashells to second hand books and colourful dresses. You can also pick interesting souvenirs from these shops for your loved ones.
What to eat: Dive into the lip-smacking array of sea food and the artsy cafes by the beach that Gokarna has to offer!
Check Out Our Guide On The Best Way To Holiday In Karnataka
Photos : Shutterstock
For latest travel news and updates, food and drink journeys, restaurant features, and more, like us on Facebook or follow us on Instagram. Read more on Travel and Food Network
Trending on TFN
The 23 Best Places To Go In 2023
Explore Utah's Mighty 5® and What Lies in Between