Centered around a star-shaped lake, bounded by evergreen forests lies the beautiful crowned princess of hill stations- Kodaikanal. Mist-covered cliffs, pleasant climate, mesmerizing waterfalls, and serenity of the surroundings, Kodaikanal is a place right out of a fairytale.
From sampling the local cheese to stargazing, Kodaikanal is full of fun activities, serene views, and an ideal place to escape from the rigorous daily city life and connect with nature as you head out biking or on trekking trails through the vast forests of the town.
Here is our 72 guide to exploring the best of this spellbinding beauty of Tamil Nadu.
Places To Visit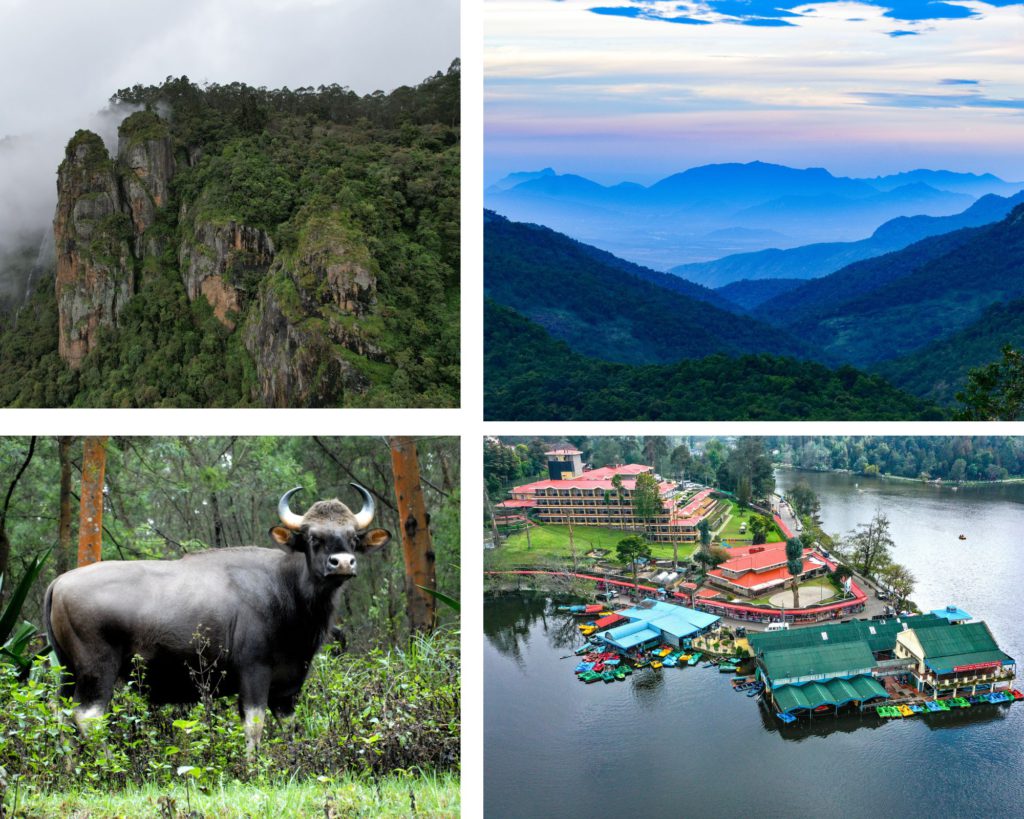 Kodaikanal Lake
This star-shaped lake is a manmade beauty in Kodaikanal. Also known as the Kodai Lake, it is surrounded by the lush green Palani Hills Range. It was developed by the British and early missionaries from the USA. It is a serene place to relax and enjoy breathtaking views while rowing or pedal boating
Dolphin's Lake
The Dolphin's Nose viewpoint is located on a flat, protruding piece of rock shaped like a dolphin's nose. It offers the best views of Kodaikanal's plunging valleys, rugged terrians, blue skies, and rolling hills.
Green Valley View
The Green Valley View is located at 5.5 km from the Kodaikanal Lake and offers a breathtaking view of Kodaikanal's plains, valleys, hills and surrounding areas. It also provides a mesmerizing view of the Vaigai Dam – an experience that will stay in your memory forever.
Bryant Park
For a fulfilled day with family, there's Bryant Park – a botanical garden spread over 20.5 acres with a wide variety of flowers and plants. Immerse yourself in the local heritage and culture and enjoy stunning views of the valley.
Bear Shola Falls
A popular picnic spot, this waterfall is a seasonal attraction that comes to life during the monsoons. Wrapped between the dense forests with the musical chirpings of birds, Bear Shola Falls is a haven for nature lovers. An interesting legend behind the name of these falls is that it was a favorite spot of a bear who used to visit this water body to drink water.
Thalaiyar Falls
Located on the lush green slopes of Palani Hills, Thalaiyar Falls is the highest waterfall in Tamil Nadu. To get the most beautiful view of the falls, go to the view tower at Dum Dum Rock.
Devil's Kitchen
A unique heritage site, the Devil's Kitchen is located on the outskirts of Kodaikanal. The place gained popularity after the blockbuster Tamil movie "Guna" starring Kamal Hasan was shot here in 1992. The group of caverns is located amidst the three huge boulders of Pillar Rocks.
Things To Do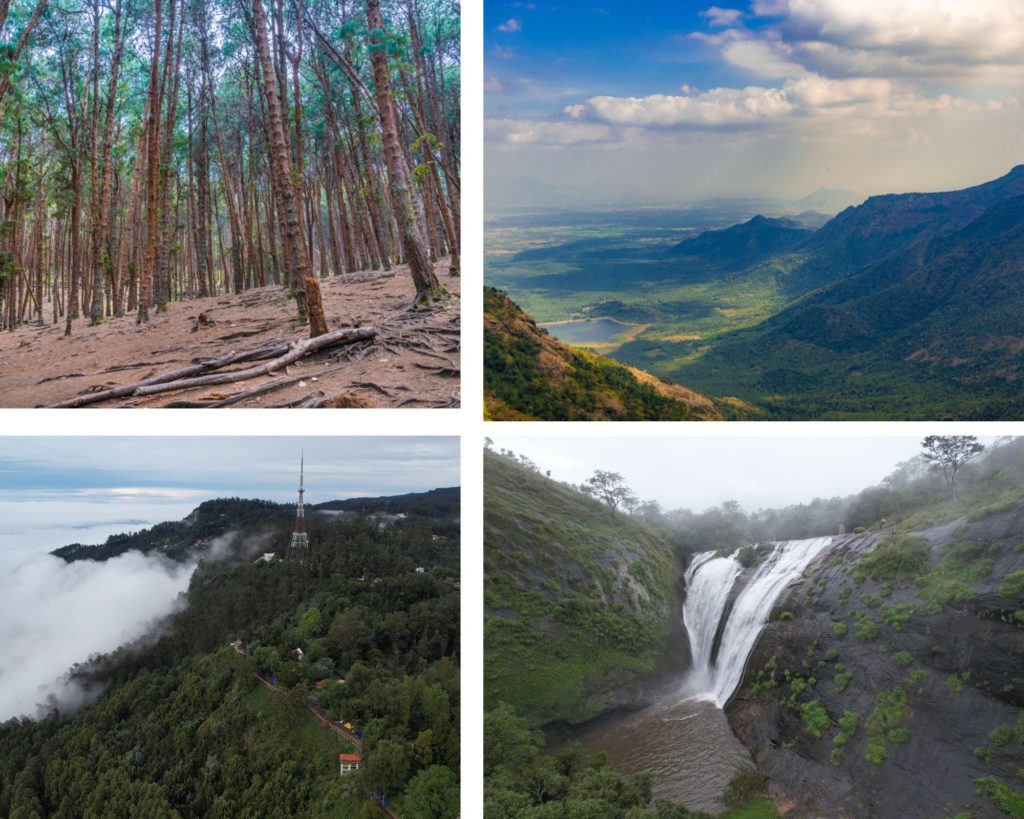 A Stroll At Coaker's Walk
Coakers Walk is a beautiful man-made walking plaza built in the mountains of Kodaikanal. The path curves by the edge of a gorgeous mountain and is ideal for morning or evening walks. You can also choose to bicycle at the scenic location. The sight is truly spectacular and makes one feel like they are almost walking in the clouds.
Picnic at Pillar Rocks
Constituting a beautiful mini garden, the Pillar Rocks have become a lovely picnic spot. The place is named so as it has three vertically positioned boulders reaching up to a height of 400 feet. The pillars are famous for providing a bird's eye view of nearby surroundings. You can relax your eyes and soul as you look over the high hill ranges and clear blue skies.
Kodai-Palani Trek
Kodaikanal is a destination for those seeking adventure. There are nearly 17 famous trails around the Kodaikanal hills, with Kodai-Palani being the most famous one.
Where To Eat
Whether it is local and traditional essentials like Dosas, idlis, Upma, Parota, Sambhar, Rasam, Payasam, Kesari, and Sweet Pongal or snacks like chocolates, sandwiches, brownies, cheeses, and some hot chai, you get it all in Kodaikanal.
Altaf's Café:
Altaf's is a booming restaurant offering Middle-Eastern and Italian cuisine. It is refreshing to dig into some baked potatoes, jam, and butter toast. You can also try the hummus platter with French fries, pita bread, and chickpea sauce.
Royal Tibet:
A popular outlet serving plates of piping hot momos, the Royal Tibet is flocked by people for takeaways and dine-in. Prices are affordable, the taste is authentic, and the ambience is great.
Hotel Astoria:
If you are a pure vegetarian, then this place is for you. Idli-vada plates are served with freshly prepared chutney, and steaming hot sambhar is their specialty. Other mouthwatering dishes on the menu are Paneer Masala, Dal Fry, Veg curry, Gobi Masala, and more.
Cloud Street: With a wood oven and grill, the place serves the most deliciously baked items, grilled meat, wood-fired pizzas and hearty pastas.
Ten Degrees: This fusion restaurant offers quality contemporary and international cuisine. Each dish is an experience that is par excellence. Some of the signature dishes include wasabi coated prawns, lemon, Tres Leches cake and the chocolate-orange mousse.
Best Time To Visit
The ideal months to visit Kodaikanal are October through June. If you want to go hiking, plan your vacation to Kodaikanal between October and February.
To know more visit Tamil Nadu Tourism's official website.
In Partnership with Tamil Nadu Tourism
For the latest travel news and updates, food and drink journeys, restaurant features, and more, like us on Facebook or follow us on Instagram. Read more on Travel and Food Network
Related Coverage
In Photos | 5 Incredible UNESCO Heritage Sights to Visit in Tamil Nadu
10 Must-Visit Waterfalls in Tamil Nadu
4 Destinations In Tamil Nadu For A Perfect Holiday