Feature Image: © 2022 Warner Bros. Entertainment Inc and © Universal Studios. All Rights Reserved.
Coming to theaters this Friday, the long-awaited releases of Greta Gerwig's 'Barbie' and Christopher Nolan's 'Oppenheimer' are putting an end to a year-long online frenzy that playfully pitted the two films against each other. Surprisingly, despite their striking contrasts, they've come together to create an intriguing double feature called 'Barbenheimer.'
But where was Oppenheimer and Barbie filmed? And can you visit? Here are all of the filming locations we know so far.
Barbie Filming Locations
Barbie was filmed in two locations: California and Hertfordshire. While the sunny California setting makes perfect sense, you might be surprised to learn that Barbieland was brought to life in Hertfordshire as a CGI wonderland, specifically created at Warner Bros. Studios in Leavesden.
The film boasts an impressive ensemble cast led by Margot Robbie and Ryan Gosling. Although the movie's specifics remain largely under wraps, the cast has been spotted in various locations worldwide during the production, which took place from March to July 2022. Here's a rundown of the known Barbie filming locations so far.
Los Angeles: In June 2022, Margot Robbie and Ryan Gosling were seen filming in Los Angeles, both donning matching bleach blonde hair, white heeled cowboy boots, and white cowboy hats, accompanied by adorable western-style outfits. Robbie's Barbie wore pink, while Gosling's Ken sported black attire.
Venice Beach: Continuing in LA, Robbie and Gosling filmed scenes for Barbie at Venice Beach. This time, they wore matching neon psychedelic roller skating outfits, complete with visors, neon yellow skates, elbow, and knee pads.
Venice Beach Skate Park: The Venice Beach Skate Park was used as a notable location for filming some of the skate scenes.
Warner Bros. Studios, Leavesden, UK: While the Barbie Malibu DreamHouse is an actual location, the film version is not. Principal photography for the Barbieland scenes took place at Warner Bros.'s Hertfordshire studios in March 2022. Given Barbie's expulsion from "Barbieland," extensive set and CGI work were involved in the film's production, making it an inaccessible location to visit.
However, it's worth noting that the hot pink houses in the movie drew inspiration from Palm Springs, particularly the 1946 Kaufmann House, known for its appearance in the Palm Springs flick, "Don't Worry Darling." So, if you're a fan of that iconic place, Palm Springs is still a travel destination you can visit.
Oppenheimer Filming Locations
Christopher Nolan's biographical thriller film, Oppenheimer, was predominantly filmed in Los Alamos, New Mexico. Other filming locations included California, New Jersey, and various sites within New Mexico.
Los Alamos, New Mexico, played a significant role in the film, as it was the town where the atomic bomb was developed and first detonated during the Manhattan Project. A purpose-built 1940s-style town was constructed in Los Alamos for the filming of Oppenheimer's scenes. Additionally, several authentic Manhattan Project-era locations were used for filming, including the Civilian Women's Dormitory, the Lamy Train Station, and Fuller Lodge. Oppenheimer's real family home in Los Alamos was also used for filming, where he lived with his family while working on the project.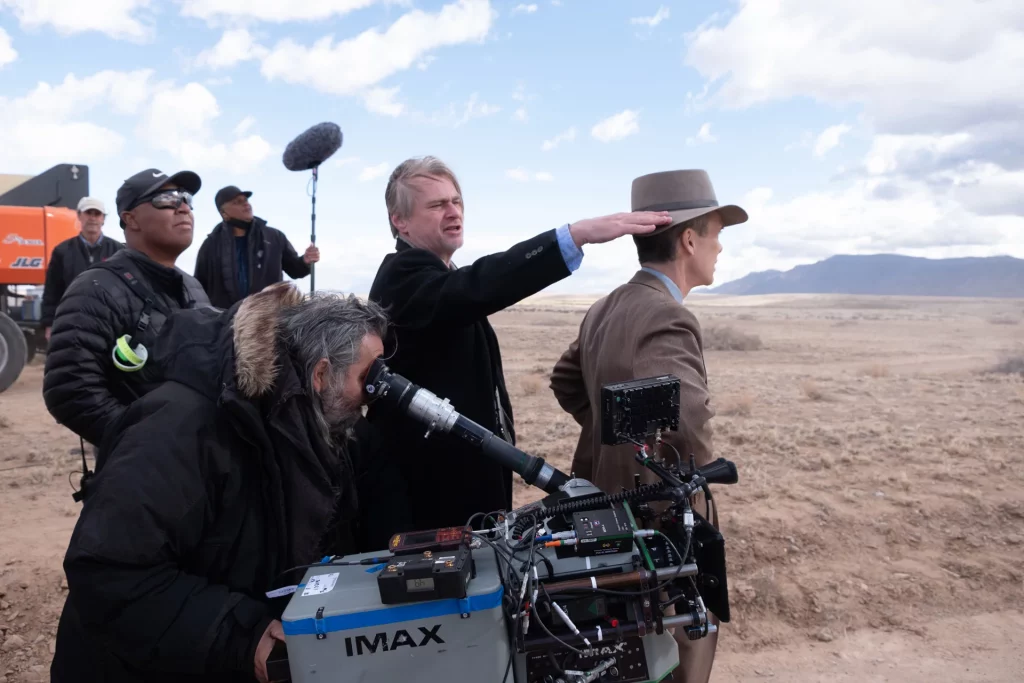 The University of California, Berkeley, where Oppenheimer worked as a professor from 1929 to 1943, served as another filming location. The production team meticulously recreated the campus to resemble its 1940s appearance, and filming took place in various locations, such as Oppenheimer's actual office, the library (with lampposts redesigned to reflect the 1940s), and Edwards Stadium, the university's football and athletics stadium.
Likewise, the University of California, Los Angeles (UCLA), was reportedly used for some of the filming.
A house in Sierra Madre, California, dating back to 1904, was also utilized for filming. The upstairs bedroom of the house, as well as the living room and half-acre of property land, were used. This house is a designated historical landmark and was recently listed for sale at $3.188 million.
The Institute for Advanced Study in Princeton, New Jersey, played a significant role in Oppenheimer's post-WWII life when he became its director. Both the Institute for Advanced Study and Princeton University campuses were used for filming, along with other locations throughout New Jersey.
For latest travel news and updates, food and drink journeys, restaurant features, and more, like us on Facebook or follow us on Instagram. Read more on Travel and Food Network
Trending on TFN
The 23 Best Places To Go In 2023
Explore Utah's Mighty 5® and What Lies in Between
Five Epic U.S. National Parks To Visit This Year