The Best Places to Eat, Sleep and Sightsee on a Family Holiday
From colonial mansions to glass-walled brasseries, prime real estate rims Sydney Harbour, all competing for a glimpse of the water. From the iconic Opera House to the massive Harbour Bridge, and from buzzing Darling Harbour to the gorgeous beaches of Bondi and Manly—there is plenty of sightseeing to do. Here is a three-day itinerary in Australia's most famous city.
Must See and Must Do
Sydney Opera House: First on the list, is this world-famous attraction of Sydney located on Bennelong Point. The landmark Opera House is built on a narrow stretch of land surrounded by water. It is also a UNESCO World Heritage Site. You can take a full guided tour into the building, its history, rooms, halls and even backstage where the performers gather before the show. A trip is Sydney is incomplete without visiting the Opera show (tickets from around AUD45/₹2,224 for adults; cheaper for children depending on the show)
Sydney Harbour Bridge: Right next to the Opera House is the famous Harbour Bridge, affectionately known as the Coat Hanger because of its shape. Adrenaline rush-seekers might consider the Bridge Climb: an activity that involves climbing on top of the Harbour Bridge in a harness. This iconic landmark connects North Shore Sydney with the CBD (central business district). Sydney's famous bridge opened to the public on 19 March 1932. On that day, an estimated one million people crossed the bridge on trains, trams, cars, on foot and on horses. Since the opening it has become the popular portrait of Sydney along with the Sydney Harbour and the Opera house. It is also the largest steel arch bridge in the world.
Circular Quay: Situated on the harbour, Circular Quay serves as the main ferry terminal of the city and is a buzzing place. As all the harbour cruises embark from here, it has a lot of cafes, restaurants, and tiny shops and even street performers who dazzle the tourists with their performances. Seafood lovers can hop on a ferry headed toward Watsons Bay for a meal of fish and chips at the famous Doyle's on the Beach. You can also catch a ferry from Circular Quay to Cockatoo Island, Sydney's favourite harbour island since the former prison and dockyards opened to the public. Tour the heritage buildings, attend a concert or art exhibition, or visit the Island Bar, which is constructed from recycled shipping containers.
Alternatively, the classic ferry ride to the surf beach at Manly cruises the length of Sydney Harbour before docking at Manly Wharf. Swim, sign up for a surfing lesson, or leave the crowds and rent a kayak next to the wharf. Paddle around Manly Cove's forested headlands to the secluded inlets and sheltered beaches of Sydney Harbour National Park
The Rocks: The Rocks is a famous Sydney neighbourhood, which extends into the Sydney Harbour. Here, you will find yourself discover new things one after the other. The locality is one of the oldest in Sydney and is a favourite among locals as well. From historical buildings to cafes and restaurants, the locality's streets are lined with souvenir shops and market stalls. You can hop over to Museum of Contemporary Art nearby, to look at some thought-provoking exhibitions (entry free). From here, walk into the beautiful, leafy Royal Botanic Garden. From the Botanic Gardens keep following the signs towards the Domain, to reach the Art Gallery of NSW, one of the most popular art museums in the country. During January and February, you can go to the adjacent St. George's Open Air Cinema where your screen is set against the backdrop of the Opera House and Harbour Bridge after sunset. It's an experience not to be missed.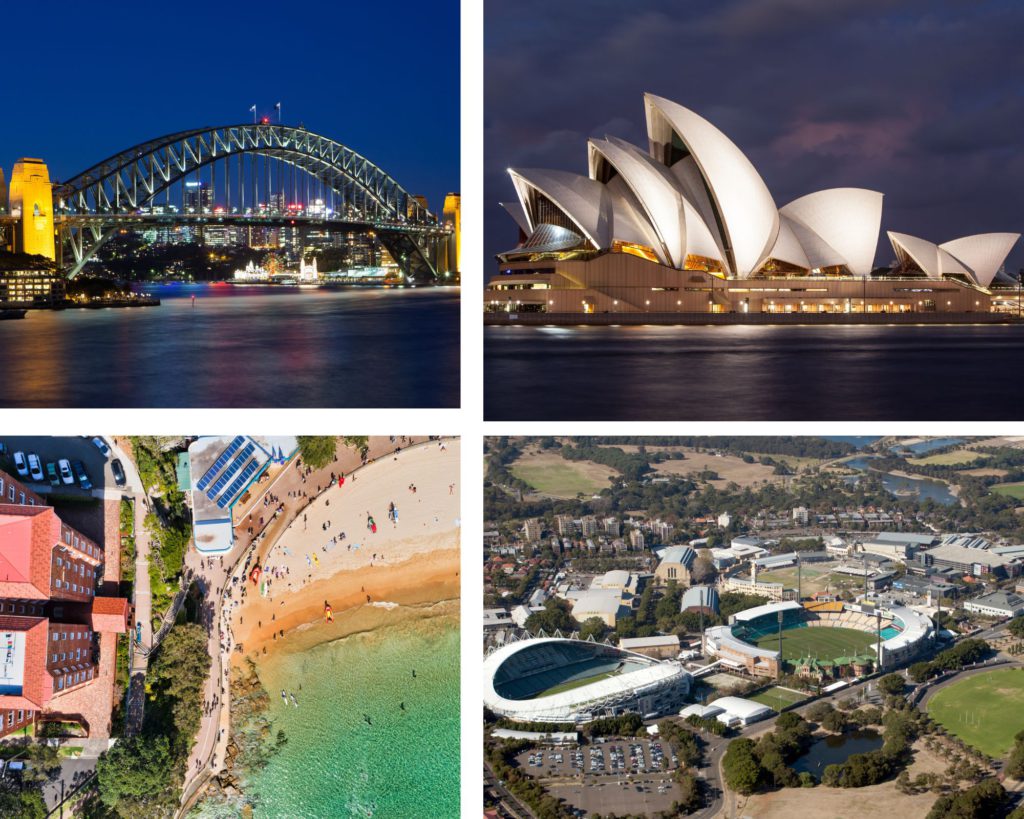 Bondi Beach: Sydney is known for its beaches and none is more popular than Bondi. It attracts hordes of people every year, and is a great place for relaxing, swimming, surfing and playing volleyball. As one of the oldest beaches in the country and an Australian Natural Heritage site, Bondi Beach will offer you everything you need for a beach getaway. Also highly recommended is the six-kilometre Bondi-Coogee coastal walk. The two beaches are connected by a beautiful cliff path overlooking the water, with gorgeous views of the beach, parks, and cliffs. The walk itself is not too difficult, and takes about two hours to complete. There are many spots and cafés to stop at, catch your breath, and soak in the area's natural beauty.
Sydney Cricket Ground & Museum: Cricket holds an important place in Australian culture. For an insight into this national and international obsession head to Sydney Cricket Ground. The SCG Tour is a fun and fascinating 90-minute guided walking tour of the Sydney Cricket Ground where you get to journey behind the scenes and take in the splendour of the architecture, heritage and ambiance of this world-famous sporting precinct. Nestled alongside the heritage-listed Sydney Cricket Ground Members Pavilion, beneath the Ladies Stand, the SCG Museum is dedicated to the unique sporting and social activities that have occurred in the precinct since the 1850s and is accessible as part of the dynamic SCG Tour Experience

China Town: Sydney's Chinatown is a tourist hotspot. It is famous among locals and tourists alike who flock here to taste authentic Chinese cuisine, shop and absorb the culture. It draws many visitors every day. It is also a great place to experience the Chinese New Year which usually falls in January or February.
The Blue Mountains: The Blue Mountains, located around 2 hours from Sydney, get their name from the natural blue haze created by the numerous eucalypt forests in this World Heritage Area. The tiny droplets of oil released from the trees mix with water vapour and sunlight to produce the beautiful colour. View the Three Sisters rock formation from here. The Three Sisters are an icon of the Blue Mountains and they attract many visitors due to their intriguing landscape.
Leura: Around 100 km from Sydney is this charming village, Leura. It is hailed as the 'jewel in the crown' of the Blue Mountains. It is renowned for stunning bush-walks, small-town charm and nineteenth-century cottages and gorgeous gardens. It is a great place to escape from the busy city life.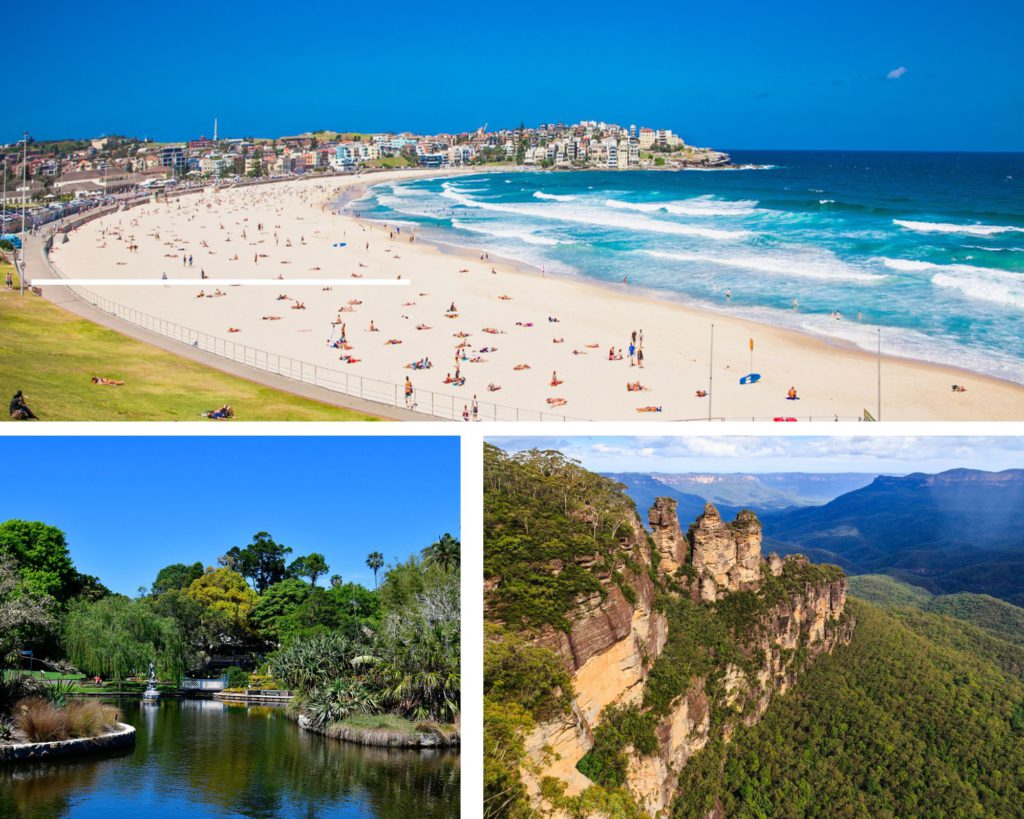 Must Eats:
Barramundi: Barramundi is a quintessential Australian fish that's served all across the country but is particularly common in Sydney. It is Native to Australia and the Indo-Pacific and is a hardy species. They are high in heart-healthy Omega-3 fatty acids and are a great source of lean protein with a gentle flavour and a toothsome texture. The taste and texture is very similar to the Bhetki fish, a Bengali favourite.
Lamington Cake: This local delicacy is considered by many to be the national cake of the country. The lamington is a moist, sweet sponge cake that is soaked in rich chocolate sauce and rolled in flaky coconut. They can be found at many bakeries, each one serving theirs with creative twists on the classic recipe.
Potato Cake: The fried potato cake is a common staple that is loved by all Australians. It has a rich, crispy outer shell and a soft, airy inside. The mild flavours of the fried potato pair well with a variety of other staples like smoked salmon, eggs or avocado.
Pies: What started out as being popular in the old days with miners and farmers and anybody who could not leave work for a meal, is today one of the most iconic dishes in Australia with Australians eating an estimated 270 million meat pies every year. The pies consist of diced or minced meat, Worcestershire sauce, onions, mushrooms, cheese, and eggs covered in pastry sheets and baked to perfection,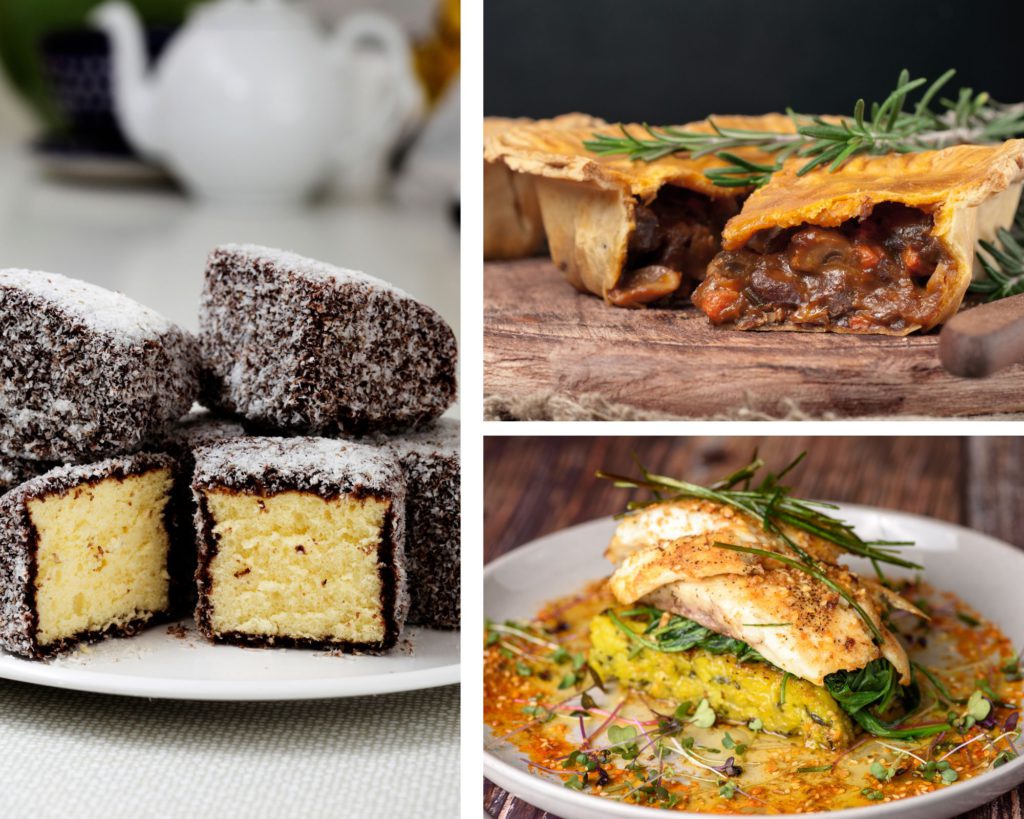 Restaurants for Local food
Icebergs Dining Room & Bar: Icebergs is the best restaurant with a view in Sydney. It overlooks the Bondi Beach and the Icebergs Sea pool below so you can get a white-tablecloth experience with a stunning view of Sydney's great icons. The food serves is Australian-Italian and most of the menu is composed of seafood. The best time to come here is for lunch as you can see the view, or for a cocktail as the sun goes down.
Address: 1 Notts Ave, Bondi Beach NSW 2026, Australia
Quay: This supreme fine diner located in The Rocks serves Australian food and gives a world-class culinary experience in almost every respect. The staff is suitably informed and generous, the drink menu extensive, the set-pieces timed to the second.
Address: Overseas Passenger Terminal, The Rocks, Sydney 2000
Restaurants for International food
Shuk: This corner store in the back streets of Bondi serves Middle Eastern cuisine. From salads to shakshuka, and the hummus with minced lamb, everything on the menu tastes heavenly. They also have two other branches in the suburbs of Chatswood and Elizabeth Bay if you ever find yourself outside the city.
Address: 2 Mitchell St, North Bondi NSW 2026 or 61-69 Roslyn Gardens, Elizabeth Bay NSW 2011
Emma's Snack Bar: Located in the back streets of Enmore, this family-run business where Emma herself bakes and uses the freshest ingredients to serves home-baked Lebanese street food.
Address: 59 Liberty St, Enmore, Sydney, NSW 2042
Mamak: The dinner queue outside this powerhouse of flavor, never gets shorter. No matter how many people go inside, the same number of people turn up to replace them. This shows how delicious and mouth-watering their menu is. Mamak is a perfect place to stop in and chow down before you head somewhere. It serves Malaysian comfort food. The flavors are short and sweet, with the perfect balance of spices and is delicious.
Address: 15 Goulburn St, Sydney, NSW, Australia, New South Wales
Vegan Cafes
Bad Hombres: This full vegan restaurant, which started as a venture for Mexican Chinese fusion food, serves snacks and booze, and is great for a brunch or a late night snack. Try the quesadilla with kale and zucchini flower with the right amount of chili and the extra limey guacamole.
Address: 40 Reservoir St, Surry Hills NSW 2010


Yulli's: This long-standing vegetarian eatery on Crown Street has a dedicated and expansive vegan menu as well, including vegan wines. Order the coconut and edamame moneybags for crunchy parcels densely packed with shredded coconut and mashed soy beans which are so delicious, you will want to visit a second time. Along with it you can order flash-fried asparagus with black sesame dressing, tomato slices, pine nuts and tempura saltbush.
Address: 417 Crown St, Surry Hills NSW 2010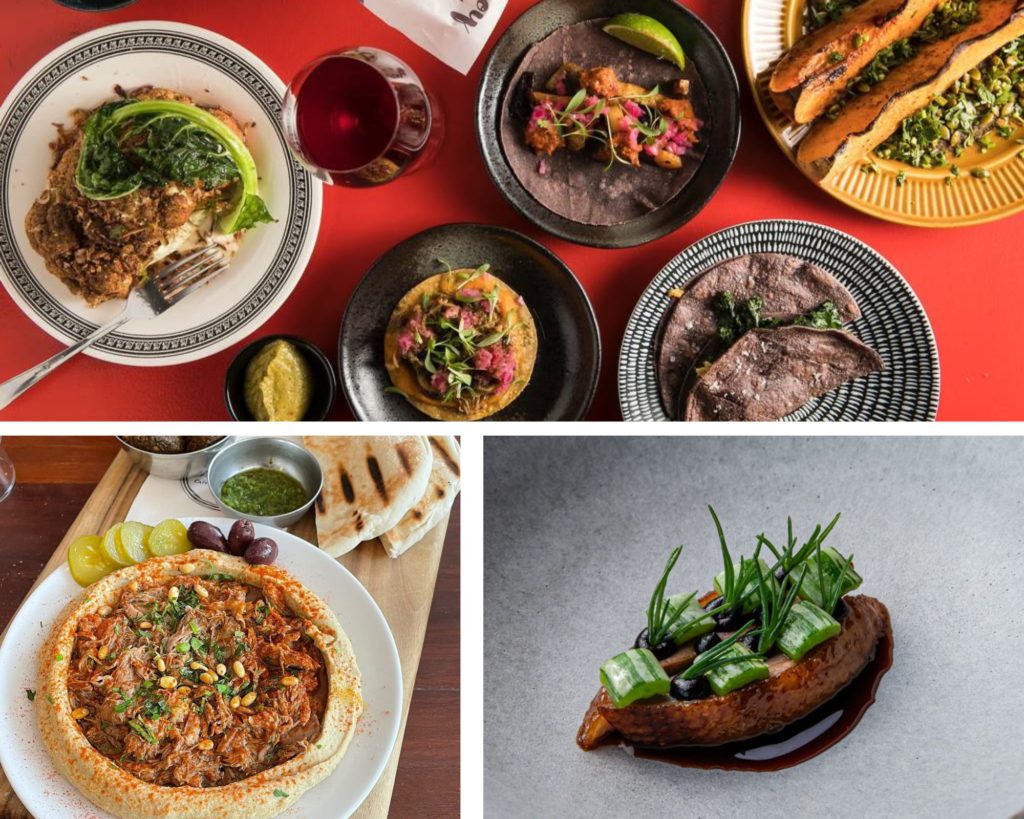 Shopping:
Back in the city, if you are ready for some shopping, walk straight from Circular Quay on Pitt Street to Pitt Street Mall, 15 minutes away. There are multiple shopping centres here such as Myers, Westfield, or Midcity, selling clothes, bags, shoes, accessories, and housewares. Another good place to shop is the heritage Queen Victoria Building (QVB), a five-minute walk from Pitt Street Mall. It is a pleasure to browse through and also has great designer stores.
How to get there: Flights are connected to Sydney from all major airports in India, though there are no direct flights from any of these. Sydney's international airport, the Sydney Kingsford Smith International Airport is connected to almost all the counties of the world. Domestically, Sydney can be reached from other regional capital airports.
For latest travel news and updates, food and drink journeys, restaurant features, and more, like us on Facebook or follow us on Instagram. Read more on Travel and Food Network
Trending on TFN
FIFA 2022: 72 Hours in Doha | Travel and Food Guide
72 Hours in Al Khor, Qatar | Travel & Food Guide
Explore Utah's Mighty 5® and What Lies in Between