Photo Credit: Gensler
A guide to the best food and restaurant options at San Francisco International Airport (SFO) Terminal 2
Welcome to TFN Airport Dining a recurring feature in which we highlight firsthand accounts and reviews of the premier dining selections at the world's busiest airports.
SFO Terminal 2, previously referred to as the Central Terminal, serves as a domestic hub for both departing and arriving flights, with a primary focus on American Airlines and Virgin America routes to various U.S. cities.
With a capacity to accommodate more than 5.5 million passengers annually, Terminal 2 boasts an extensive retail and concessions zone, a gourmet marketplace, and even a spa.
San Francisco Terminal 2 places a strong emphasis on sustainability, incorporating eco-friendly elements such as paperless ticketing and designated parking for hybrid vehicles. Additionally, travelers can indulge in wholesome cuisine sourced from local producers.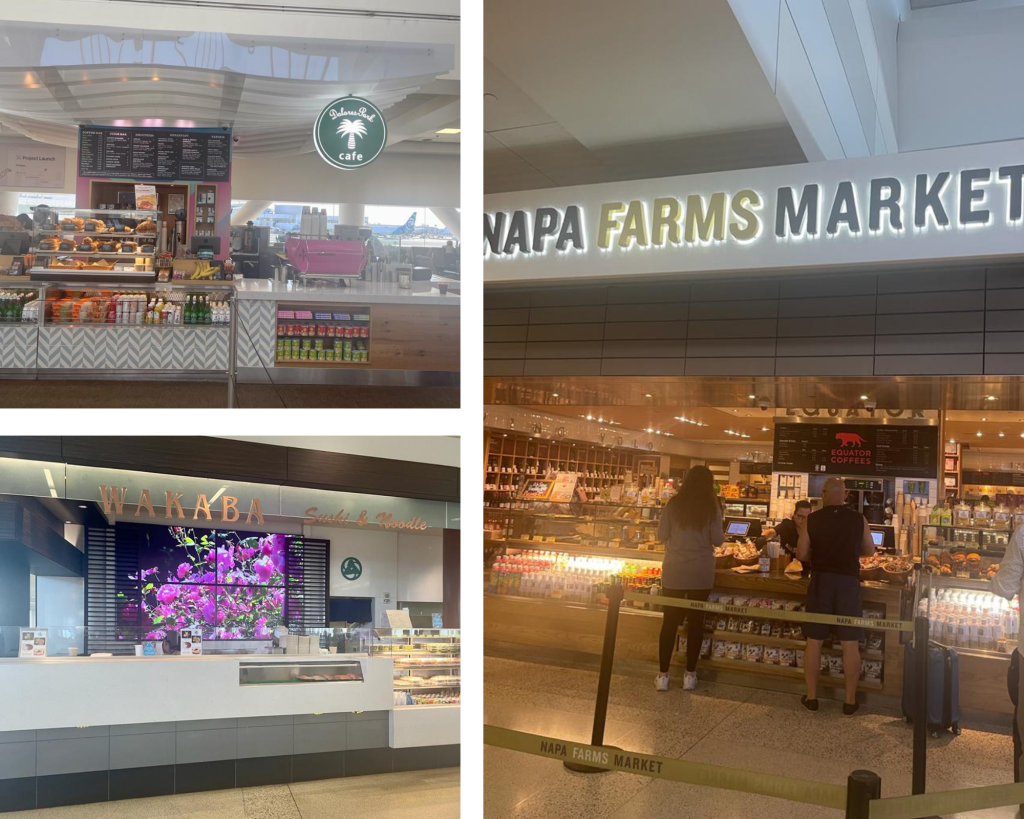 Napa Farms Market (D Gates, Retail Street): This Tyler Florence-endorsed takeout establishment offers an extensive range of delectable pizza and rotisserie options. However, the ultimate insider's tip is to assemble your very own mini-picnic featuring Acme bread, Cowgirl Creamery cheese, Tout Sweet pastries, and a selection from the local microbrewery. Furthermore, it serves as a convenient stop for last-minute Bay Area culinary gifts, including wines. And for international travelers, there's even more good news: Napa Farms has expanded its presence to the International Terminal.
Sweet Maple (D Gates, Retail Street): This one is a personal favourite and is one of those breakfast places that I want to come home to over and over again. And they have a glorious menu that is full of great dishes from their famous Millionaire's Bacon, to Fish and Chips, Potato Medley, Eggs Benedict, Maple Plates, Morning Pizzas, Vermont Cheeseburgers, Waldorf Wasabi Salads, Bulgogi Rib Eye and more. They have a good selection of beverages including my all time favourite – Bloody Mary.
Must Read: 72 Hours in San Francisco | Travel and Food Guide
Lark Creek (D Gates, Near Gate D1): This restaurant offers a comprehensive dining experience, showcasing a menu that includes seafood, steak, salads, sandwiches, burgers and a variety of breakfast options. They also feature a well-stocked bar with a selection of beers and wines available on tap.
Dolores Park Cafe (Near Gate C5): This cafe offers a menu filled with American classics, including grab-and-go options such as sandwiches, salads, pastries, drip coffee, and juices. Additionally, they provide a variety of smoothies, breakfast items, paninis, and even have a selection of vegan choices.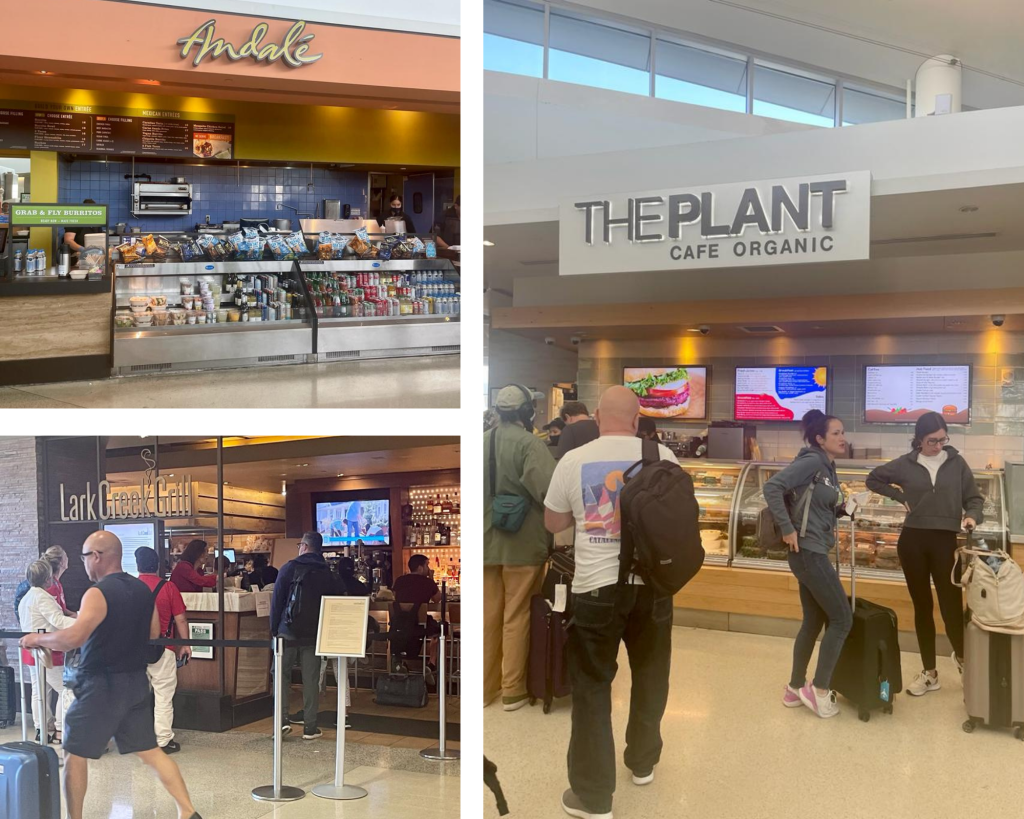 Andale (D Gates, Near Gate D16): If you're craving Mexican cuisine, consider visiting Andale, a straightforward restaurant with a bar. Passengers have the option to enjoy their meal on-site or savor a cold beer. Don't miss out on their tantalizing offerings, such as the Grilled Chicken Quesadilla, featuring a delectable blend of melted jack and cheddar cheese, guacamole, tomatoes, onions, chiles, sour cream, and romaine lettuce all nestled within a toasted flour tortilla. Additionally, their menu boasts mouthwatering burritos, as well as Grilled Fajitas – a delightful combination of grilled chicken and steak served with slow-cooked Mayocoba beans, Mexican rice, guacamole, pico de gallo (salsa), sour cream, and corn tortillas.
Wakaba (D Gates, Near Gate D9): Wakaba, a family-owned restaurant in San Francisco led by Kimiko Hattori and her son Hiroyuki Hattori, is your go-to destination for genuine, top-notch Japanese cuisine served promptly. Their specialties include made-to-order cuisine-grade sushi, flavorful noodles, mouthwatering teriyaki dishes, and delectable bento boxes.
The Plant Café Organic (D Gates, Near Gate D4): This is a haven for travelers seeking fresh, locally-sourced food that's not only delicious but also packed with wholesome goodness. They are one of the few restaurants fully committed to using 100% organic ingredients. Their cuisine, a blend of contemporary California flavors with Asian-inspired touches, caters to a diverse range of tastes, appealing to vegans, vegetarians, and meat enthusiasts alike. Whether you're in the mood for rejuvenating juices, crisp salads, hearty grains, satisfying sandwiches, mouthwatering burgers, or flavorful barbeque, The Plant Café Organic ensures that every traveler's cravings are met.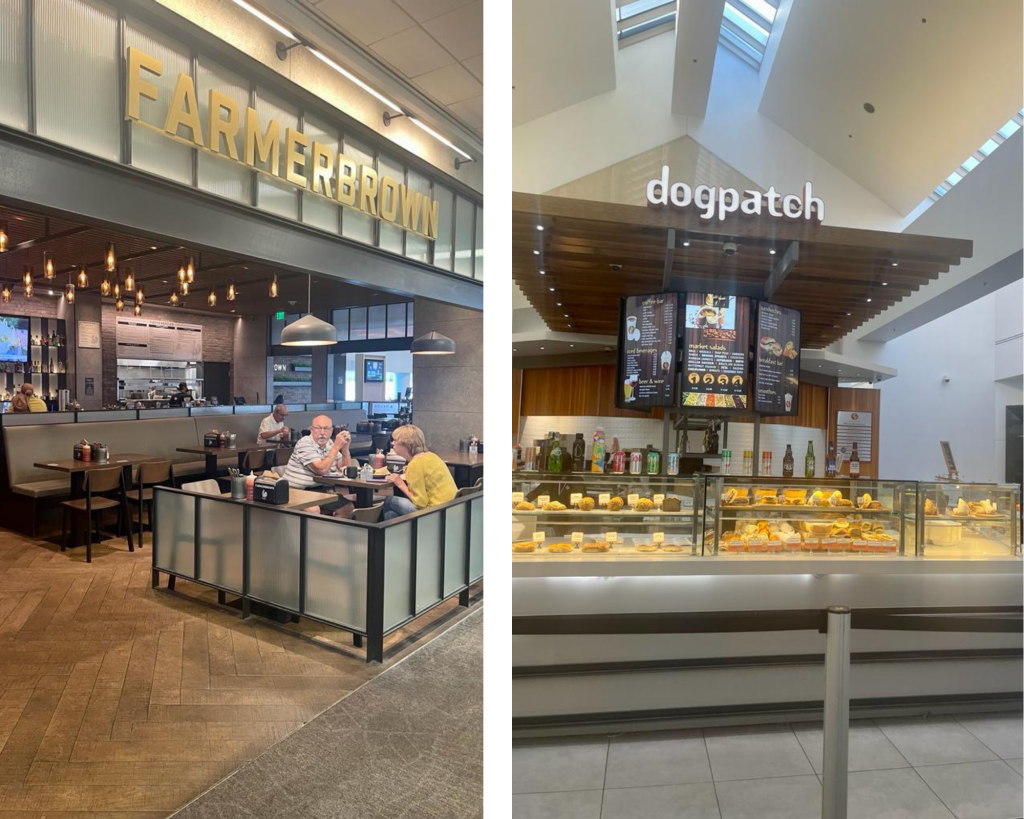 Farmer Brown (Near Gate C4): Tenderloin soul food spot Farmerbrown's Chef focused southern comfort food menu features fresh local ingredients, including chicken and waffles and seasonal veggie jambalaya, along with a full bar cocktails. Be sure to savor their crispy fried chicken, delectable catfish sandwiches, and refreshing whiskey sours.
Dogpatch Bakehouse & Caffè (Near Gate C7): Visit for their Espresso, breakfast options, salads, sandwiches, and pastries, plus beer and wine.
Some additional dining options available after passing through security at Terminal 2 of San Francisco International Airport (SFO) are: Burger Joint for Ranch burgers, chicken burgers, veggie burgers; Cat Cora – full cocktail bar, wine, beer and a diverse small plate menu; Peet's Coffee for specialty coffee and tea, pastries, sandwiches and salads; and Vino Volo – a wine bar with wine tasting, bottled wine and small food plates.
Trending on TFN
The 23 Best Places To Go In 2023
Explore Utah's Mighty 5® and What Lies in Between
Five Epic U.S. National Parks To Visit This Year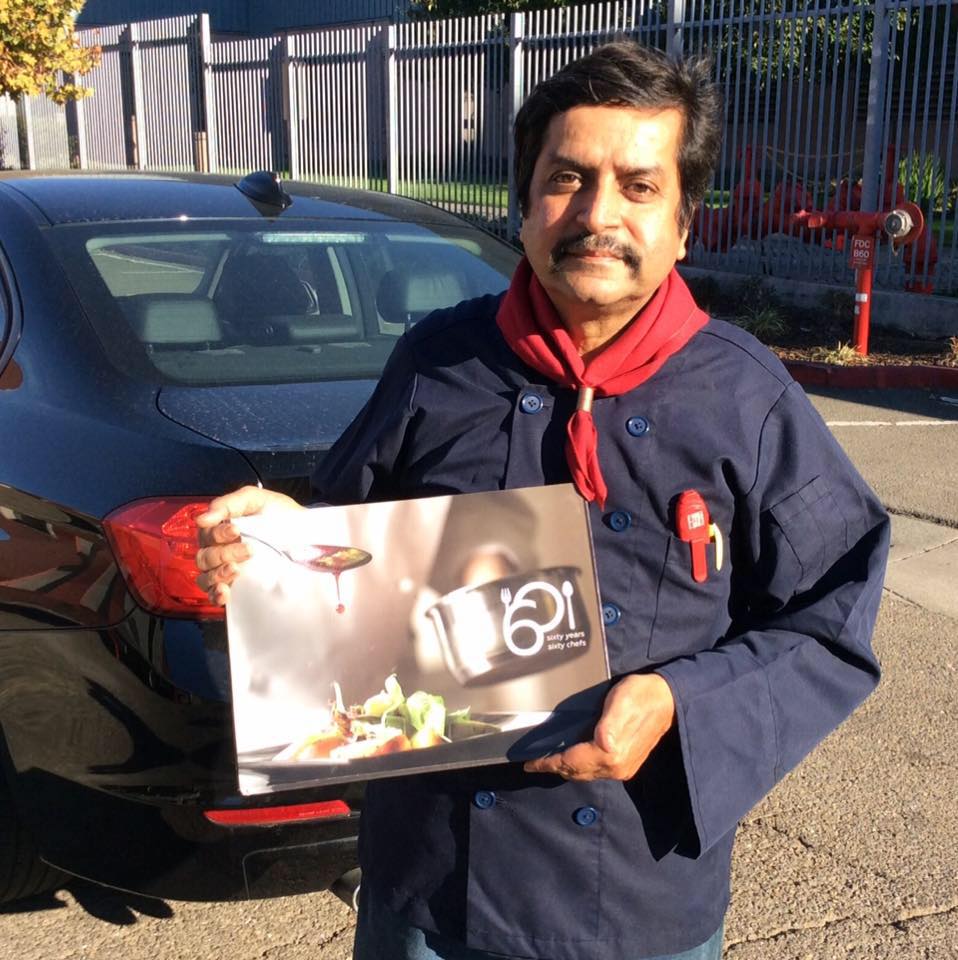 Manoj Chopra or "Chops" as he is known to his friends and colleagues is a chef, restaurateur, and hotelier, and has had the joy and satisfaction of cooking, serving and watching people enjoy his food for over 40 years! As a 'Punjab da puttar', the joy of hearty, home cooked food is in the genes; all he had to do was to live up to it! Manoj Chopra's  journey has been fascinating, to say the least, and from cooking a meal for one of India's most famous leaders to a stint in Baghdad, to setting up a hotel in Mumbai to starting an Indian restaurant in San Francisco, "Chops" has done it all and more.
Manoj  lives in New York and is a Food Columnist with Travel and Food Network! Sharing his experience and knowledge is something he is hugely passionate about and to be part of the Travel and Food Network "community" gives him a chance to do just that.