From hip bakehouses to earth-friendly cafes, farm-to-fork cuisine and a host of new menus, here's the lowdown on where to eat this month
Photo: Loya, Bengaluru
If you're looking forward to stepping out for a meal this September, check out these new restaurants that you can opt for. With varied cuisine and beautiful ambience, these places will definitely capture your hearts!
MUMBAI
Baliboo
From the folks behind @blabberallday comes a new Bali-Inspired restaurant in Mumbai. Baliboo in Goregaon carries Bali-inspired aesthetics with pastel prints, soft lighting, and high ceilings add to the tropical feel. While the interiors—play off muted and minimal tones, the menu is anything but. Here, diners can enjoy a variety of Asian, Indian and fusion delicacies. We tried the Mustard Fish Tikka, Crispy Lamb Stir Fry, Chettinad Prawns, Crispy Lotus Stem, Shitake Mushroom Croquettes, California Rolls and Black Pepper Paneer with Edamame Fried Rice. Each dish was perfectly executed and delicious. Baliboo serves up cocktails – and serves them well. There's a range of gin-based, whisky-based and rum-based cocktails, infused with citrus, and other distinct flavours. But what we especially appreciated was their unique choice of mocktails, some of which had unusual flavour combinations. Whether it's a group outing with friends, a cosy date or a family gathering, this new cafe and bar can be a great choice.
Address: First Floor, Commerz II, International Business Park, Oberoi Garden City, off Western Express Highway, Yashodham, Goregaon, Mumbai, Maharashtra 400063
Wakai
Wakai is the perfect fusion of style, sophistication, and delectable contemporary Japanese cuisine, all within a truly exquisite setting. The interior design, crafted by Ashiesh Shah, embodies a sense of tasteful restraint and understated elegance, while still exuding a charming and inviting atmosphere. For a truly intimate experience, consider reserving the private dining room, which serves as the ideal sanctuary for indulging in delightful offerings such as wasabi cornettoes, sushi, cream cheese gyoza, khimchi ramen, and black cod miso, all perfectly complemented by a selection of sake. Be sure to save room for the Basque Matcha Cheesecake, a delightful finale to your culinary journey at Wakai.
Address: Plot No 490, Pooja house building, MANGAL SANDESH, 490, 17th Rd, Khar, Khar West, Mumbai, Maharashtra 400052
Que Sera Sera
This Instagram-worthy new restaurant, envisioned by Keith Menon of Spiro Spero, is an absolute delight for those who appreciate both interior design and fine cuisine. Every detail, from the stone flooring to the textured walls, and the whimsical bougainvillea accents, transports you straight to Italy. The centerpiece of the venue is a raised private dining area adorned with a captivating fresco painting and ceramic lighting fixtures, adding an extra layer of charm to the ambiance.
Address: Andheri Lokhandwala, Next to Karim's Andheri West
Paul
Almost everyone has heard of Paul Bakery & Restaurant, an eatery which began as a humble bakery in France in 1889. With outlets in over 30 countries Paul just debuted its first outlet in Mumbai. Paul is known for its baked goods, which are freshly prepared each day, the smells of which waft around the vicinity, luring you in for a bite to eat. From breakfast to burgers, fresh salads to healthy grills and creamy pastas to creative desserts, coffee, and milkshakes, you can order it all at the Parisian-inspired venue, pick it out fresh from the deli to take away, or even test out the home delivery service – whichever way you choose to do it, Paul never disappoints.
Address: The Courtyard, Phoenix Palladium, Mumbai
Cray Craft
This new gem among the plethora of amazing restaurants in Andheri, boasts a beautiful ambience, complemented by a menu filled with meticulously crafted dishes and innovative cocktails. The 'Cray' in their name stands for Crazy Cocktails, while The 'Craft' stands for Craft Cuisine – presented in an elegant fine-dine setting, featuring Modern Indian delicacies that are sure to captivate your taste buds. Cray Craft brings together the best of both worlds, offering crazy cocktails, crafty cuisine, and an impeccable dance vibe, all conveniently housed under one roof. When you visit, be sure to indulge in their must-try delights, such as the Crab/Chicken 65 Croquette, Lal Maas Bao, Carrot Rasam, and the tantalizing cocktails like the Piggy Jack, Butterfly Blue Pea Mogra, and Popcorn Tiki. And don't you dare leave without savoring their absolutely delightful dark chocolate mouse and Crème Brûlée . So come and immerse yourself in this one-of-a-kind culinary journey.
Address: Town Centre, Andheri – Kurla Rd, Mittal Industrial Estate, Marol, Andheri East
KOLKATA
Bunaphile Roasters
Bunaphile Roasters, the charming and adorable café located in Hindustan Park, has recently expanded to an expansive second branch on Southern Avenue, right across from Rabindra Sarobar Lake. This new café boasts a seating capacity for 200 patrons and occupies a sprawling area of over 7,000 square feet. The decor theme draws inspiration from the vintage Calcutta bungalows, rich in heritage and adorned with quintessential Bengali artifacts. The coffee menu remains consistent with that of the original outlet, while the food menu now offers an extensive array of choices, including kebabs, continental dishes, dim sum, salads, and sushi, catering to a diverse range of culinary preferences.
Address: 101 Southern Avenue
Potboiler
Potboiler Coffee House has opened a new outpost in Salt Lake. This café specializes in the perfect pairing of coffee and books, and their menu is a true testament to this fusion. Many of their coffee creations pay homage to beloved books. For instance, you can savor "A Song of Ice and Fire," a mint and chili-infused mocha inspired by the iconic Game of Thrones series. For fans of the wizarding world, the "Butterbeer Latte" is a must-try, invoking the magical flavors of Harry Potter's universe.
Address: CE-25, sector 1, Salt Lake
Jugnu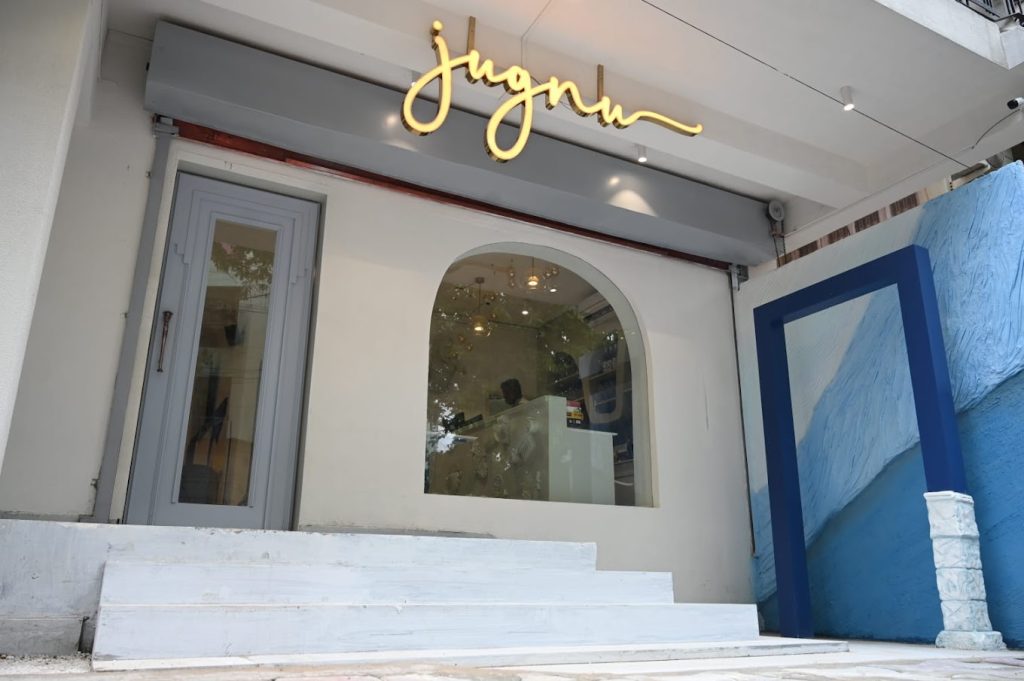 The moment you set foot in this café, the all-white decor with subtle blue accents will transport you to the scenic islands of Santorini in Greece. Offering a diverse culinary experience, there are several must-try dishes on their menu. These include the Jugnu signature cranberry iced coffee, the tantalizing Blue, Corn, and Mushroom Galouti Kebab, the delectable Open Stuffed Chicken, the flavorful Smoked Chicken Pizza, and the indulgent Breaking Bad Hazelnut Mud Pie.
Address: City Centre Salt Lake, Sector 1
Rio De Jeneiro Cafe
Step into a Brazilian-inspired cafe adorned with dramatic and tropical aesthetics, offering a diverse world cuisine and refreshing beverages, creating the ultimate immersive hangout spot for you and your friends. Don't miss out on these must-try items: Gilafi Chicken Seekh Kebab, Murgh Malai Kebab, Chicken Dragon Roll, BBQ Chicken Sizzler, Mei Goreng Chicken Noodles, Dates Ball, and Cornflakes Crusted Chicken.
Address: 24, Tarak Dutta Road, opposite Khosla Electronics, Beck Bagan, Kolkata : 700019
Lusscibo
Discover a new establishment in Kolkata that offers an exquisite global dining experience. With a delightful ambiance, this place takes you on a culinary journey through 20 different countries, serving top-notch cuisine. From European and Japanese to Italian and Indian dishes, they have it all.
Address: Sector 2, Salt Lake, Kolkata
Must Read: 20 New Restaurants In India To Dine At This August—Across Mumbai, Delhi, Kolkata and Bengaluru
DELHI – NCR
Mezze Mambo
A stylish new establishment has graced Delhi, offering a contemporary twist on mezzes expertly paired with artisanal cocktails, inspired by the historic Silk Route. In the kitchen, Chef Megha Kohli takes the helm, presenting a delectable array of dishes. From mezze platters featuring tantalizing hummus with crispy chili oil, pepperoni hummus, and Silk Route labneh, to Levantine salads and hearty mains like Purani Dilli Chicken, tagines, kebabs, and nostalgic sundaes for dessert, there's a culinary journey awaiting you.
Address: M 40, 2nd and 3rd Floor, M Block Market, GK2. Tel: 09711026452
Elina Vara
Nestled in the lively ambiance of Chhatarpur, Elina Vara stands as a captivating brasserie that embraces a unique farm-to-table dining concept. The venue seamlessly fuses the beauty of nature with architectural charm, creating an enchanting narrative for diners. In the midst of the city's hustle and bustle, Elina Vara offers a delightful farm-to-fork experience, featuring delectable dishes crafted from well-bred cows, fresh seasonal vegetables, and pasture-raised chicken for eggs.
Address: Vatika Green, 595, Sultanpur Mandi Rd, Chhatarpur Farms, DLF Farms, New Delhi, Delhi 110030
Celona
Celona is a vibrant destination that brings a sense of nostalgia to life through its delightful menu. This fun-filled diner offers a global cuisine experience with a dash of nostalgia. You can select from an array of tempting options including sizzler plates, Korean fried chicken baos, burgers, pizzas, thick shakes, and refreshing fizzy pops available in flavors like masala orange and kala jamun. Moreover, Celona provides engaging experiential activities that are sure to entertain the little ones.
Address: S43, 2nd Floor, Select Citywalk Mall, Saket District Centre, Sector 6, New Delhi.
AKU's – The Burger Co
The well-loved local brand has just unveiled its flagship store, designed with a clean and minimalistic Scandinavian vibes. The star attractions here are the delectable juicy burgers, and the menu has now grown to feature additional offerings like poutine-topped fries, generously loaded tortilla chips, classic spaghetti with meatballs, and scrumptious Nutella bun sandwiches. To complement your meal, you can quench your thirst with a variety of spritzers, beers, and coffees.
Address: 61, Basant Lok, Vasant Vihar, New Delhi. Tel: 09650559279
SOCIAL
SOCIAL has recently unveiled its 46th location in Gurugram, India. This particular outpost embodies a creative concept that vividly captures the essence of a city garden in an urban setting. With a blend of textures, gradients, seating arrangements, and a palette dominated by rich greens and warm wood browns, it has been meticulously designed as a serene and environmentally conscious space, providing guests with a refreshing and natural ambiance. The menu at this location is a treasure trove of classics, including dishes like Mutur Matter Guru, Threesome Mushroom, beloved breakfast trays such as Dhingra's Punjabi Breakfast, and an array of munchies like nachos, chicken wings, and chakna boxes, ensuring a diverse and satisfying culinary experience for all appetites.
Address: 3rd Floor, Block-B, Iris Broadway, Sector 85 Rd T-01 to T-06, Sector 85, Gurugram, Haryana 122004
BENGALURU
Loya
Loya, making its journey from Delhi, is a distinguished fine-dining establishment that seamlessly blends age-old culinary traditions with the contemporary world. Embark on a culinary expedition through Northern India and delight your taste buds with offerings like Paneer Zatar, Multani Gobhi, aromatic Gosht Biryani, and more, all presented in an enticing and artful manner.
Address: 41, Race Course Rd, Sampangi Rama Nagar, High Grounds, Bengaluru, Karnataka 560001
Deck Of Brews
Kadubeesanahalli welcomes the arrival of Deck Of Brews, an exciting bar that caters to all your desires. Whether you prefer outdoor seating, a romantic dining experience, or catching live sports screenings, it has it all. Indulge in Spicy Chicken Nachos, Crispy Vegetables, and Guntur Crab Masala as you enjoy a refreshing selection of beers and other brews.
Address: 75/2/200, Kaverappa Layout, Kadubeesanahalli, Bangalore
Öz by Kebapçi
The upscale UB City in Bangalore is now home to a modern Turkish eatery that puts a contemporary twist on traditional Turkish cuisine. Step into Öz by Kebapçi, where the walls are adorned with Turkish carpets crafted by a designer from Istanbul. Here, Öz by Kebapçi strikes a harmonious blend of old-world charm and modern aesthetics. Don't miss the chance to savor their delectable dishes, such as the creamy Avocado Hummus, the Lokum Paneer, fire-glazed with butter table-side, the signature Ali Nazlik from Gaziantep, and the mouthwatering Baklava.
Address: UB City, Level 2, Concorde, 1, Vittal Mallya Rd, KG Halli, D' Souza Layout, Ashok Nagar, Bengaluru, Karnataka 560001
For latest travel news and updates, food and drink journeys, restaurant features, and more, like us on Facebook or follow us on Instagram. Read more on Travel and Food Network
Trending on TFN
20 New Restaurants In India To Dine At This August—Across Mumbai, Delhi, Kolkata and Bengaluru
The 23 Best Places To Go In 2023