I'm not a person who scours the internet for the latest advances in technology. And more often than not, I hear about interesting new products from other people before I check it out for myself. But because I love travelling so much, I tend to keep abreast of new gizmos that could make my travel experiences safer, easier or simply more exciting!
I am constantly amazed by what people conceptualise, design and execute to gain competitive advantage, and by creating new markets to fulfil needs we didn't know we had in the first place!
Here are some really cool travel gizmos creating waves around the world.
1. AI Auto-Follow Carry-On Suitcase
So, we're all familiar with smart suitcases, right? The light weight, fire-proof, futuristic looking carry-ons with USB ports, smart phone tracking technology, interior LED lights, all TSA compliances etc. But did you know that the latest thing in suitcase technology is the Cowarobotrover AI Robot Speed suitcase? It's an artificial intelligence powered auto follow suitcase that manoeuvres around obstacles and has an intelligent tracking system. Yes! It's true.
The Robot Speed suitcase matches your pace via radar and camera, can auto-follow up to 6 km/hour and even sends you an alert if you stray. It has a removable lithium battery (easy to remove as you go through security), a built-in power bank, Bluetooth connectivity, easy switch to manual and proximity alarms and alerts. It also has telescopic pedals, and a USB charging port. With prices starting at about 640$, this suitcase has really redefined industry standards for sure.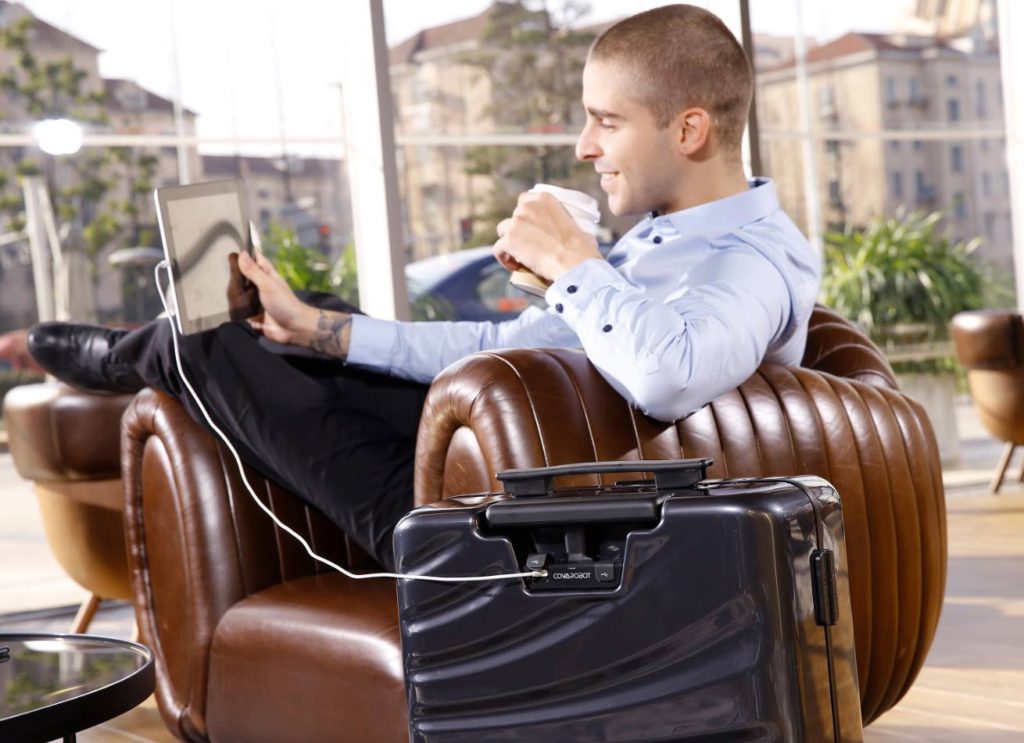 2. Pocket Size Washing Machine
From the ultra-high tech, to the super simple. This product, known as the Scrubba Wash Bag, is the outcome of real genius. A boon for hikers and campers and backpackers, this bag is made out of microbial and hydrolysis resistant polyether thermoplastic polyurethane. It has nodules on the inside to facilitate scrubbing, it is super light and folds down to pocket size. All you have to do is fill water, add soap, add your clothes, clip bag after letting out the air and rub it to wash. The rinse and dry in the same bag.
With just 2-4 litres of water and a bit of liquid detergent, you can have your clothes washed in 3 minutes flat, saving time and money when on the road. The Scrubba Wash Bag and its clones are easily available on Amazon, even in India with prices ranging from Rs. 2000 to Rs. 3700.
3. World's Smallest Travel Steam Iron
I have a thing for small travel irons. Before the pandemic, I travelled a great deal on work and leisure. Not all hotels have irons and ironing boards in their rooms, and I hate to have to wait a whole day just to have travel wrinkles ironed out, so I usually carry a small travel iron. Naturally, this Steamfast SF 717 Steam Iron caught my immediate attention. Touted as the world's smallest steam iron, it heats up in 15 seconds, has 3 temperature settings, a travel bag and dual voltage as so can be used all over the world. It's the size of a computer mouse – now how cool is that! It only costs about 22$ on Amazon and can be shipped to India.
4. Portable Wi-Fi Hotspot & Power Bank
Sheer convenience! Imagine not having to bother with foreign SIMs or roaming charges when traveling the world! Well, Skyroam Solis is one of the best mobile Wi-Fi hotspots on the market.
This ingenious connectivity gadget offers unlimited 4G service in over 130 countries around the globe and not only that, each device can support up to 5 connections. It also works as a portable charger for your phone or tablet while on the move, thanks to its integrated 6000 mAh power bank. It has two different plans. A 'Pay As You Go' package based on your needs or you can buy the hotspot device outright for 99.99$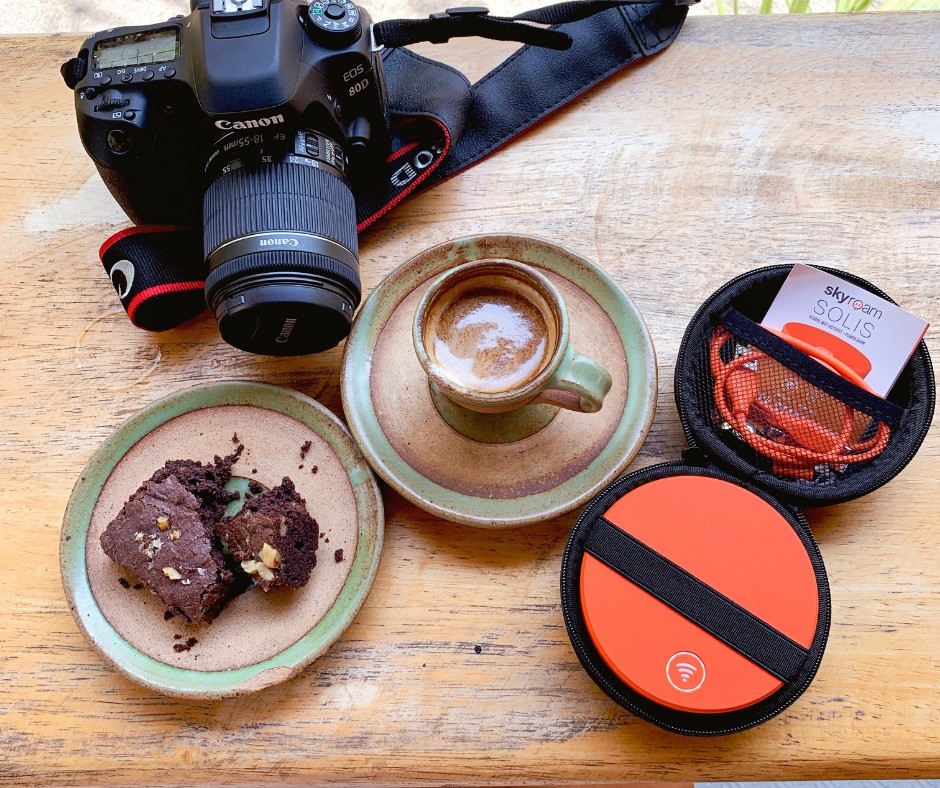 5. Mesh Networking
This beauty – goTenna Mesh– is a pop-up network designed to keep Android or iOS devices connected even when there is no cellular service. Amazing, right? It lets travellers communicate while off the grid. Pocket-sized, slick, made of rugged materials for outdoor use, this device uses Bluetooth technology to pair with smartphones, enabling users to share messages and location information instantly within a range of up to 4 miles in open areas. Its technology allows private 1:1 and group chats or public broadcast messages through other devices to extend beyond point-to-point range. It has a 24-hour battery life and a USB charger. All at a cost of 179$.
What's more, the free goTenna app offers offline maps for any region in the world and can securely hop messages along 6 devices to extend range.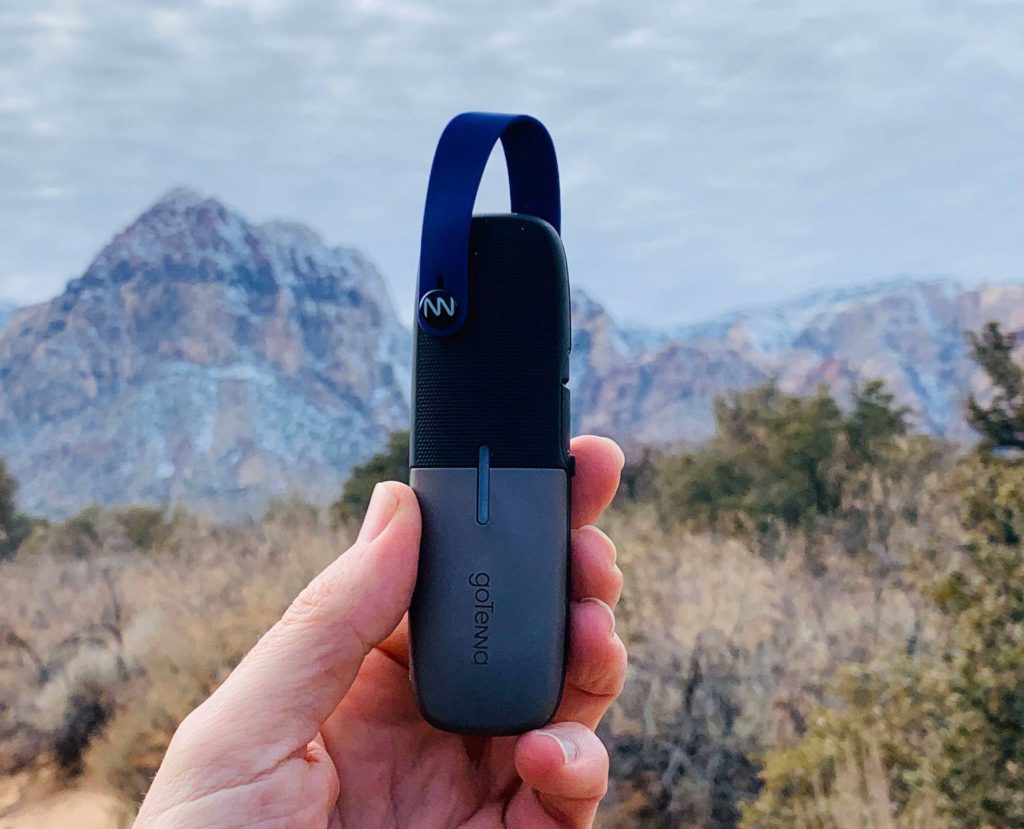 Must Read : The Best Compression Socks for Travelers & Where To Buy Them
6. Recording Sunglasses
Imagine a pair of sunglasses that can record videos and take photographs! Super fun to have, right? Just like their initial product, the second-generation Snapchat's Spectacles V2 is not just snazzy looking, but actually protects your eyes too. It is available in 3 colours -black onyx, ruby red and sapphire blue. The splash proof glasses case doubles up as a portable battery charger.
But as you've figured, its main function is to record videos and photographs in high definition. It is compatible with most of the latest iOS and Android devices. It has a 4GB flash storage which means you can record up to 150 10-second videos or 3000 photographs. You can also record underwater up to 1 m deep and for 30 minutes at a time. The price? A decent 150$.
7. The Best Water Purifier Bottle
No more running the risk of falling ill from drinking contaminated water any more. This nifty product is truly a traveller's best friend. GRAYL's Ultralight Purifier is a state-of-the-art device capable of transforming almost any tap or clear natural water source into pure drinking water in just 15 seconds!
Each 0.50-liter bottle comes equipped with a replaceable purifier cartridge good for about 150 litres, providing protection against viruses, bacteria, heavy metals, as well as many chemicals. An excellent way to get safe drinking water on the go, while at the same time, saving money on bottled water. And it costs just 70$.
8. Solar-Powered Inflatable Light
It's smart, it's sustainable, it's light, it's waterproof! The LuminAID produces 16 hours of LED light after 6-7 hours of charging in the sun. This very innovative inflatable lamp just weighs around 56 grams, which makes it the prefect light to carry for an outdoor trek of camping trip. It also makes a great emergency light during power outages as it can light up a small room.
It packs flat and can hold charge for up to 2 years. It comes with a hefty price tag of 2300$, but the cost does justify eventually as it lasts for years and years.
9. Smallest Travel Vacuum
Now travel lighter or shop more – your choice. I'll opt for the latter, thank you. When I travel, I always carry back little gifts and souvenirs for family and friends, and objects d'art and cooking ingredients for our home. Every inch of my suitcase is stuffed! You can imagine how my eyes lit up while reading about this automated travel vacuum, VAGO. Here's the great thing – it's tiny – only 2.7" long and weighs just 90g. It compresses your clothes to half the original volume in 5 minutes and stops the suction automatically detecting the pressure. Voila! Instantly lots more space in your suitcase. A great gizmo for woollies during winter travels. Costs around 79$ and comes with one compressor bag, but you can order more compressor bags separately.
10. Sleep Phones
What on earth are Sleep Phones, you ask? Well, it's an extremely comfortable form of noise cancelling headphones. They are bed friendly, encased in a soft, snug headband. Isn't that super cool?
Normal headphones are great, but bulky and uncomfortable when sleeping, and they keep sliding off your head. This exciting new product streams via Bluetooth technology, has a wireless range of up to 15-30 feet, and comes with rechargeable batteries. Priced around 99$, the headband could be made of soft and luxurious fleece or light weight breathable fabric suitable for running or exercising. And there's an easy sizing guide to get your best fit. These are truly one of the best travel accessories today.
Investigate further. Most of these travel products are available on Amazon or the company sites and can be shipped to India. They'll make your travels so much more enjoyable, and you can bet they'll make awesome gifts for fellow globetrotters as well.
Always have fun on your travels folks!
For latest travel news and updates, food and drink journeys, restaurant features, and more, like us on Facebook or follow us on Instagram. Read more on Travel and Food Network
Trending on TFN
The 23 Best Places To Go In 2023
Explore Utah's Mighty 5® and What Lies in Between
Five Epic U.S. National Parks To Visit This Year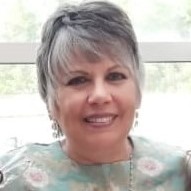 A homeschooled chef even before she joined Catering College in Bombay, Christine's gastronomic journey started with mother and grandmother. Polished with a degree and 10 years of experience in the Hospitality industry, Christine's love of food, drink and everything gastronomic has been sharpened and honed with travel across the world. Today, she shares the wealth of her foodie experience and adventures across the world with Travel and Food Network, so look forward to much more from Chrsitine!