If you adore your pets you will understand why this article is close to my heart. Each time I have to leave home, two pairs of sad eyes follow my every move as I get ready – they know the drill – and when I go to the door, tiny whines tug at my heart strings. I turn back to say bye, and the soft thumping of their tails tell me they are hoping I change my mind. Its just for dinner, but I really hate leaving them alone.
There are so many pet friendly cafes and hotels abroad, its commonplace to see dogs of all breeds patiently sitting by their owners as they have their coffee or read their paper. So, what about India? The good news is that pet friendly cafes and hotels are coming up. There still aren't many, but it's a good start. As long as your pets are socialised, and calm in public, they are no trouble at all.
We start here with the Cafes in Delhi. And in future articles I will cover the pet friendly cafes, hotels and resorts across the country.
Puppychino Café & Spa
They have two branches, one in Shahpur Jat and one in Janakpuri, and they plan to expand to more locations. Besides being a café and spa, they also have boarding facilities and a pet store. The cafés have a dining area and a play zone where your pets can play with the resident pooches and visiting dogs. The menu features fairly standard café fare and a special salt free, spice free menu for your pets. Items like gluten free cakes, Woofsome Cupcakes, Spanish Omelettes, Snoopy Spaghetti, Woofles Waffles, Woofie Pizzaw and Pupsicle are sure to draw drools!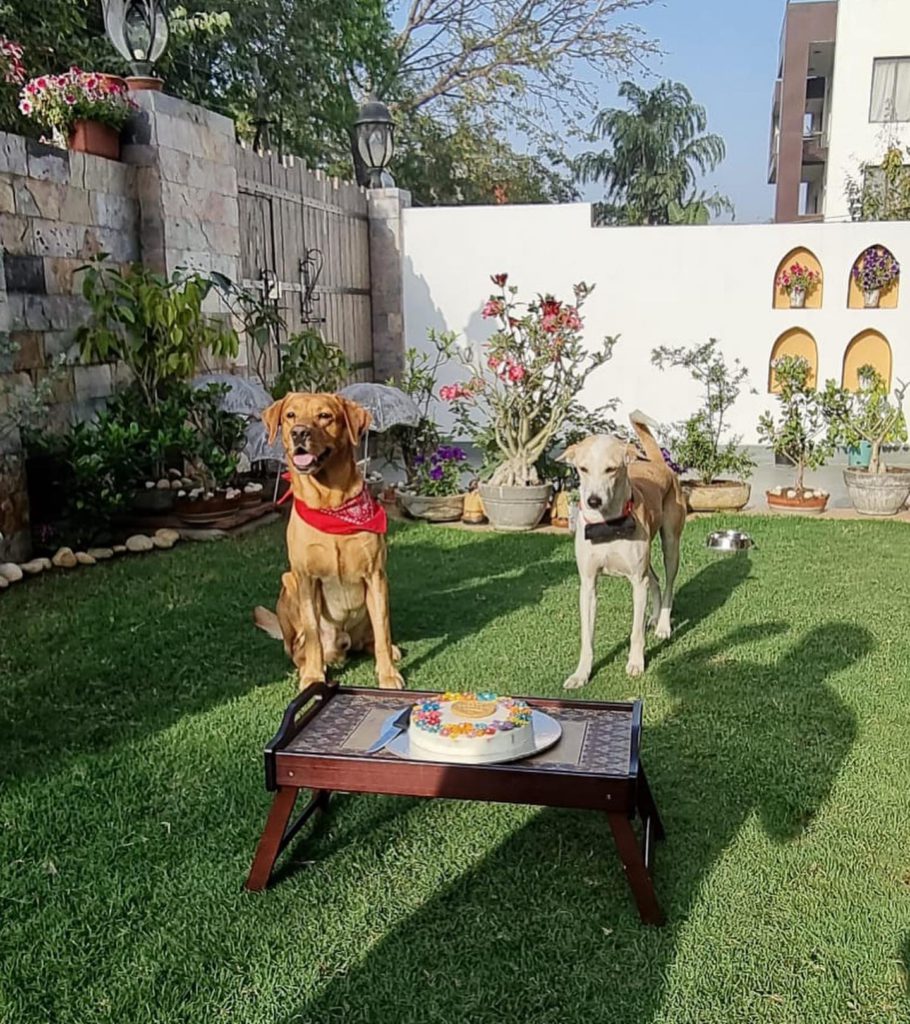 Diggin

One of my favourite places to chill with a friend, Diggin is located right opposite Gargi College in Anand Lok. It's been around for a long time, and it's very popular for good reason. The Italian food is always awesome, the ambience casual and friendly, evenings in the garden is really pretty, and the best thing yet– Sunday is the day you can bring your pets! No special menus for your four-legged friends, but they get to spend quality time with their special humans on the weekend.
Blue Tokai Coffee Roasters
A must visit for all coffee lovers with pets! This beautiful café is a jewel, tucked away in Lane 3, Westend Marg, Saidulajab, just 5 minutes from Saket Metro Station. The perfect place to catch up with a friend, spend quiet time with a book or catch up with work. And your dog is so happy to be with you.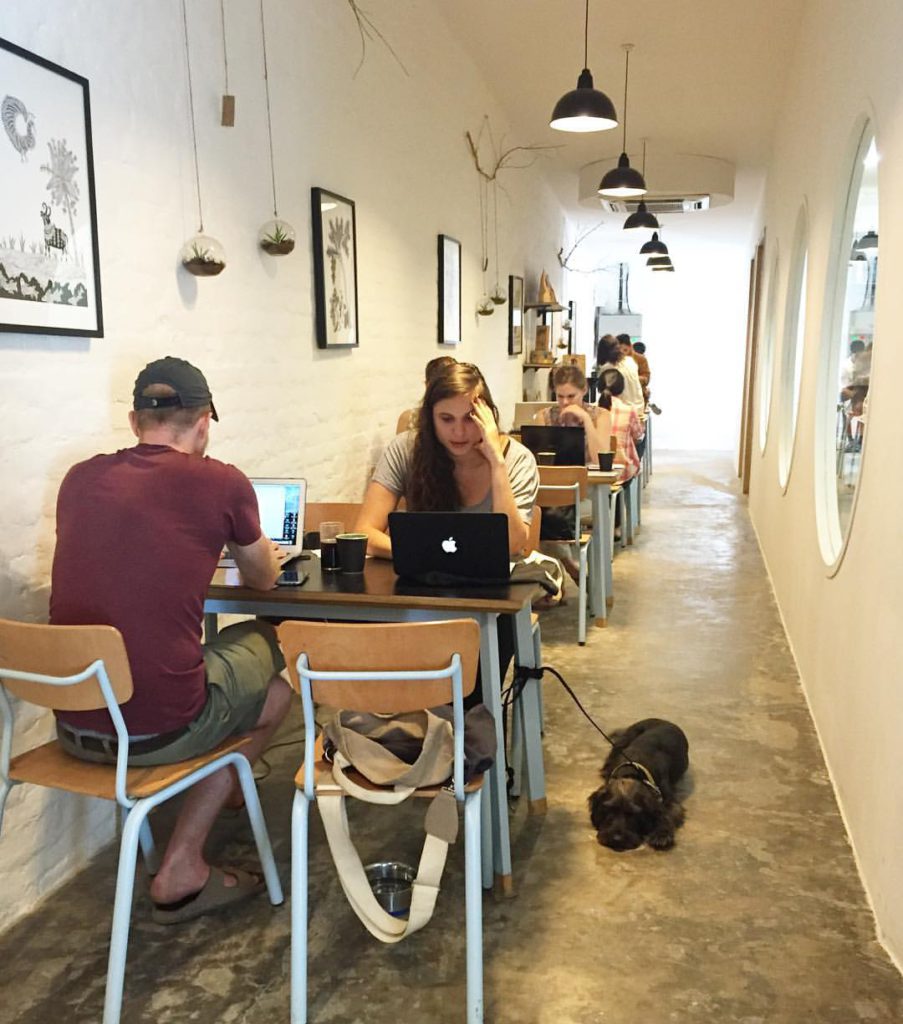 Leo's Pizzeria
Yes, pizza and puppy love! A tribute to the memory of the owner's dog, Leo, it's no wonder that Leo's warmly welcomes all furry friends. And that's not all. The handmade pizzas are heavenly, and well worth a trip just to savour them hot and fresh from the over. There's fresh water and treats for all the pets that come to honour Leo. This Leo's is located on Club Drive Road, Ghitorni but they now have branches in Basant Lok and Amar Colony as well.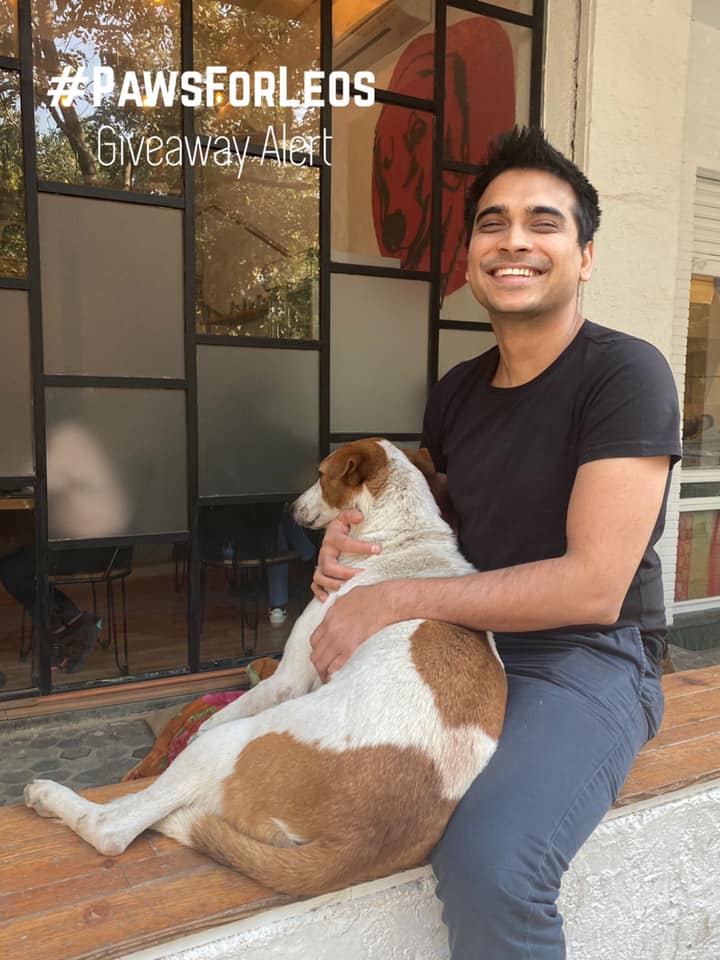 The Brown Box
This cosy little café in DDA Shopping Complex, in S Block of Panchsheel Park has its priorities right. Pets are welcome, humans too! And its ambience, food and confectionary are a big favourite with the locals. What better place to tank up or unwind with your four-legged companion than in your charming neighbourhood café where the warmth and friendliness make you comfortable and happy any time of the day.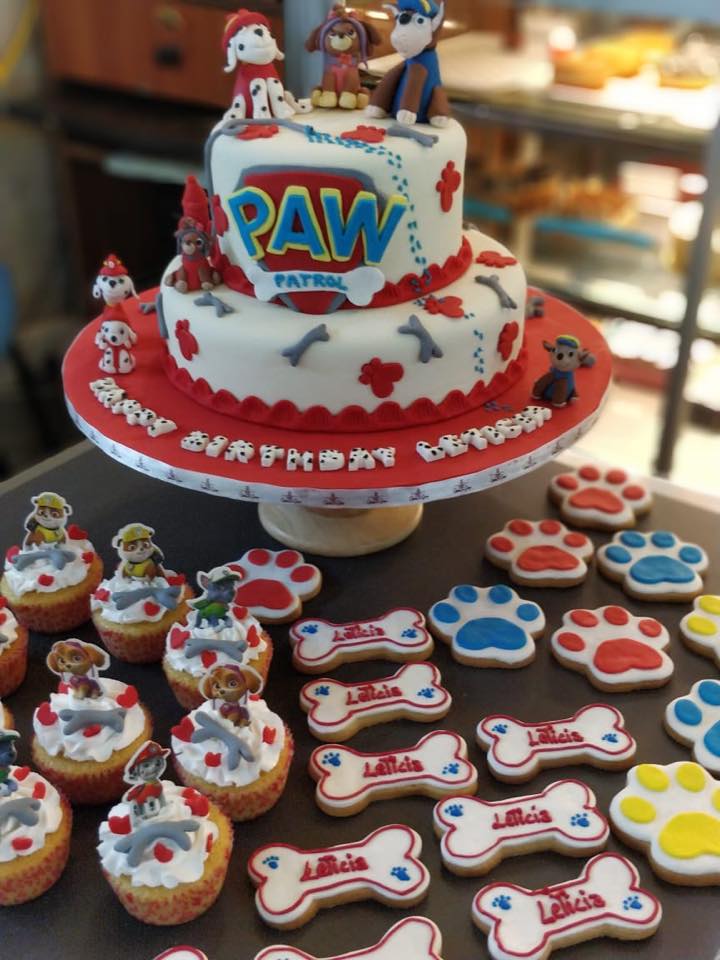 Café Dori
A brand extension of Nappa Dori, this Café is a must, must visit for its modern European style menu and character. And the fact that you can take your dogs too! The food and beverages are excellent and it's got such a nice ambience that you could spend all day there. There's a very thoughtful pet menu and treats are available so that your pets can also have a meal out for a change!
The Café is in Nappa Dori Wearhouse, Dhan Mill Compound at Chhattarpur.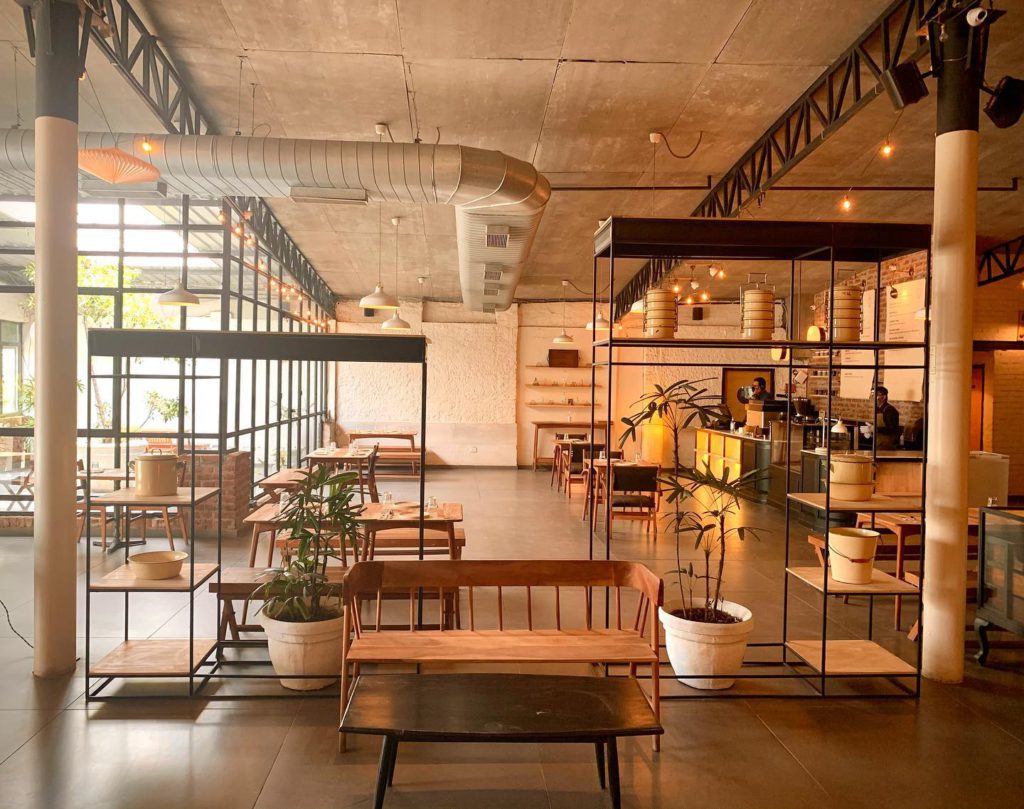 Colocal Chocolate Factory and Café
Also in Dhan Mill Compound, Chhattarpur, Colocal call themselves the "Cacao Artisans" and perhaps the only bean to bar chocolate factory in Delhi. Known for their amazing sandwiches, sour dough pizzas and burgers, and their artisanal chocolate of course. And equally well known for their pet hospitality. Open for breakfast, lunch and dinner and with an abundance of greenery, you could easily stay put here all day, after all you don't have to rush home to feed Fido, he can get a chicken bowl right here!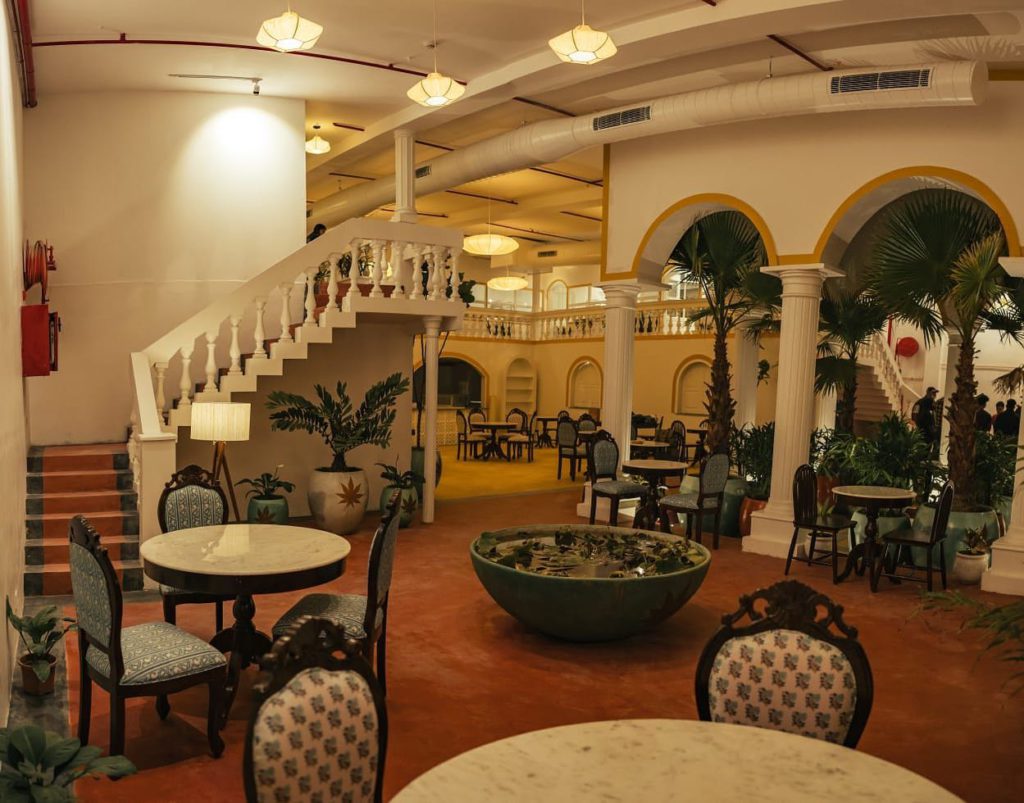 Big Fat Sandwich
Famous for… you got it…the very generous big fat sandwiches and burgers, this café is also very generous with its prices! Reminds me of food in America, in terms of the menu, pocket friendly pricing, and the huge portions. The perfect place to stop and grab a bite after a visit to the pet groomers nearby, or after browsing around the many boutiques and antique stores in House Khas Village. Fresh water and cookies are offered to all pets who visit. Everyone's leaves happy at Big Fat Sandwich.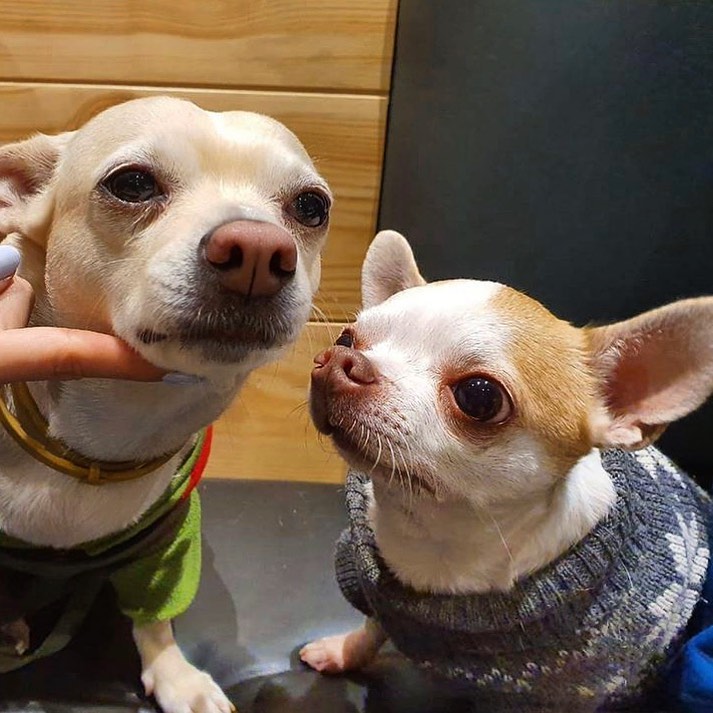 Miam
A post dinner walk with your dog can lead you to Miam, a fabulous bakery and dessert place in Lado Sarai. It's the perfect place to indulge your sweet tooth! The pastries and cakes are works of art – ideal for those special celebrations or for gifting. Your precious pooch is more than welcome to sit alongside and wait while you devour that dessert and finish off with a steaming cup of coffee.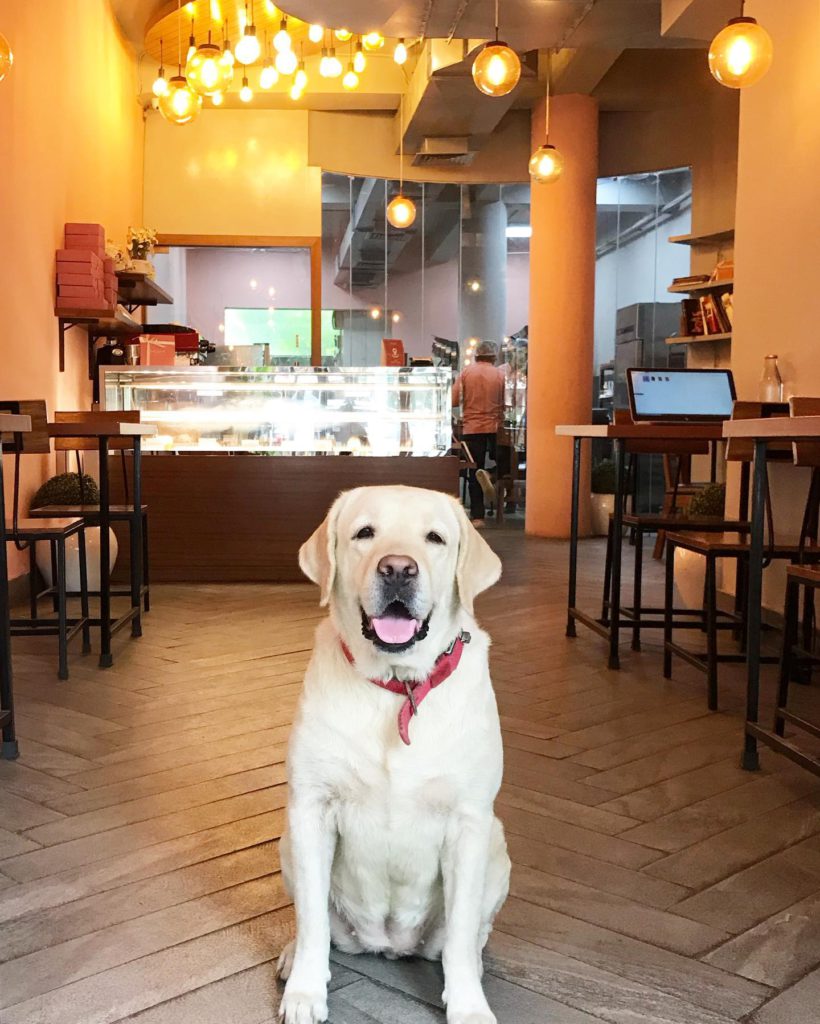 Quick Brown Fox Coffee Roasters
Dhan Mill Compound again folks. Certainly a place to please our pets!!! A cheerful, comfortable hang out café, with superb coffee and a slick menu catering to breakfast lunch and dinner. Whole wheat and Carrot Pupcakes with a peanut butter frosting and cookie, or a Stack of Bones with pumpkin cookies and a bacon and peanut butter glaze will get your doggie drooling in seconds.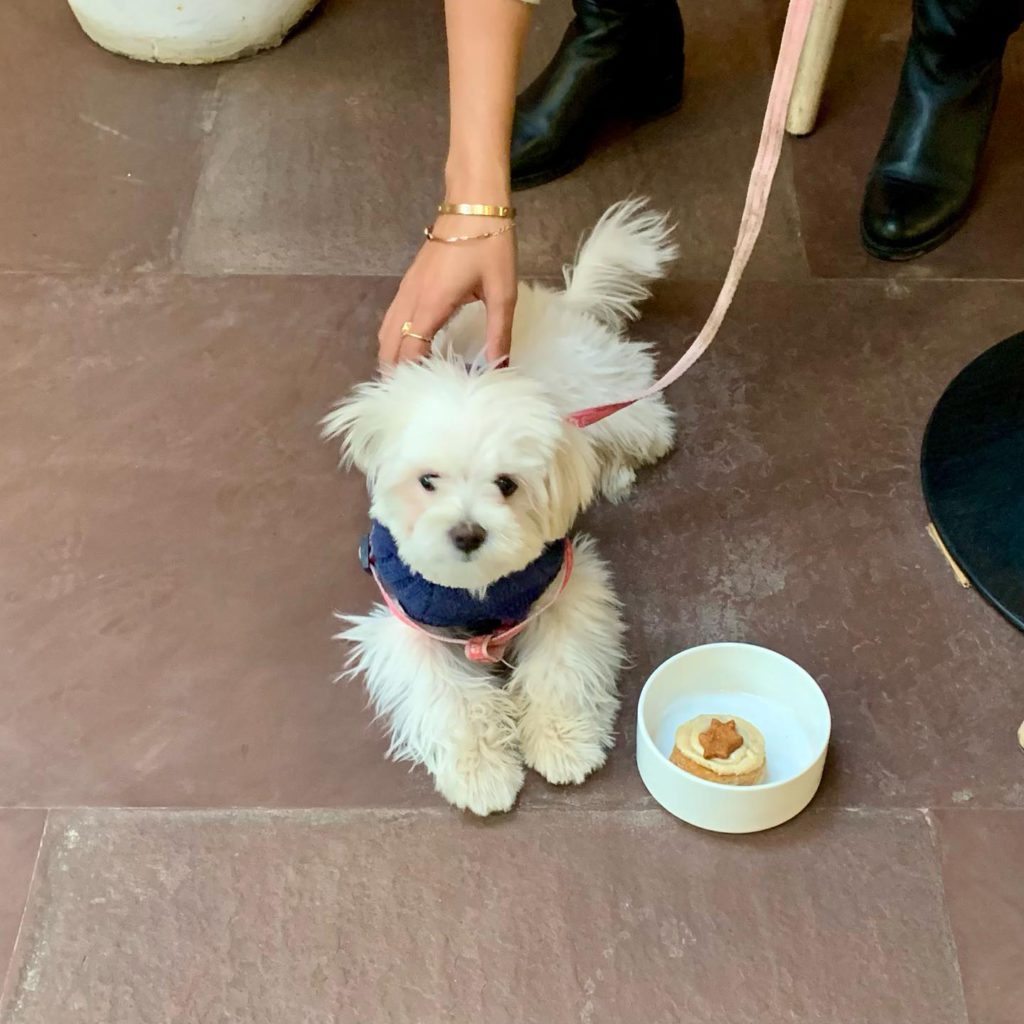 A lot of choice! But before you head out, here are some tips to make your experience of dining in a restaurant with your pet a great one:
Feed and walk dogs in advance. The dogs will be full, calmer and less inclined to be excited by the sounds and smell of food permeating the restaurant.
Take a bowl of water. Many pet friendly restaurants have water bowls for dogs, but its best not to take that for granted and have fresh water and a bowl available for your pet.
Take a toy along. Not one that make a noise and disturbs diners, but a soft chewy favourite that will keep your buddy entertained.
Keep pups leased and safe. Out of high traffic areas, and out of the way of other diners. Keeping them under the table is never a good idea as they may get accidentally kicked.
Take along a pad of blanket if its chilly. Your pet will be comfortable and happy.
No hand-outs! Don't feed your dog tid-bits from your plate. If the restaurant has a pet menu, order from that instead.
Be prepared to leave. Sometimes, dogs act up if they don't like someone or something scares them. It may be difficult to pinpoint the exact reason for their anxiety. Be prepared to ask for a doggie bag and leave or take them for a short stroll to calm them down.
Have super fun with your pets, folks!
For latest travel news and updates, food and drink journeys, restaurant features, and more, like us on Facebook or follow us on Instagram. Read more on Travel and Food Network
Trending on TFN
The 23 Best Places To Go In 2023
Explore Utah's Mighty 5® and What Lies in Between
Five Epic U.S. National Parks To Visit This Year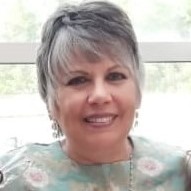 A homeschooled chef even before she joined Catering College in Bombay, Christine's gastronomic journey started with mother and grandmother. Polished with a degree and 10 years of experience in the Hospitality industry, Christine's love of food, drink and everything gastronomic has been sharpened and honed with travel across the world. Today, she shares the wealth of her foodie experience and adventures across the world with Travel and Food Network, so look forward to much more from Chrsitine!