Paris was a definite go-to destination in my travel bucket list as is in most of people I know. One of the world's most visited cities, Paris has something for everyone: from history and culture to fine food and good times.
With 72 hours at your disposal, you are about to embark on a whirlwind adventure through the heart of France, immersing yourself in its timeless beauty and rich cultural heritage. Prepare to wander along the romantic cobblestone streets, marvel at iconic landmarks, savor delectable cuisine, and soak up the enchanting atmosphere that has captivated visitors for centuries. From the iconic Eiffel Tower to the charming Montmartre district, Paris offers an array of experiences that will leave you in awe.
So, fasten your seatbelt and let's uncover the treasures that await you during your unforgettable 72 hours in the City of Light.

ORIENTATION

We used a combination of Metro costing € 1.9 per trip or white coloured 10 tickets for€16, hop on hop off bus and Travel pass costing€ 5.8 a day in 5 days of our travel. All these charges are for one person. Hop on Hop off bus is another good way of seeing Paris with many tour operators and many combo offers like visits to various sites like Eiffel Tower where you can skip the line, Wi-Fi and river cruise on Seine etcetera. The hop on hop off bus is a red double decker bus with the top decker open so that you can see all the sites and you can choose the option that suits you best with commentary in 12 different languages. As the name suggest you can get on and get off (hop off) at any station and all the sites that you wish to visit are part of the route. You can map the following tourist attractions as there are actual bus stops for it like Opera, Louvre Museum, Madeleine, Notre-Dame, Orsay Museum, Saint-Germain-des-Prés, Concorde, Arc de Triomphe, Champs-Élysées, Eiffel Tower, Invalides, Trocadero, Montmartre-Antwerp, the Grand Boulevards, Gare du Nord, Saint-Germain, Saint-Lazare Station, Montparnasse. The best time to visit Paris is in the summer from June to August and if you want to experience the fall in Paris then September October are the best months to visit.

WHAT TO SEE

Notre-Dame Cathedral (Cathedrale de Notre Dame de Paris)
The Notre-Dame Cathedral is a gothic icon located on the Siene River and considered one of the best cathedrals of its kind in the world. Started in 10th century, the cathedral was completed by the early 13th century. The cathedral is free, open all seven days a week and can be seen from 7.45 a.m. till 6.45 p.m. Alight at the Cité stop on line 4 of the metro.
Musée du Louvre
The Louvre is one of the best art museums in world with nearly 650000 sq. feet gallery space. The Louvre is closed on Tuesdays and can be visited between any day of the week from 9 a.m. to 6 p.m. and on Wednesdays and Fridays till 9.45 PM. It is the most visited place in Paris. The museum has a massive collection of art pieces nearly 35000 pieces housed at the Louvre and displays the entire gamut of art from the Grecian sculptures, world renowned paintings and even Leonardo da Vinci's Monalisa, the star attraction of the museum and even artefacts from the Egyptian tomes.
Jardin des Tuileries (Tuileries Garden)
The Tuileries garden, 55 acres of public garden, is a UNESCO world heritage site from 1991. The garden was once a royal garden and a silent spectator of history having seen historical meetings and weddings like even Napoleon Bonaparte.
Palais-Royal
The royal palace is just opposite the Louvre and a must see to understand the French architecture. This palace was created for Cardinal Richelieu by King Louis XIII and later was used as a royal palace. The palace is made of 60 pavilions and a lovely garden surrounds it known as Jardin du Palais-Royal.
Musée d'Orsay
If you are a fan of the Impressionist art then the Musee d'Orsay is the museum to visit and it is just 11 – 12 minute walk from the Louvre. The museum is housed in the Belle Epoque-era Gare d'Orsay railway station and has world famous art by Monet, Van Gogh, Renoir, Dega, Bonnard, Cézanne , Lautrec, Seurat and Signac.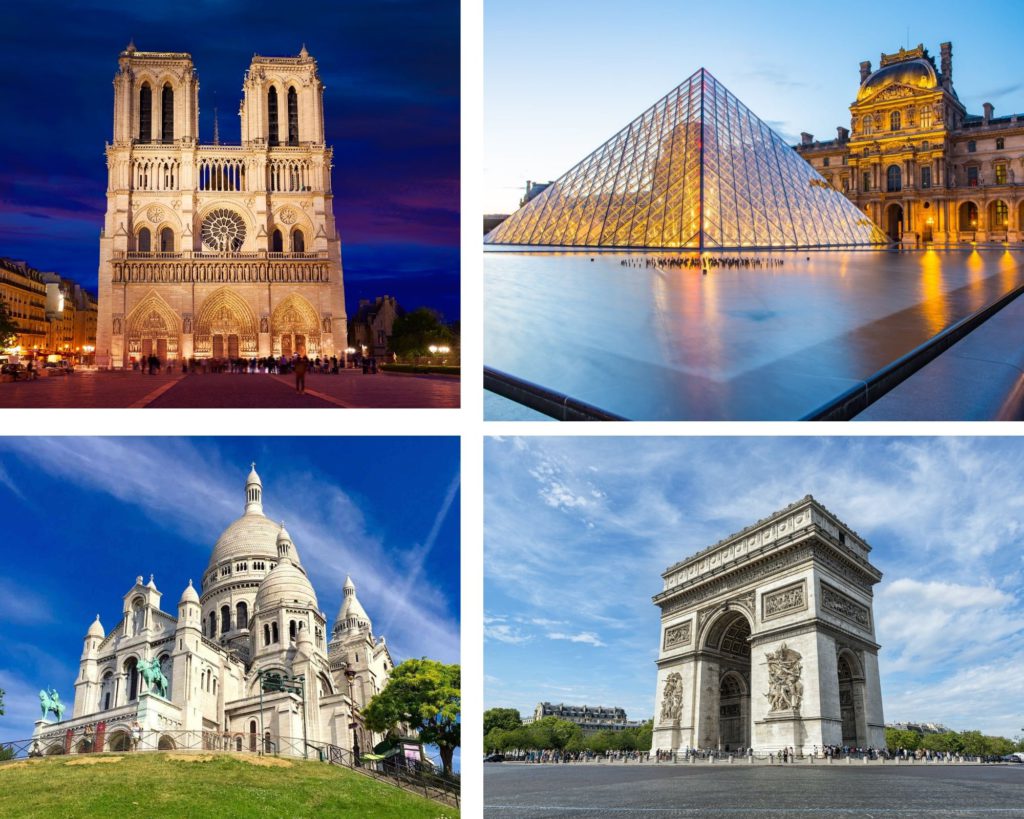 Musee de l'Orangerie
The Musée de l'Orangerie is an extension of the Museum of Orsay. "Water lilies" painted by Claude Monet is worth experiencing, an eight piece painting spread out in two rooms and highlighted by natural light enabled by the glass roof. It also houses collections from Matisse, Picasso, Cezanne and Renoir.
Arc de Triomphe
Arc de Triomphe was a monument dedicated to the grand armies that fought the wars during Napoléon times. The Arc is decked with many striking intricately carved sculptures and lists the battles and generals who fought the different Napoleonic wars.
Champs-Élysées
If you want to window shop in Paris or want to check out the latest fashion trends or want to shop at Hugo or Louis Vuitton or Gap or Adidas or any other well-known brands, then the Champs-Élysées is the place to visit and so we did. We tasted the macaroons at the famous Laduree shop which was a delight to the taste buds.
Eiffel Tower (Tour Eiffel)
Paris is synonymous with Eiffel Tower and you are surprised that it still stands when you read its history. It was constructed in 1889 as an entrance to the world fair, as a temporary structure by Eiffel Gustave and derives its name from him. The panoramic view of Paris from the Eiffel tower is something that you need to experience to actually feel and carry it forever though the pictures do help to reminiscence.
Sacred Heart Basilica of Montmartre (Sacre-Coeur)
The Sacred Heart or the Sacré-Coeur Church, open from 6 a.m. to 10.30 p.m., looks like a white castle or a wedding cake as it has been nicknamed so, due to its ornate ivory white structure. The interiors mesmerize you with glittering ceilings depicting Jesus, Joan of Arc and Virgin Mary in the largest mosaic in France.
Quartier Montmartre
Montmartre combines the old world charm with a modern edge bohemia. In this medieval village you will find secreted art galleries, charming boutiques, unobtrusive squares, with prosaic staircases, curving cobblestone streets, packed with open-air cafés.
Palais Garnier, Opéra National de Paris
Designed by Charles Garnier from 1862 to 1875 in Baroque style, the Palais Garnier Opera House stands testimony to Napoleon III. Entry ticket is required even to see the theatre during the day or see the performance at night. Besides the theatre it also houses a library and museum in the opera house to get a deeper understanding of the theatre besides a boutique, Japanese and a French cuisine restaurant.
Place de la Concorde
This octagonal impressive square is a silent spectator of crucial historical happenings in Paris like Napoleon's march of triumph and Louis XVI execution. We went to the square to gaze at the magnificent view that it offers of Arc de Triomphe , the Défense, the Louvre, as well as to the Palais-Bourbon and the Madeleine.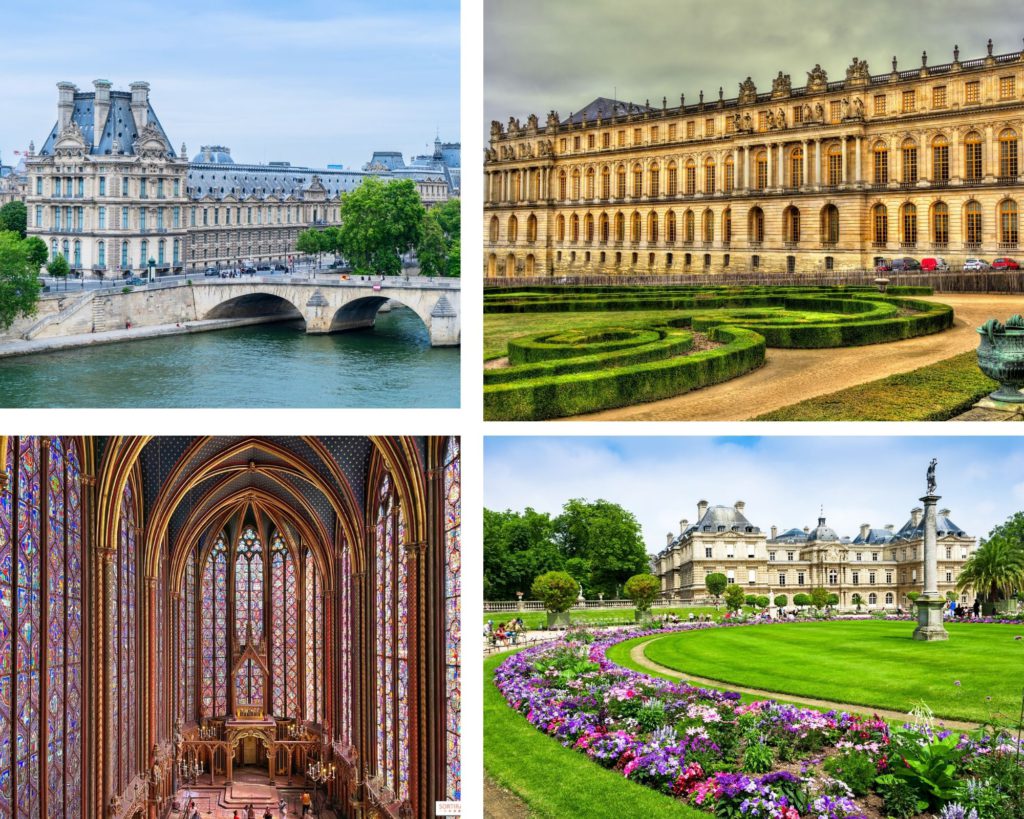 Place de Vosges
Vosges is the oldest square, in the Marais quarter, constructed from 1605 to 1612 that laid the foundation for Vendome or Concorde. Its original name was Place Royale, consists of red stones mansions and palaces, in perfect symmetry, with intricate stone inscriptions, in characteristic Renaissance architecture and inclined roofs. If you are a Picasso fan you can check out his artwork at the Musée National Picasso which is few minutes away at 5 Rue de Thorigny.
Place Vendôme
This graceful square combines royal flamboyance with civic functionality and to this day stands grand due to its restoration in early 1990s. The square houses top brands, jewellery stores and boutiques like Cartier and Boucheron and also the famous Ritz hotel.
Parc de la Villette
Enjoy Villette Garden, a mammoth park of 55 hectares full of attractions, be it Museum of Science and Technology (Cité des Sciences et de l'Industrie), the Zénith de Paris performance venue, Géode IMAX theatre, the Philharmonie de Paris concert halls as well as children's playgrounds.
Seine River
The Seine river flows throughout Paris, creating waterways, a lifeline for the locals, besides being the much needed water source, well-known for its fresh water fishes. In 1991 it was declared by UNESCO as world heritage site.
Paris Plages
The Siene river, during summer months, from July to September houses an experience for the holidays. Various vacation spots are created on the left bank from Pont Alexandre III to Pont de Solferino and on the right bank between Pont Neuf to Pont de Sully. Dock lawns are converted into resorts, with the help of sun umbrellas, lounge chairs, beach towels, children's toys and palm trees.
Parc des Buttes-Chaumont
The Buttes-Chaumont Park is a natural untamed garden, akin to a quite oasis, complete with waterfalls, caves and even an artificial lake. Locals picnic in this garden by enjoying shade of large trees and vast stretch of grass with a blanket, food, a book to read or listen to music and relax.
Châtelet and Tour Saint-Jacques
Two theatres mainly Théâtre du Châtelet and Théâtre de la Ville adorn the center of Paris that is the Place du Châtelet. The area around the Châtelet is interesting as it houses the Tour Saint-Jacques just on the Ru de Rivoli and further to the Boulevard de Sébastopol.
Centre Pompidou
Centre Pompidou features shocking modern architecture in sharp contrast to the historical buildings of Paris. The modern architectural centre displays elevators and staircase on the outside. The museum houses more than 1,00,000 pieces of modern art from Post – Impressionist, to Neo Realism to Pop Art. Besides that it houses a souvenir store, a bookshop, a cafe and a contemporary styled restaurant
Luxembourg Gardens (Jardin du Luxembourg)
The Luxembourg gardens are calm oasis in the hustling bustling city of Paris. Green space, about 61 acres of them offer delight to Parisans and tourist alike, in the form of sun-bathing, kids activities or just picnic at the gardens.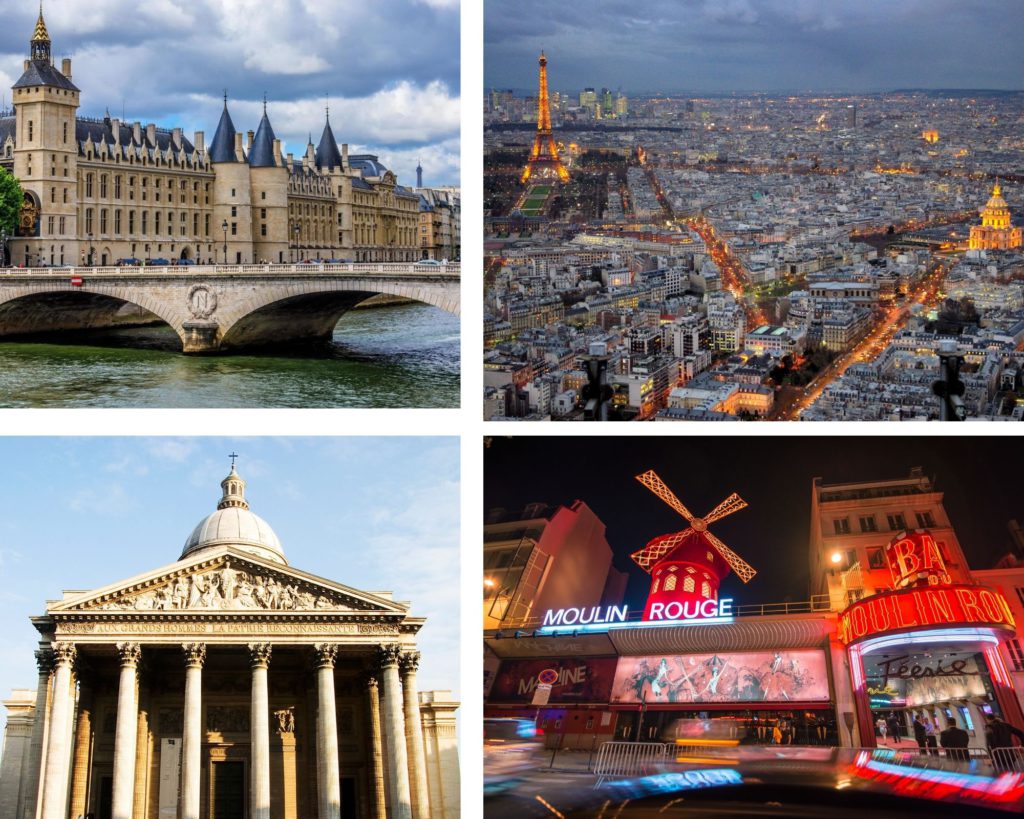 Saint Germain
Do visit the Saint Germain, very close to the garden, to experience food and shopping be it the cafes like Brasserie Lipp Les, Cafe de Flore, and Deux Magots, or street markets, or Le Bon Marché, the upscale department store or La Grande Epicerie de Paris the best grocery store in the world to gather pantry necessities, or visit the Picasso of Pastry, Pierre Hermé or Debauve & Gallais, the oldest chocolate shop in Paris, or Relais de l'Entrecôte to try the best Steak frites in Paris or just spend time on the exotic bridges of Saint Germain.
Versailles Palace (Chateau de Versailles)
The Château at Versailles takes nearly a day to sightsee with its 2300 rooms and a serpentine queue to always see the palace. Kings, palaces and royalty and their lavish life is something most commoners enjoy as fairy's land and Versailles satisfies completely by its opulence. Travel by the RER C train to Versailles Chateau Rive Gauche from Saint-Michel or Champs de Mars stations. These stations are connected by metro from any destination in Paris.
Musée Rodin
The former residence of Auguste Rodin is converted into a museum dedicated to Rodin. The house displays, The Kiss, The Hand of God, and the Thinker besides many emotive sculptures of Rodin as well as 7000+ drawings of different artists including Van Gogh.
Paris Catacombs (Les Catacombes de Paris)
The most bizzare visit in our Paris tour was the Catacombs, quite chilling and not at all romantic as the city suggests. Nearly 6 million bodies from all the graves scattered around Paris were moved to the 65 feet quarry just 5 feet in height, beneath Paris as in 19th century Parisians felt the space crisis for burials.
Sainte-Chapelle
Sainte-Chapelle symbolises the best stained glass artistry besides French gothic architecture, portraying 1,113 acts of Bible in spectacular colour. Sainte-Chapelle also houses many original Louis IX acquired Christian artefacts and the altar shows a relic of the Crown of Thorns.
Musical Concerts at Sainte-Chapelle
The chapelle is rarely used for mass except Christmas, May day or New year but is a venue for music concerts. If you love choir music, listening to a concert in the chapelle is an experience you would enjoy.
Conciergerie
Conciergerie was a royal residence till the end of the 14th century which was converted into a new parliament and office during King Charles V reign. During and after the French revolution the Conciergerie acted as prison to hold political as well as common prisoners.
Galeries Lafayette Paris Haussmann
A visit to department store Galeries Lafayette Paris Haussmann is a must even if you do not want to shop. The enormous 750000 megastore dazzles you from its exterior as well as by its interiors, with its 141 feet high up glass dome typical of neo-Byzantine architecture and glass walkway to gaze below. You can shop anything and everything here from pocket easy to exorbitant brands and products
Le Marais
Feel the medieval, old world French charm of Paris by strolling through Le Marais, also home to well-known author Victor Hugo. Le Marais withstood the trauma of French revolution and still maintains the old times of Paris. This is also known as the Jewish quarter along Rue des Rosiers, which houses delis, bakeries, art galleries, museums, chic boutiques, vibrant nightlife as well as the gay community
Montparnasse Tower Observation Deck
Another place to visit in Paris is the Montparnasse Tower Observation Deck open from 8.30 a.m. to 10.30 p.m. and till 11 p.m. on Friday & Saturday. Reach the top to literally have Paris at your feet. You get a panoramic view of Paris with all its attraction.
Moulin Rouge
Paris, nightlife and cabaret is must see and have experience and Moulin Rouge, from 1889 is the fabled cabaret club. All your senses are stunned by the history and extravagance, be it the free flowing champagne, dazzling burlesque dancers costumed in rhinestone, feathers, stone besides maddening crowds and all the other elements that make Moulin Rouge an experience that you will rarely forget.
Pantheon
Part of the Latin Quarter, the Panthéon is the very symbol of france, its architecture. In fact it is a huge church with a burial ground along with a museum, completed just before the French Revolution in 1789. Except of the few days of the year like Christmas and the New year, the Pantheon is open all days of the week.

WHAT TO EAT & WHERE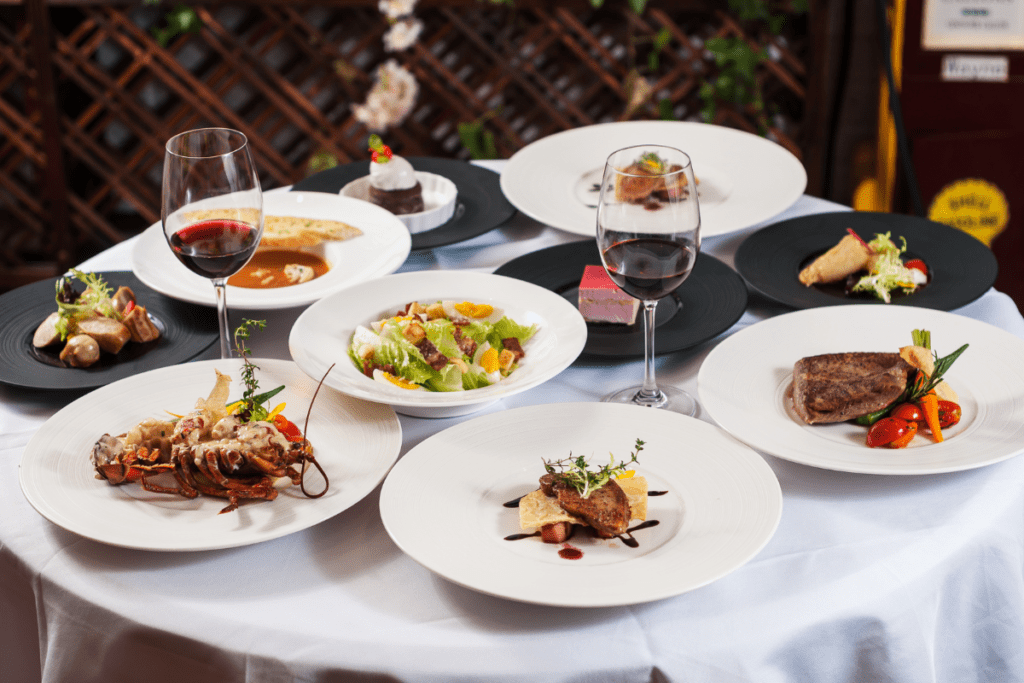 The foods you must try in Paris or most of France is Baguettes, a long loaf of bread that is very French. Croissants are another French delight, soft, buttery, melt in the mouth, that are available as plain or with aa filling like lemon, chocolate etc. Macaroons are a delight that definitely should be tasted with incredible flavours from salted caramel, lemon, raspberry, rosewater. Do try out Eclairs, a light flaky crust with cream filling. Taste the various cheeses available from camembert, comet to the lesser known ones available in exclusive cheese shops as well as department stores and super markets. If you love Oysters then you should try them and they are available in most cafes and if you are a connoisseur then ask for the oyster of your choice. Falafel though not classic French food, has over the years become very French and do check out the L'As du Fallafel to try out their falafel. Enjoy the Morrocon Couscous made of semolina with lots of veggies and broth, supplemented by merguez, eggplants stuffed with ground chicken or meat. Enjoy Steak frites in the open-air cafes and if you want to try the best one, try it in Relais de l'Entrecôte in Saint Germain. Duck Confit is a classic french dish made by curing the duck with salt and herbs, refrigerated for a few days then slow cooked till extremely tender and then jarred to last a couple of months.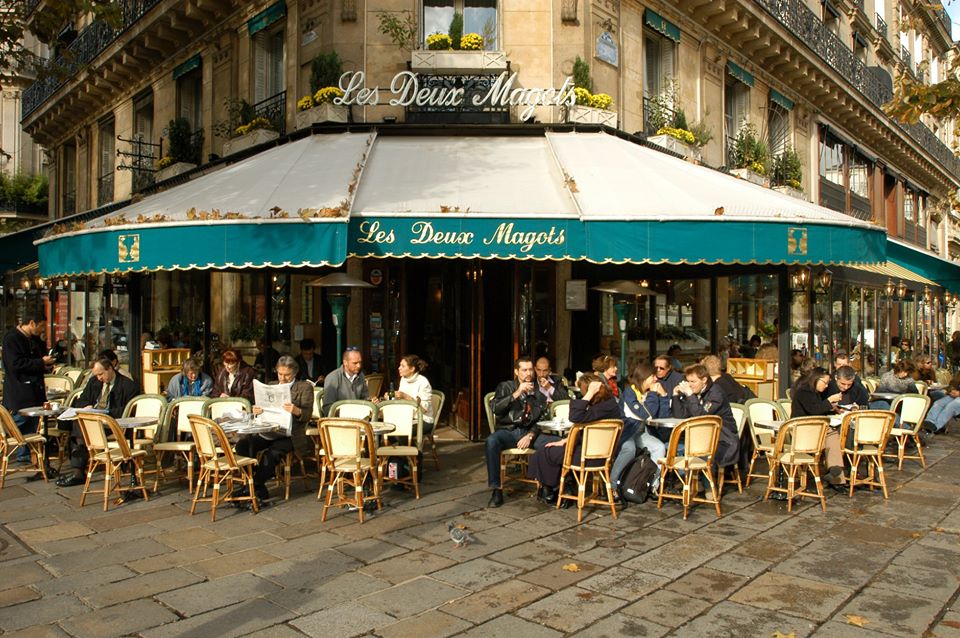 Chocolates are something you have to buy in Paris for its variety and flavours and fillings. Salted butter caramel is something we tasted at Henri Le Roux to discover what is should actually taste like. Do try out the various pastries in Paris, like the lemon tart, cream puff, pastries with lemon curd or hazelnut cream, the Chocolate and pistachio escargot, pralines, meringues, foie gras, rum-soaked baba au rhum, praluline, or the almond tea cakes called financiers especially the mini versions, flavoured with vanilla, pistachio. Do try out the savoury crepes as well as the sweet ones, or Alsatian choucroute with tangy sauerkraut, gelato icecream in flavours like fig or candied chestnut or pumpkin. If you are a coffee lover do try out the various cafes and their coffees or even the hot chocolates. Pizza though very Italian can be had in Paris as they do make great pizza and Basquiat, with Gorgonzola, dried figs, and French country ham. Try the simple but tasty Sole Meunière, fish prepared in butter sauce. It is said that don't drink water, drink wine in Paris and what better food then Cheese Fondue to sip with your wine. Visit bistros to taste Beef bourguignon a simple beef stew or frog legs, with herbs and fresh tomatoes. You can buy wine even in a supermarket in Paris and enjoy the variety be it white wines, red wines or sparkling wines or Champagne. You can also try out ready to drink cocktails available.
For latest travel news and updates, food and drink journeys, restaurant features, and more, like us on Facebook or follow us on Instagram. Read more on Travel and Food Network
Trending on TFN
The 23 Best Places To Go In 2023
Explore Utah's Mighty 5® and What Lies in Between