The city of Adelaide in Australia is one bursting with culture, flavors, events, and entertainment. For a long time, the city was overshadowed by the more renowned tourist cities of Sydney, Melbourne, and Perth. Yet what was once a second-tier capital city has evolved into a destination that attracts thousands of tourists from around the world.
With the T20 World Cup Semi-Final match between two of cricket's powerhouses: India and England, to be held here, the city has become a significant talking point for many cricket fans. Whether you are planning to experience the buzz from the stands of Adelaide Oval or wish to visit the city at a later date, here is how you can make the best of your Adelaide trip.
Best Time To Visit Adelaide
Of course, the best time for cricket fans to visit Adelaide is during sporting events. But even otherwise Adelaide is a great year-round destination due to its Mediterranean climate.
What To Do
Colorful cultural events, a thriving restaurant scene, and fine wine make Adelaide a popular tourist destination. So, when you visit the city, make sure you leave enough time to experience and soak in the city by exploring its stunning surroundings. Here are some of the best places you can head to in Adelaide:
Adelaide Oval Stadium: One of the world's most picturesque sporting grounds. Adelaide Oval is the proud centrepiece of this cosmopolitan city. It is a venue steeped in sporting, arts and cultural history – one loved both for its heritage and modern features. Go behind the scenes of this historic place by taking a tour of the stadium. Expert ambassadors share tales of the venue's history, the sports legends who have competed in the arena, and the Oval's iconic place in the city's history. Or opt for Roof Climb, where you will be guided by trained Roof Climb leaders across the rooftop of stadium before navigating to the Riverbank platform. Sit on the world's first rooftop stadium seats and learn about the stories that shaped Adelaide's rich history while taking in the mesmerizing city view.
Adelaide Central Market: The biggest covered market in the Southern Hemisphere, is the perfect place to experience the food and culture of the city. A favorite spot among locals, Adelaide Central Market has countless authentic eateries that offer gastronomic delights from Asia and carry produce from all over South Australia.
Tandanya National Aboriginal Cultural Institute: Tandanya is one of the best places to connect with the indigenous culture of Adelaide. Aboriginal-owned and managed, the museum contains a performance space, galleries, and a gift shop stocked with authentic crafts. The exhibitions focus on the modern indigenous experiences touching on various environmental and social issues.
Adelaide Botanic Gardens: Explore the beautiful Botanic Gardens spanning 50 hectares and its stunning landscaped grounds that are studded with mesmerizing architecture, including the 1877-built Palm House. Glass structures dating back to the 19th century are spread throughout the gardens. Next door, you'll find the National Wine Centre of Australia, home to more than 120 wines, and Adelaide Zoo.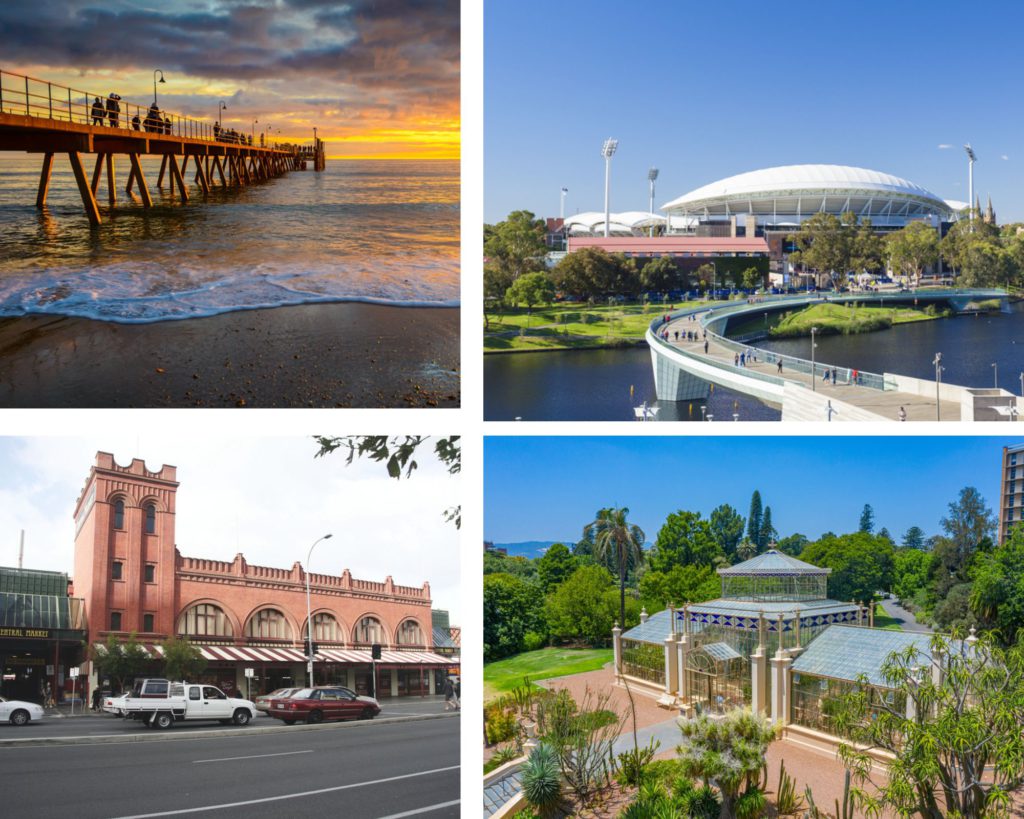 Beach Hopping: For sun chasers and seafood lovers, there are exceptional beaches close to the city centre. Take the 20 minutes tram ride to Adelaide's favourite city beach, Glenelg where you can stroll along the shore, swim with dolphins, take a twilight cruise and in between grab a bite at one of the many restaurants dotting Jetty Road. Another must-visit beach is Henley beach that is surrounded by a range of high-end seafood restaurants. Simply soak up the sun at the water's edge or over dinner and drinks and watch the sun set beyond the horizon.
Mount Lofty Summit: The mountaintop lookout offers beautiful views of the Fleurieu Peninsula and the mesmerizing ocean beyond. The place is also home to a population of wild koalas that usually are overlooked by visitors passing below.
Wine country: If you are a wine lover, when in Adelaide, you must try the city's spectacular wines. The two regions known for Adelaide's wines are Adelaine Hills and McLaren Vale. Adelaide Hills is a cool-climate wine region that is increasingly hip with its cafes, restaurants, and converted heritage spaces.
National Wine Centre: If you are interested in wine but cannot take time out to make a trip outside the city, drop into the National Wine Centre. Located just next to the Adelaide Botanic Garden, the center offers a range of experiences. Visitors can tour the building, visit the wine-tasting room, and absorb the grand architecture of glass and wood.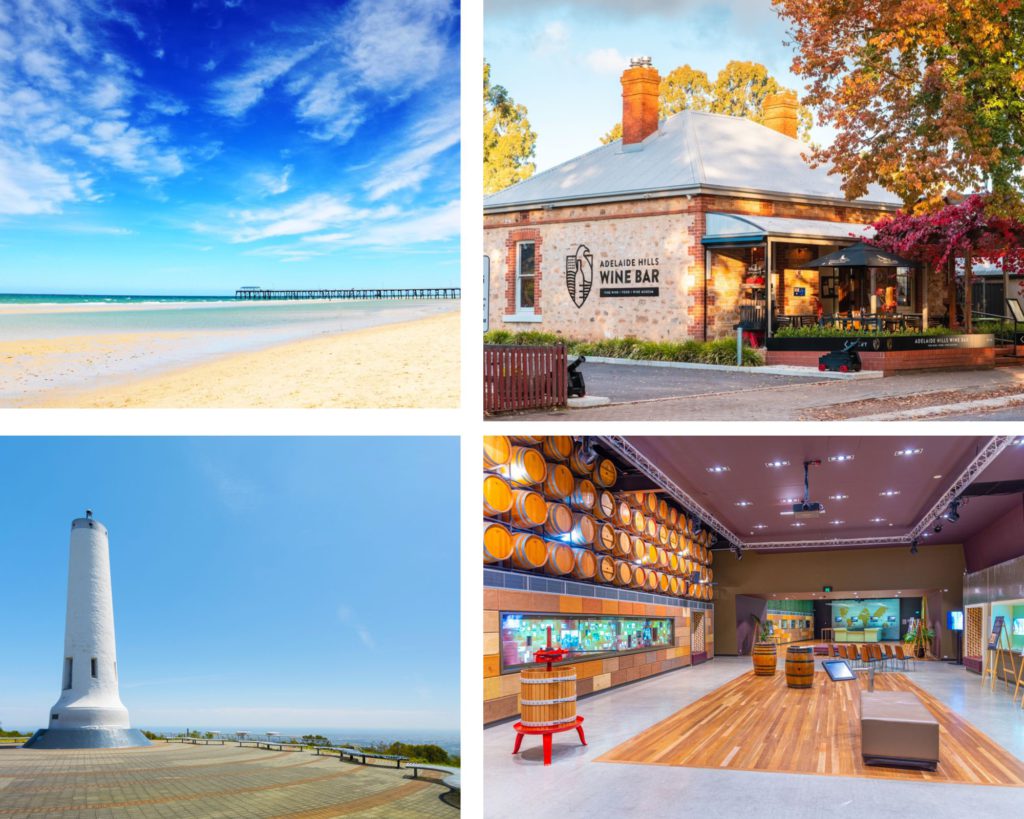 Where To Eat
Starting with Adelaide's East Terrace, Africola is one of the hottest tables in town. You will find African dishes prepared uniquely in a riotous space full of noise and color. Try the sardine with harissa and Goolwa pipis with fermented chili and short noodles. Vegetarians and Vegans have plenty of delectable options to choose from – golden dahl, sprouted lentils, fried cauliflower, and falafel and marinated eggplant.
Address: 4 East Terrace, Adelaide SA 5000
Meanwhile, Golden Boy, a Thai restaurant set within a bright space with comfy booths and communal tables, is another great choice. The restaurant delivers authentic Thai food with punchy flavors while the drinks menu places gems of South Australian wine & brewing alongside balmy twists on a traditional cocktail menu.
Address: 309 North Terrace, Adelaide SA 5000
If you are a Pasta lover then visit Fugazzi, a New York-Italo inspired bar and dining room that's undoubtedly one of Australia's best pasta haunts. Try their version of Australian cuisine with their Roman Vegemite finger (a holy trinity of anchovy, whipped butter and lemon on toast), or go all out with a Wagyu Tomohawk Steak.
Address: 27 Leigh Street, Adelaide, SA, 5000
For a special occasion, head to The Mayflower at The Mayfair Hotel for a classic evening meal.
Adelaide is also home to world-class cafes beside the great restaurant scene. You will find great places for coffee and tasty snacks throughout the city. Try La Moka for something cozy and friendly.
Address: 16 Peel St, Adelaide SA 5000
Alternatively, head to Hey Jupiter, an authentic French café and restaurant with a European feel and Australian twist.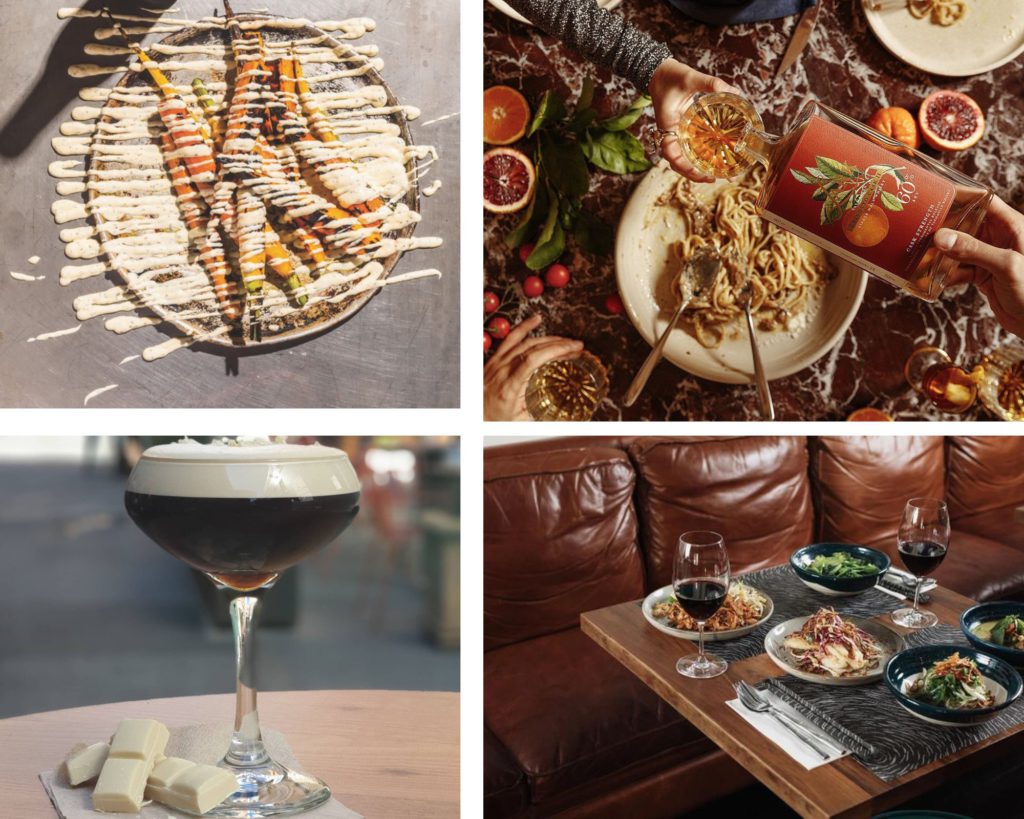 Where To Stay
Whether you want unrivaled luxury or a comfortable, budget hideaway, Adelaide has a wide selection of holiday accommodations just around the corner from world-famous restaurants and vibrant local bars.
Located in the heart of the CBD and just 15 minutes from Adelaide Airport are two five star hotels – The Mayfair and Sofitel. If your idea of exploring the city is to be in walking distance of most popular tourist hotspots, then opt for EOS at Skycity. Although more expensive than your average luxury hotel, but you get to stroll to Rundle Mall, the Botanic Gardens, Festival Centre, the Art Gallery, Adelaide Oval and Adelaide Central Markets, or explore laneways packed with bars and restaurants.
Located in the heart of Adelaide CBD, within walking distance from everything you would want to explore in the city, is Quality Apartments Adeliade Central, an unbeatable Adeliade accommodation option.
Alternatively, you can check in at Adelaide Royal Coach, located just outside CBD, perfect for those who prefer to sleep in quieter parts of the town.
For an affordable option, try the Comfort Hotel Adelaide Meridian, located further from the CBD in a quirkier part of town. The area is lined with gorgeous streets and cozy cafes.
How to Get There
Qantas flies to Perth with connections to Adelaide. Emirates, Cathay Pacific, Qatar Airways, Singapore Airlines, Malaysia Airlines and China Southern Airlines all offer connections to Adelaide.
For latest travel news and updates, food and drink journeys, restaurant features, and more, like us on Facebook or follow us on Instagram. Read more on Travel and Food Network
Trending on TFN
FIFA 2022: 72 Hours in Doha | Travel and Food Guide
72 Hours in Sydney | Travel and Food Guide
72 Hours in Al Khor, Qatar | Travel & Food Guide