Yellowstone is a hotbed of geothermal activity and a sanctuary for abundant wildlife, best explored by road.
America's oldest national park has 2.2 million acres of forests, lakes, and mountains. Heat and volcanic activity from the centre of the Earth power this landscape filled with mud pots, geysers, fumaroles, and hot springs. Abundant wildlife roams the park and during my visit I was lucky not only to see plenty of bison and deer, but also a pair of grizzlies and a bald eagle.
A road trip is the only way to see the variety and beauty of Yellowstone National Park. Depending on where you are coming from, Yellowstone can be accessed from five different gates, in three different states.
A Yellowstone experience can be two days or two weeks. If you only have a little time to spare, take in the highlights via the 230-kilometre-long Grand Loop drive. Even on a longer trip, there is no chance of ever getting bored. There is much to see and do, roads to drive through, paths to hike, sublime vistas to absorb, wildlife to encounter. And most unique of all, the bubbling, gurgling, boiling, steaming earth all around is eternally mesmerizing.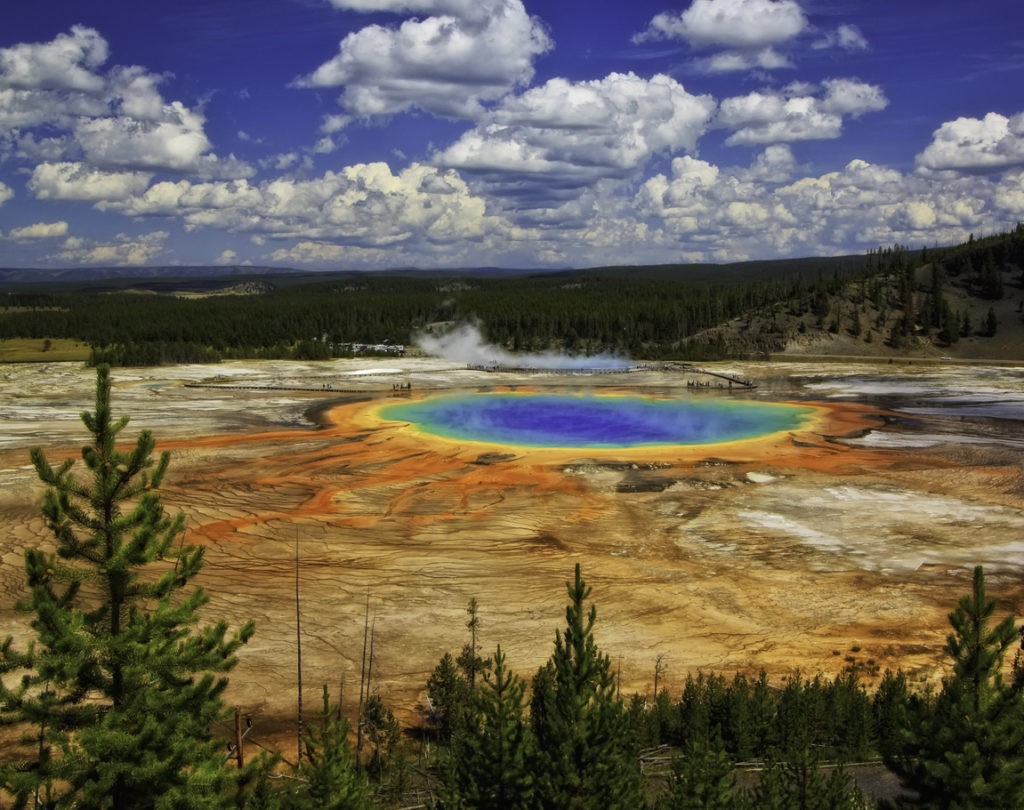 STOP 1: Point of View
Yellowstone has countless vantage points with views of Yellowstone Lake, forests, rivers, and waterfalls. The observation decks at Artist Point, a short walk from the parking lot on the South Rim of the Grand Canyon of Yellowstone, offer a stunning view of the Lower Falls of the Yellowstone River as well as of the canyon. This 32-kilometre-long canyon is marked by steep white-and-yellow cliffs that appear to erode even as they are watched. Streaks of pink mineral stain the canyon walls, and vents and spires tell the story of the thermal activity that continues unabated underground. The Lower Falls are also dazzling when seen from Lookout Point on the North Rim which is where we stopped. For those who have the time, hiking is an essential part of the Yellowstone adventure.
STOP 2: Old Faithful Geyser
Few sights in Yellowstone match that of watching a huge plume of steam and water gushing out of the earth, shooting 100-184 feet into the air. On this trip I watched the geyser erupt from a vantage point on one of the many wooden board-walks built around the geyser, and had ample time to take pictures and videos. With its reliable eruption times (every 60 to 110 minutes) it's easy to plan a visit to witness a blowout. After-wards, the Old Faithful Visitor Education Center offers a quick lesson on the geology behind the world's most famous geyser.
STOP 3: Mammoth Tiers
On a slow drive-through of the Mammoth Hot Springs area, visitors can see the churning thermal landscape, as well as grazing elk right from the car. Step onto the network of boardwalks, however, to see much more. These wooden paths wind their way through a multitude of travertine terraces with changing abstract shapes and contours. Colours change as heat and minerals combine, and bacteria and algae transform the pools and surfaces. A two-hour walk along the Lower Terrace Interpretive Trail is a good way to imbibe the essence of this park.
Also Read: Five Epic U.S. National Parks To Visit This Year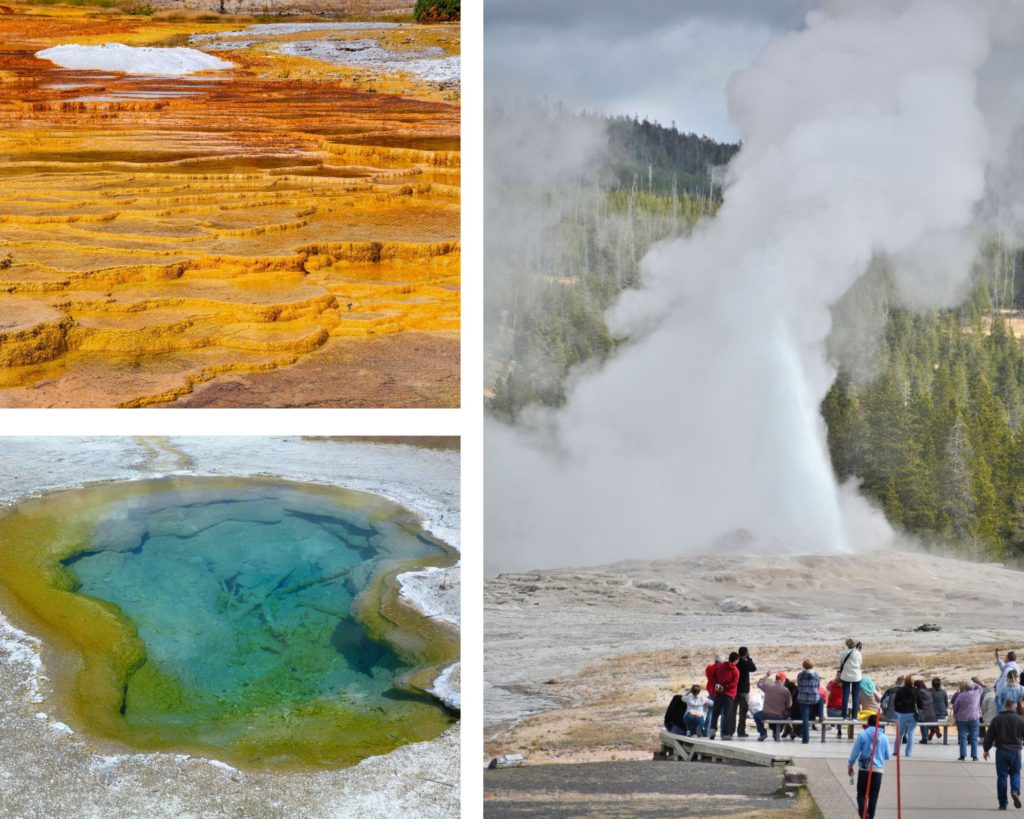 STOP 4: Yellowstone Lake and Geyser Basins
Although smaller than some of the others, West Thumb Geyser Basin is a spectacular must-see. In this small area, on the edge of Yellowstone Lake, it's easy to view all the thermal features that make this park so unique. Hot springs, bubbling pools, mud pots, fumaroles and lakeshore geysers empty into the chilly waters of Yellowstone Lake. Outstanding features include Abyss Pool, a 53-foot-deep blue pond, and Fishing Cone, a submerged geyser that becomes visible only in the summer when lake water levels drop. Time permitting, make a stop at Norris Geyser Basin, a short distance south of Mammoth Hot Springs. It has the world's tallest active geyser and a colourful display caused by the combination of various minerals and the life forms that exist in this torrid environment.
STOP 5: Grand Prismatic Spring
To get to the Grand Prismatic Spring, Yellowstone's largest hot spring, drive to Midway Geyser Basin and then walk along the boardwalk. Through the steam rising off the surface, a large turquoise pool ringed with orange and yellow comes into view like a dream. Temperatures around the pool are high, especially on a summer's day. The rainbow colours of this pool producing the effect of a prism are best viewed from a height. Take a slightly strenuous hike up the Midway Bluff trail to get to the perfect vantage point.
MORE STOPS
Other Yellowstone highlights that are worth the detours they require are Lamar Valley for its wildlife and Morning Glory Pool on the outer areas of the Upper Geyser Basin, for its teal and orange coloured waters, the result of thermophilic bacteria thriving in its scorching depths. Firehole Canyon Drive skirts the edge of a cliff, along the Firehole River, and makes for an interesting drive as well. It's one of the few places in the park where we saw visitors soaking in the warm waters without fear of getting burnt. Swimming is possible here because the boiling hot spring water meets the cold snowmelt of the river, bringing it to a bearable temperature.
STAYING INSIDE THE PARK
Old Faithful Inn & Lake Yellowstone Hotel: If you can splurge on staying at one of the upscale lodgings in the park, there are several choices. The two most iconic stay options are Old Faithful Inn and Lake Yellowstone Hotel. Note that any accommodation inside the park needs to be booked months in advance, especially for the peak summer (Jun-Aug) season. All bookings can be made here.

Old Faithful Inn: A stone's throw from Old Faithful geyser, this landmark hotel exudes warmth and old-world charm.

Old Faithful Snowlodge and Cabins is a stylish hotel made with numerous recycled and repurposed materials as well as wood.

Lake Yellowstone Hotel: This is the oldest lodging in the park going back 126 years, but has recently been renovated in art deco style. Though on the banks of Yellowstone Lake, most rooms don't actually overlook it, but wildlife can be seen roaming pretty close to the building.

Lake Lodge Cabins: Not far from the Lake Yellowstone Hotel is another set of charming historic cabins with front porches and rocking chairs. Two fireplaces in the lobby keep the place warm and inviting. Western Cabins are modern, while the Frontier Cabins are more basic.
SOUVENIR SHOPPING
Yellowstone National Park has a variety of options for local shopping. Here are some suggestions:
Yellowstone Forever: This is the official nonprofit partner of Yellowstone National Park. Yellowstone Forever has several stores in the park that offer a variety of souvenirs, books, and gifts. You can find their stores at the Old Faithful Visitor Education Center, Canyon Visitor Education Center, and other locations throughout the park.

Old Faithful Inn Gift Shop: This is the largest gift shop in the park and is located in the Old Faithful Inn. It offers a variety of souvenirs, clothing, and gifts.

Mammoth General Store: This is the largest general store in the park and is located in Mammoth Hot Springs. It offers groceries, snacks, souvenirs, and camping supplies.
FOOD & DRINK
Towns like West Yellowstone and Jackson Hole that are commonly used as entrance points to the park have plenty of eating options such as cafes, bars, and bakeries that are suitable for tourists who are just passing through.
The Dining Room at the Old Faithful Inn: This historic restaurant located inside the Old Faithful Inn serves up delicious American cuisine with stunning views of the geyser.
Address: 3200 Old Faithful Inn Rd, Yellowstone National Park, WY 82190, United States.
Canyon Lodge Dining Room: This spacious restaurant located inside the Canyon Lodge offers a variety of delicious American cuisine, including regional specialties like bison meatloaf and huckleberry cobbler.
Address: Yellowstone National Park, 83B Lupine Ct, Yellowstone National Park, WY 82190
Mammoth Hot Springs Dining Room: This rustic restaurant located inside the Mammoth Hot Springs Hotel serves up hearty American fare with a focus on locally sourced ingredients.
Address: Mammoth Hot Springs Dining Room: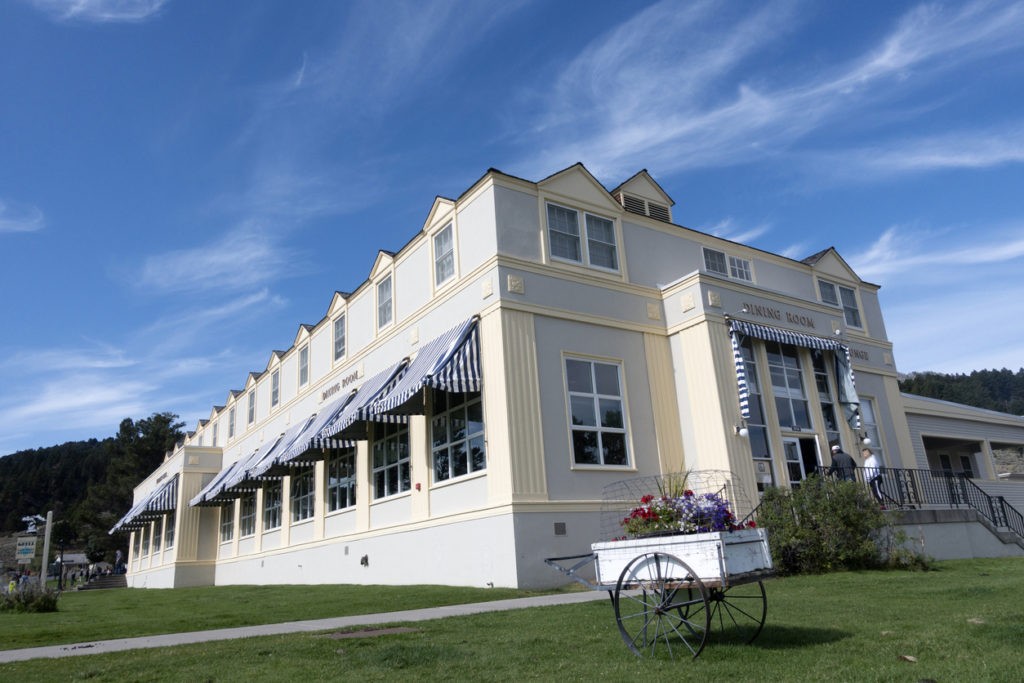 The Obsidian Dining Room: This elegant restaurant located inside the Snow Lodge serves up fine dining with a focus on locally sourced ingredients, including wild game and trout.
Address: 2 Old Faithful Rd, Yellowstone National Park, WY 82190
Wild West Pizzeria and Saloon: This is a saloon-style bar located on Canyon Street. They offer a great selection of beers, cocktails, and pizza. They also offer vegan options including vegan cheese, sauce and crust options, and you can customize your own pizza with various vegan toppings.
Address: 14 Madison Ave, West Yellowstone, MT 59758
Slippery Otter Pub: This is a popular bar located on Canyon Street. The bar has a great selection of beers, and their pizza is highly recommended.
Address: 139 N Canyon St, West Yellowstone, MT 59758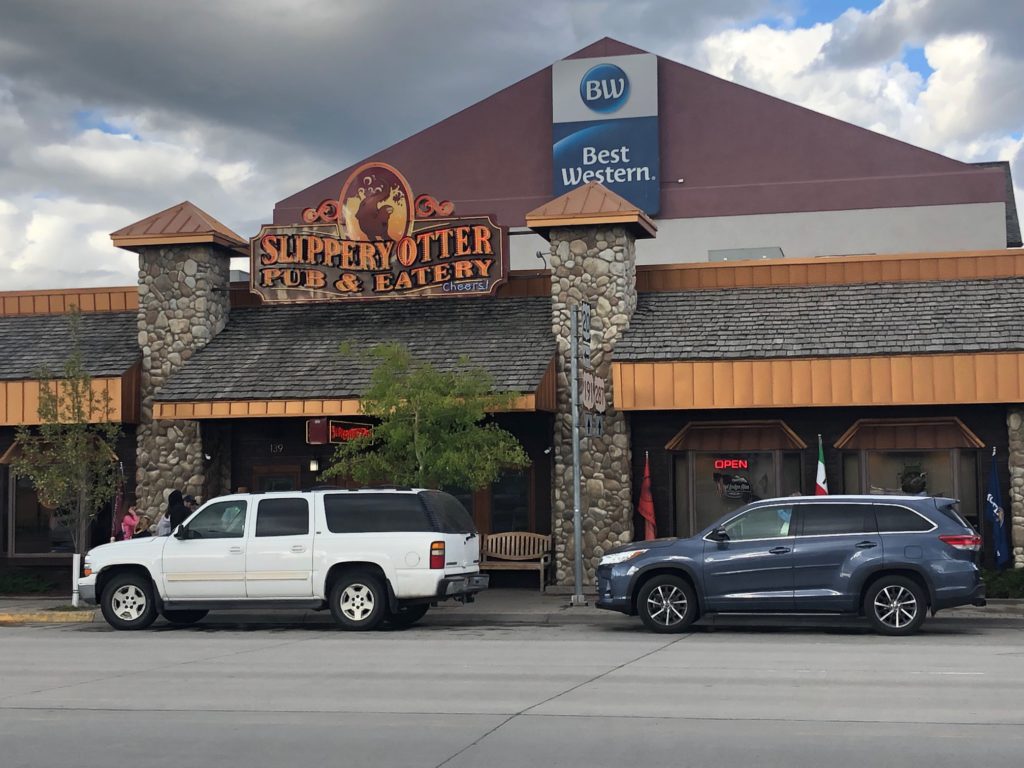 Bullwinkle's Saloon and Eatery: This is a popular bar located on Madison Avenue. They offer a great selection of beers, cocktails, and pub food.
Address: 115 N Canyon St, West Yellowstone, MT 59758
The Buffalo Bar: This is a popular bar located on Canyon Street. They offer a great selection of beers, cocktails, and burgers.
Address: 335 US-20, West Yellowstone, MT 59758
Three Bear Lodge: This is a lodge that has a bar located on Canyon Street. They offer a great selection of beers, cocktails, and pub food.
Address: 217 Yellowstone Ave, West Yellowstone, MT 59758
Morning Glory Coffee & Tea: This coffee shop is located on Madison Avenue and serves a variety of coffee, tea, and baked goods.
Address: Morning Glory Coffee & Tea:
The Gusher Pizza and Sandwich Shoppe: This restaurant, located on Canyon Street, serves both pizza and sandwiches as well as coffee and other drinks.
Address: 40 Dunraven St, West Yellowstone, MT 59758
For latest travel news and updates, food and drink journeys, restaurant features, and more, like us on Facebook or follow us on Instagram. Read more on Travel and Food Network
Trending on TFN
The 23 Best Places To Go In 2023
Explore Utah's Mighty 5® and What Lies in Between
Five Epic U.S. National Parks To Visit This Year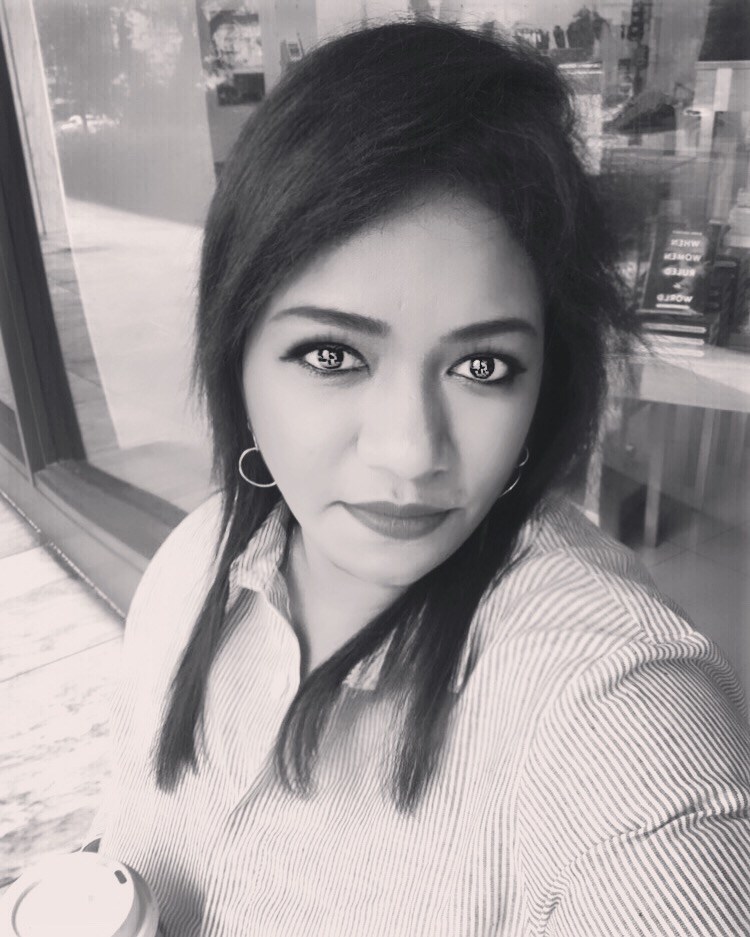 A New Yorker at heart, an unapologetic anglophile, national parks explorer and former head of National Geographic publishing in India, Ritika is the Global Editor for Travel and Food Network and leads all journalism across platforms, including news, digital, videos, and social media. She writes features focused on narrative storytelling, industry trends, destinations, culinary travel, and how-to advice and is an advocate for sustainable travel. You can follow her on Instagram @newyorkeratheart