The ultimate American epicurean celebration that primarily celebrates harvest, also brings together families and friends to share a meal and give thanks for all the good things God has given us. Every family however interprets the Thanksgiving meal in their own way based on the foods of their region and their own ethnic background and traditions. So while the popular belief is that Turkey is synonymous with Thanksgiving (in most cases it is) if you happen to be in the United States on Thanksgiving and are lucky enough to get invited to dinner, you'll find shifting terminology, playful squabbles over the most authentic ingredients, and a number of unique regional foods.
No matter where in the U.S. your Thanksgiving travels take you, this coast-to-coast food guide will prep you for what might grace your plate — and the best local spots to sample these dishes.
Turkey And Other Meats
Monikered Turkey Day for a reason, as per the National Turkey Federation, approximately 46 million turkeys are eaten at every Thanksgiving, with 88% of Americans preferring it over other meaty eats.
And then there are those who do not eat (or even like) turkey on Thanksgiving. Yes you read it right, but ham, goose and other roasts will show up on tables across America. Crab and lobster dinners aren't unheard of either (in fact, if one really wants to replicate the first Thanksgiving, you should have a shellfish, eel and venison feast). Expect to find crab cakes on the Thanksgiving table in Maryland. Even if one is sticking with the classic turkey, preparation varies widely: brine or no brine; butter basted or sweet glazed; hours in the oven, low and slow in a barbecue or fast and dangerous deep fry (a popular Thanksgiving dish in Texas). If you happen to be in Louisiana, you may even be served the 'turducken': a duck stuffed in a chicken stuffed in a turkey! So no matter where you are, loosen your belt and dig in!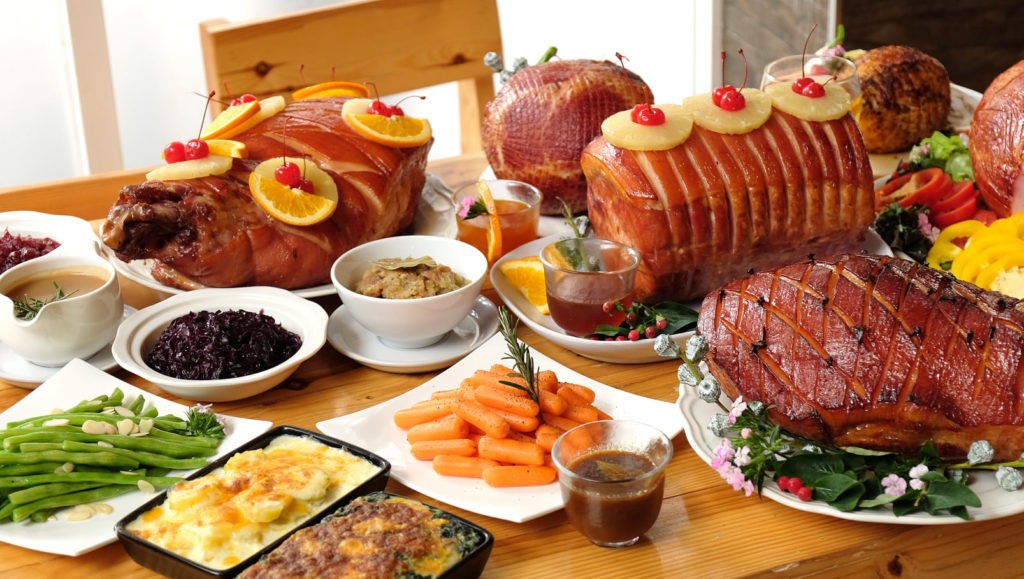 Thanksgiving Sides
When it comes to your Thanksgiving dinner, the side dishes are really just as important as your perfectly crafted turkey recipe. For example a Thanksgiving dinner is incomplete without a side of potatoes and gravy. In the US, 'yam' and 'sweet potato' are used interchangeably, with yam being more popular in the western states. Candied sweet potatoes, often served with a coating of toasty marshmallows as a side to savory mains, are a Southern favorite that has spread fairly widely across the US; mashed yams are a Thanksgiving staple of the west. When in Wisconsin, Cheddar is added to the mashed potatoes to give it the cheesy twist. You know you're in Hawaii when your mashed potatoes are purple (Hawaii locals prefer Okinawan purple sweet potatoes to regular russet or yellow gold varieties)
Check out our Thanksgiving Meal Recipes:
Christine Sharma's Vegetarian Thanksgiving Recipes
Christine Sharma and Alan Samuel's Easy Thanksgiving Dinner
Now when it comes to gravy, there are a lot of ideas about what makes good gravy across the US: cream gravy, sage gravy, even a red chile gravy in New Mexico. Mushroom gravy finds its footing in the Pacific Northwest. Perhaps the most unusual regional variation is found in the South and involves the addition of sliced or crumbled hard-boiled eggs to turkey gravy. Southerners accustomed to this might lick their chops, elsewhere even the staunchest egg fans might wince at the idea.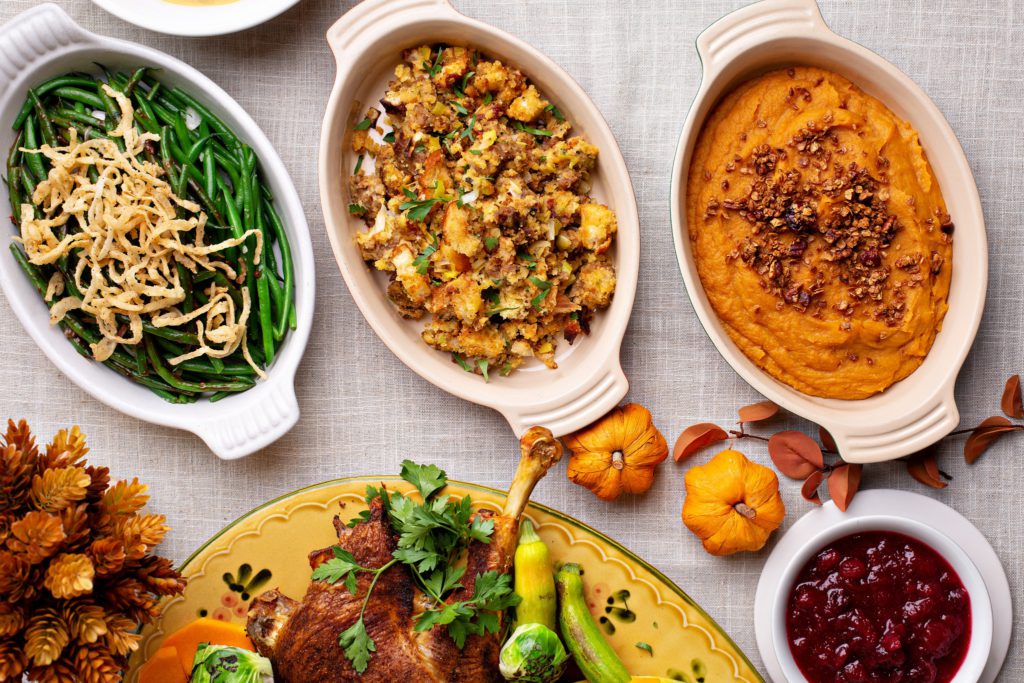 The US is a nation that loves its corn, so it's not surprising that it shows up on the Thanksgiving dinner table – from plain corn on the cob to complicated corn-based breads and casseroles. Just as cornbread stuffing is a common find in the South, cornbread itself (everyone's grandma has the absolute best recipe), along with its cousins the corn casserole and the souffle-like corn spoon bread are common Thanksgiving accompaniments throughout the South and Midwest.
Also no matter where you are in the US, something made of cranberry is more than likely to show up at Thanksgiving dinner. If it's coming from a can, it's nearly always called 'cranberry sauce' (even though it's a jelly) and it emerges shaped exactly like the can. If you're making your own, the jellied pure cranberry sauce leans toward the western US, while cranberry relish – typically with citrus peel – is more common in the northeast and cranberry salad trends towards the Midwest and South.
Thanksgiving Day Pies
Nothing says Thanksgiving like pumpkin pie – unless you live in the South, where sweet potato pie reigns supreme. The pecan, North America's finest nut-based contribution to the culinary world, is the star of the show in this custard pie specialty of the South. Endless variations can be found, ranging from very custardy pies to almost pure nut and corn syrup pies. Sometimes a raisin shows up for a visit. Add chocolate and bourbon, and you get a Derby pie, a Kentucky specialty. Remove the pecans entirely, top it with meringue or dollop of whipped cream and you'd end up with a Jeff Davis pie. Add cornmeal and you're in chess pie territory, an old New England recipe that settled in Tennessee and surrounding states. In Indiana you'll find the sugar cream pie, a white flour and cream pie that's another variation of the pecan-free pecan pie.
Check out our easy pie recipes below:
Easy Homemade Pecan Pie Recipe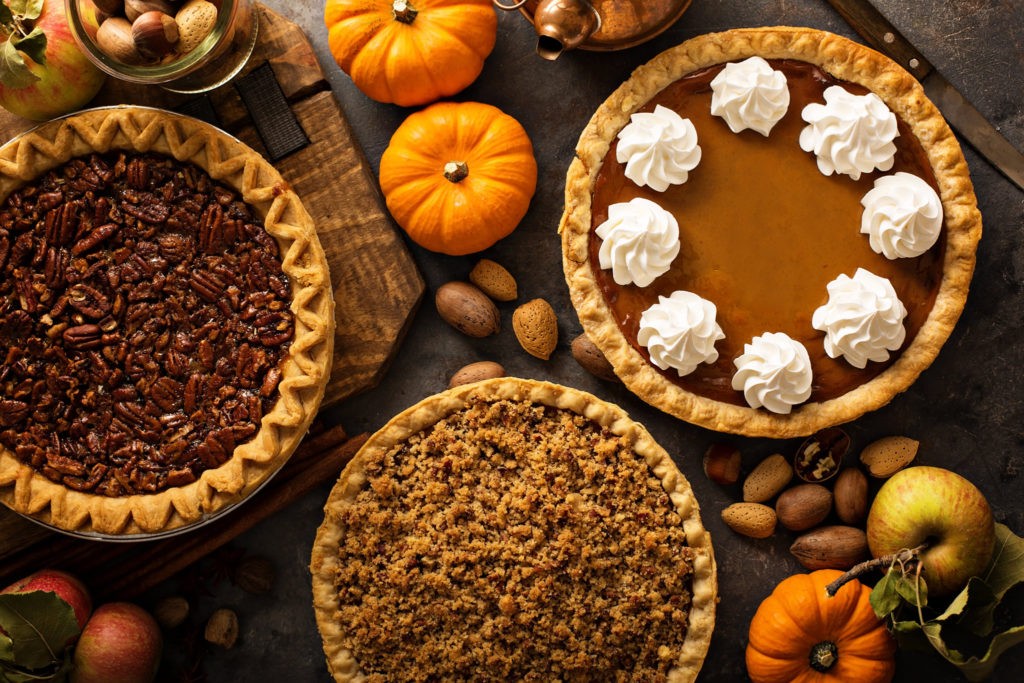 What else would you find on the Thanksgiving table?
In New England, stuffing is often made with clams or oysters instead of just breadcrumbs. In Baltimore you'll find sauerkraut (cabbage salad) on the table, thanks to the large German-American population of Maryland. Frog eye salad is a must-have for Thanksgiving in the West and Southwest regions of America. In New Jersey and parts of New York, the Italian-American Thanksgiving is perhaps the most gluttonous of all, where a must is the manicotti (ricotta-stuffed crepe pasta topped with marinara sauce). Pumpkin empanadas are the perfect melding of American tradition with Mexican roots. Green bean casserole may be a staple on many Thanksgiving plates, but you'll mostly find it in the middle of the country. In Georgia, you'll find peaches in abundance, especially in the form of peach pie.
Drinking On Thanksgiving
Drinks are a central part of the Thanksgiving tradition. If you're curious about what Americans prefer sipping on this holiday, Drizly, an alcohol e-commerce platform, conducted a survey on what people plan to drink with Thanksgiving dinner.
As you might expect, the majority of people—around 63 percent—stick to wine as their Thanksgiving beverage of choice, with half responding that they serve red wine with dinner, compared to only 10% who serve white (the rest of the respondents presumably serve either liquor, beer, or non-alcoholic beverages). 19 percent of respondents said they drink beer on Thanksgiving, while only 10% drink spirits. If you tend to break out the booze early on Thanksgiving, you aren't alone. 25 percent of people said they start drinking in the morning, right around when the turkey goes in the oven. Who can blame them? Making sure the turkey comes out perfectly is stressful, and a glass of wine while you're finishing up cooking the sides and baking dessert is the perfect way to relax, especially when there's a constant stream of relatives asking if there's anything they can do to help. 47 percent of people start opening the wine once they've finished prepping dinner—perhaps as a reward for their hard work—while another 23 percent only pour a drink once family starts to arrive.
This Thanksgiving, you can also skip the wine and serve your family and yourself this delicious, fall-favorite cocktail instead – The Classic Manhattan.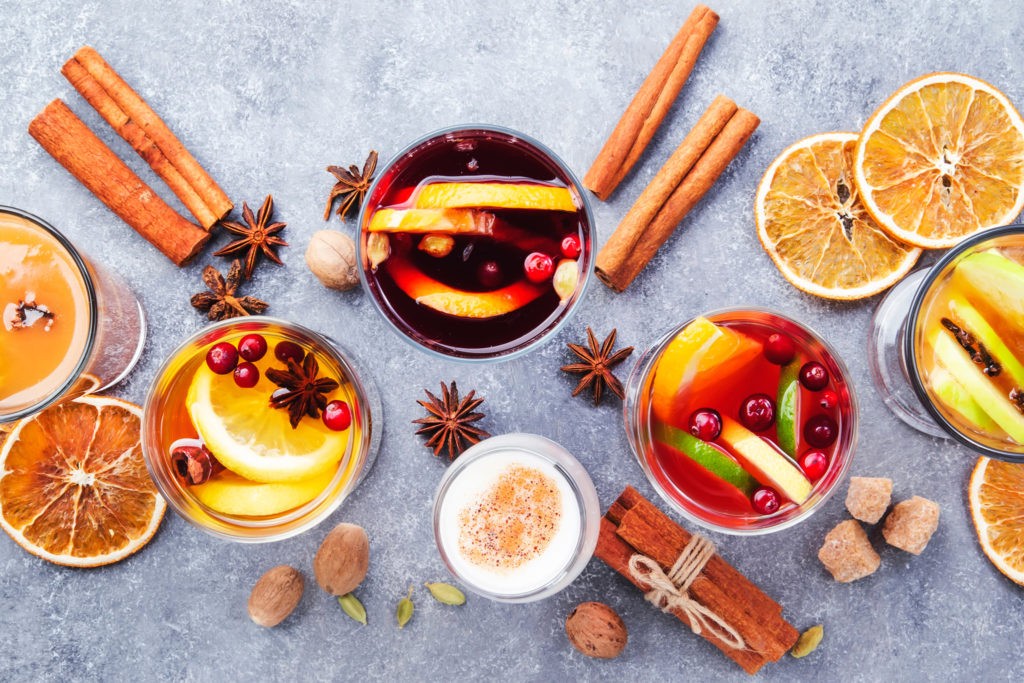 Photo: Shutterstock
This story and the gallery have been updated with new information since its original publish date.
For latest travel news and updates, food and drink journeys, restaurant features, and more, like us on Facebook or follow us on Instagram. Read more on Travel and Food Network
Photos : Shutterstock
Related Coverage:
Christine Sharma's Vegetarian Thanksgiving Recipes
Christine Sharma and Alan Samuel's Easy Thanksgiving Dinner
Manhattan For Thanksgiving | Shaken and Stirred