If you're a peregrinator like I am, the past 18 months must have been a real challenge. Cooped up, nowhere to go. Lots of time for social observation, during which I discovered there are two kinds of people. The ones that whinged and whined about how unfair it all is and the ones that made the most of this forced down time by discovering the joys in simple things, like reading, cooking, baking, gardening etc. It has also been the best time ever for researching travel bucket lists! Safe places to go once travel restrictions are lifted. And yes, that's what I've been up to, quintessential optimist that I am.
Now that summer is here, with its glorious sunshine, secluded beaches immediately come to mind as the safest places to travel. Open skies, amazing sunsets, golden sands, sparkling turquoise waters, beautiful coves, lots of social distancing, ice cream cones, Pina Coladas…
So, which beaches made my bucket list? After much research, I've narrowed it down to 10 of the world's most beautiful beaches, just waiting to be pencilled into the travel planner. If you're a beach aficionado, here's a selection to satisfy your soul.
In no particular order:
1. Anse Source d'Argent, Seychelles

Located on the quaint island of La Digue, Anse Source d'Argent is reputed to be the world's most photographed beach. It is a paradise in itself. Secluded, perfect white sands, lush jungle palm trees, vanilla trees, crystal clear water and magnificent granite boulders that have been shaped by nature. The landscape has an almost surreal look to it, with the huge boulders scattered across the beach forming coves and caves. The sea here is sheltered by the reef, and is very calm and shallow, with only sand underfoot which makes it safe for children. There are tourists who come on day trips, so we recommend you get there either early or late to have the beach all to yourself. And don't miss out on the giant Aldabran tortoises, some of them are over 100 years old!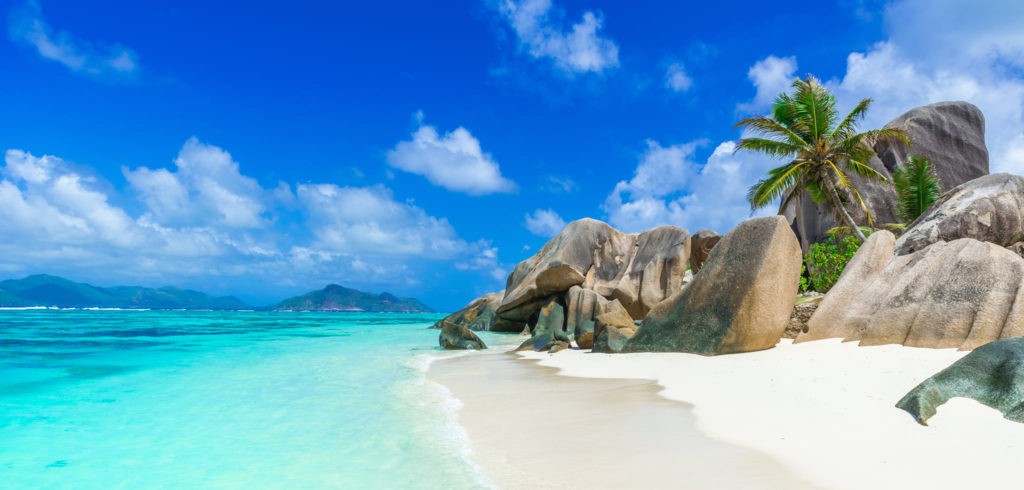 Operators run ferries and helicopters by the day, as island hopping is very popular in Seychelles, and you have 115 islands to choose from! So once you've had your fill of Anse Source d'Argent, if ever that is, visit some of the other beautiful islands too.
Seychelles is open for tourism to most countries. All visitors must submit a negative PCR COVID-19 test result taken within 72 hours prior to departure.
2. Navagio Beach, Greece
Greece has officially opened folks, and Navagio is widely regarded as the most spectacular beach in all of Greece. It is a small, secluded cove on the north-west shore of the beautiful island of Zakynthos. It is also sometimes referred to as Smuggler's Cove. Only accessible by boat, Navagio has the magical turquoise waters of the Ionian Sea, pristine white sands and is backed by dramatic towering cliffs of white rocks creating a unique and enchanting image.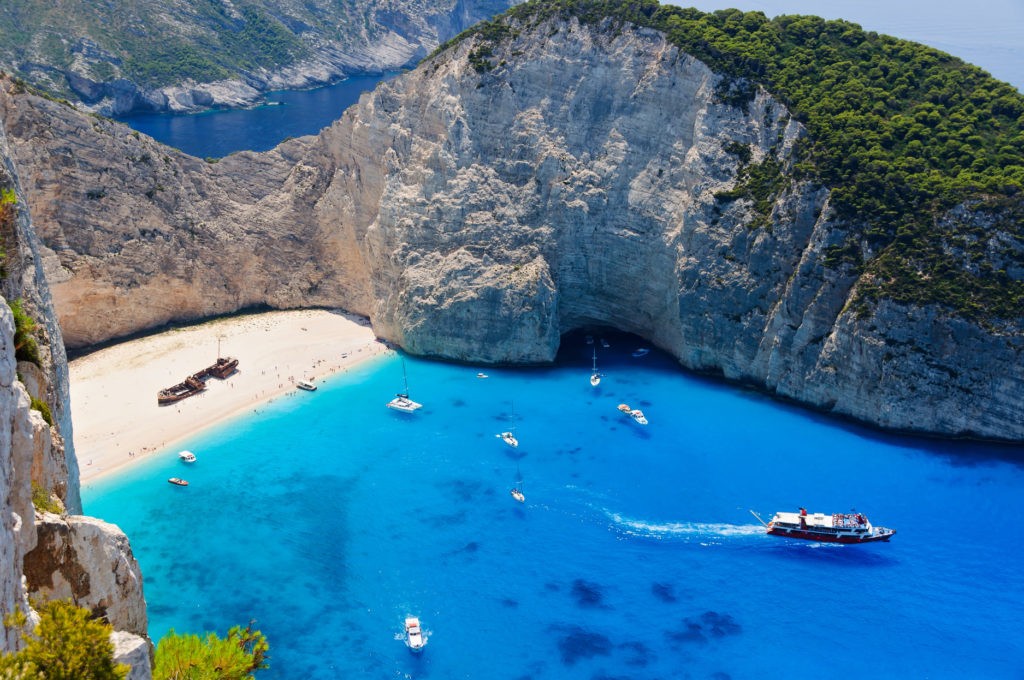 It is also home to a shipwreck! The MV Panayiotis washed up on its shores in October 1980, and while there are many different stories about how it actually got there, the local authorities decided to leave it exactly the way it is! Exciting stuff, I can't wait.
3. Whitehaven Beach, Great Barrier Reef, Australia
This unspoiled slice of paradise is sure to leave your soul fulfilled. Waters in countless shades of turquoise and the purest white silica sands make Australia's Whitehaven one of the world's most beautiful beaches. In fact, it was voted #1 in the Best of Beaches category in the TripAdvisor Travellers' Choice Awards in 2021.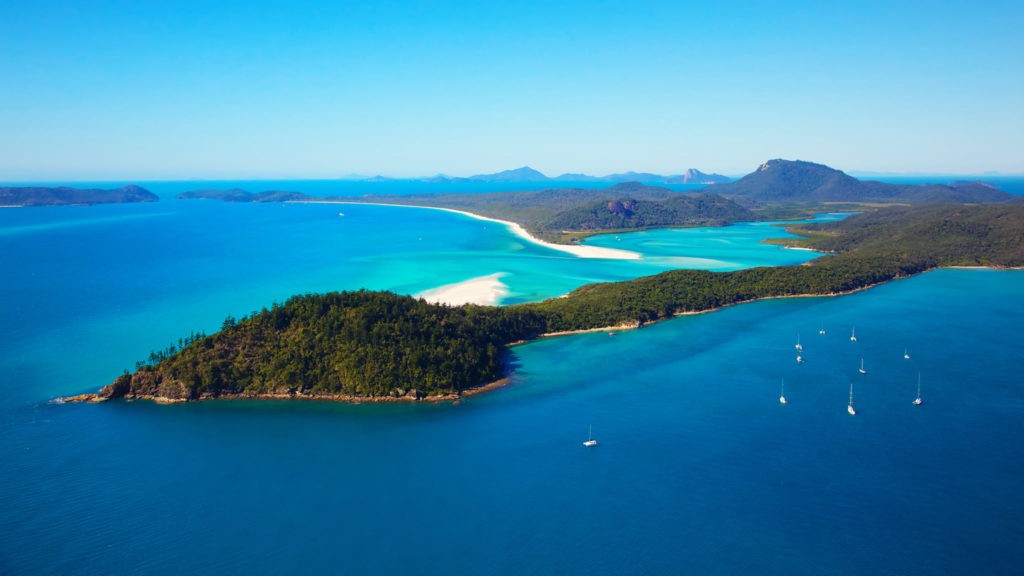 Located in the heart of the Great Barrier Reef, and protected by Whitsunday Islands National Park, this eco-friendly beach stretches over 7 km. And on its northernmost tip lies the spectacular Hill Inlet, a striking backdrop of bright blue waters and swirling sands. The sands are 98% pure white silica, which gives it its brilliant near luminescent colour!
Australia's borders are currently closed to international travellers from most countries, except for New Zealand. So, write this one down for later in the year perhaps.
4. Lover's Beach, Cabo San Lucas, Mexico
Playa del Amor or Lover's Beach is stunningly beautiful. Tucked between two majestic granite rock formations, this secluded beach faces the azure waters of Sea of Cortez. Swimming here, in the calm waters, is sheer bliss. It is also known for its very rich marine life, making it a diving and snorkelling paradise. There are glass-bottom boats in the marina that offer a unique perspective of the tropical fish and marine life below. There's evidently lots to do here, as you can paddle board or go kayaking as well.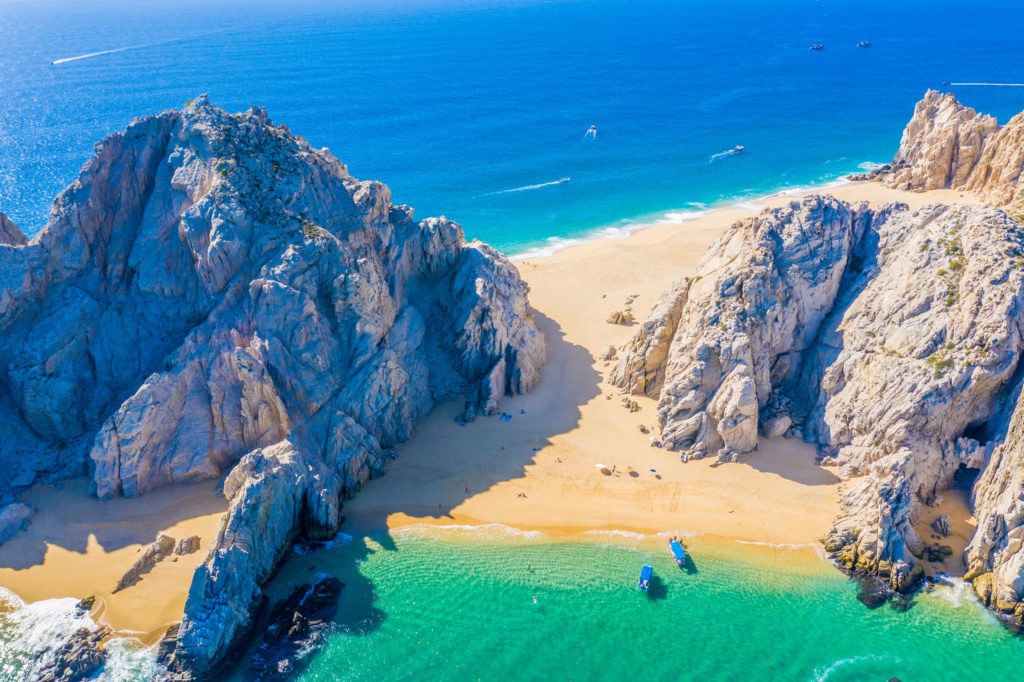 An amusing thing – connected on the other side of the beach, facing the Pacific Ocean is Divorce Beach! As opposed to the much calmer waters of Lover's Beach, Divorce Beach it turns out, is too turbulent to swim and has dangerous rip tides. Does that say something about how Mexicans feel?
Mexico is open for tourists. There is no need to provide a negative PCR test or quarantine on arrival, though most resorts ask guests to fill out health questionnaires.
5. Wai'anapanapa Black Sand Beach, Maui, Hawaii

Yes, you read it correctly! A black sand beach that's so stunning, it had to make my top 10 list. It is located in Wai'anapanapa State Park, just off the Hana Highway, and closeted between lush tropical foliage and black lava cliffs. Wai'anapanapa means 'glistening water' and people travel from all over the world to see the brilliantly illuminated waters in striking contrast with pitch black basalt rocks and sand.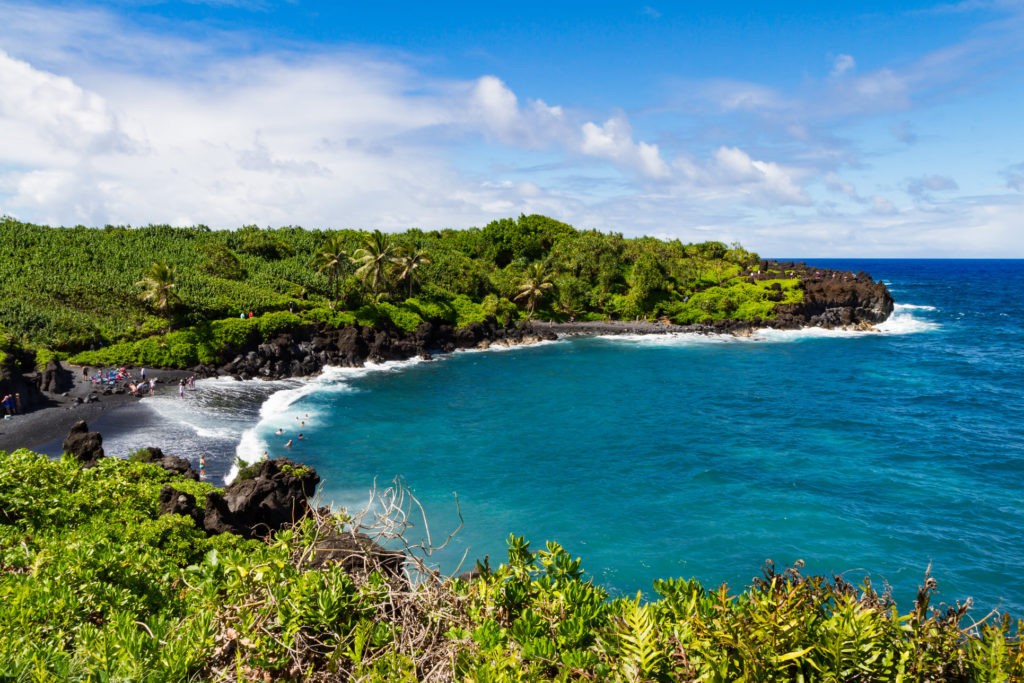 I was curious about how the black sand came to be, and researched a bit more. Apparently, it was created by the rough surf continuously pounding on fresh bubbling lava flow, and it took more than a1000 years to be ground down into a beach. Even more interesting – there are mysterious fresh water sea caves around which there are numerous legends, there are unpredictable blowholes, picturesque sea arches and ancient burial grounds, all overwhelming to the senses. It is a sacred place, deep rooted in the Hawaiian culture.
This beach is a must-visit, but plan carefully as there is a 10-day quarantine restriction, unless you have a Covid negative certificate from within Hawaii. Or, simply wait a bit for the quarantine restrictions are lifted.
Must Read: What To Pack For A Beach Vacation
6. Phra Nang Beach, Krabi, Thailand
The most spectacular beach in all of Thailand, Phra Nang Cave Beach is along the southern strip of Railay Peninsula. It is sheltered by soaring limestone cliffs and its pale gold sands are gently bathed by the emerald waters of the Andaman Sea. It is the perfect place to sunbathe for hours, and then take long blissful dips in clear, shallow waters.
Take a walk to Princess Cave, as famous for its stalactites and stalagmites as it is for worship of the Shivalinga, known as Siwaleung in Thai. It houses a large collection of wooden phallic symbols, offerings and objects said to help with fertility. Fishermen say that this cave is home to a mythical sea princess, who protects them from danger and brings them a good haul.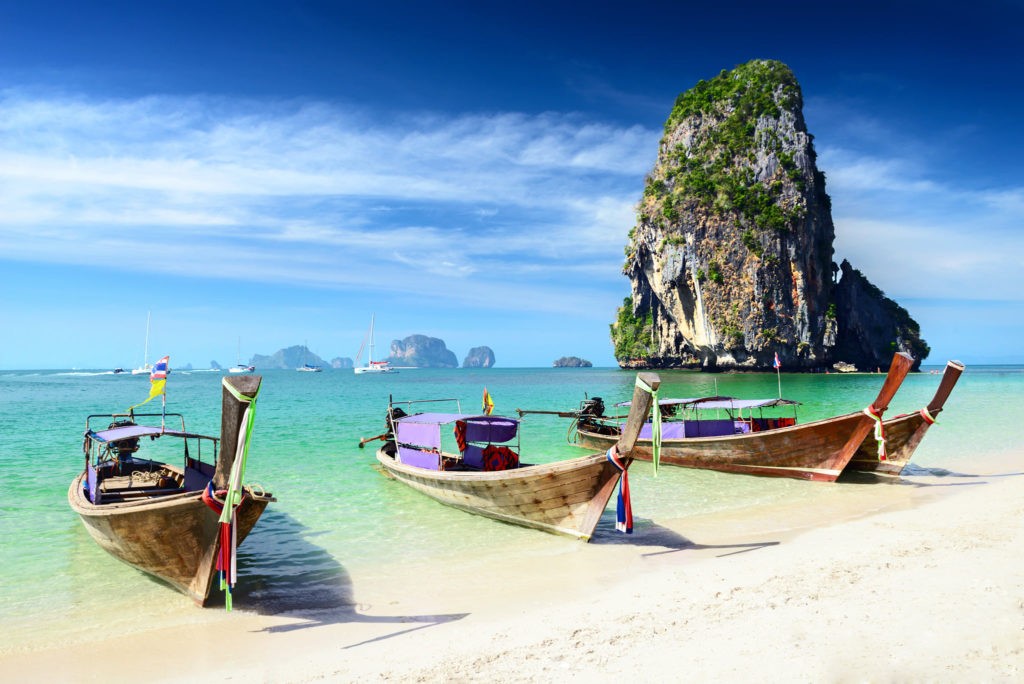 If you're an adventure junkie, the intimidating cliffs are a rock climber's heaven! Or you can take the easy way out and do a bit of snorkelling. One thing you just cannot miss is paddling in a glass bottom boat after sunset to witness the magic of the bioluminescent plankton in the area.
Thailand aims to open by October 2021 for vaccinated tourists, so maybe a trip this winter?
7. Pfeiffer Beach, Big Sur, California
White sands, golden sands, black sands and now…purple sands! Yes, this unspoiled 1.6 km of beach has very unusual purple sand, the result of manganese garnet deposits washing down onto the beach from the neighbouring hills. The streaks of purple are much more visible if you visit just after it has rained, which generally happens in winter and early spring in California. But you may find pockets of purple sand at other times as well. If that's not enough to get you there, then the dramatic off shore rock formations and sea stacks will. One massive rock has a natural arch through which the waves flow. It's called Keyhole Arch, and it's one of the most photographed rocks in the world. During the Winter Solstice, People wait patiently for sunset, to get that prefect shot of the sun's vibrant orange, pink and red rays shining through the 'keyhole'. The Sycamore Canyon Creek empties into the Pacific Ocean here, forming a very pretty lagoon.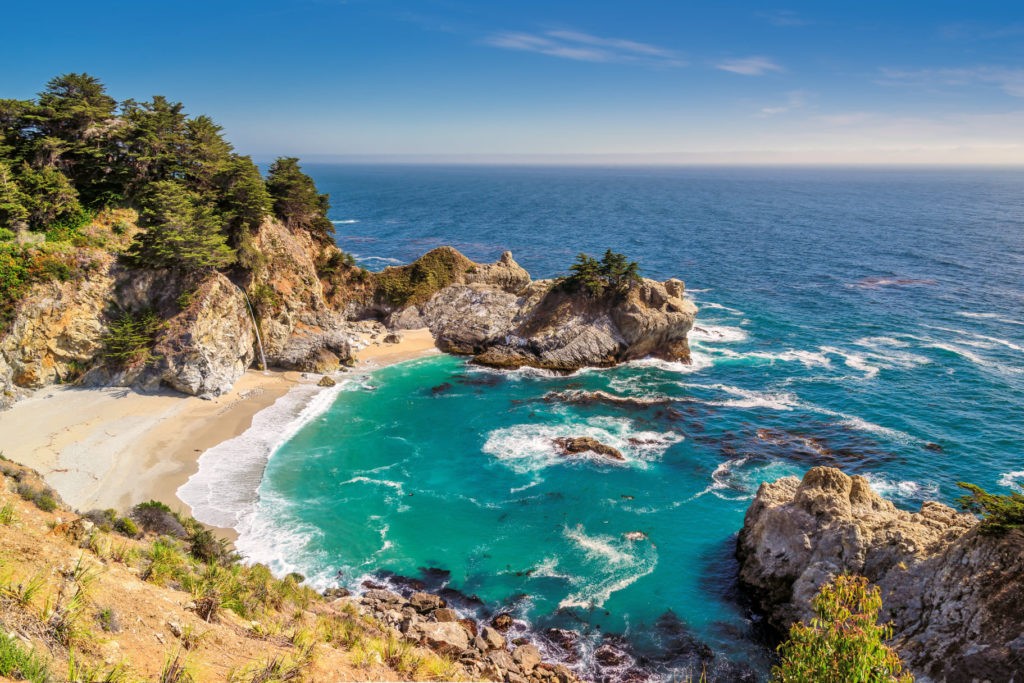 Pfeiffer Beach is a day use beach only. You can swim, but the seas are rough and there's no life guard on duty here, so think twice! One interesting bit of trivia – the beach gets its name from the Pfeiffer family that settled on the coast in 1869, and lived there for several generations. The neighbouring Pfeiffer State Park and Julia Pfeiffer Burns Park are also named after them. Hmmm…
The US is open for some tourism, with the exception of people coming from 35 banned territories. So, you need to check carefully if you're allowed. And a Covid negative test is mandatory.
Don't Miss : San Francisco Travel and Food Guide
8. Ses Illetes, Formentera, Spain
Formentera is the smallest of Spain's Balearic Islands in the Mediterranean Sea. And Ses Illetes is located on the peninsula of Es Trucadors, in northern Formentera. Its arguably one of the most beautiful beaches in the Mediterranean, with its wonderful pink (yes, pink!) sands, translucent aquamarine waters and somewhat bohemian culture.
How is the sand pink? The very pretty almost salmon pink colour comes from a mixture of white sand and residues of coral dust that come in from the sea. Fun fact – this beach is instagrammed at a rate of 1000 photos per minute with the hashtag #sesilletes! That should tell you how absolutely amazing it is and how extremely popular it is. In fact, Formentera is "the new Ibiza" for many, a more mellow option favoured by the likes of Bob Dylan and Pink Floyd back in the 70s. About 50% of its visitors are nudists.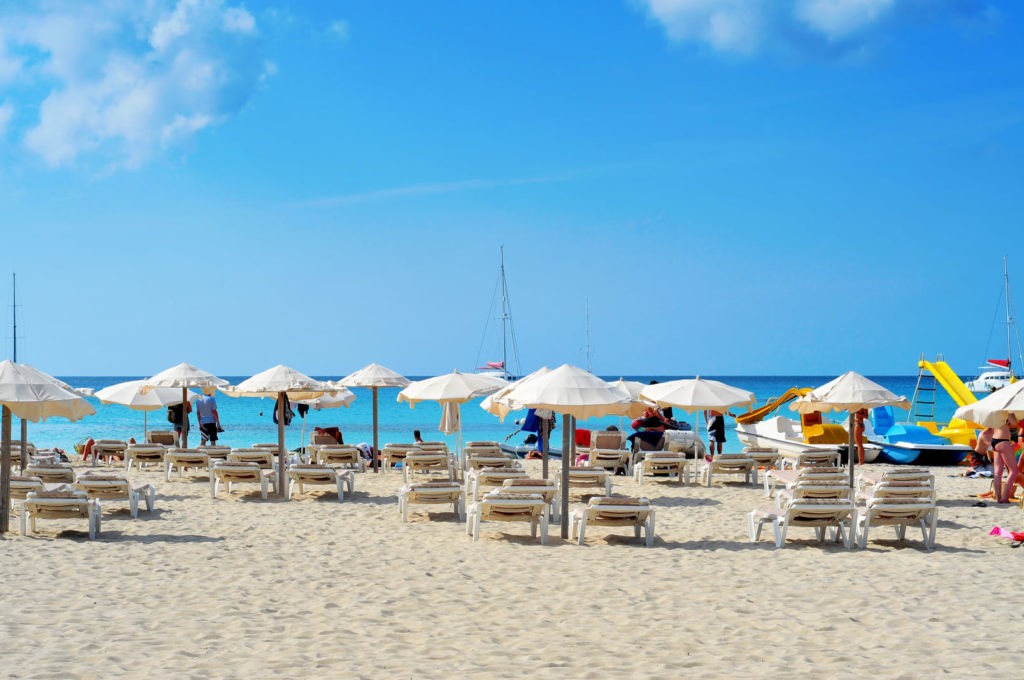 There is a small fee, so the best time to visit is early in the morning, to avoid tedious queues. Once you're done with basking in the sun, try windsurfing, kitesurfing, sailing, stand up paddling or snorkelling. Or, rent a canoe or catamaran for the sheer fun of it. Lots to do at this beach.
Spain opened for tourism from June 7th. No quarantine or Covid certificate needed from low-risk countries. So do check if it is applicable for you before you rush to pack your bags. Actually, if you're inclined, you may need very little if you're heading for this beach!
Trending Now : TFN's Definitive Travel And Food Guide To Barcelona
9. Ipanema Beach, Rio de Janeiro, Brazil
It's the ultimate destination for sun worshippers, and a place well worth visiting for beach lovers. Although less crowded than Copacabana Beach next door, you will still see beautiful people with perfectly bronzed bodies in designer swimwear lazing in the sun with their designer hats and shades, sipping coconut waters, cold beer or fresh fruit caipirinhas. Or playing beach volleyball, football, frescobol, skimboarding or footvolley! There's a lot of people watching that goes on here.
The sparkling blue waters contrast with the 2.6 km of soft white sand. In the distance, you can see Moro Dois Irmaos, the twin mountains, at dusk. Swimming is allowed only in certain areas, as the tides can swell here. People chill here all day, often experiencing the magnificent sunset before heading for the nearest bar for cocktails and sensual samba music. Sunday is a great day to visit as there is a hippie fair with artists and craftspeople putting out stalls.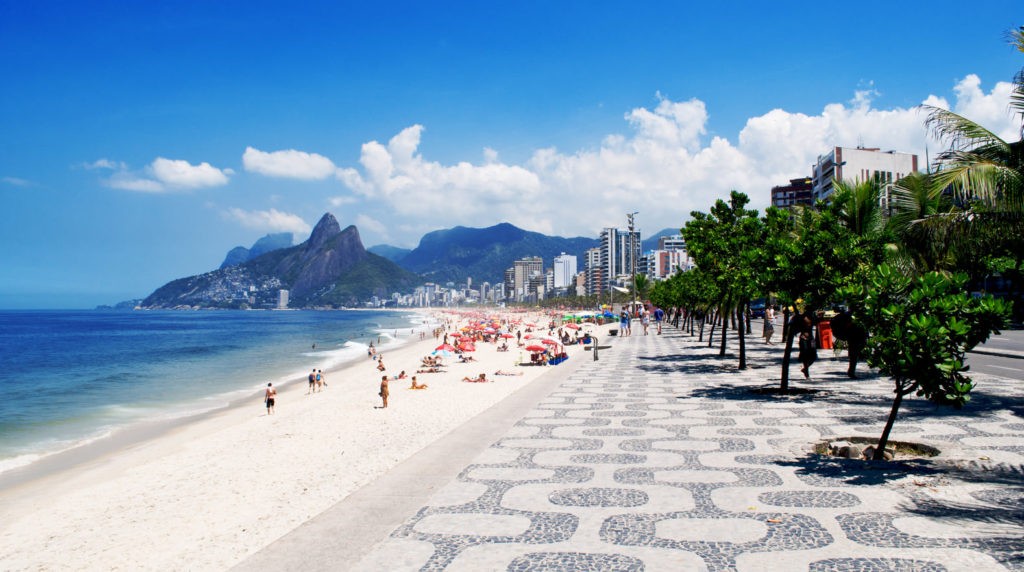 Ipanema Beach is uber chic. And it's also very expensive, perhaps the most expensive place in Rio. Upscale designer boutiques and ritzy bars and restaurants, open air concerts and a raging nightlife makes it the place for the rich and famous to hang out. And would you believe – during the carnival in Feb, 50,000 people celebrate on this beach!
Brazil has opened up for tourism by air only. Travellers have to show a Covid negative certificate, taken within 72 hours of travel. There are restrictions on land and sea travel.
10. Grace Bay Beach, Turks and Caicos Islands
Grace Bay Beach is a perennial Travellers' Choice Beaches winner, a World Travel Awards' World's Leading Beach Destination and 2nd place in Trip Advisor's World Best Beaches. In fact, Grace Bay has taken first or second place 19 times in these competitions over the last decade. It's no wonder -this visually stunning beach has soft white sand and clean turquoise and jade hued waters, no rocks no seaweed, no pollution. An extensive barrier reef protects it from ocean swells, making the beach safe and calm, ideal for swimming. It is unique, relaxing and intimate.
There are a lot of water sports to keep you entertained when you're not unwinding on the beach -windsurfing, parasailing, water skiing, kayaking, jet skiing, paddle boarding. Then, there's also sailing, scuba diving, snuba diving and snorkelling. The coral reefs and sea life are resplendent with beauty and variety, you are guaranteed to treasure the experience.
Turks and Caicos Islands are open for tourism. There is no quarantine, but a Covid negative certificate is needed. Hotel do free Covid testing for guests, and travel insurance is a must.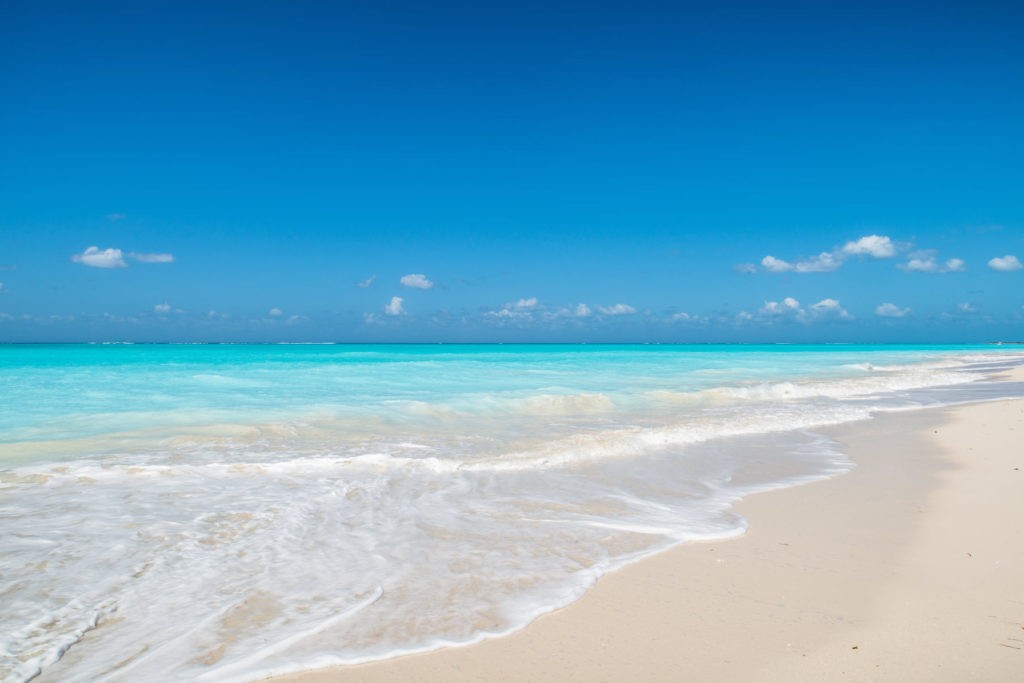 Beaches are almost a spiritual experience. There's really nothing more gratifying than sound of waves gently kissing the shore, sunsets lighting the sky with breathtakingly glorious colours, warm sands under your feet, delicate seashells in their myriad hues, the therapeutic ocean breeze, long walks and energising swims. There's solitude if you want it, company if you need it, the freshest seafood to devour and icy cocktails that really hit the spot.
Robert Wyland, a famous American artist and sea life conservationist quotes with passion "The ocean stirs the heart, inspires the imagination and brings eternal joy to the soul." How true is that! So on with your bucket list folks, there's so much to choose from. We're just helping you find your way!
Photos : Shutterstock
For latest travel news and updates, food and drink journeys, restaurant features, and more, like us on Facebook or follow us on Instagram. Read more on Travel and Food Network
Trending on TFN
The 22 Best Places To Go In 2022
Explore Utah's Mighty 5® and What Lies in Between
Five Epic U.S. National Parks To Visit This Year
Utah: The USA's Best-Kept Gourmet Secret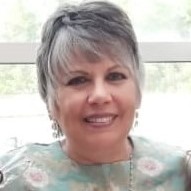 A homeschooled chef even before she joined Catering College in Bombay, Christine's gastronomic journey started with mother and grandmother. Polished with a degree and 10 years of experience in the Hospitality industry, Christine's love of food, drink and everything gastronomic has been sharpened and honed with travel across the world. Today, she shares the wealth of her foodie experience and adventures across the world with Travel and Food Network, so look forward to much more from Chrsitine!