Bringing stories of sustainability, fun, and holiday fervour, Echoes of the Earth pumped life into Bengaluru's live music culture.
Step into a world where every beat, and brush stroke come together to create a harmonious symphony for our planet. Echoes of Earth, India's greenest music festival, returned with its 5th edition in Bangalore, with a sustainable touch.
The two-day music festival was held in Bangalore on 3rd and 4th of December, 2022 after a 2-year hiatus. The festival is a celebration of the planet, curated and created to spread a larger message through music, sustainability and conservation that aims to educate, create awareness and promote responsible celebration.
The festival theme for year 5 titled, 'Circle of Life' gave prominence to India's diverse ecosystems by identifying celebratory animal conservation stories and positive human interventions that are actively aiding in preserving these ecosystems at the grassroots level. This experience brought together a footfall of 20,000+ festival audiences over two days.
It takes an army of creative thinkers and believers to craft a festival surrounding impactful conversations around the environment, music, art and culture at large. Here's what goes into its making
1. Impactful storytelling
With its theme, "Circle of Life," Echoes celebrated independent stories of positive human interventions online by giving them the spotlight to share their stories. On ground, it shed light on positive human impact and animal conservation stories, bringing them to life through spellbinding stages, immersive art installations, and a lineup of musical oddities that will have you tapping your feet and swaying to the rhythm of change.
2. Building a community
Over the years, the festival has built a community that is passionate about all things art, music and the environment. From knowledge experts in the field of ecosystem conservation, design, regeneration and circular economy, the festival not only aided in bringing a valuable community-based knowledge hub but also brought together the eclectic line up and experiences that continue to evolve and innovate.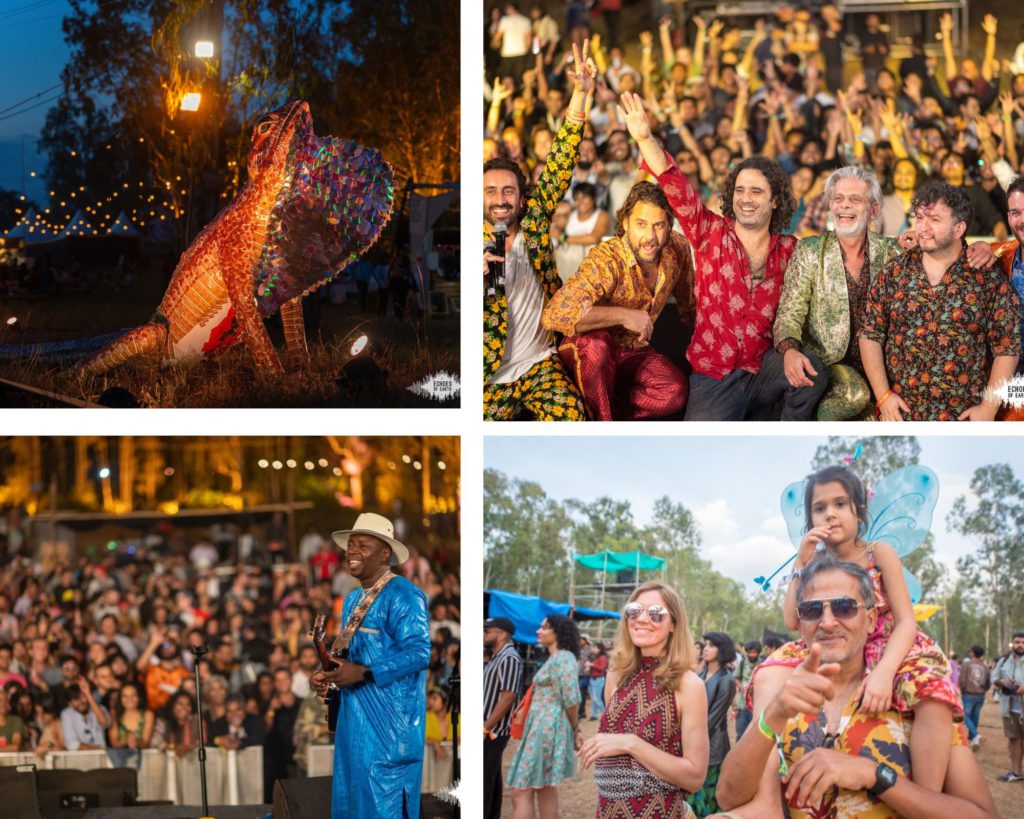 3. A line-up full of unexplored oddities
Every year, Echoes presents a lineup of acts that are not just pleasant but also unexpected. The festival takes a bold step in curating a musical experience that blends together established acts and hidden gems, creating a harmonious fusion of sound and sustainability. From the exotic beats of The Turbans to the electric energy of Zeitgeist Freedom Energy Exchange, over the years Echoes has brought together a diverse range of musicians, including the dynamic Yussef Dayes Experience, the immersive Klangphonics, and the transcendent Hanumankind. Echoes makes you embark on a journey of musical discovery, where every performance is an ode to the planet and an invitation to join the movement for change.
4. Art with a story
Every art installation and stage at the festival was a symbolic representation of its theme. Every subject matter and animal species chosen for this was curated and researched upon to evoke a thought. Since the launch of its theme, the festival has consistently placed the spotlight on local, ecosystem-based conservation stories. By including more comprehensive angles of conservation, circular design and regeneration, the festival acted as a knowledge hub for those who wish to explore sustainability beyond its textbook definition.
5. Diversity for the win
A walk through the festival grounds would precisely present why this has to be one of the most inclusive, diverse music festivals in our country at the moment. With its inclusive atmosphere, Echoes of Earth is a festival for the whole family, with a kid's zone, pet zone, flea market, and food court catering to all ages.
Rest assured; Echoes of Earth isn't simply an annual experience anymore. Watch out as the echoes travel to your city this coming year.
To know more about the festival, visit echoesofearth.com
For latest travel news and updates, food and drink journeys, restaurant features, and more, like us on Facebook or follow us on Instagram. Read more on Travel and Food Network
In Partnership with Echoes of Earth
Trending on TFN
The 23 Best Places To Go In 2023
Explore Utah's Mighty 5® and What Lies in Between