It may be difficult to plan for travel in these challenging times, but use our inspirational holiday ideas and informative travel and food guides from around the world to plan ahead for your future bucket list adventure.
Disney Cruise Line recently unveiled details about its newest ship. From dining experiences based on "Star Wars" and Marvel superheroes to a waterslide that was referred to as a "Disney attraction at sea," the new ship is filled with experiences unlike any other offered by Disney. The Disney Wish will be the fifth ship to join the Disney fleet, with sailing expected to begin in summer 2022 out of Port Canaveral on Florida's East coast.
The first sailing is slated for June 9, 2022, with three- and four-night sailings going to Bahamas and Castaway Cay, and bookings will open May 27.
The Upper Deck: The Aqua Mouse waterslide
Get ready to get wet on the first-ever attraction at sea! Take a trip into an animated world starring Mickey and Minnie on this fun-filled water ride, featuring immersive show scenes, dazzling lighting and amazing special effects. Mermaid Lagoon is part of the adventure, and the Upper Deck area also features a "Toy Story"-themed area and an adults-only area.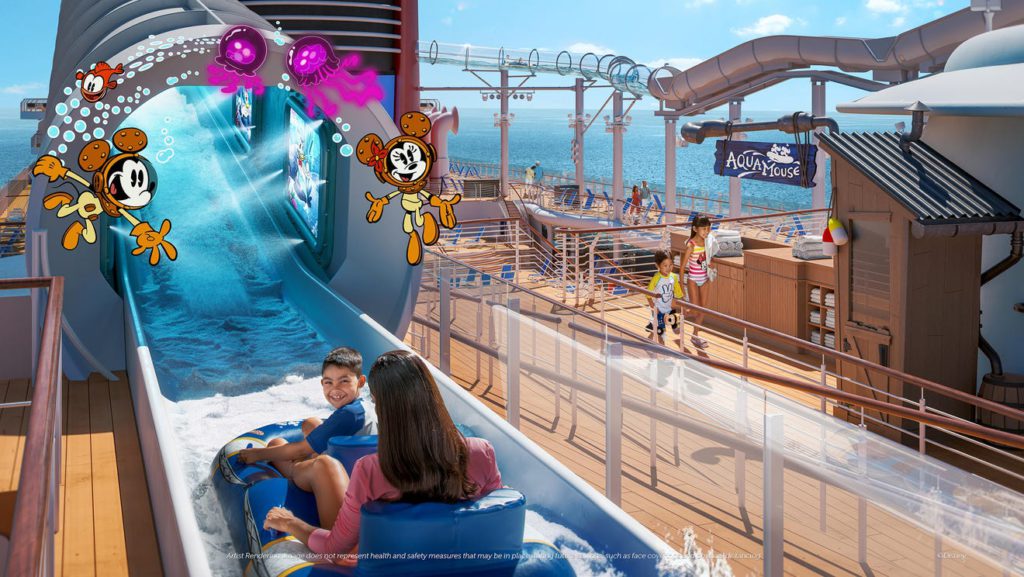 For the kids: The Oceaneer Club
Children will also enjoy a feature called the Oceaneer Club, which hasn't been utilized on any of Disney's previous four cruise ships. Immersive play spaces, imaginative games and surprise visits from popular Characters are sure to delight kids 3 to 12 years of age inside this lavishly themed activity center inspired by Disney, Marvel and Star Wars stories.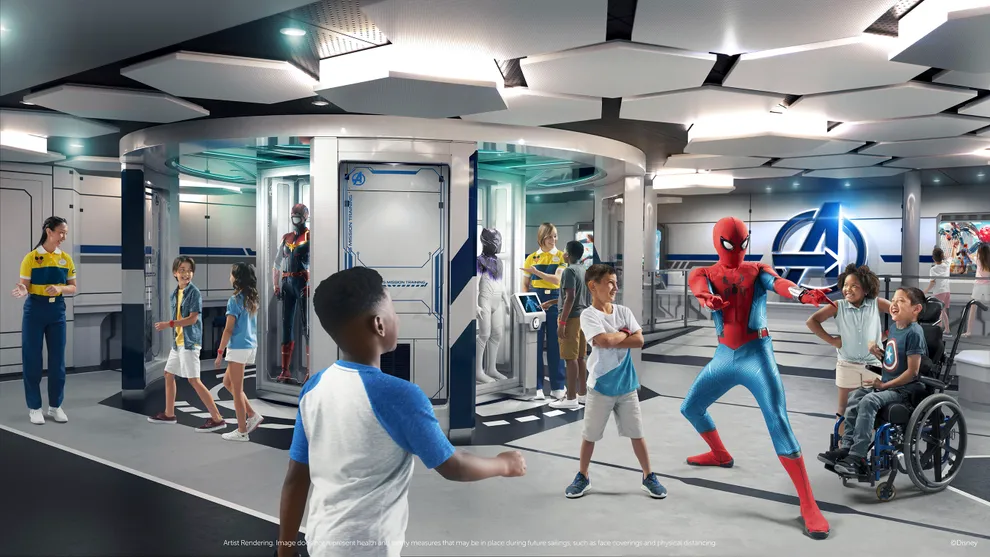 The Walt Disney Theater
The theater is inspired by a Magical Forest. While three shows will take place in the theater, only one was revealed: "Disney's Aladdin: A Musical Spectacular" is being reimagined and will play nightly. The other two shows are new, original shows that will be revealed at a later date.
Let's Eat: Disney Wish Dining Options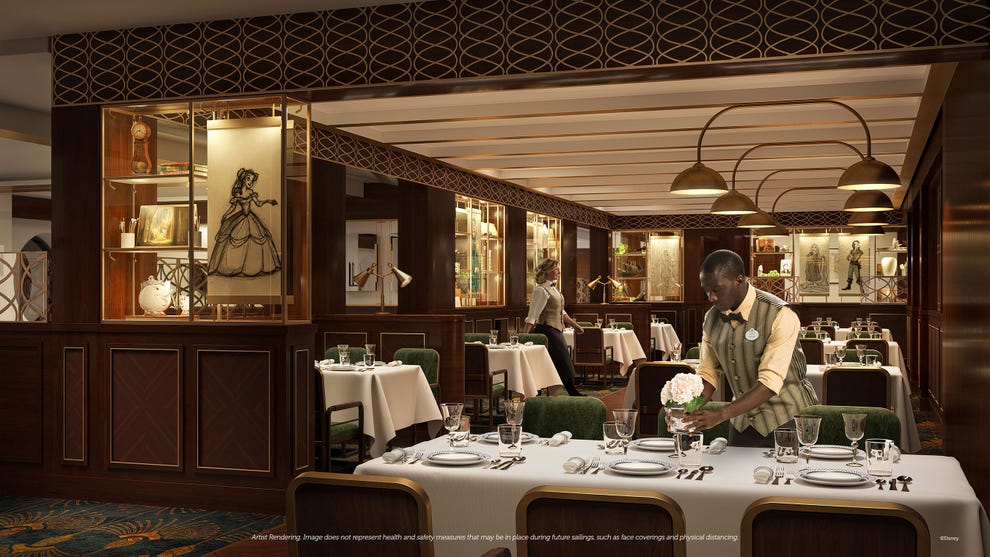 Now, what's a Disney ship without food and interactive experiences while you eat?
Hyperspace Lounge : A new "Star Wars"-themed lounge called the "Hyperspace Lounge" will make passengers feel like they're having a beverage on a luxury spaceship. The window behind the bar shows scenes of outer space with planets and spaceships flying by in the background. They'll visit Batuu, Tatooine and more. Truly a Galaxy far, far away.
Beauty and the Beast : There's a "Beauty and the Beast"-themed lounge called "The Rose" and "Palo Steakhouse," with decor inspired by Cogsworth, the lovable clock from the film. It's described as steakhouse fare meeting authentic Italian cuisine.
Enchante : And there's the highest-end restaurant, "Enchante," inspired by Lumiere, the candlestick from "Beauty and the Beast." It's a romantic and intimate venue with food created by Michelin three-star chef Arnaud Lallement.
Arendelle: A Frozen Dining Experience will features live shows with Anna, Elsa, Kristoff, and, of course, Olaf. It has food inspired by Nordic influences.
Disney Wish Staterooms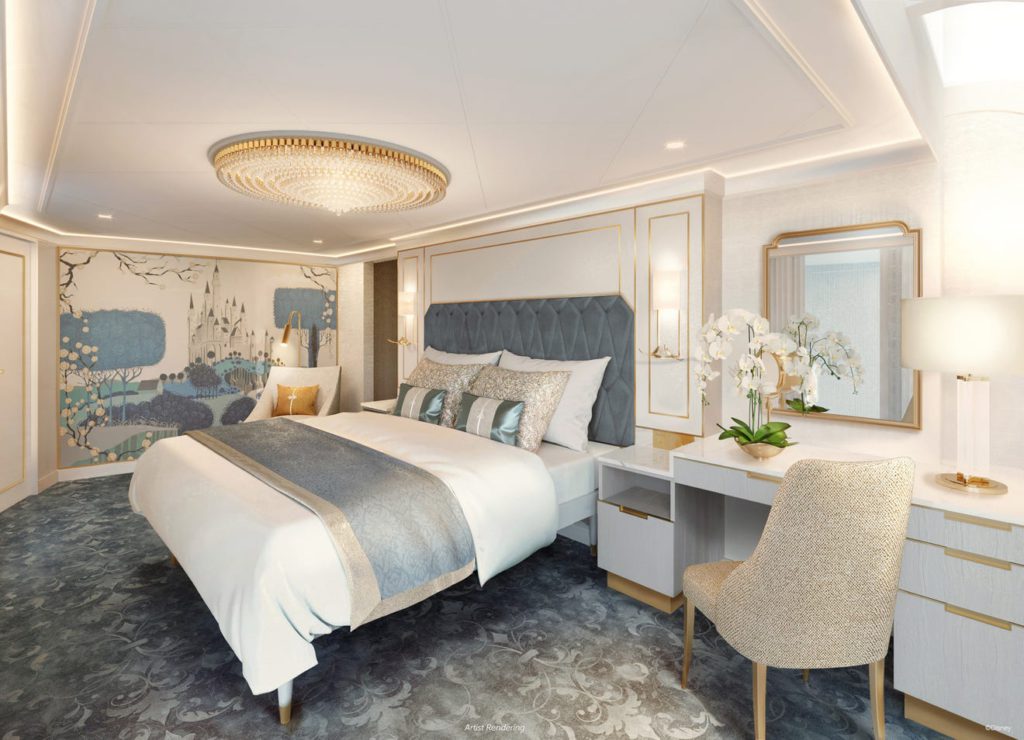 Disney Wish staterooms include some that are two stories or above the bridge. Unique artwork inspired by "Cinderella" and other Disney classics adorn the staterooms, and 900 of 1,254 staterooms will be connected adjoining, making this ship the most family-friendly of the Disney fleet. The rooms are larger and most have an ocean view.
And for the first time, a Disney ship features two-story suites with spiral staircases and custom stained-glass art.
And, in another first, the Disney Wish will feature rooms above the bridge of the ship.
Covid Protocol For Disney Cruises:
The cruise industry has been working to bounce back from the Covid-19 pandemic and has made strides to provide safe travel for passengers through vaccine mandates and additional safety protocols. Disney Cruise Line updated its immunization policy for guests, requiring all children over the age of 5 to be fully vaccinated against the coronavirus.
The vaccine mandate will go into effect on Jan. 13 and will apply to sailings both in the United States and abroad. Until then, unvaccinated guests between the ages of 5 and 11 must take a pre-departure coronavirus test. Currently, guests age 12 and up and all crew members on Disney ships must be fully vaccinated.
The new requirement comes after federal regulators recently cleared Pfizer-BioNTech's pediatric vaccine for children ages 5 through 11 earlier.
Travel Update : Please note that there could be travel restrictions because of the ongoing pandemic. Before travelling, please always check the latest government advice about COVID-19 travel restrictions in your destination.
Source: Disney Parks. Photo Courtesy : Disney
For latest travel news and updates, food and drink journeys, restaurant features, and more, like us on Facebook or follow us on Instagram. Read more on Travel and Food Network
Trending Now : TFN 2021 Guides
San Francisco Travel and Food Guide 2021
Eat Your Way Through New York's Gastronomic Delights | Travel Guide 2021