A Maldivian dhoni (bottom) cruises to the dive spot. Photo by: Muskaan Gupta
Thrilling encounters with the ocean's unknown, wandering in paradise, and chasing sunsets defines a getaway at the Sheraton Maldives Full Moon Resort & Spa.
"The water's quite choppy." I familiarise myself with the adjective as soon as I find myself in the Maldives during peak monsoon. The Sheraton Maldives Full Moon Resort & Spa is a 15-minutespeed boat ride from Malé's Velana International Airport; but my ensemble for the commute isn't a beach hat and a sarong, instead it's a windcheater and a flimsy raincoat that accompany me.
My arrival at the Sheraton feels like I've finally sought shelter on a dimly-lit, deserted island. I hold onto my plastic wrapped phone and passport, all drenched and shivering. Respite comes in the form of a warm towel, hot tea, and an umbrella.
My misfortune, as I am told, is just an unpleasant spell. I find that believable as the following day blossoms with sunshine peeking past alight forecast, sporting three shades of blue—a chlorinated infinity pool, a turquoise ocean bed, and an ultramarine shade that announces the presence of a continental shelf.
I'm at Furanafushi, one of the Maldives' oldest resort islands. The Sheraton Maldives' upkeep is as recent as 2018, but the legacy address preserves an old Maldivian charm. My abode is a straw-roofed overwater bungalow, but a step inside the accommodation reveals a private infinity pool and a timber deck descending into the ocean. A plush minibar, a workspace, and a flat screen are here for company, but the glass doors overlooking the expansive blue always garner my attention.
On my first morning, as I walk down to satisfy a raging hunger—passing manicured orchards and colourful tropical foliage—long bird calls transport me to paradise. I am no longer on an island of 176 guestrooms, but curled up in the lap of nature. The expanse of the island is enamouring. Life-size chess boards across the pavement, turtle stops for buggies, and marine-shaped decorations jazz up the white-sandy path. At night, there's no ghastly lighting, but warm solar-powered lamps that light up winding roads. Unfamiliar with the territory, I feel like an explorer on a quest until my arrival at Feast restaurant ends my jaunt and I dive into an overindulgent breakfast of tropical fruits, Middle Eastern mezze and and southern Indian fare.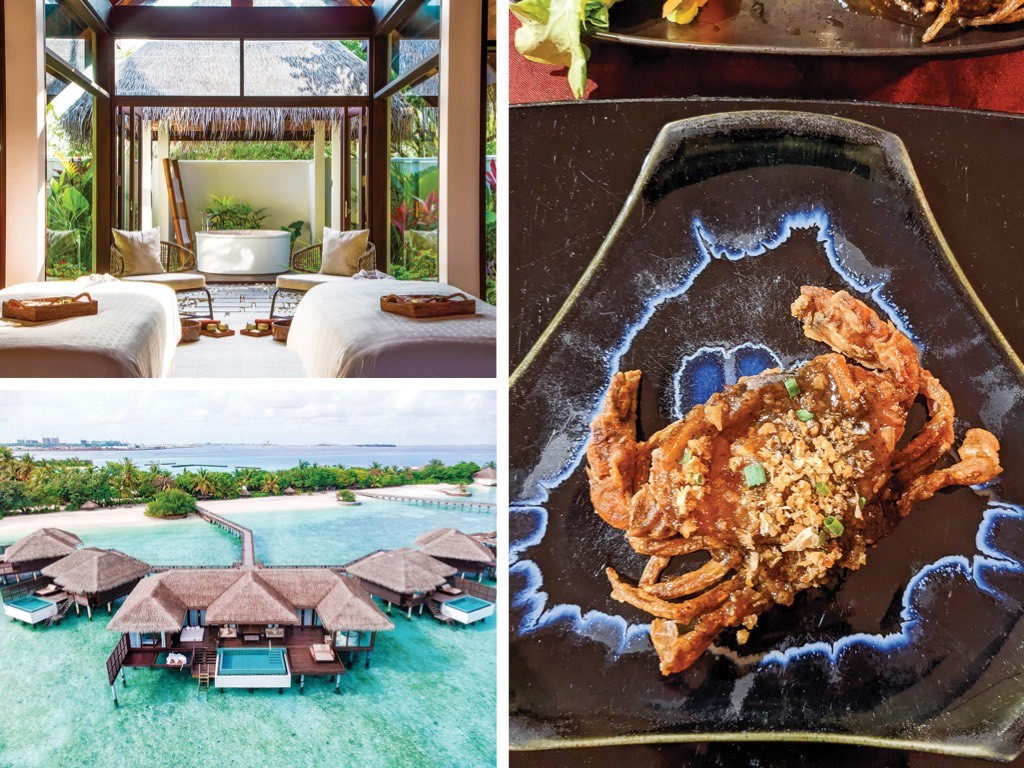 "Size 37 flippers, please," I ask, confidently, after four days of tanning in the ocean. Having discovered the power of dish soap as a defogging agent for my gear and tricks to equalise my ears, my limbs are eager to slice through currents to observe the magnificent denizens I hope to encounter. As our lacquer-coated dhoni (boat) embarks on a snorkelling safari, Reefscapers'—an independent marine consultancy with biologists and conservationists—Amelia Errington introduces me to Kanduoih-giri or the Stingray Point—a shallow trench near a tuna processing factory. The waters are murky and the bay is a graveyard of bones, contradicting the idea of clear Maldivian waters—yet the underwater world remains ever-fascinating. Within minutes, I spot a school of porcupine stingrays swaying along coral clusters, while a moray eel slithers with its mouth agape. Colourful parrotfish and wrasse line up ahead, but only at Kurumba reef do I witness the gratuity of a personal aquarium.
Our second destination on the hour-and-a-half long snorkeling adventure is a neighbouring house reef—10 minutes from Furanafushi—with a depth of 15 metres, doubling at the edge. The stage is theatrical: swarms of yellow, red, silver and green overwhelm my senses and my identifying knowledge is quickly put to test; the romance of butterflyfish unfolds, while red snappers engulf the bottomless ocean below; a school of bannerfish forms a temporary zebra crossing and a couple of pyjama-striped sweet lips attempt to feed near the swimmers. Just as I think it cannot get better, a hawksbill sea turtle alerts us of its presence with dramatic vertical dives along the coral reefs. The same excursion also reveals a green sea turtle, reef sharks, and pink whiprays to this spectator's delight.
I'm fraught deciding my dining destination every six hours as I'm spoilt for choice. My first meal is at Sea Salt, the resort's signature, fine-dining Italian seafood restaurant: My extravagant lobster spaghetti is a testament of the chef's Tuscan roots. Back at Kakuni Hut, the bartender spins me a curacao powered Caribbean concoction as I gorge on the juiciest fish tacos. Bigger meals take me to Baan Thai for softshell crabs and house-style Thai curry that draws out tears of joy and spice, and Masala Hut, where I lap up bhuna gosht and tandoori tikka miles away from home.
On the island, my choice of activities includes everything from indoor fitness to watersports. But as the end of my workation approaches, there's nothing beyond idyllic rest I seek. On a quiet afternoon, I am treated to Shine Spa's signature massage, located on its own private island. A steam sauna follows a dip in the hydrotherapy pool, after which I find myself in a daze, hearing gushing waves and soothing bird calls from an ocean-facing room. On other days, I flip through M.F.K. Fisher by the pool and bask in the sun at wallpaper-worthy hammocks over a shallow lagoon.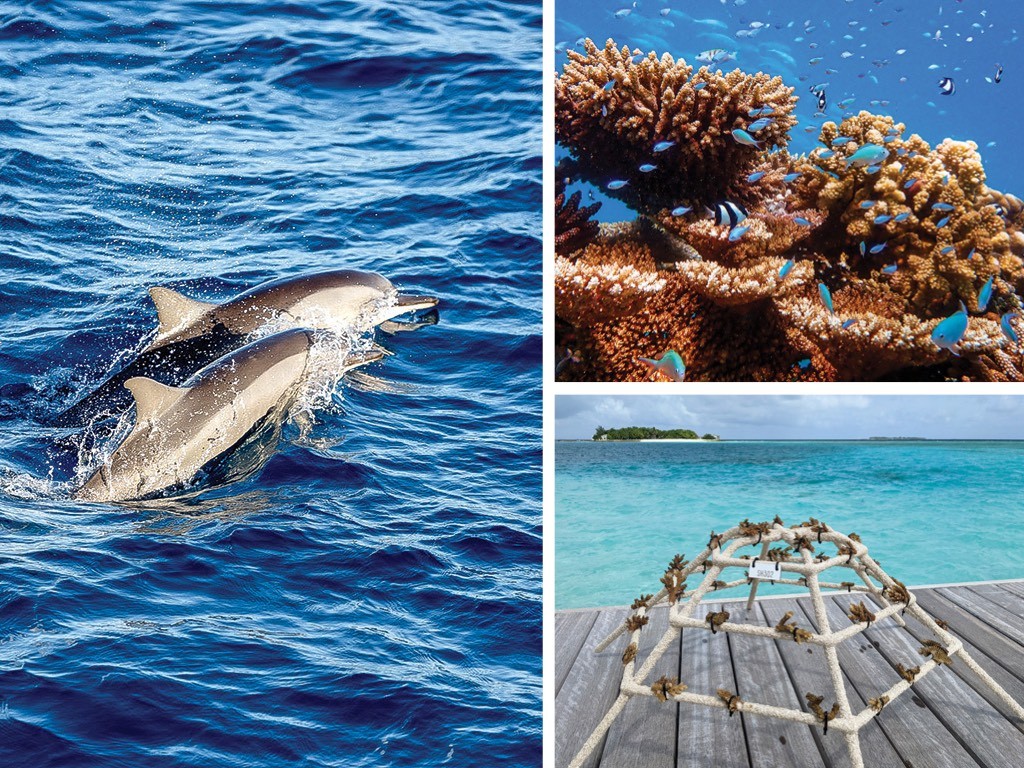 My affair with the ocean is far from coming to a grand finale. Back at the Sheraton, I learn that the property does not have a house reef. While snorkelling, canoeing, and paddle boarding, equipment can be picked free of cost, activities are skill-centred without much visual appeal. However, a curious walk to the Shine Spa surprises with coral clusters in the shallowest waters. This is Reefscapers' Adopt a Coral programme to restore and proliferate the species manually to reverse the bleaching and dismantling of larger reefs. Here, I come across one of the largest man-made coral structures in the Maldives. "Our primary task is to maintain the health of planted coral frames by clearing them of parasites and updating owners of their status every six months. We have over 300 coral frames across the property," resident marine biologist Kate Sheridan explains while assembling a huge bucket of broken coral pieces, a sand-resin iron frame, and a bag of zip ties—I am about to take a coral reef under my possession.
The propagation area next to the dive centre is underwhelming. The mingling of pale waters with white sands isn't a jolly sight, but an exploratory dive here reveals stunning coral pyramids. The man-made mounds of iron frames now host an entire ecosystem of mushroom, elk horn, and fringing corals. This is the first time I give freediving a serious shot, the enigma that lays eight-feet below calls for a closer brush. As Amelia and Kate photograph and clean the 3×4 metre-wide structures, I take my time observing a blacktip and whitetip reef shark darting past a school of damselfish.
Later in the day, the idea of a dolphin cruise doesn't sound exciting, I tell a friend who pushes me to catch the evening excursion. Soon, I am seated at the bow of a dhoni overlooking Malé's skyscrapers whilst cruising the blues. Aloud crash alerts us of the acrobatics of spinner dolphins. One spins and flips in the air, the other cluster clicks as they match the speed of our boat. The small affair quickly turns into a spectacle. Laughter and enthusiastic pointing lighten up the mood and in this moment I pause to breathe in the magical realm the Maldives has cast. My eyes capture the enigmatic wildlife breaking the cusp of the horizon. My nose picks up the ocean breeze, and tongue, a tinge of salt. Chasing sunsets has never felt this ethereal.
ESSENTIALS

Doubles from $250 (₹19,900), B&B sheratonmaldives.com
This feature also appeared in National Geographic Traveller India
For latest travel news and updates, food and drink journeys, restaurant features, and more, like us on Facebook or follow us on Instagram. Read more on Travel and Food Network
Trending on TFN
The 23 Best Places To Go In 2023
Explore Utah's Mighty 5® and What Lies in Between