Enjoy the Natural Serenity of These Magnificent Hill Stations
This winter head to these lesser known hill stations in Maharashtra, which not only offer breath-taking views of splendid valleys but also tranquil and refreshing breaks.
The State is abundantly blessed with scenic natural beauty of hilly ranges which spread across the topography. These extensive ranges are home to some of the stunning hill stations, each having a charm of their own.
Plan a trip to these enchanting hill stations to get away from the hustle and bustle of your dreary life and unwind in the lap of nature:
Bhimashankar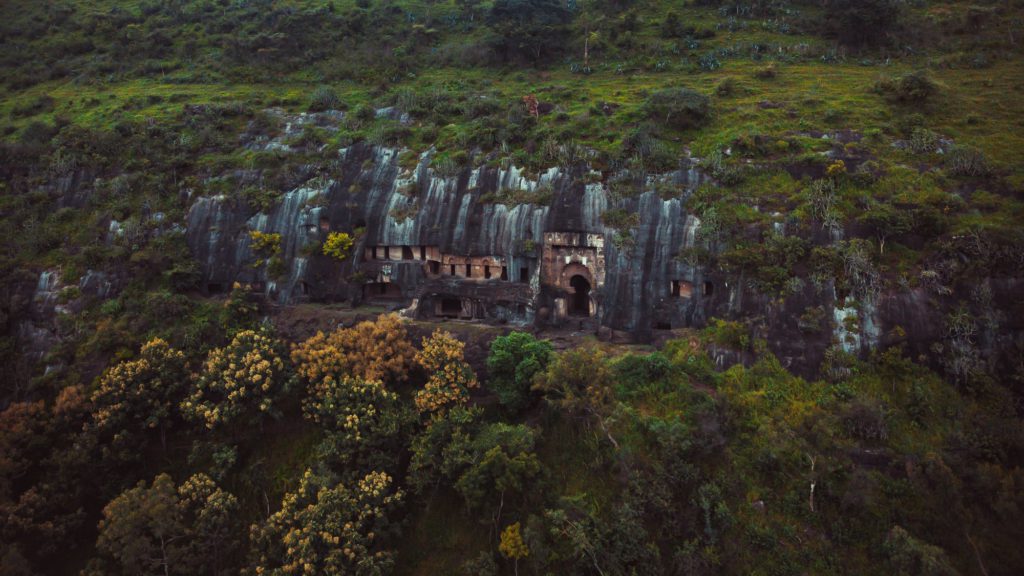 Surrounded by lush rainforests in the Sahyadri range near Pune, it is one of the picturesque and pristine hill stations in the State. Enshrouded with dense forest and thick foliage of trees, it offers breath-taking views of the green valleys and the two serene lakes of Devi and Hanuman. It is also the point of origination of the river Bhima, which flows south east and later merges with the river Krishna. The hill station is home to one of the 12 jyotirlinga shrines in India, making it a prominent pilgrimage centre. It is said that Lord Shiva resided here in the form of Bhima to kill demon Tripurasura. Hence, the site surrounding the jyotirlinga is called Bhimshankar. Apart from Bhimashankar temple, the pilgrims can visit other nearby religious destinations such as the Mokshakund Tirtha, the Kusharanya Tirtha and the Sarvatirtha. Bhimashankar Wildlife Sanctuary is known for abundance of flora and fauna. Many rare and endangered species of plants and wildlife can be found here including Barking deer, leopards, hyena and langur. The bird lovers can observe hornbill, pigeon, Malabar whistling thrush, black eagle, and several other bird species. One can look out for the Great Indian Squirrel here. It is also a heaven for nature lovers as it provides many trekking, hiking and rock climbing opportunities since it is bounded by plethora of forts and ruins. Places like Padargad, Shivneri, Kothaligad and Siddhagad are perfect trekking points here.
What to eat: The place offers only vegetarian food, with Misal (spicy snack), Aluchi Patal Bhaji (tangy and sweet curry made out of Colocasia leaves dish) and Thalipeeth (savoury pancake) being the most popular ones. One must try the sweets, especially Puran Poli (sweet flatbread stuffed with sweet lentil), Ukadiche Modak (flour, jaggery and filing flavoured with Saffron & Cardamom, coconut based dessert) and Shrikhand (curd based sweet dish).
Best time to visit: The best months to visit are October, November, December, January, February and March.
How to get there: Bhimashankar is well connected to all the major cities. Buses are available from Kalyan and Ghatkoper in Mumbai and from Shivajinagar in Pune. It is located about 100 km from Pune and 223 km from Mumbai. Pune Railway Station is the nearest railhead to reach the hill station. MTDC Bhimashankar resort offers a comfort stay at affordable rates.
Durshet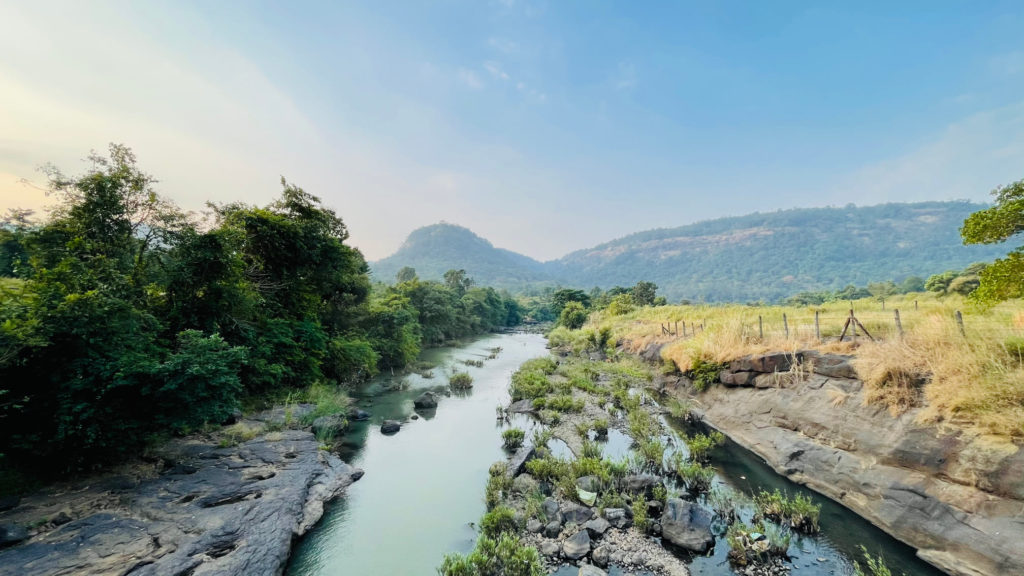 Nestled amidst the Sahyadri ranges, Durshet, near Khopoli, is an exquisite, lush green hill station. Surrounded by hillocks and plateaus with rivers and waterfalls, it is an archaeologically significant place as it once served as a battlefield for Shivaji Maharaj in the 1600s. It is located on the Amba River banks and the area around the river is an abundant natural reserve for exotic wildlife and flora where one can follow the jungle trails into the wilderness.
It offers a plethora of tourist attractions like Uddhar hot spring where one can witness the geothermal naturally occurred hot spring experiences, Pali and Mahad Ganapati temples, and Buddhist rock caves with butterfly trails. It is a haven for trekkers and mountaineers as it has abundant options for nature trails and treks. Adventure seekers can indulge in various adventure activities such as Swing like Tarzan, or glide across trees on a zip line or swaying on Burma Bridge, etc. At the Kundalika River, one can enjoy various water sports activities such as river crossing, rafting and rappelling.
What to eat: One can savour mouth-watering authentic Maharashtrian dishes prepared with the finest local ingredients such as Misal Pav, Vada Pav, etc.
Best time to visit: November to March is the best time period to visit this natural splendour.
How to get there: It is 75 km away from Mumbai and 98 Km from Pune. One can either avail the state-run or private bus services from Mumbai or can even hire a cab to reach Durshet via SH 92. The nearest railhead is the Chhatrapati Shivaji Maharaj Terminus. One can look at MTDC Karla as a nearby stay option.
Tapola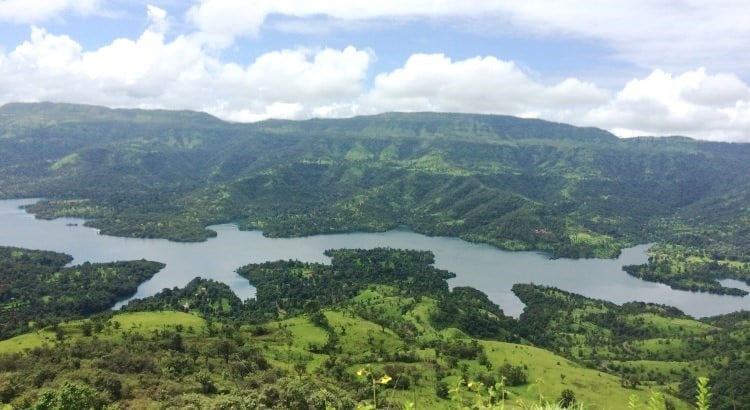 A quaint hamlet near Mahabaleshwar, Tapola is known for its mesmerizing scenic beauty. With its magnificent lake, lush greenery and seasonal waterfalls, it is known as the 'mini Kashmir' of West India. The main attraction here is the Shiv Sagar Lake that serves as a reservoir for the Koyana dam, which is one of the biggest dams in the State. Adventure enthusiasts can enjoy water sports like swimming, boating and kayaking. One can also climb or trek up forts like Vasota and Pratapgad or Valour Fort. Nature lovers can venture into the jungle and observe native wildlife, birds and insects. Koyna Wildlife Sanctuary, a World Heritage site, is closely located.
During monsoon, it is covered in a blanket of lush greenery peppered with pretty wildflowers, giving a surreal experience. It is also known for its Gerbera farms and strawberry fields. One can visit the farms to relish fresh strawberries and revel in the sights of beautiful Gerbera flowers in the farm. Kas Pathar or also known as Kaas Plateau, at a distance of 50 km from Tapola, is popularly known as valley of flowers and is one of the most exquisite attractions in Maharashtra.
What to Eat: The local Maharashtrian cuisine out here is bliss. Local fish, Ambli which is small river fish, found in the backwaters of Shivsagar lake, is a delicacy One can treat their taste buds with unique strawberry creations.
Best time to visit: The best time to visit is from June to March
How to get there: Tapola is about 245 km from Mumbai and 145 km from Pune. From Mahabaleshwar, one can take public transport buses or jeeps to Tapola. The railhead at Pune and Wathar are the nearest available major railway stations to the hill station. MTDC Holiday Resort Mahabaleshwar and Tapola Agro Tourism are some good options for stay.
Suryamal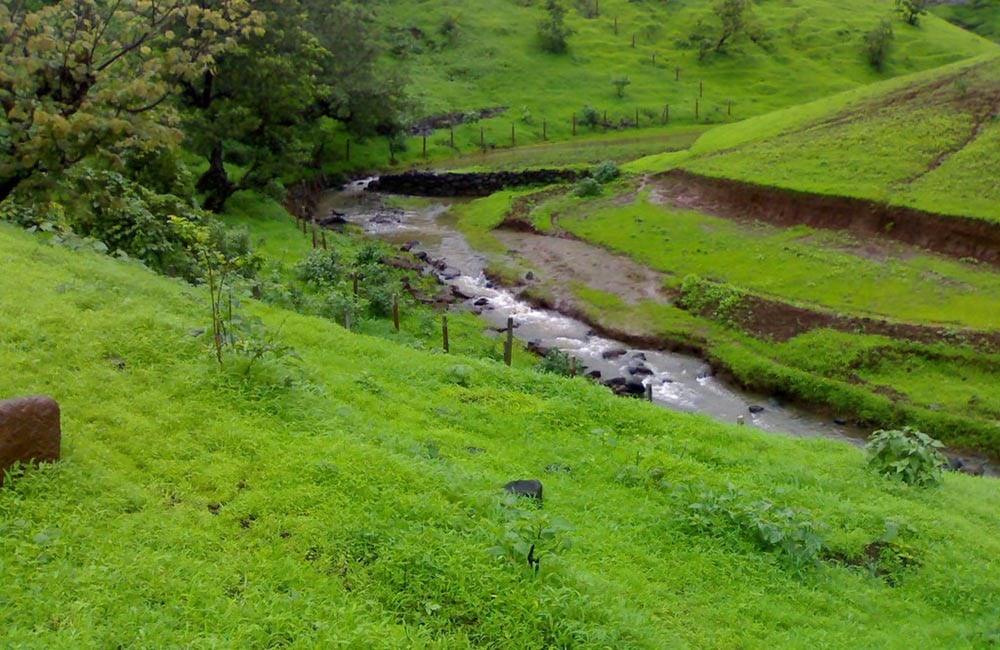 Located near the quaint village of Khodala, Suryamal is the highest peak in Thane district of Maharashtra. Suryamal Peak offers a sight to behold and spin you into a peaceful trance. The place is rich in valleys and lush forests which is a treat for nature enthusiasts and for those who wish to experience nature at its best. It is a paradise for trekkers as it offers perfect spots for trekking and hiking. At a short distance from here is the Amala Wildlife Sanctuary which is home to many rare varieties of flora and fauna. Deoband temple, dedicated to Lord Ganesha, located amidst the Sahyadri ranges, offers enthralling views of the surroundings.
What to eat: The local cuisine here is dominated by Maharashtrian food. It is known for spicy food of curries and fries. Misal and.Vada Pav are popular fast food here.
Best time to visit: The best time to visit this hill station is from September to May.
How to get there: It is well connected to Mumbai, Thane, Nasik and Igatpuri by road. It is located at 85 km away from Nashik and 120 km away from Mumbai. The nearest railhead is located in Igatpuri which is about 50 kilometres away from Suryamal. One can stay at the nearby MTDC resort at Bhandardara.
Jawhar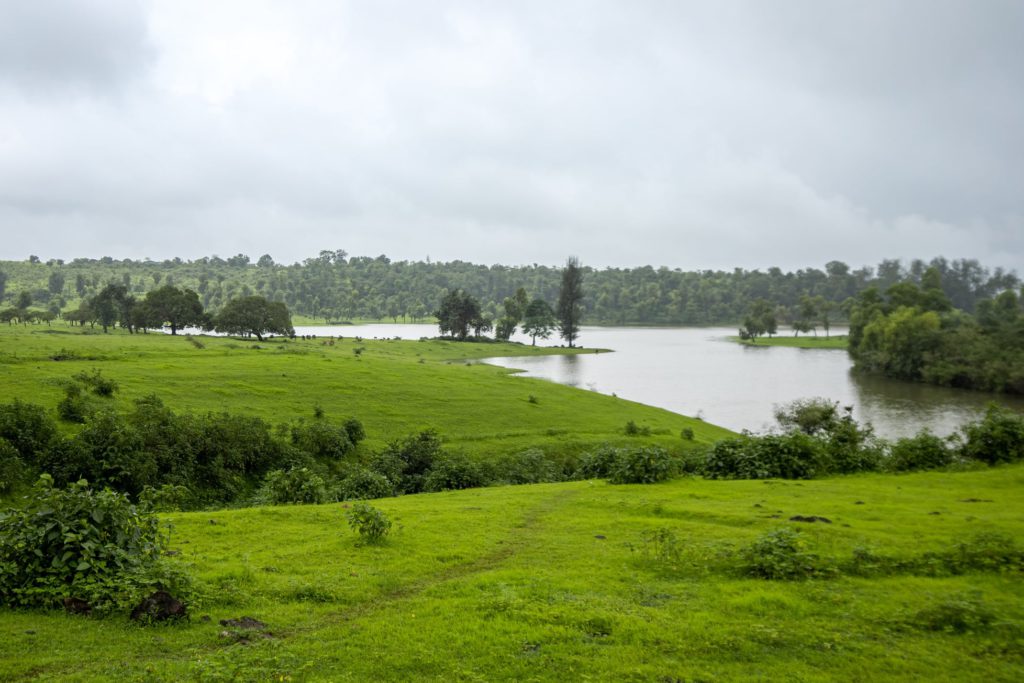 It is a quaint hill station surrounded by lush and majestic Sahyadri ranges, located in the Palghar district. Blessed by nature with abundant picturesque dense green trees, exotic valleys and pleasant climate, it has strong cultural ethos and a history that dates back to the 14th century. Founded in 1306, Jawhar was ruled by the Munke dynasty and served as camping point for Maratha king Shivaji and his army en route Surat. It is known for its tribal communities like Warli, Kolcha, and Kukana, and the notable Warli paintings depict scenes from everyday life of the Warli people and are traditionally drawn with white on red background. The hill station offers a myriad of attractions including grand ancient temples such as Gramadaivat temple and Hanuman Point, serene dams such as Jaisagar Dam and Khad Khad Dam, magnificent palaces such as Jai Vilas Palace also known as Raj Bari and Bhopatgad Fort, majestic waterfalls like Dabhosa Falls, a great natural wonder, etc. With a range of thrilling activities like mountaineering, trekking, hiking, witnessing sunset views, Jawhar offers a range of fun-filled to adrenaline-raising activities to enthral every traveller.
What to eat: The local cuisine here is dominated by Maharashtrian food. It is known for spicy food of curries and fries. Misal and.Vada Pav are popular fast food here. One can relish a range of mouth-watering local and Maharashtrian delicacies served by the tribal community or at the community kitchens in Kelichapada.
Best time to visit: The monsoons are the best time to visit Jawhar when a thick fog envelopes the surrounding hills.
How to get there: It is well connected to the neighbouring regions by road and rail and is located at a distance of 165 km from Mumbai, making for an easy and picturesque weekend road trip. Igatpuri is the nearest major railway station which is located at a distance of 60 km. One can stay at nearby MTDC resorts such as MTDC Guest House, Shanti Sarovar Resort etc. offering a comfortable stay.
Amboli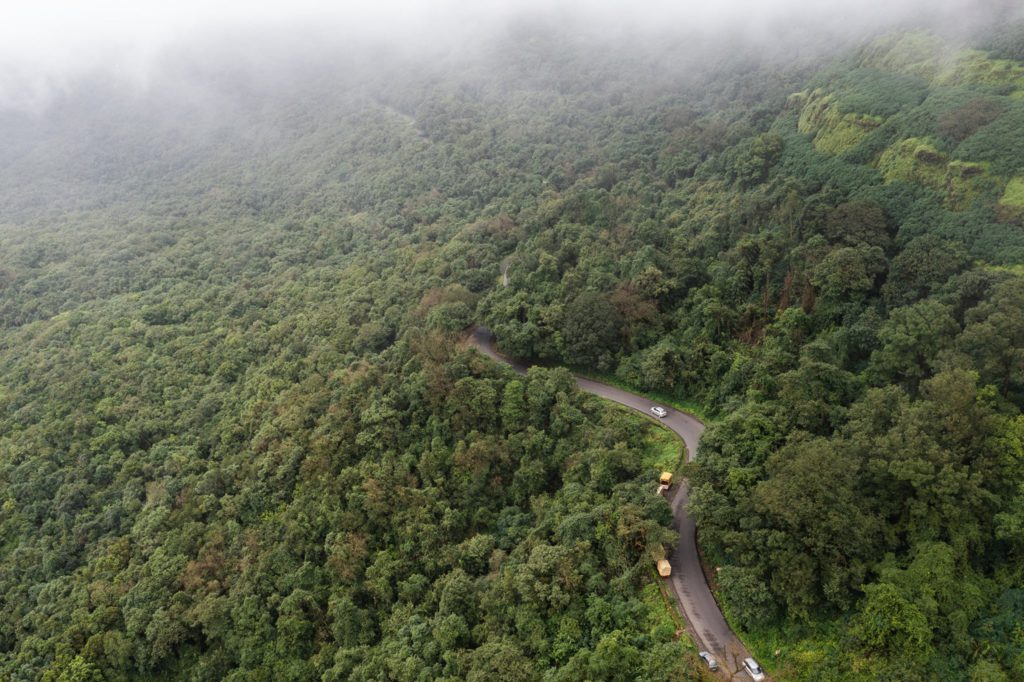 This gorgeous hill station dwells in the heart of Sahyadri ranges located in Sindhudurg. Titled as the 'Mahabaleshwar of the Konkan' this placid and exquisite hill station extends bird's-eye view of the Konkan coast. This paradise is home to some of the beautiful waterfalls such as Bada Dabdaba or the big waterfall, Amboli Falls, Shirgaonkar Falls, Mahadev Falls and Nagatta Falls. The HiranyaKeshi Falls houses a small and archaic Shiva Temple near the mouth of its caves and is rumoured that the temple was built by the embodiment of Shiva himself. One can enjoy bathing in waterfalls and participate in various water sports activities such as Sitting Bumper Sleeping Bumper Speed Boat Jet sky and Banana Ride. Other attractions include Maruti Mandir, Durg Dhakoba Kavleshet Point, Mahedevgadh Point and Shirgaonkar Point. These points offer panoramic views of the confluence of the Arabian Sea and the Konkan Coast.
What to eat: The local cuisine here is Malvani, which comprises spicy curries and fries. One can savour delectable Konkani styled fishes and Kokum Juice as well.
Best time to visit: The best season to visit Amboli is during the monsoon between June and August.
How to get there: With Mumbai about 550 km away and Pune about 400 km away, one can travel by road. The Sawantwadi Railway Station is the closest station to Amboli, about 30 km away. One can stay at Whistling Woods, Green Valley Resort, near Amboli Check post.
Mhaismal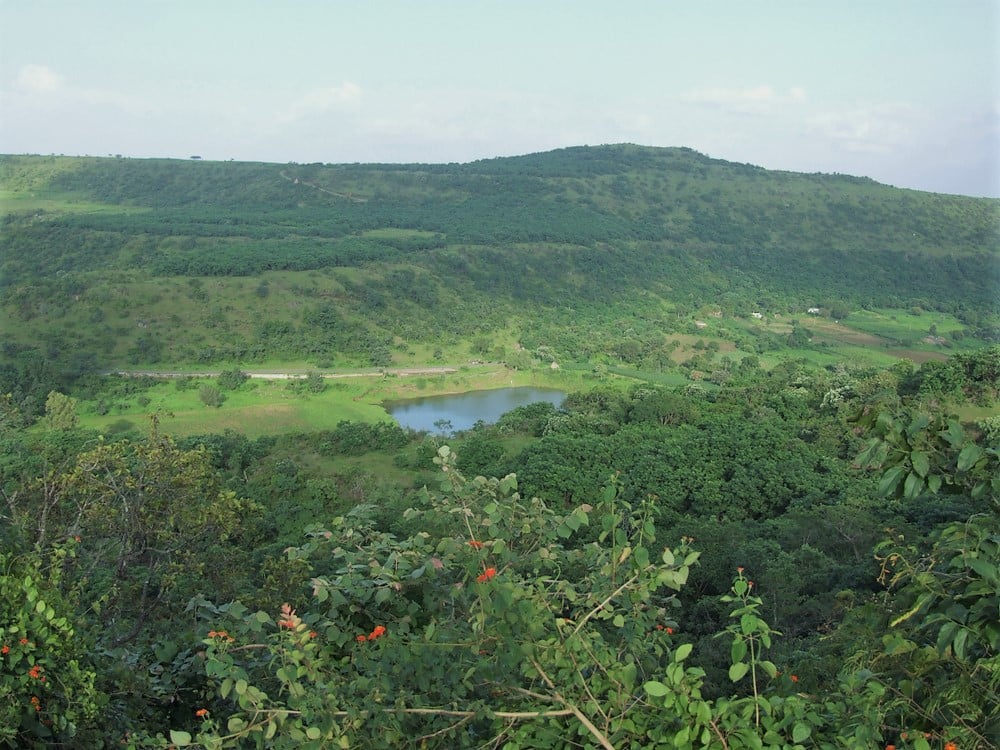 It is one of the unexplored treasures of Maharashtra where one can soak in nature's beauty. Located in Aurangabad district, this hill station offers stunning views to travellers especially on their way to the famous Ellora Caves. It is blessed with undefiled natural beauty and offers astounding view of the surroundings. Some of the major nearby attractions include the magnificent temple of Rajangoan Ganapati, Bhadra- Maruti Lord Hanuman's sleeping idol, Bani Begam Bagh – an amazing place for botanic garden lovers, Balaji Temple– a replica of the Tirumala Balaji Temple and Ellora Caves which has 34 caves from the period between the 5th and the 10th centuries. Nestled at the base of the green valleys, Pitalkhora Fort boasts of paradisiacal setting and a number of mystic caves adorned with beautiful paintings and alluring sculptures.
What to eat: The local cuisine here is Malvani, which comprises spicy curries and fries. One can savour delectable Konkani styled fishes and Kokum Juice as well. Cuisine here is a rich blend of Marathwadi, Mughlai and Hyderabadi fare. One can find a plethora of delicious food that is traditional to Aurangabad such as soft fluffy Nan with Khaliya, a spicy rich mutton curry served in a bowl, Aurangabad Cantukky, apricots with cream or mango rabdi.
Best time to visit: The best season to visit this hill station is during the monsoon to explore its scenic natural beauty.
How to get there: Mhaismal is well connected by roads and there are regular buses that operate from Aurangabad, which is at a distance of 37 km from the place. Pune lies at a distance of 263 km whereas Mumbai is at a distance of 356 km. The nearest major railway station is the Aurangabad station, which is at a distance of 35 km. One can stay at various resorts such as MTDC Aurangabad resort, MTDC Ajanta Fardupur resort, and MTDC Ajanta T Junction resort.
Toranmal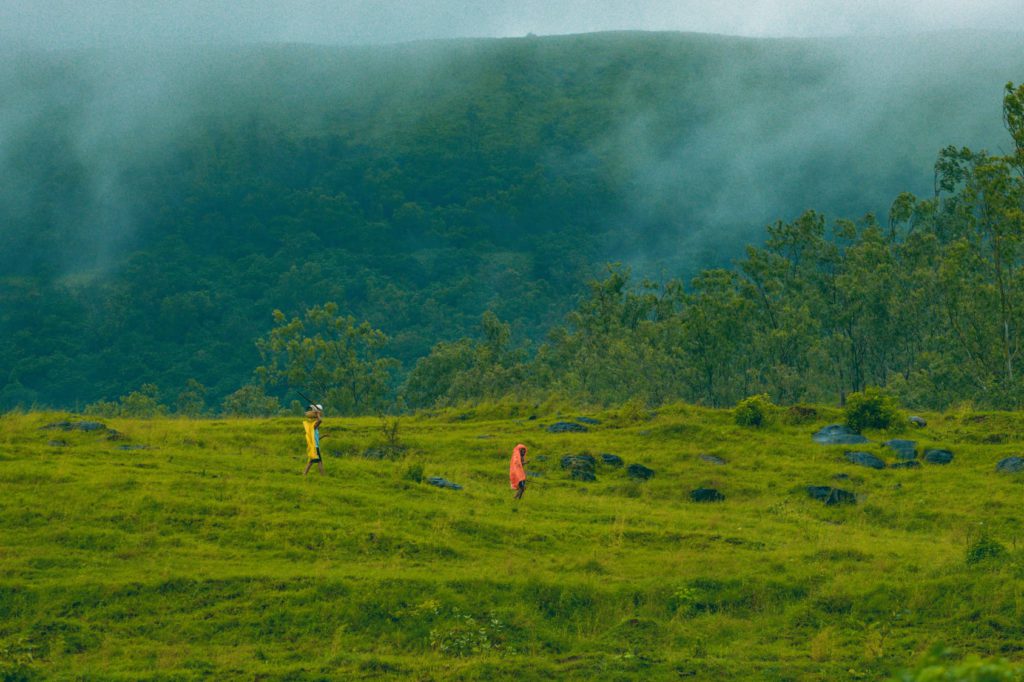 One of the hidden gems of Maharashtra, Toranmal is tucked away in the marvellous range of Satpura and is located in the Nandurbar district. It is enveloped with a perfect blend of the incredible nature's beauty, pristine setting, tinsel lake and magnificent mountains. Some of the key attractions include the splendid Yashwant Lake which spans about 1.59 km, grand Machhindranath caves and stunning vantage points. To the northern part of the Yeshwantpur Lake is the pretty Lotus Lake, where bountiful of beautiful lotuses grow on its banks besides the gushing waterfalls in Sita Khai. The Coffee Garden, the Aawashbari Point, the Sunset Point and Check Dam are must visit attractions too. Enriched with a variety of flora and fauna, it is surrounded by dense forest. The hill station derives its name from Torana, a tribal Goddess who is a presiding deity of a temple located in hilly regions of the plateau. Other famed place to visit is Gorakhnath shrine. Toranmal is an ideal place for adventure enthusiasts as it offers a wide range of adventure activities such as trekking, camping and kayaking.
What to eat: It is quite famous for sugarcane and its products. It predominantly serves delicious and spicy Maharashtrian cuisine. Delicacies made out of tur, maize, wheat and jowar are quite famous here. One can take home pure cotton clothes and chillies as souvenirs.
Best time to visit: The best time to visit the place is during the period of October to May.
How to get there: It is well connected with nearby places like Pune, Nasik and Ahmednagar. It is 295 km from Nasik. Nandurbar is the nearest railhead to Toranmal. It is about 75 km away and lies on the Surat-Bhuswal line of the Western Railways. Toranmal Hill resort is one of the best accommodation options available here.
Gaganbawda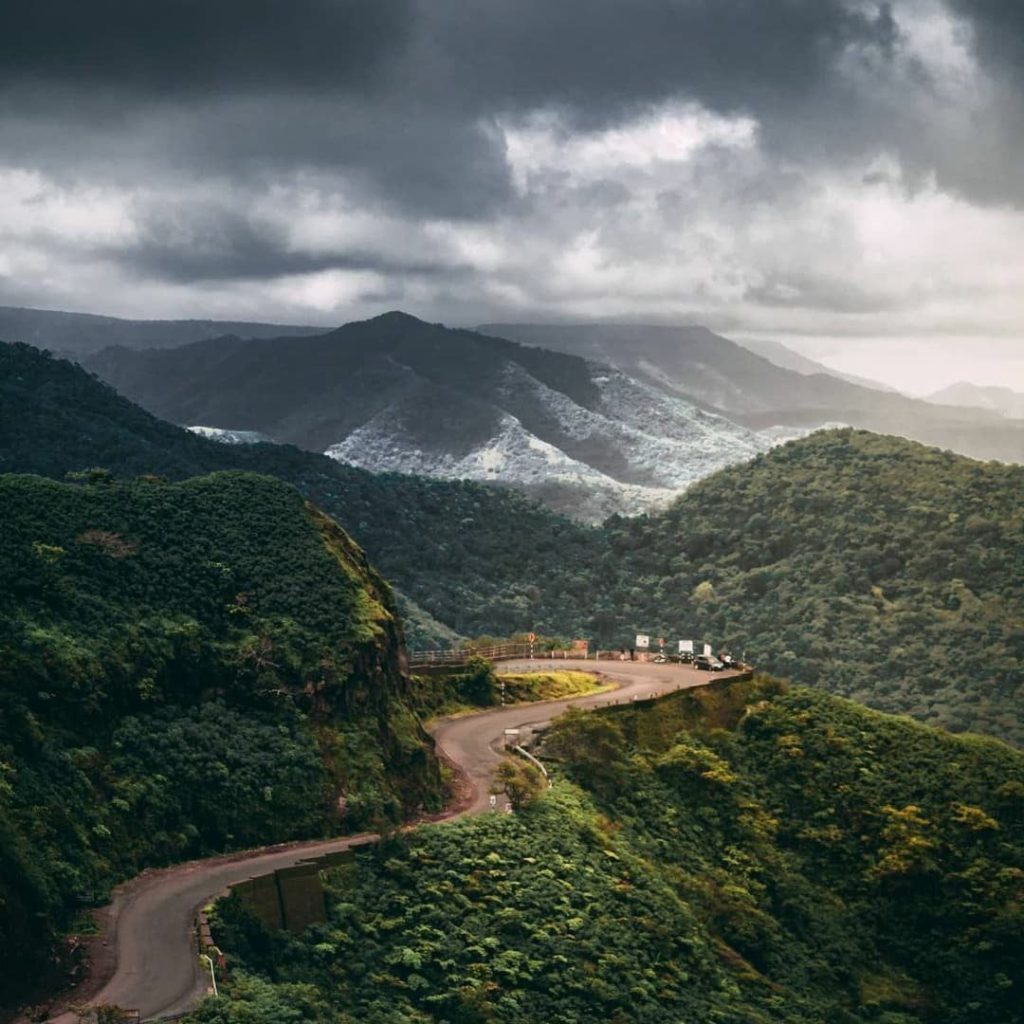 Nestled in the Sahyadri range, it is one of the most pristine hill stations of Maharashtra. Nature lovers can revel in the abundant waterfalls, lush greenery and exotic surroundings this stunning place offers. Endowed with distinctive biodiversity, it is a haven for a wide variety of flora and fauna including more than 120 species of birds, 50 species of butterflies and 21 species of mammals. Each season, it presents a different and breath-taking view of the landscape. Gaganbavda has been so named because 'gagan' means sky and the name implies that it is at a significant height from the sea level.
Situated 55 km near Kolhapur, this hill station has rich historical and mythological background. Among the nearby attractions is The Gagangad Fort which was the headquarters of the Gaganbawda tehsil during British era. At the fort, there is a Bhavani temple and a mosque. Near the fort, are Garbhagiri caves where there is a temple of Gurudatta and an ashram of Shri Gagangiri Maharaj. The ashram attracts many people for meditation and yoga. Other interesting places to visit are the two gorgeous Ghats, Kaul Ghat and Bhuibawada Ghat, which connect the Deccan Plateau to the Konkan region. They are not only ideal for hiking but also for scenic views. One can also visit Ramling caves, which are unique monolithic structures. At the entrance of the caves, there is a Ganesha idol and 12 Shivlings. For hiking enthusiasts Morjai Plateau is a perfect spot, which also has a cave and a Morjai Devi temple. One can also visit Lakhmapur Dam, Napane Waterfalls and Pandav caves.
What to eat: One can enjoy local cuisine like Kolhapuri Bhel, Kolhapuri Misal etc. here.
How to get there: Gaganbavda is easily accessible and state transport buses are available from Kolhapur. It is 288 km away from Pune and 450 km away from Mumbai. The nearest railway station is at Kolhapur which is 55 kms away. MTDC Resort Gaganbawada and Kolhatkar House are some of the best accommodation options available here.
Panhala
Backed with the history of the Maratha Kingdom, Panhala is one of the charming hill stations in the State. Only 18 kms from Kolhapur and at a height of 977 meters above sea level, this hill station presents a kaleidoscopic view of the surrounding scenic hills. The history of Panhala is closely linked with the history of the Maratha Empire, as Chhatrapati Shivaji is said to have spent more than 500 days here. The Panhala Fort, considered the largest of all Deccan forts, serves as a major tourist attraction. The Sajja Kothi (Punishment Cell) is the most interesting part of the fort from where Chhatrapati Shivaji was known to make the heroic escape. At the entrance, is the Teen Darwaza, which has an inscription dating back to 954 AD, the only three gates that allowed entry to the majestic Fort. With its red soil and wholesome climate, the place has several ancient ruins and monuments, including Ambarkhana Fort or granary which used to contain 25,000 khandis of corn.
The Someshwar Temple in the vicinity signifies the religious glory of the past. Nagzari and Parasher Caves are other attractions one can explore. Parasher Caves are known to be the residence of Maharishi Parashar (author of many ancient Indian texts like the Vishnu Purana), and Moropant or Mayur Pandit, the Marathi poet who produced most of his work here. Given the abundant forts found here, the hill station proves to be an ideal spot to indulge in trekking. It offers a wonderful trekking trail from the base of the village to the fort. One can also join the trek that follows Shivaji's escape route to Vishalgad. For nature aficionados, the place provides an exquisite view of the grand valley.
What to eat: One can enjoy local cuisine like Kolhapuri Bhel, Kolhapuri Misal etc. here. Get ready to tantalise your taste buds with succulent Kolhapuri cuisine here which includes spicy tambda rassa, pandra rassa and sukka mutton.
Best time to visit: One can visit this hill station anytime of the year as it enjoys a pleasurable climate at all times of the year.
How to get there: It is easily accessible via all modes of transport be it air, rail or road owing to its proximity to Kolhapur. By rail and road, Kolhapur serves as the nearest junction with regular inter-city and inter-state buses connecting Panhala to all the major towns and cities within and outside Maharashtra. It is located at about 380 kms away from Mumbai. MTDC's Mahalaxmi Resort and Hotel Hill Top are good options for stay.

Travel Update : Please note that there could be travel restrictions because of the ongoing pandemic. Before travelling, please always check the latest government advice about COVID-19 travel restrictions in your destination.
For latest travel news and updates, food and drink journeys, restaurant features, and more, like us on Facebook or follow us on Instagram. Read more on Travel and Food Network
Related Coverage:
47 Places To Visit In Maharashtra | 2021 Travel Guide