Photo : Shutterstock and Shailen Sohoni
For the people of Amalfi, who will go to heaven, judgement day will be a day like any other… local proverb
The Amalfi coast is probably the most written about 40 km coastline in the world. The towns along the coastline have been the setting for a number of books by authors such as John Steinbeck, Gore Vidal and more recently Patricia Highsmith to name a few. Some of them like Gore Vidal had made this part of the world their home.
Very often described as the playground of the rich, towns/islands along the coastline like Capri have developed a reputation for the glitzy night clubs that play host to celebrities like Beyonce', Paris Hilton, Kanye West among many others.
All my life I was perfectly content to experience the Amalfi coastline through surrogate characters in works of some of these famous authors and travel writers.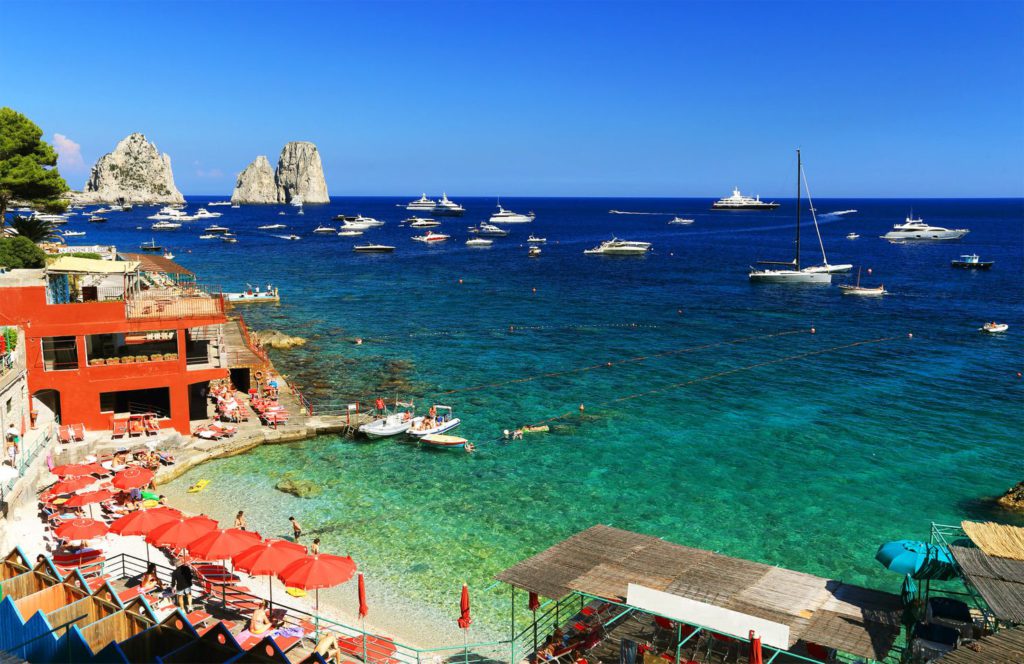 The call that changed it all
All this changed with one phone call from my San Francisco based cousin sometime in January 2017. He was turning 60 in July and wanted to celebrate in style with close family and a few friends. I was asked whether my wife and I were interested in a sailing expedition along the Amalfi coastline in July that year. Given the hype around that piece of real estate, I almost declined till I heard the words "Dikra (my dear in Gujerati), you guys just land up and the rest is on me." So before my rational mind could respond, my subconscious bubbled up with a resounding "yes we'd love to".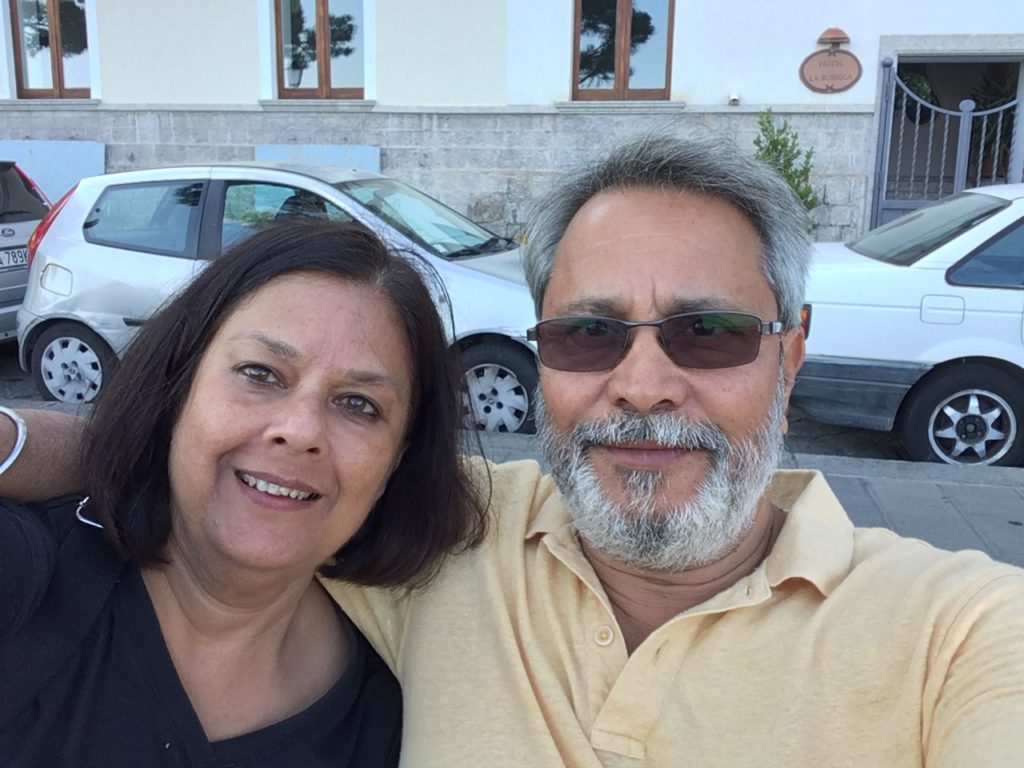 How we got there
Our journey began with a few days stop in gay Paree' doing the touristy stuff… Latin Quarter, Lunch at the Eiffel Tower, Moulin Rouge, Louvre etc etc. After a very satisfying time in Paris we took a short flight to Naples, which is the take off point for Procida, a large fishing island/village that was the base for Sail Italia, a fleet of yachts for hire and the take off point of our cruise. A short ferry ride from Naples took us there where we were met with our fellow travellers.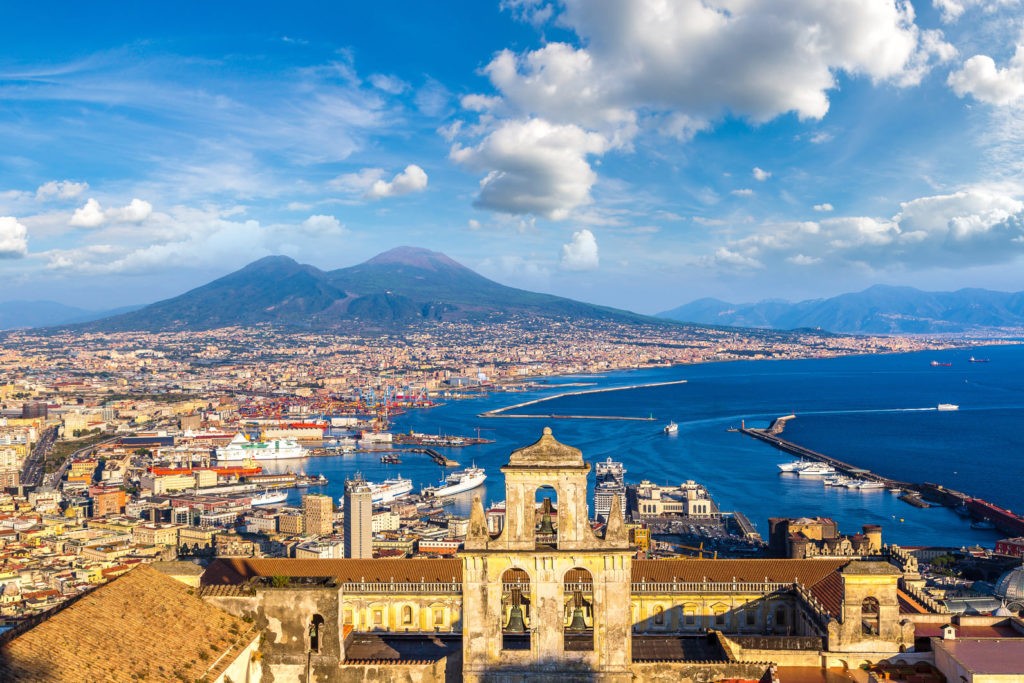 A tryst with the authentic Neapolitan pizza (and how it completed my life) No visit to Napoli is complete without visiting their museum and sampling the famous 'Neapolitan Pizza' with fresh hand tossed crust brushed ever so lightly with tomato-based pizza sauce, topped with pieces of fresh buffalo mozzarella and basil and your choice of toppings be they veggies, meats, seafood, and so on. The best pizzerias proudly display their membership to the Association of Pizza Makers.
The pizzas are to kill for. For these pizzas they use a special flour with a gluten content of around 4-5% which is a couple of percent higher than the normal flour used for cakes. The higher gluten content helps build the structure of the base and is more effective in trapping the air making them rise and stay that way longer, pizza sauce made from ripe hand- picked Pomodoro tomatoes, fresh buffalo mozzarella and fresh basil – in other words a most delectable combination.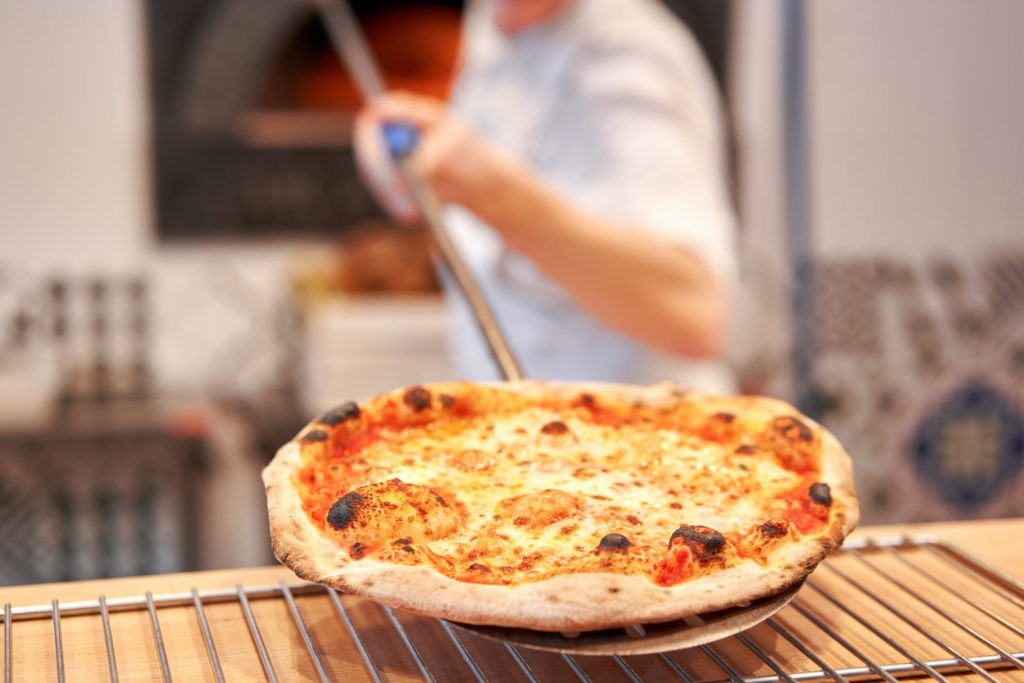 The journey starts
Back in Procida we were escorted to our yacht by my cousin and nephew. After a refreshing espresso (more on that later), a visit to the sailboat office to pick up masks, snorkels and fins followed by a visit to the supermarket to stock up on local white and red wine and sparkling wine (Proseco) as well as some cured meats, espresso coffee, fresh bread, butter and cheese, we were on our way.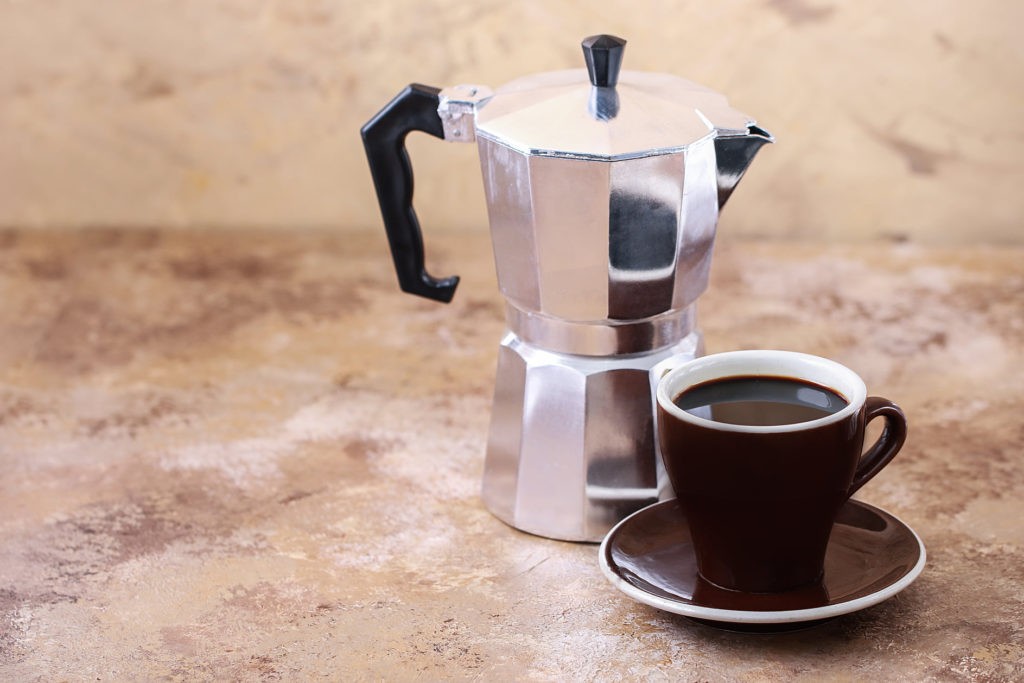 Our boat captain was a handsome young Englishman 'Mark' who works here every season. The boat itself was a 42- meter powered twin hulled catamaran with 4 double cabins, one Captains cabin and a lounge with a plush sofa that could expand into a bed to sleep two. We had a compact galley with a gas range, microwave, wine coolers and a fridge and deep freeze chest. The back of the boat had a wonderful lounge seating open to sea.
The itinerary was dinner on the first night at Capri, followed by a nightclub visit and back to boat for the night. Over the next seven days our boat would head to Sorrento, Amalfi, Revello, Positano, and Ischia.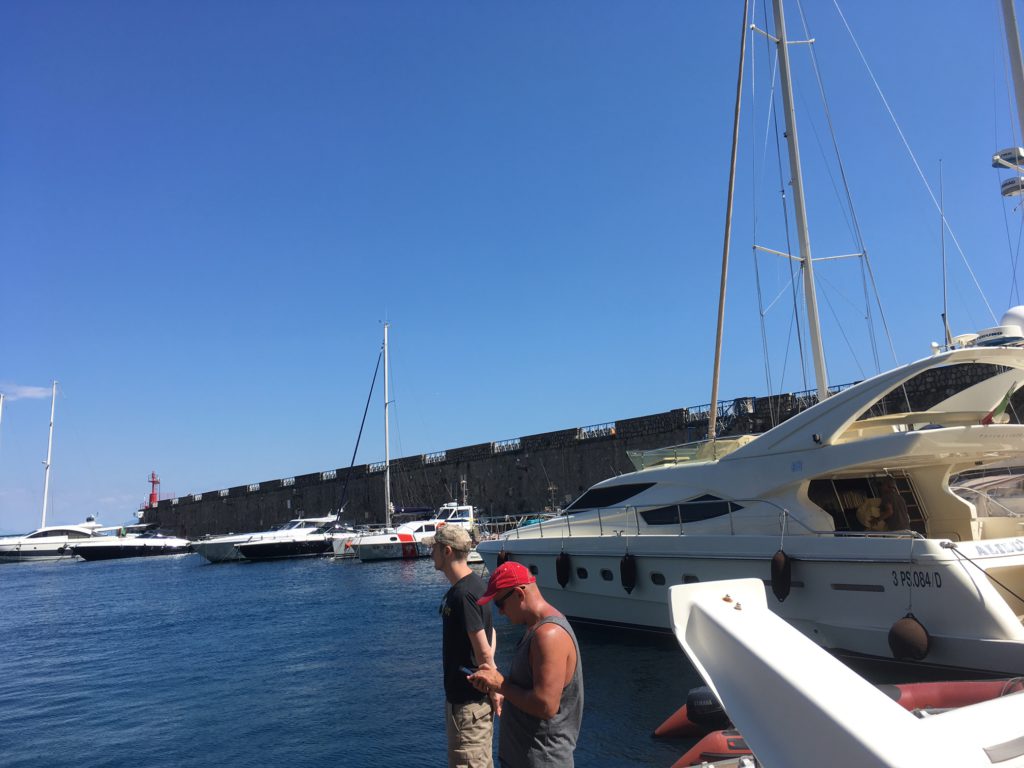 Capri
We arrived in Capri late at night, pretty high after imbibing copious quantities of the delicious wines. We edged our boat towards a small jetty that was the access to our dinner restaurant. It turned out to be a small family villa that was partly converted to a restaurant. In this charming rustic setting I devoured a beautiful seafood Pizza done the Neapolitan style while the rest of the party gorged on some amazing pasta done 'al dente' as the Italians serve it, beautiful tomato and carbonara sauces and freshly grilled prawns and red snappers and rounded off with the most amazing tiramisu. After this feast the party was invited to an honest to goodness Capri Nightclub managed by an Iranian gentleman. Half the party was too bombed out to make the effort but my cousin and a couple of others decided to go for it. Next morning after we had shaken off our buzz with a fine espresso made in the traditional 'Moka' pot we got a full report of the night club visit; turns out it was true to the stereotype with skimpily clad model types, champagne bottles priced at $1000 and of course loud music and snaky queues for entry.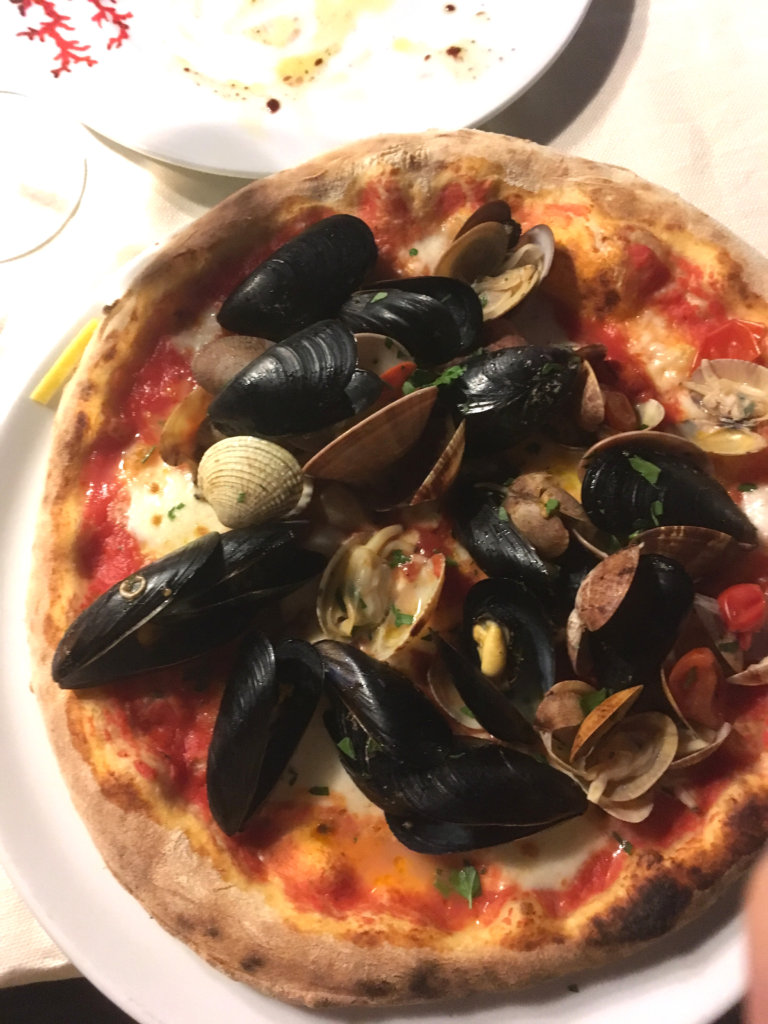 To Sorrento…. and beyond
After a night on the boat we headed to Sorrento with a refreshing dip in the cold Tyrhennian sea passing the Galli islands that according to Greek mythology was home to the 'Sirens'. Unfortunately we didn't see any.
Nestled along the coastline are beautiful houses winding their way up from sea-level to the top the cliffs Sorrento looks like a town where tradition and modernity go hand in hand. Dotted with open air cafes, quaint shops selling ceramics and fine fabrics, beautiful markets stocking fresh breads, meats, vegetables and other produce it is simply divine. Lip smacking simple sandwiches with fresh crusty bread and prosciutto ham accompanied by freshly squeezed orange juice and rounded off with a Gelato are a song for the hungry soul. This is the theme that continues in all the Amalfi coastline towns that after a while are hard to distinguish. No doubt touristy, but romantic and charming nevertheless with friendly people, trekking trails along aromatic lemon orchards, pebble beaches, lovely and charming open- air cafes, medieval churches with beautiful gilded statues are everywhere along this coastline, all in all a perfect getaway from the frenzy of city life.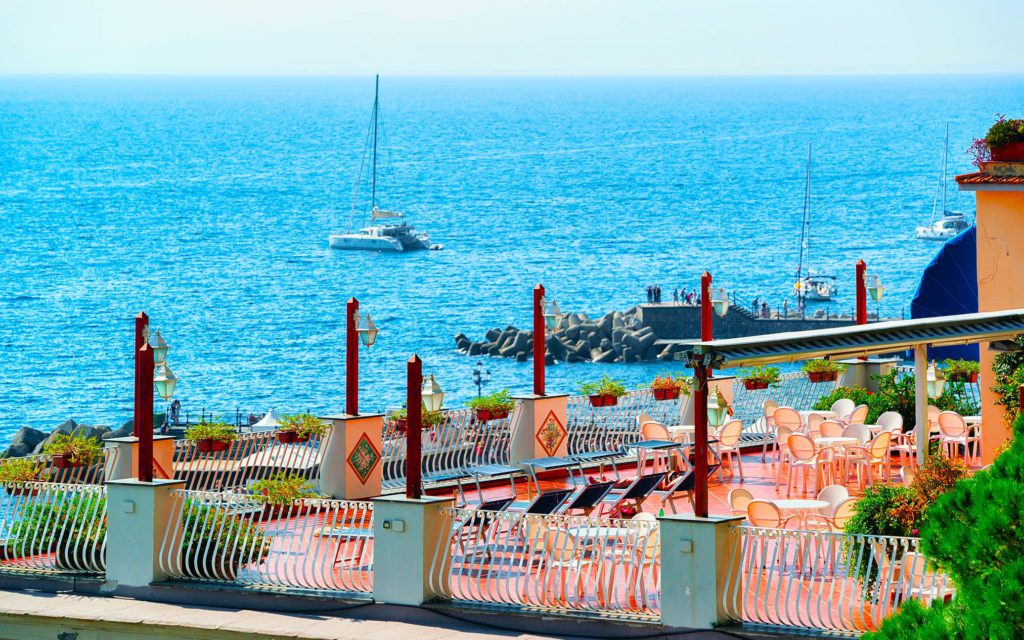 While islands in the Tyrrhenian Sea like Capri, Procida and Ischia are spread out horizontally, the towns along the coastline are characterized by houses winding their way from sea level up to the top of the cliff to the town centre with cafes, markets, restaurants, bars and hotels and of course the train stations all located here.The most amazing thing is in one of the towns (Sorrento I think), those who didn't want to climb up to the town centre had the option of taking the elevator built inside a cliff!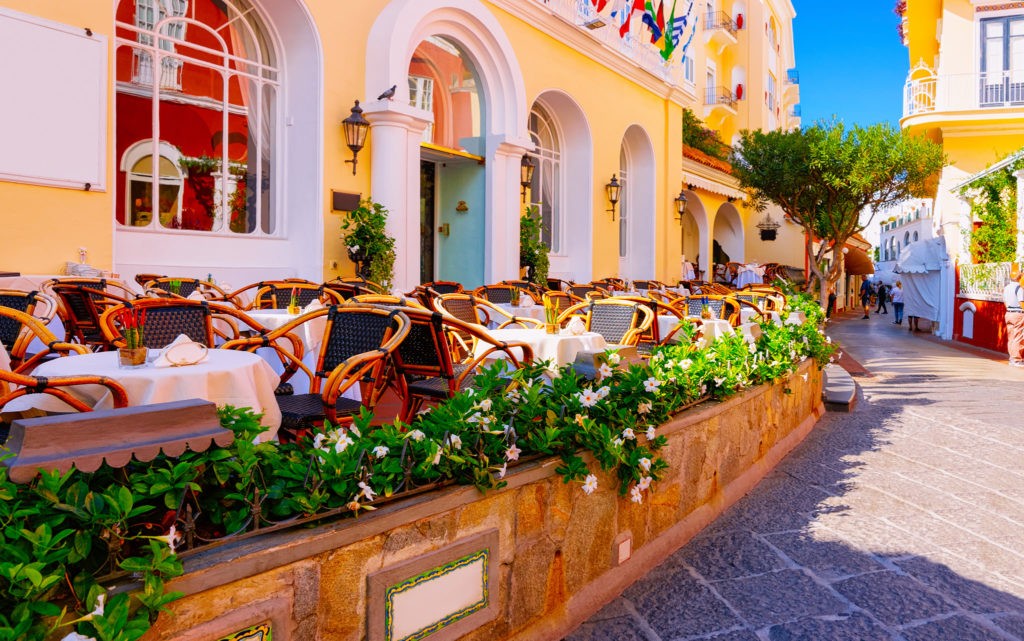 What to shop and bring back with you
The local export apart from some fine Ceramics, Positano Linen and Handmade shoes is a home-made lemon based liqueur 'Limoncello' that is widely sold in all shapes and sizes of bottles. This liqueur is an excellent flavour enhancer for lemons mousses and custards and is a popular souvenir along with moka pots finished in various sizes, colors and designs.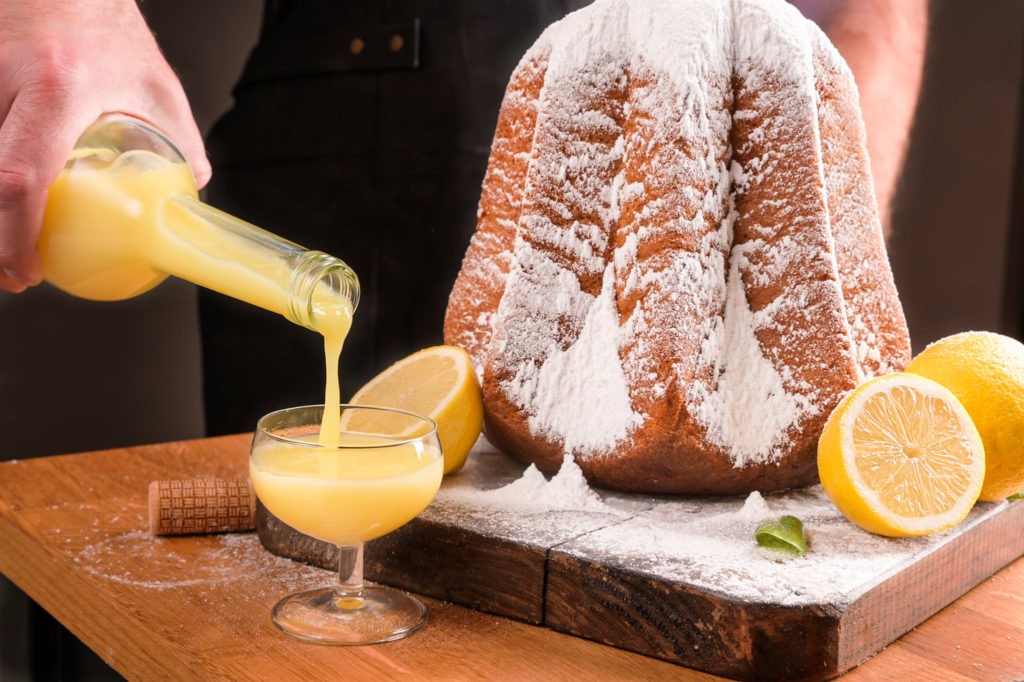 If you are looking for food heaven, you will find it here
In terms of food choices there is an abundance of great food for all budgets from simple sandwiches made with fresh crusty bread, cheese and cured meats and of course pasta and pizzas of all types that are available everywhere. Fresh seafood is in abundance and is divine. For the veggies there are plenty of crisp fresh vegetables and cheeses everywhere.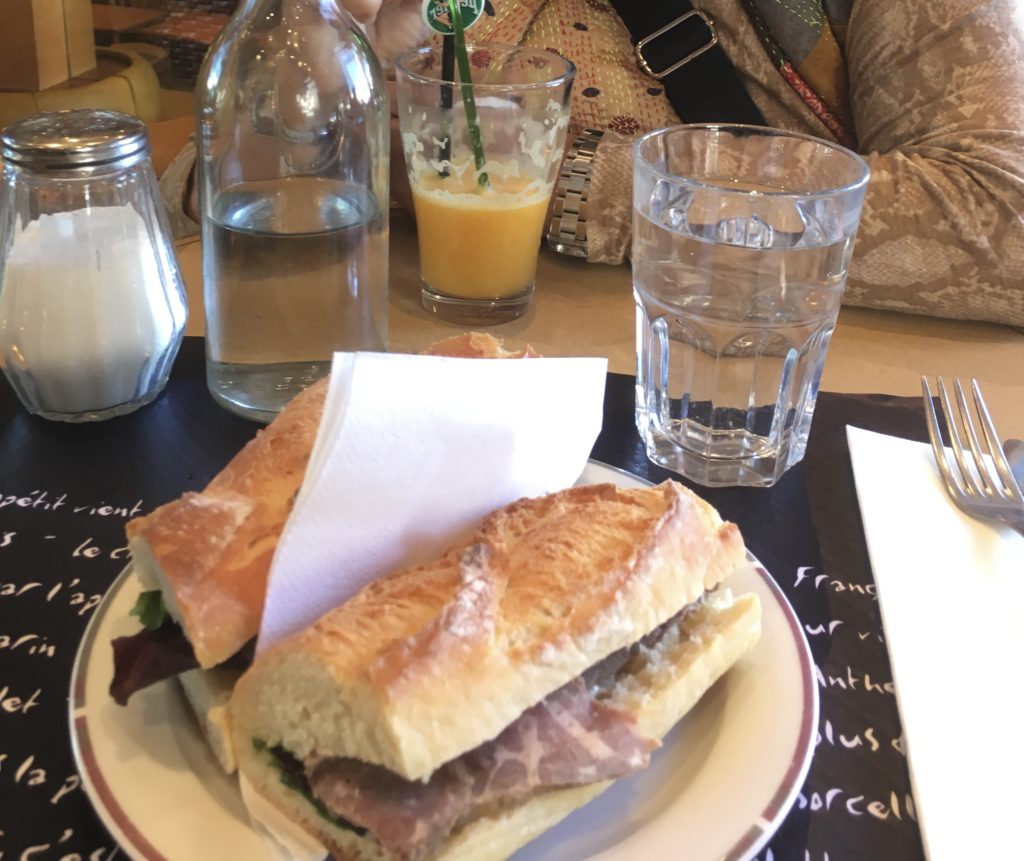 For the lovers of pastry I would rate the Italian pastry higher that their French counterparts. I especially loved the 'Sfogliatelle' or lobster tail pastry stuffed with Ricotta cheese…. '''lip smacking" The local wines as I said earlier are excellent and very reasonably priced. For 8 t0 10 Euros you can get an excellent Cabernet, Merlot or a fruity white.

The Michelin star experience
Another major highlight of our trip was the visit to Michelin Star restaurants that serve the most outstanding food with mind blowing presentation. A little heavy on the pocket but worth every penny! These small little towns are home to over 15 Michelin star restaurants! We managed to sample three of them namely Il Buco in Sorrento, La Caravella in Amalfi and the Dani Maison in Ischia, the experience will live with us for a lifetime. These restaurants are usually small, the largest being perhaps a 80 to 100 seater to the Dani Maison, which at a time seats no more than 20 to 30 guests. But the quality of food, the presentation are way beyond the ordinary.
In fact, it was at the Dani Maison in Ischia that the group had the last luncheon before we wound up one of the most incredible weeks in our lives.

Other ways to get there
For those who don't have sea legs the towns along the Amalfi coastline are easily accessed by rail from Naples which is barely an hour away or by ferry or for those who love to drive there is an option road as well.
For travellers from Rome there are the superfast Italian trains that cover the 300 odd kilometers from Rome to Naples in just one hour!
For anyone visiting Italy a trip to Amalfi and its sister towns is a must for the food, the culture, the stunning scenery amidst the azure blue sea and charming medieval townscapes.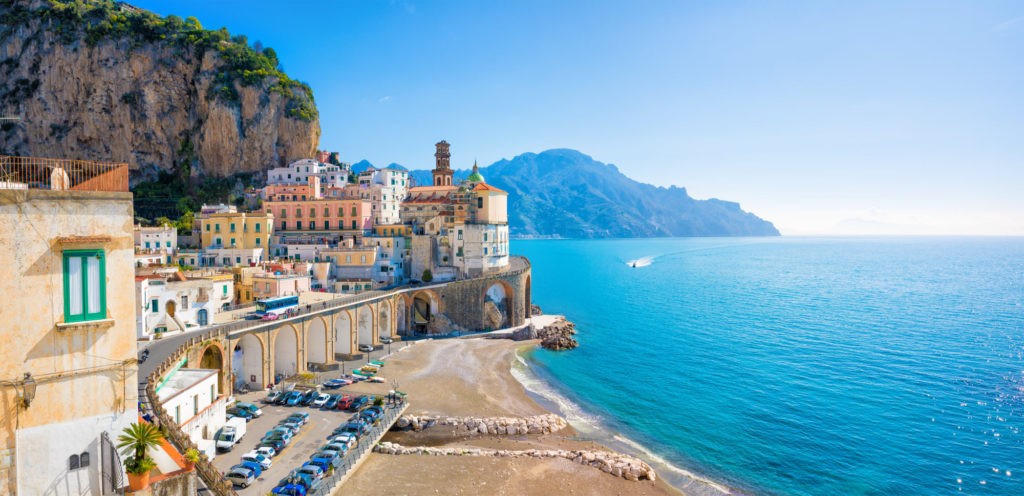 Travel Update : Please note that there could travel restrictions for international travellers to Italy because of the ongoing pandemic. Before travelling, please always check the latest government advice about COVID-19 travel restrictions in your destination.
For latest travel news and updates, food and drink journeys, restaurant features, and more, like us on Facebook or follow us on Instagram. Read more on Travel and Food Network
Trending on TFN
The 23 Best Places To Go In 2023
Explore Utah's Mighty 5® and What Lies in Between
Five Epic U.S. National Parks To Visit This Year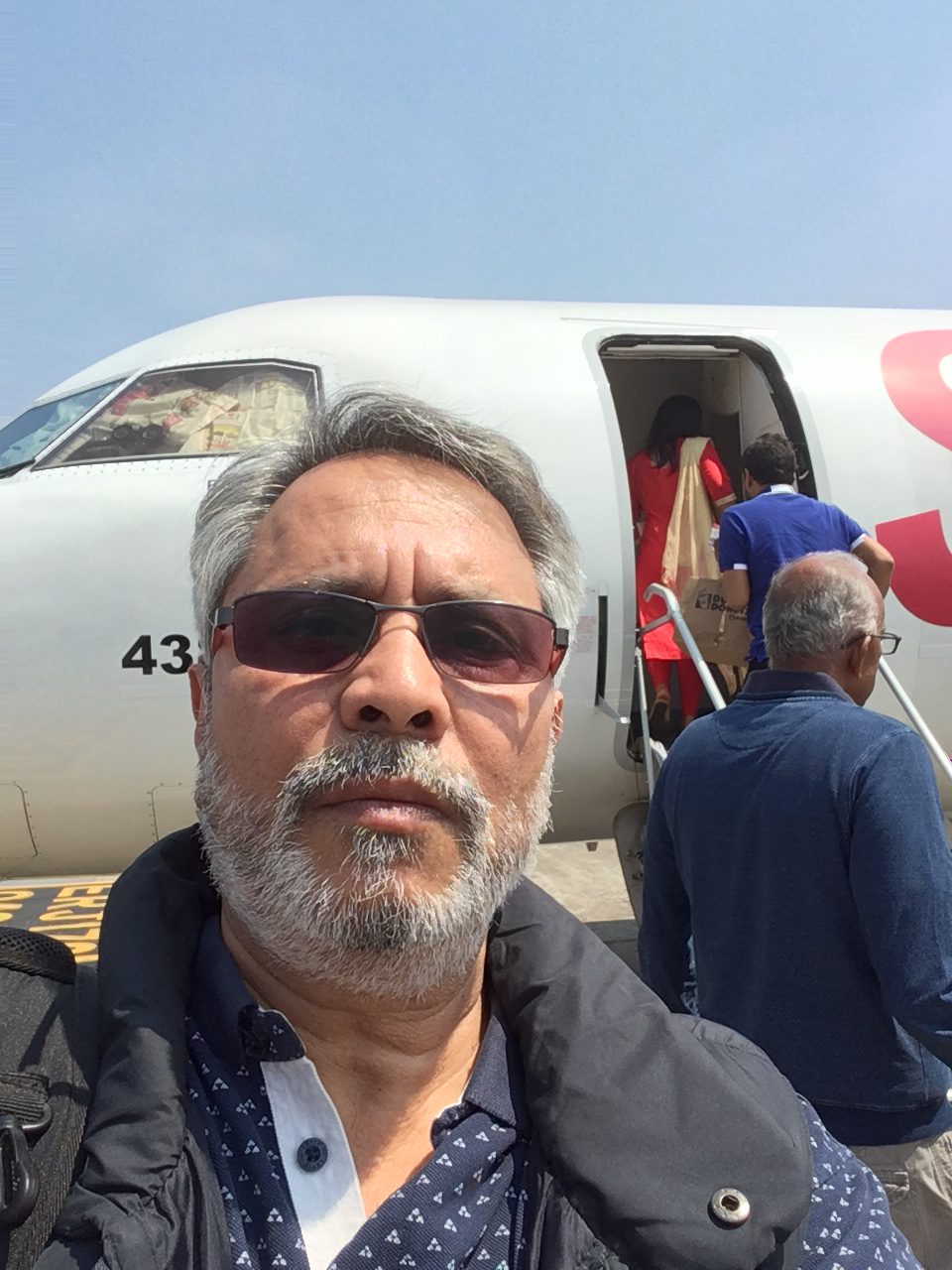 Seasoned Marketeer and Advertising professional with a track record of launching and building powerful brands that are today household names like Venkys chicken, Futura pressure cookers and cookware, Dr. Fixit and most recently Polycab. He has also worked closely on brands like Raymond and VISA. He however, started his career as a management trainee with ITC hotels with stints in the Maurya Kitchens, and F&B at Chola Sheraton and Searock Sheraton. Before turning independent consultant in 2017, he was COO at the advertising firm RKSWAMY BBDO. In all the intervening years he has never lost his passion for food and cooking. Extensive travel in India and overseas has only helped in expanding his foodie horizons. After lockdown Shailen hopes to get back to his other passion Scuba Diving while continuing to share his foodie experiences on this network.