Sikkim was once an offbeat destination but is gradually being discovered by vacationers as a paradise worth visiting for its beauty, sheer grandeur, and wilderness.
Sikkim, part of Himalayan landscape, home to beautiful meadows, glaciers, with a plethora of flora and fauna, is distinguished for its biodiversity and offers rugged nature at its best. Sikkim is the smallest state of India, and yet it is home to 28 mountain peaks, 80+ glaciers, 227 high-altitude lakes, five major hot springs, 100+ rivers and streams. No wonder Sikkim is fast becoming an addition to noteworthy travel places.
Are you wondering how to plan a trip to Sikkim? Read on…
How to travel to Sikkim
The quickest way is by air, no matter which part of India you are coming from. The nearest airport is Bagdogra airport (having flights from all major cities) and nearest railway station is Jalpaiguri (trains ply from major cities). You will need to travel by road from both these to reach Gangtok the capital of Sikkim (approx. 133 kms from Bagdogra and 166 kms from Jalpaiguri).
Best Time to visit Sikkim
All summer months are a good time, but June and July are the best months to visit Sikkim. During these months, you see Sikkim at its blooming and glorious best.
The most important thing while visiting Sikkim are the permissions you require to sightsee the many places of interest due to its proximity to China.
How to Get Permit For Sikkim
Most restricted areas can be seen by Indian nationals with required permissions. All tourists are required to carry Passport or Voter ID card for Adult, Passport or Birth Certificate for Child (Below 18) along with one Photo ID card (School ID / Aadhar etc., 4 Copies of Passport Size of Photo and 4 photocopies of the above documents. If you have booked a tourist taxi for the entire journey you can inform the local taxi driver, and he too can get all the permissions. The same can be availed from authorized travel agents of Sikkim. A special Inner Line Permit is required to reach Zuluk. For more details on permits do check out the official Sikkim tourism website.
Sikkim is divided into 4 geographical areas and sightseeing becomes easier with this segmentation.
Places To See In Sikkim
It is best to segment the trip geographical area-wise. We suggest that the trip to Sikkim can start from East Sikkim and then do South, West and lastly North. In this article we are covering East Sikkim with a list of travel places.
East Sikkim – Places To Visit
Gangtok
The capital and the largest city of Sikkim, Gangtok, meaning hill-top, offers impressive views of Mt. Kanchenjunga, famous as the third highest mountain and part of the great Himalayan range. The first glimpse of Gangtok is remarkably alluring, pleasingly lively and usually wreathed in mists and clouds.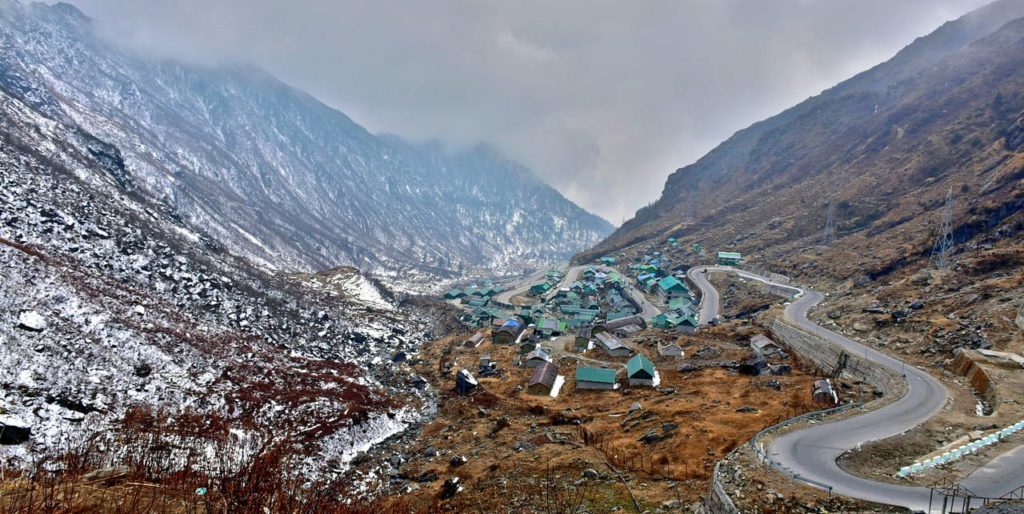 Places to see in Gangtok: Gangtok cable car ride offers a panoramic view of the city and highlights the winding hill roads, that takes your breath away.
Tashi Viewpoint – 8 kms from Gangtok, this place gives you an all-encompassing view to Sikkim. Enjoy the best view during early morning or evening (golden hours) and when there is no fog. You can see the reflection of the sunlight showing Kangchenjunga peak in myriad colours – a truly fascinating sight.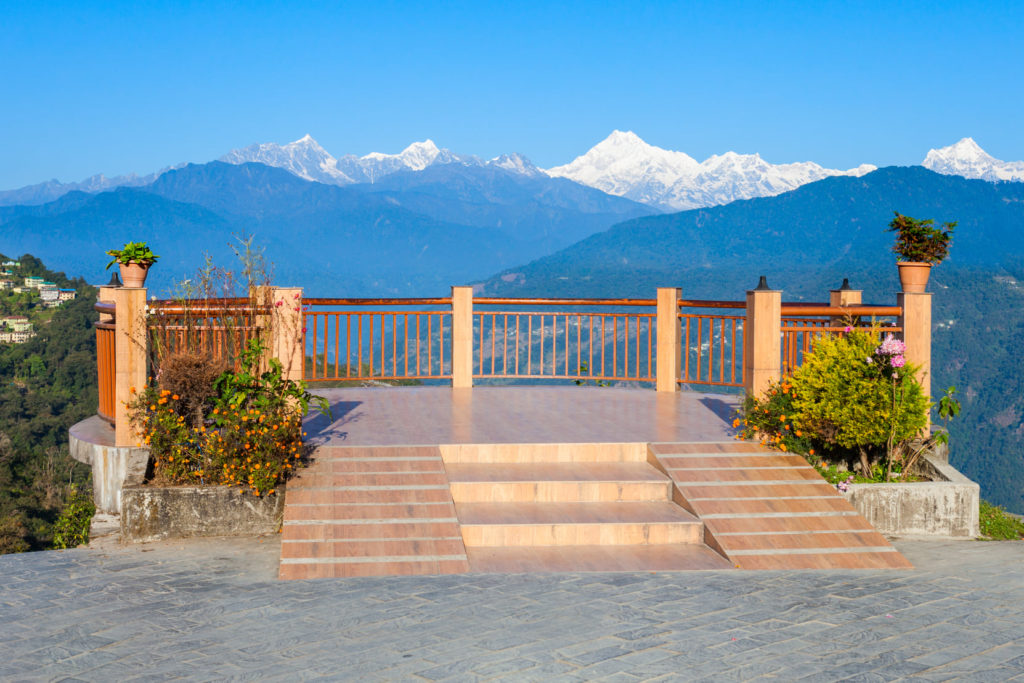 Tsomgo Lake
Tsomgo Lake is a glacial lake, some 40 kilometres from Gangtok. Located at an elevation of 3,753 m or 12,313 ft, the lake remains frozen during the winter season. The lake surface reflects different hues with season change as it reflects the vegetation around the lake and is greatly revered by the Sikkimese people.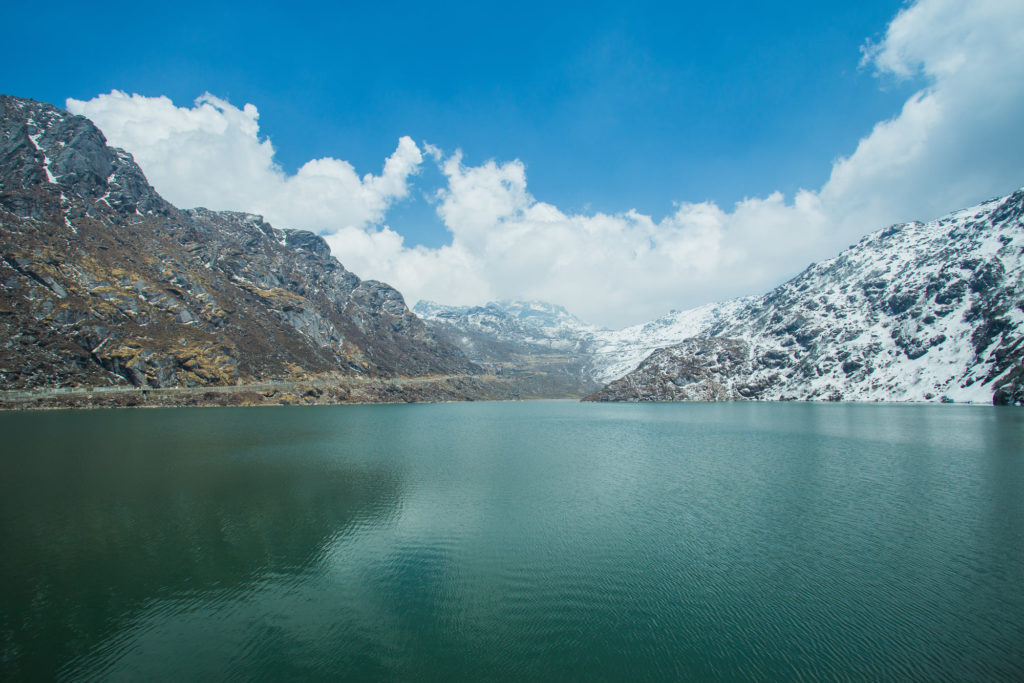 BanJhakri falls
The fall is named after Ban Jhakri after a traditional shamanic healer – its literal meaning is Ban which means "forest", and jhākri which means "healer". Banjhakri Falls is a natural waterfall that cascades from a height of 30 meters. A park was developed around the falls, by clearing over 2 acres of forestland and is also worth a visit.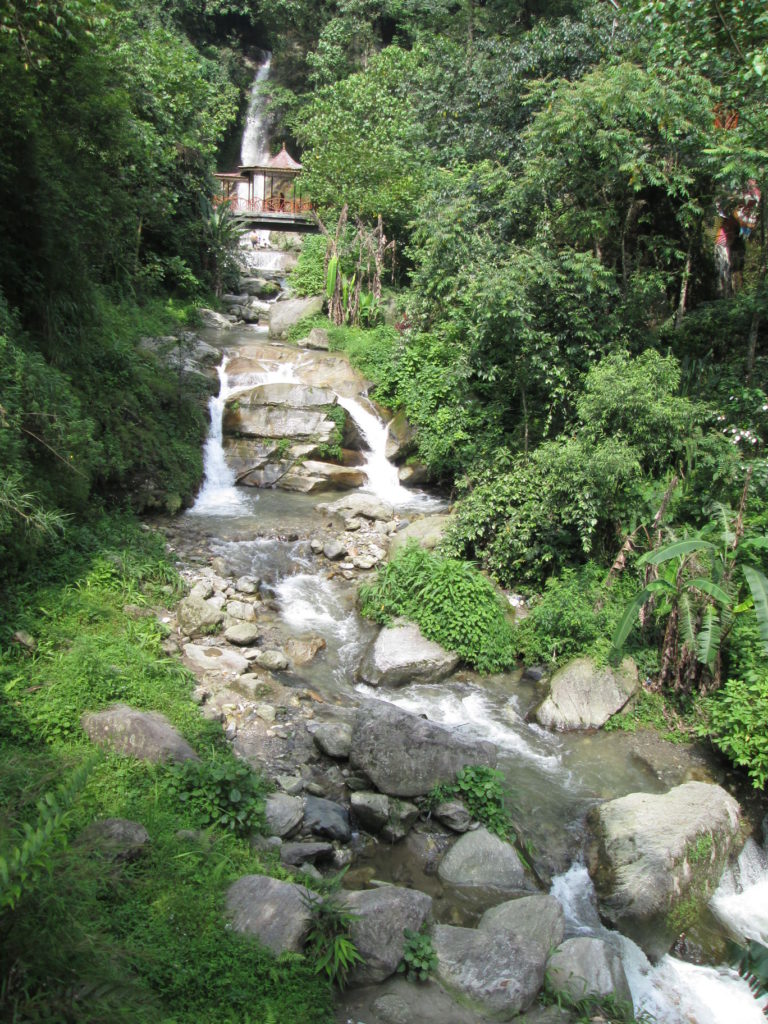 Enchey Monastery
Enchey means peaceful. Enchey Monastery is built on a spectacular ridge of a hill, above the Gangtok city. The monastery is an architectural marvel built like a Chinese pagoda, topped by a shining golden cupola. The monastery has a large collection of masks which are used for the annual ritual dances and colourful prayer flags fluttering around the monastery.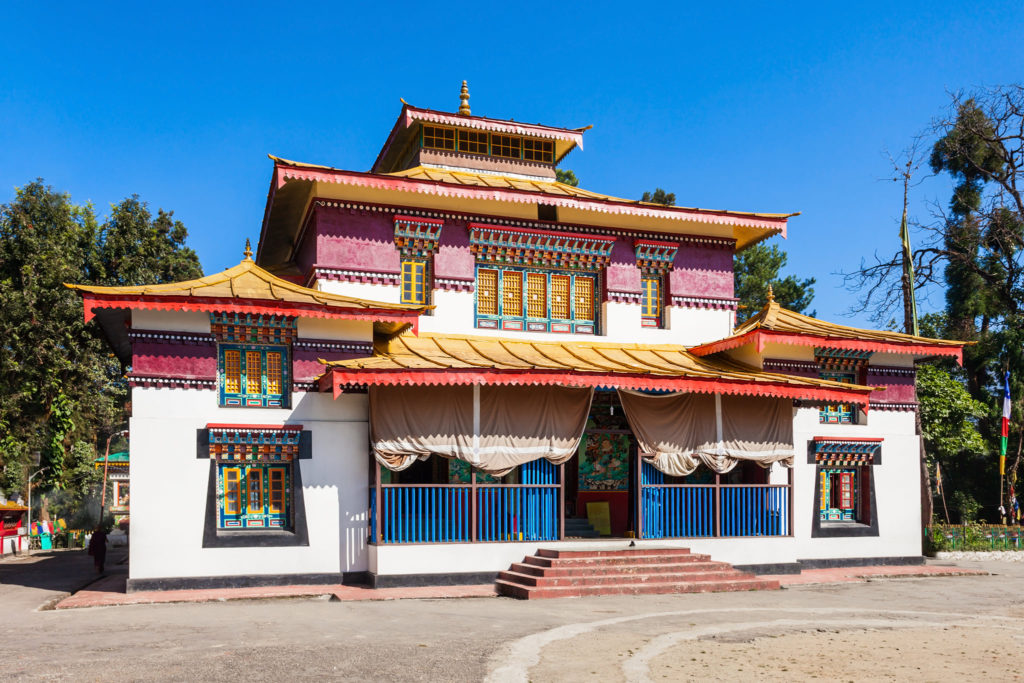 Ganesh Tok
Ganesh Tok means Ganesh temple and it is situated 7 km from Gangtok, at an elevation of 6500 m. The specialty of this temple is it can accommodate only one person at a time and you need to crawl to reach the inner sanctum of the temple. The bonus is a panoramic view of Gangtok, the Raj Bhavan complex and Mt Kanchenjunga, all in one frame.
Do-drul Chorten monastry
The monastery houses a stupa. Around the stupa are 108 Mani Lhakor or prayer wheels.
River Teesta
The river Teesta is a constant presence as you travel through the state, flowing throughout Sikkim. It also has many spots for white water rafting, for those who like a little thrill.
Himalayan Zoological Park
If you travel for 3 km from Gangtok, at an altitude of 1,780 mtrs, you will be able to see the Himalayan zoological park. The park achieves the perception of a modern zoo, where all the animals found in the Himalayan forests are kept in replicated natural conditions. If you cannot trek through the forest you can check the zoo to see all the wild animals, be it black panther or the white tiger, or the red panda. Children would enjoy the zoo immensely s they get to see the rare wild animals and birds.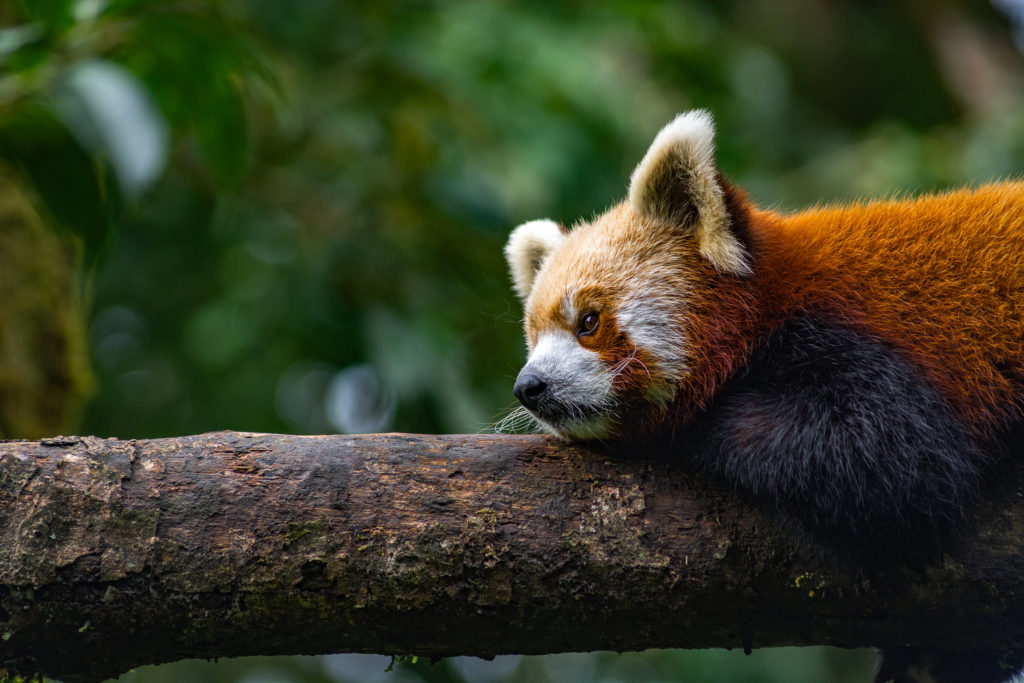 Food
You can enjoy a lot of street foods that are served in restaurants in Gangtok and in the surrounding areas. Momos are an all-time hit. Besides that, you could try Thupka – a vegetable noodle soup, Sael roti – a crisp rice bread very similar to pretzel, Bamboo shoot curry – prepared from bamboo shoots as the name suggest and eaten with steamed rice. Dhindo made from buckwheat, corn flour and grounded millet should be tried by vegetarians, a surprise taste to their palate.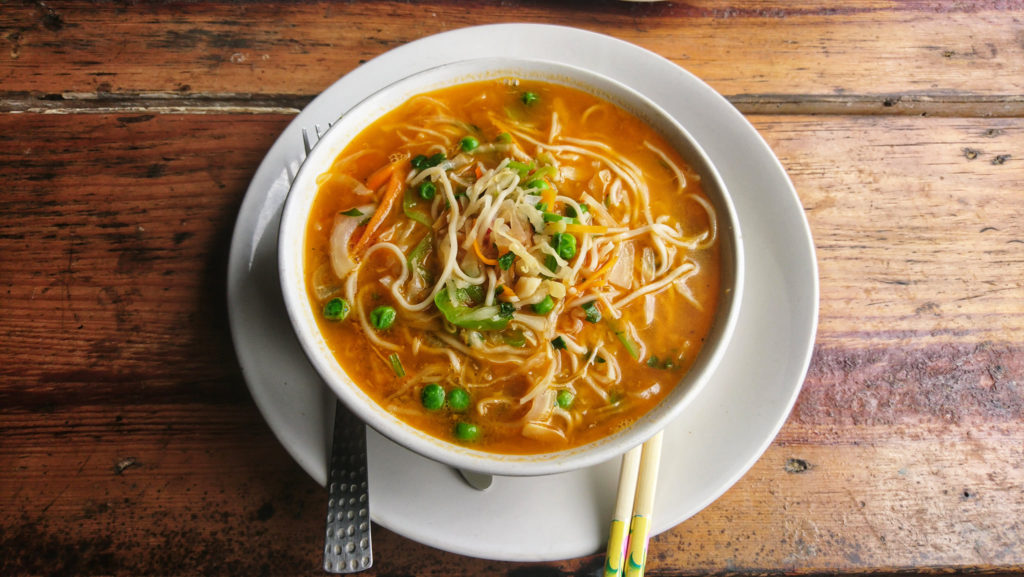 Travelling from Gangtok and taking a detour, you can enjoy Nathula pass, Nathang valley and Zuluk.
Nathula Pass
Nathu La is a mountain pass on the India – Tibet (China) border. Nathu in Tibetan means "listening ears" and la means "pass". The pass, at 4,310m above sea level is a corollary of the ancient Tea Horse Road. The pass is closed on Monday & Tuesday for all visitors. Travellers go to the Nathula pass to see snow-capped mountains, long winding roads and the fascinating view of Chumbi valley of Tibet, well guarded by mountains.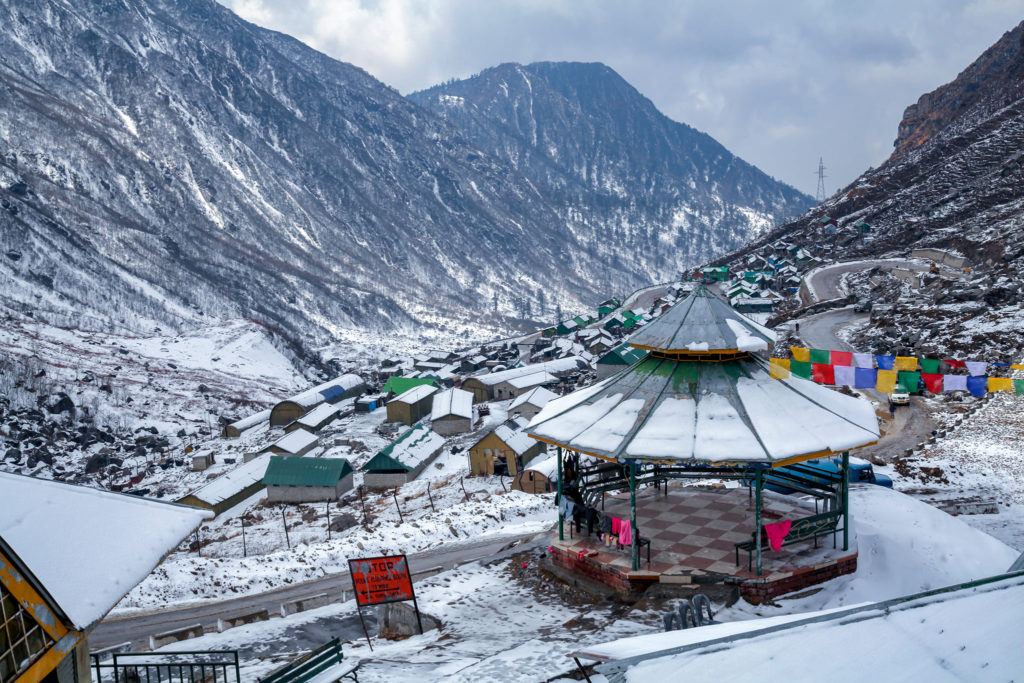 Nathang valley
Home in the past to the Yak herders, this valley is at an elevation of 13,500 feet and is called the Ladakh of East Sikkim for its resemblance to the namesake in scenic beauty. In the Nathang valley, there is a memorial park of the British warriors who died in the battle of Nathang between Tibet and British East India company. The valley is surrounded by snow-capped mountains from all sides with a small village of about 50 families and a Krishna Temple as well as a monastery. Things to see near the valley are the sunrise point, Memencho Lake, Kup-Kup Lake or Hathi Pokhri, Kup-Kup market , Old Baba Mandir.
The Eagle's Nest Bunker is must see when you visit the valley. The bunker gives you a complete 360 degree view of Mt. Kanchenjungha, West Bhutan, fields of Bengal, China, Tibet and the delightful River Brahmaputra (jamuna) zigzagging. If you see the sunrise from this point, on a clear day, you can see Mt. Kanchenjungha suffused in golden hues as if bathing in the sunlight.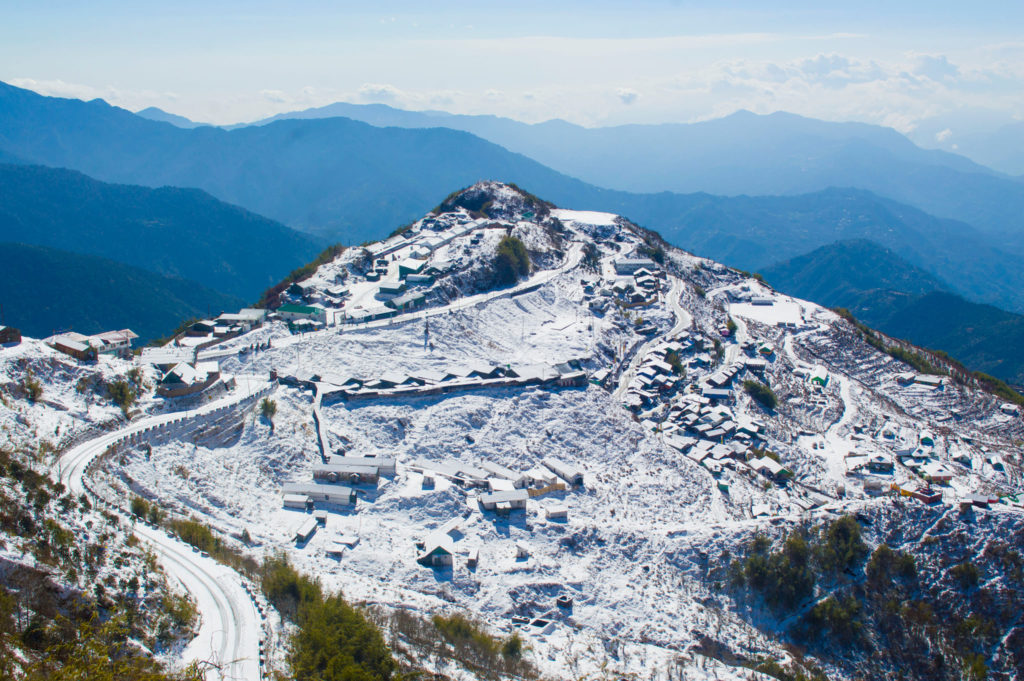 Thambi View Point
14 kms north of Zuluk, the adventure begins at an elevation of 11,600 ft., offering an amazing dawn view. Going to Thambi View Point is an exciting ride through the three level snaking paths on the adjoining slopes with singular geometrical view. Get the panoramic view of the complete Mt. Khangchendzonga range.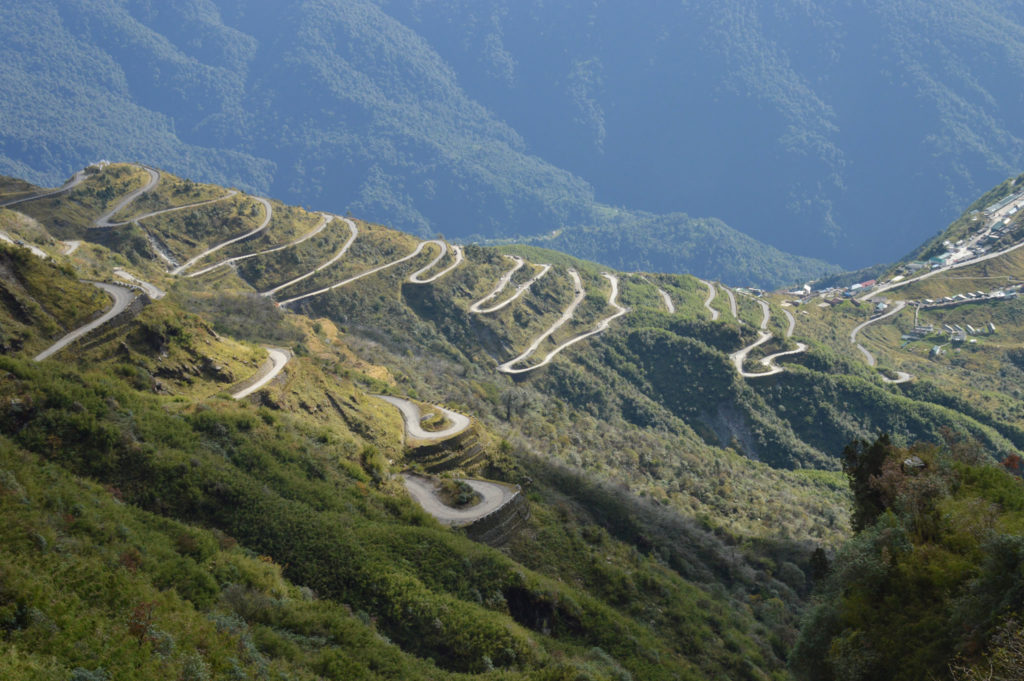 Zuluk
Zuluk approximately 100 kms away from Gangtok, is at an altitude of 10,000 feet (3,000 m). It is worthwhile for its scenic valleys and was part of the ancient silk route. Zuluk is encircled by wild forest where you can sight wild deer, wild dog, Himalayan bear or even the red panda besides a range of birds such as Blood Pheasant, Himalayan monal, Kalij pheasant, Snow Pheasant. In summer, Zuluk full of blooming rhododendron is a riot of colors. Zuluk offers homestay facilities with delicious food, cooked by the locals. Try the Kodo ki roti or ragi (finger millet) roti if available and the Kinema curry (fermented soya beans curry) at any of the homestay or restaurants.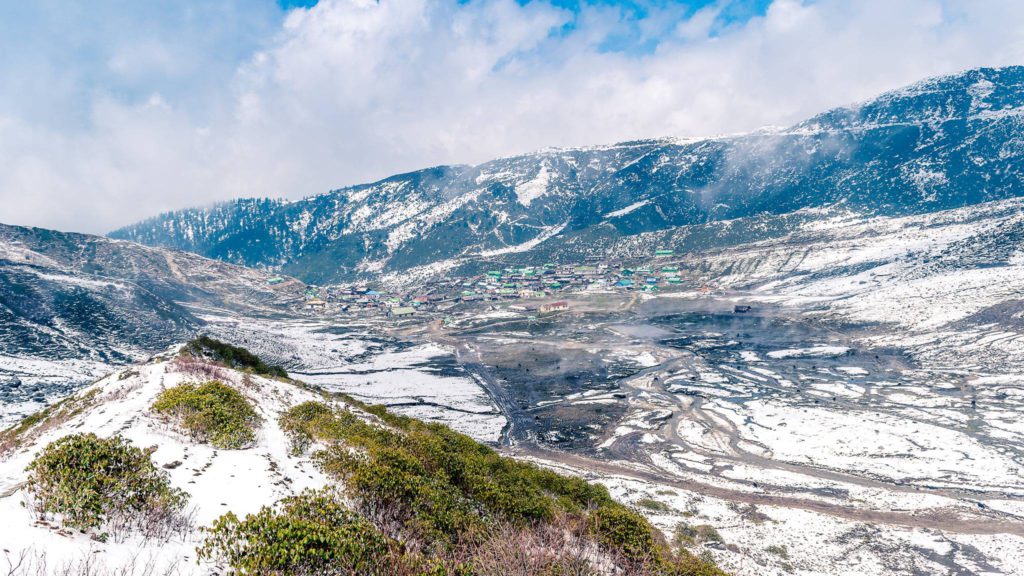 Photos: Shutterstock
Travel Update : Please note that there could travel restrictions because of the ongoing pandemic. Before travelling, please always check the latest government advice about COVID-19 travel restrictions in your destination.
For latest travel news and updates, food and drink journeys, restaurant features, and more, like us on Facebook or follow us on Instagram. Read more on Travel and Food Network
Trending Guides:
The Best Way To Holiday In Karnataka | 2021 Travel Guide