ATV rides in the wild and gondolas connecting snowy peaks uplift journeys to the ski town of Whistler.
The two-hour drive from Vancouver to Whistler affords generous views of cerulean skies and wide roads. The Sea-to-Sky Highway begins along the coastline of Howe Sound and continues through the Coast Mountains until Whistler, a village that looks straight out of a Christmas postcard: its wooden houses twinkle with fairy lights and in the backdrop, Whistler and Blackcomb mountains gleam with puffs of snow in June. Four others and I were on our way to one of North America's foremost ski resorts, to discover its magic through a series of adventures.
Zip Code
Soon after our guides, Anna and Theo, met us at the village and fitted us into harnesses and helmets, we took a bus to the base of Blackcomb Mountain, to Whistler's east. This is the site of Ziptrek Ecotours' Bear Tour, and I was about to ride five zip lines over the valley between Blackcomb and Whistler mountains.
"If you see a grizzly, don't pretend to play dead," joked Theo. Recently, a mamma bear had given birth to three cubs and they resided under the Whistler Village Gondola nearby—the not-playing-dead piece of information was crucial for survival.
The first zip line is a 10-minute walk from the mountain base. We crossed woodland on a paved path, and walked over a treetop bridge. When we got to our destination, Theo attached his harness to the rope and was gone in a jiffy. Anna stayed with us and one by one we "took flight."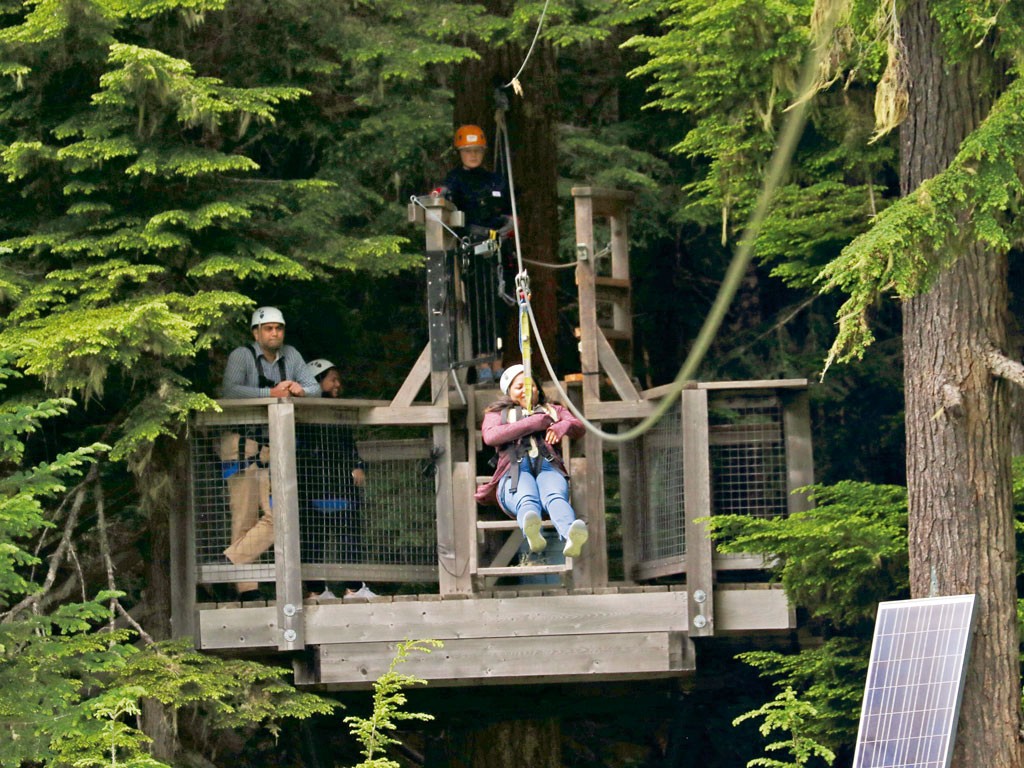 The ride was over before I knew it—30 seconds tops—and left me with slightly wobbly legs. The second zip line was similar to the first, maybe about 10 seconds longer. I whipped out my phone and tried to record the flight, one hand clutching the harness. I thought I was brave—or foolhardy—when I looked at the recording later, zooming along treetops in a thick forest.
The third and fourth zip lines, my favourites, were longer and I dangled about 1,000 feet above Fitzsimmons Creek, which cuts through Whistler. My legs swayed with the wind and my hands trembled. It felt like playing Quidditch—the harness was my broomstick and the ride's end point the Golden Snitch. I could hear the whooshing of the wind and the gushing of the creek below. I dared to look down and it almost felt like the Earth had cracked open to reveal a crystal strip of water rushing down the middle. (whistler.ziptrek.com; 3 hr; adults CAD119/Rs6,500, children between 6-14 CAD99/Rs5,400. Combo tickets with Peak 2 Peak Nov-Apr and May-Oct, adults CAD149/Rs8,130, children from CAD109/Rs5,950.)
Jungle Book
Canadian Wilderness Adventures' Mountain Explorer ATV Tour is tailor-made for people like me who refuse to drive any kind of transportation. Occasionally I'd take the car back home for a spin. But that was 2014. Willing myself to be brave, I elected to drive myself.
The ATV reminded me of the Autobots from The Transformers. I hopped on, dressed in boots, gloves, a heavy helmet and goggles, with a pounding heart. After a 10-minute practice ride, we began riding an uphill path, with our guide Chantelle driving ahead. A forest of pine, cedar, and Canadian hemlock flanked my right, and a panoramic view of Whistler Valley opened up on the left. Slowly, Whistler Village disappeared behind me.
I manoeuvred my ATV on zigzag paths with an occasional puddle of muddy water. Suddenly, one of the riders ahead of me lifted her right arm, signalling us to stop. Our tour guide, who was right in front of my ATV, pointed to my right. Through my dusty goggles, I saw a bear cub about 20 feet away—the closest I have ever got to an animal in its natural habitat. We stared at it for a few minutes but moved on quickly. A lone cub meant the mother was around and neither of us wanted to face her wrath.
I began riding a steep slope, forgetting my initial instruction to control acceleration. I began speeding and avoiding the brakes altogether. It was a bad call and I tumbled down with my ATV. The other vehicles climbed up and were out of sight.
Lying alone in the silent forest for what seemed like eternity, I feared that mamma bear was nearby and this could be it. Minutes later, I heard an engine roaring and it was Chantelle, who had returned to find me. Relief flooded every inch of my body. My thoughts about large bear paws were cut short, and I was back on my machine, riding to the trail's highest point to see a distant vista of Whistler Village below. (www.canadianwilderness.com; 2 hr; adults from CAD95/Rs5,180 plus taxes, children 12 and under free.)
Scaling Peaks
We clambered into the grey, hexagonal Whistler Village Gondola from the boarding point down in the village.
In a few minutes, we disappeared into the clouds; the village below looked more and more like a Monopoly board—shops and hotels had morphed into miniatures. Trekking trails and treetops were dissolving into a white fuzz and the snow-topped Whistler mountain was getting bigger. We hopped off at the Roundhouse Junction on Whistler mountain for the real deal.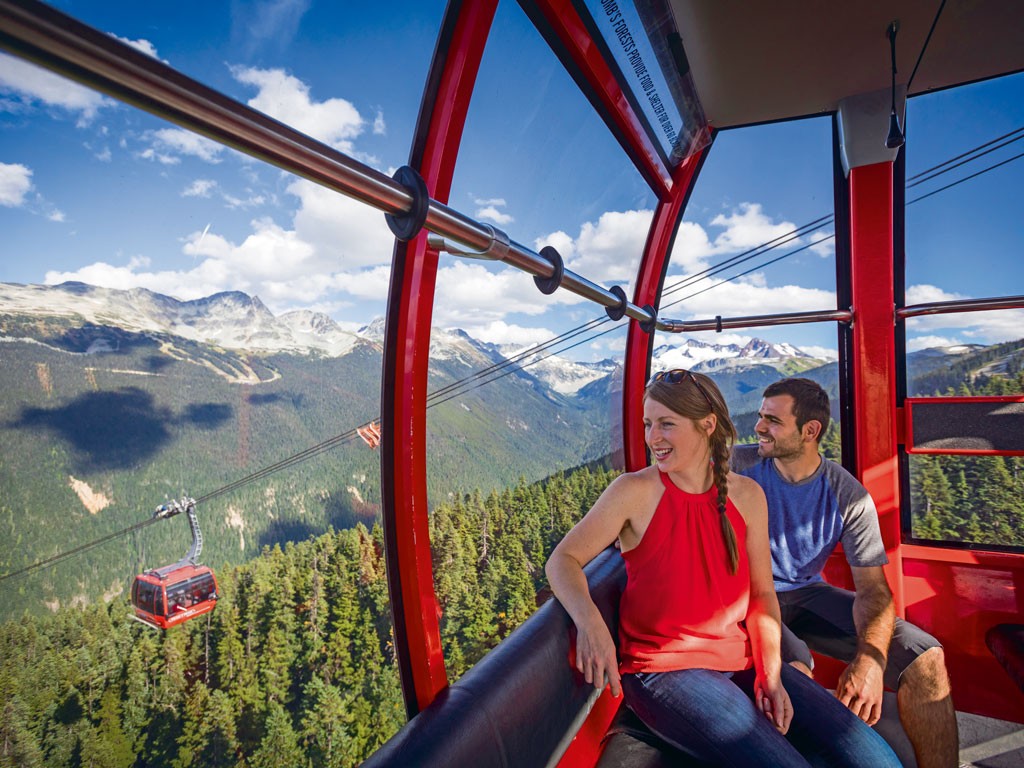 Whistler's Peak 2 Peak Gondola connects the peak of Whistler to that of Blackcomb, and at 1,427 feet is the highest lift of its kind. Instead of a regular cabin, the glass-bottomed gondola is worth the wait—the 11-minute, three-kilometre ride offers the most picturesque views of leafy forests and the occasional waterbody below.
Once we made it to the other side, to Blackcomb Mountain, the panorama of dark mountains and snow teamed up with green lakes and a bright red helicopter in the distance.
The mountaintop café serves hot chocolate with swirls of whipped cream and a hint of Baileys along with warm chocolate croissants, stuff that warmed our bodies and mood. On the ride back to the village below, moments from my time at the two peaks swirled headily in my mind; the cloudy bottom was replaced by lush trees and I spotted a brown mother bear with a little cub further ahead. They were too far out for a picture, but just being able to spot that hulking creature in the wild made for a perfect ending to the gondola ride. (www.whistler.com; adults CAD63/Rs3,440, children 7-12 CAD32/Rs1,745, 13-18 CAD54/Rs2,950, children 6 and under free.)
Things to do
More to Museums
The Whistler Museum and Archives is set right in the middle of the village. Thanks to year-round exhibits that focus on the town's history and its people, this art centre is a great place from where to start exploring Whistler. Follow this by a quick trip to Audain Art Museum, which houses works of Canada's foremost artists, Emily Carr. Move on to Squamish Lil'wat Cultural Centre, an aboriginal museum showcasing living culture. If you happen to visit in spring and/or summer, make sure to book a First Nations BBQ dinner at the museum.
Gift Box
Canadian maple, salmon candies and grizzly bear toys are the usual suspects. But in Whistler, works of vibrant local artists are often on sale at most stores and the local farmers market. Keep an eye out for Vanessa Stark's mountain-style paintings and illustrations, along with Andrea Muller's contemporary pieces of art with bold brushstrokes. These can be bought at Sea to Sky Souvenirs and Carlbergs Gift Shop, both located in the village.
Local Delights
Whistler is home to Mount Currie Coffee Company, an independent coffee shop with just two locations in Canada, one of which is in the village. On a chilly winter day or even a warm summer afternoon, their Canadiano, a latté with a shot of maple syrup, is manna for the soul.
This feature also appeared in National Geographic Traveller India
For latest travel news and updates, food and drink journeys, restaurant features, and more, like us on Facebook or follow us on Instagram. Read more on Travel and Food Network
Trending on TFN
The 23 Best Places To Go In 2023
Explore Utah's Mighty 5® and What Lies in Between
Five Epic U.S. National Parks To Visit This Year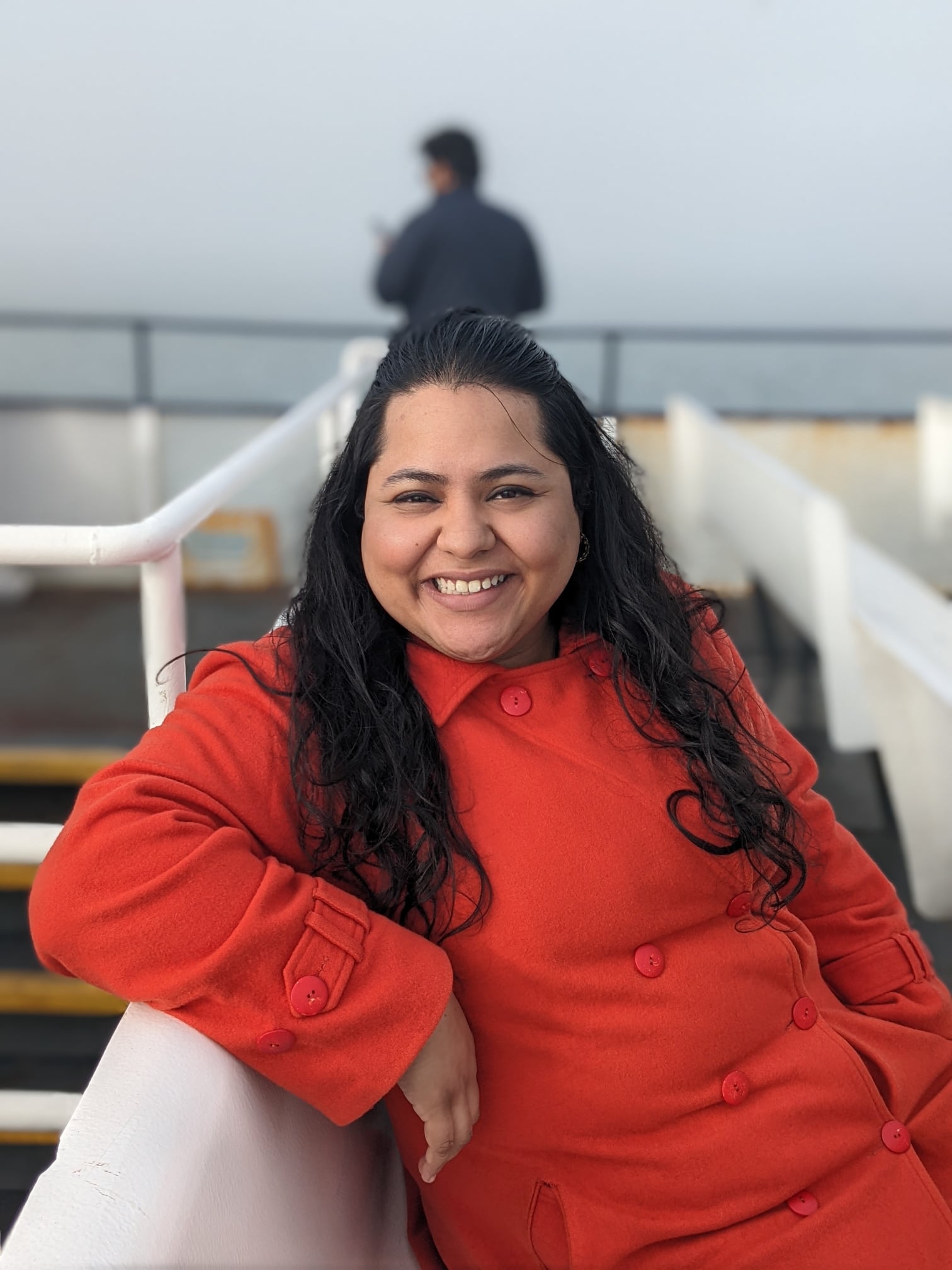 Although she is a copywriter by profession, Ishani loves writing longer sentences and harp on all kinds of details. She has worked with multiple brands for social media strategy, written longer editorial pieces as well and would ideally love to quit it all to travel the world. Until she can, she believes, " words are all I have.."